Some jars and glass bottles are just too beautiful to throw away after they've served their original purpose with their intricate shapes and jeweled colors. But, before giving the bottle a new life, you must remove the obnoxious label stuck to the front. Learn how to remove labels from glass using simple solutions and leave the glass smooth and shiny.
With a project in mind, you sit cross-legged on the floor, determined to remove the jar label. You use your fingernails to pick and pry at the sticker, yet the gooey adhesive doesn't budge. Even if you can remove the entire sticker, there's often glue residue on the glass that is sticky to the touch and attracts dust and dirt.
What good is a beautiful bottle if the front is blemished? Don't give up on your crafting idea, and toss the jar in the trash just yet. There are ways to remove the label and label glue or printed label, ensuring that the glass surface is free from sticky residue and ready for a new look.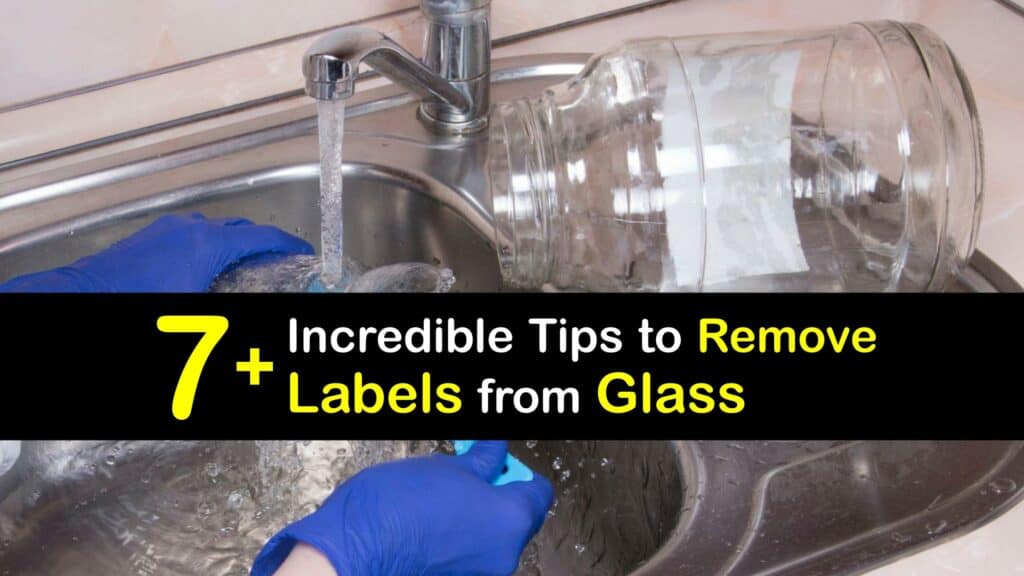 Ways to Get Sticky Labels Off Glass
Bottle labels are stubborn to remove since they are meant to withstand moisture and handling. While it takes a bit of patience, it's possible to remove them and leave the glass sparkling. Discover several ways to get glue off glass or plastic containers, whether a Mason jar, wine bottle, or beer label.
How to Get a Label off Glass With Soapy Water
The best way to loosen the glue's adhesive on the label is to soak your glass jars or bottles in hot water and soap. The heat softens the bond, and the soap makes it easier to slide the stubborn label off the jar. Explore how to get a label off glass with a soapy water soak.
Plug the sink, fill it with enough hot water to cover the glass jar, and squeeze dish soap into the water. Place the container in the soapy water and soak for about half an hour or until the water cools.
Remove the bottle and slide a razor blade beneath the wine label as you carefully pull it off the glass. Remove sticky residue with a scrub brush and rinse the container beneath warm running water.
Removing Labels From Glass With Baking Soda
There's a good chance the jar still has sticky label residue after removing labels from glass with soapy water. Baking soda is mildly abrasive and works wonders as a scrubbing agent. Use this natural powder to get label glue off a glass bottle.
Soak the container in hot water and sprinkle a decent amount of sodium bicarbonate or baking soda over the adhesive. Use a toothbrush to scrub the glass in a circular motion while working the baking soda into a cleaning paste. Continue washing the glass until the glue is gone, and rinse it with clean water.
How to Remove Labels From Glass
White vinegar is excellent for getting a label off glass or getting wall decals off quickly. It has acidic qualities that dissolve the adhesive bond, making it easier to remove stickers from just about any surface. Find out how to use vinegar to remove labels from a wine bottle or jar.
Set the jar in the sink with the label facing up and pour white vinegar over the sticker to saturate it. Let it sit for 20 minutes, and scrub the sticker off the glass with steel wool. Repeat until the label and glue are gone, rinse the bottle with clean water, and dry it with a paper towel.
Using Nail Polish Remover to Get Labels Off Glass
If the glass still has areas of stickiness after removing the label, try an acetone-based nail polish remover to clean away bits of sticky label glue. Discover how to get a label off glass and remove leftover adhesive with nail polish remover.
Soak a cotton pad with fingernail polish remover and rub it over the sticker or adhesive residue, whether you are getting sticky residue off glass and mirrors or are taking off a label. Use moderate force and a circular motion to lift the stickiness from the glass, and repeat the steps with freshly soaked cotton until the glue is gone. Rinse the bottle with clean water and use a soft towel to dry it.
Nail polish can also be used to remove adhesive from eye glasses. If you happen to get Super Glue on glasses lenses, use nail polish remover and gentle cotton pads to remove the glue.
Removing Glass Labels With Rubbing Alcohol
Rubbing alcohol is a good option if vinegar or nail polish remover doesn't do the trick of removing labels from glass or getting tape residue off plastic. This disinfectant is widely used as a solvent and is safe for use on a glass jar. Not only will it remove a sticky label, it will also dissolve the adhesive residue.
Pour rubbing alcohol into a small bowl and dunk a cotton ball into the solution to soak it. To clean glue and adhesive off glass surfaces or for getting a sticker off a mirror that is especially stubborn, rub the wet cotton over the label or glue, starting from the outside and moving inward. Continue to apply more alcohol until the entire sticker is wet, and use a razor blade to gently pry it from the glass.
Once the label is gone, clean the container with another cotton ball to remove the sticky residue and rinse it with hot water. Ensure the bottle is no longer sticky and dry it with a soft towel, or set it on the dish rack to air dry.
How to Get a Label Off Glass With Oil
For a gentle way to remove sticky labels from a wine bottle or Mason jar or for quickly getting stickers off metal, try cooking oil or baby oil. The slippery oil softens and loosens the label glue, making it easier to scrub from the glass.
Lay the container in the sink and pour enough oil over the label to saturate it. Any cooking oil will do, whether it's olive oil or vegetable oil. You can also use baby oil or WD-40 if you prefer not to waste cooking oil.
Let the bottle sit for 30 to 60 minutes as the oil softens the adhesive, and use a plastic spatula to scrape the sticker off the glass. Clean the glass surface with rags and soapy water, and rinse it with warm water until all the oil is gone.
Using Extreme Temperatures to Get Labels Off Glass
Extreme temperatures work wonders at removing sticky paper labels from glass. Use the frigid coldness of your freezer or the heat of boiling water to get a sticker off a glass jar.
To freeze the label off of a jar, set it in the freezer with the lid off for a few hours, and the sticker should come right off when you remove it. Otherwise, consider soaking the container in a large bowl of ice water overnight.
To use heat to remove a bottle label, bring a heavy-duty pot of water to a boil, remove it from the heat, and soak the container in the boiled water until it cools. Scrape the label away with a scrub brush or razor.
Removing Printed Labels From Glass With Citric Acid
While we often associate citric acid with citrus fruits like oranges and lemons, the acid is ideal for removing labels printed on glass. Find it in the canning aisle of your local supermarket; it's safe for glassware.
Unlike paper labels, printed glass labels require a different removal method. Combine a tablespoon of citric acid powder and two tablespoons of hot water in a non-metallic container to form a thick paste.
Apply the citric paste to the label on the bottle and leave it for five to ten minutes. Once the paste dries and hardens a bit, scrape it off with a scrubbing sponge and rinse it with hot water.
No one wants to spend their afternoon plucking at a stubborn label. Luckily, there are many ways to remove jar labels and sticker residue without all the fuss. All that's required is patience and a cleaning solution like rubbing alcohol or white vinegar to clean the glass and leave it with a crystal-clear finish.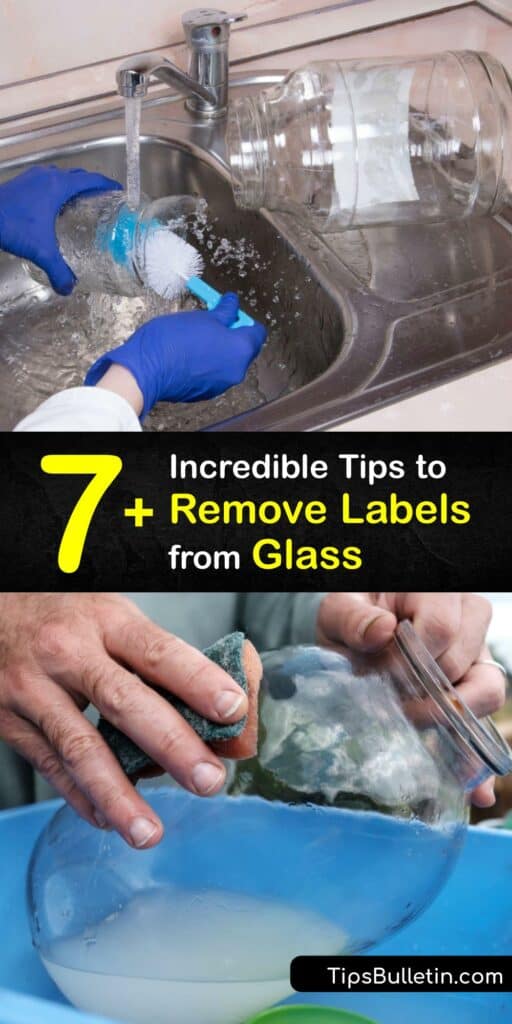 Now that you've learned how to remove labels from glass the simple way, why not share our tips for removing labels and glue residue from bottles with your family and friends on Pinterest and Facebook?