Paint drips and accidents are not uncommon while doing home improvement projects, particularly if you are absorbed in your work. They're usually not a problem unless you get a paint stain on a hardwood floor or wood trim. Find out how to remove latex paint from wood using basic and advanced methods to restore its appearance.
Unlike oil based paint, or acrylic paint, a chemical-based paint, latex is water-based paint and one of the easiest to remove. However, it's also a fast-drying paint, and it's best to get to the paint stain before it dries. Nevertheless, you're not always aware of a paint splatter until well after the fact.
While removing paint is not as fun as applying it, especially if it's dry paint, it's a necessary job to keep wood looking like new. Fortunately, there are simple ways to remove wet and dried latex paint from wood with and without harsh chemicals.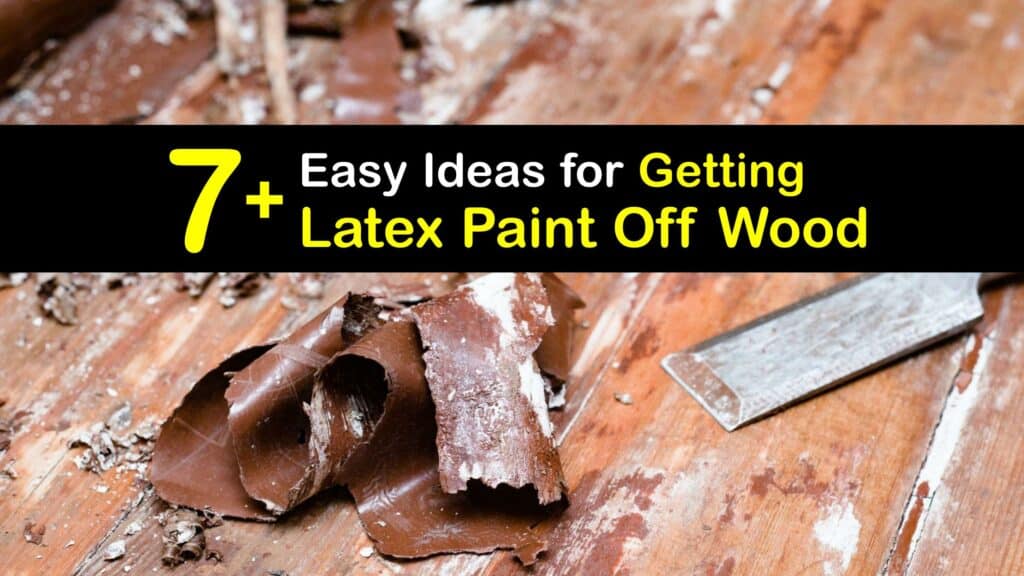 Ways to Get Latex Paint Off Wood
Painting is often tedious, and it's easy to experience an occasional splatter or paint spill, whether working with latex, acrylic, or oil paint. Even if you're careful to place a tarp beneath the work area, there are times when paint gets on the wood or vinyl floor. Learn several ways to remove paint from wood safely and effectively.
Remove Wet Latex Paint
Paint stain removal is relatively easy if you're lucky enough to catch it while it's still fresh. Discover how to clean a wet paint stain from wood and prevent it from absorbing into the material.
The first step for removing fresh paint from wood is to absorb as much of the excess paint as possible with paper towels. Start from the outside of the paint stain, swipe the paper towel inward, and avoid spreading the stain further.
Fill a container with warm water and add a drop of liquid dish soap. Get a sponge wet with soapy water, wring it out, and use it to remove any remaining paint. Once the paint is gone, use clean rags to wipe the wood dry.
Ways to Remove Dried Latex Paint from Wood
It's wise to remove as much dried paint as possible before getting latex paint off wood with a stripper or heat gun, especially if it's a thick glob of paint. When you accidentally get paint on the wood trim, it's important to clean it up right away. Here is how to remove dry latex paint from wood and prepare it for cleaning.
While this method is safe for getting dried acrylic paint and latex paint off wood, it's crucial to take safety measures when removing dried lead paint since it releases lead-contaminated dust that may harm your health.
Try to scrape the dried paint with a plastic putty knife by sliding the knife edge beneath the paint edge and gently pushing it forward. If that doesn't work, consider using a razor blade or utility knife. Take care when removing the dried latex paint to prevent scratching the wood surface.
How to Get Latex Paint Off Wood with Paint Stripper
The fastest and easiest way to remove paint from wood is with chemical paint removers. Learn how to get latex paint off wood with a chemical stripper. They dissolve paint quickly and are ideal for cleaning large areas of paint.
Ventilate the room and put on protective gear. Pour the paint stripper into a bowl and apply it to the affected wood with a paintbrush. Spread a generous amount and let it sit for up to 20 minutes.
Once the paint forms bubbles and is soft, pry the paint off the wood with a putty knife or paint scraper. Peel off as much as possible and clean the area with a damp rag.
Removing Latex Paint from Wood with a Heat Gun
A heat machine is a good choice for removing latex paint from wood when it's dry and old. Nevertheless, caution is necessary to prevent accidents. Easily get paint off wood with a heat gun.
Preheat the machine and put on a face mask and gloves. Hover the gun over the paint stain using circular motions, and ensure that the heat is no closer than eight inches to the surface. Once the paint forms bubbles and wrinkles, scrape the paint from the wood with a putty knife.
How to Remove Latex Paint from Wood
The best way to remove latex paint from wood without harsh chemicals is with rubbing alcohol and lemon juice. The two ingredients work as a fast paint remover for vinyl plank flooring and make for convenient cleaning.
Combine lemon juice and rubbing alcohol in a container and apply the liquid to the latex paint stain with a clean rag. Let it sit for 60 seconds, and carefully scrub the paint from the wood with a brass-bristle brush. Wipe with a damp cloth and repeat the process until the wood is clean.
Removing Dried Latex Paint with Denatured Alcohol
Denatured alcohol is a cleaning agent that removes dirt, glue, grease, and wax, and it's the best cleaner for removing paint from varnished wood. Discover how to get latex paint off wood using denatured alcohol.
Soak a cotton pad with denatured alcohol and rub the cotton on the paint spot for half a minute. Wipe the area with a damp cloth, check if any paint remains, and repeat if necessary. If you do not have denatured alcohol, try using the same technique with an acetone-based fingernail polish remover.
Does Vinegar Remove Latex Paint from Wood?
White vinegar is a popular household product that is also useful for removing latex paint from wood. While it's not as effective as a chemical paint stripper or heat gun, it will remove small bits of paint from wooden materials.
Heat white vinegar in a pan and apply the hot vinegar to the paint stain with a paintbrush. After a few minutes, use a putty knife to drag the paint away from the wood. Once the color is gone, clean the area with a damp sponge.
This method is more gentle than using harsh paint strippers. Use vinegar to remove paint stains on antique wood furniture to protect any fragile pieces of wood.
Using Sandpaper to Get Latex Paint Off Wood
The simplest way to remove paint stains if you accidentally get latex paint on a piece of unfinished wood is to sand the surface. However, it's vital to use the right sandpaper and avoid over-sanding to prevent damage.
Ensure the wood is clean of everything but the paint stain. Use coarse 80-grit sandpaper for sanding the paint surface with minimum pressure. Use a back-and-forth motion while following the grain of the wood.
Wipe away paint dust with a rag and sand the entire area with medium 150-grit sandpaper, this time using medium pressure. Again, wipe off the dust with rags, and finish by using fine 220-grit sandpaper to remove the final bits of paint. Clean the wood with a damp sponge.
Removing Latex Paint from Wood with Mineral Spirits
Mineral spirits are effective for removing paint leftover from paint stripping or sanding, and it's ideal for dissolving wet latex paint. However, it's not a good option if there are several layers of paint or if the paint is dry.
If you haven't already, remove as much paint as possible and open a window to allow air circulation. Pour some mineral spirits onto a section of a rag and wipe it on the stain with a back-and-forth motion along the wood grain.
Use a damp cloth to wipe away residue, and repeat with a new section of the rag, applying a little more mineral spirits as you work.
Painting is a rewarding experience, allowing you to turn the ordinary into extraordinary, whether creating an art project or giving your home a facelift. Unfortunately, paint is often messy, and it's not hard to drip, splatter, and spill. Luckily, there are simple ways to clean up fresh or old paint if you use the proper paint remover.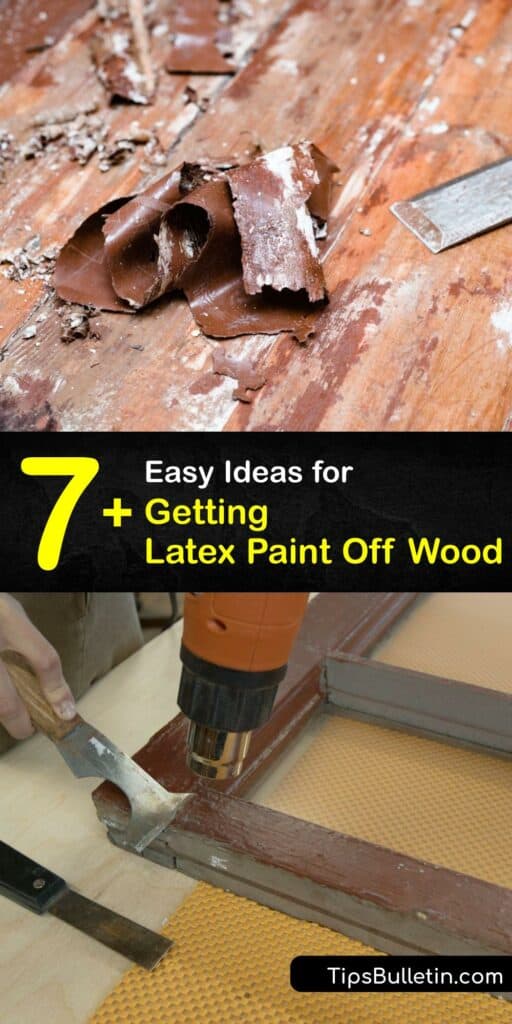 We hope that learning how to remove latex paint from wood takes the stress out of painting, and we'd love it if you'd share our tips for removing latex paint from wood surfaces with your family and friends on Facebook and Pinterest.