Mold makes your home appear dirty while posing a severe health risk to your family. Understanding how to remove mold from a drywall ceiling is essential when mold spots appear. Though it might seem complicated, removing mold from a drywall ceiling is quite simple if you have the correct knowledge and equipment.
Mold spores are present everywhere; all they require for activation are moisture and heat, and suddenly a mold colony starts to form. Whether on drywall ceilings or sheetrock walls, mold growth may occur wherever the conditions are favorable.
Mold on your walls could be black, brown, or orange and must be removed as soon as it is discovered. Fortunately, figuring out ways to get rid of mold on the ceiling doesn't have to be a headache. Choose a DIY mold removal plan based on your home supplies and the amount and type of mold growth you have.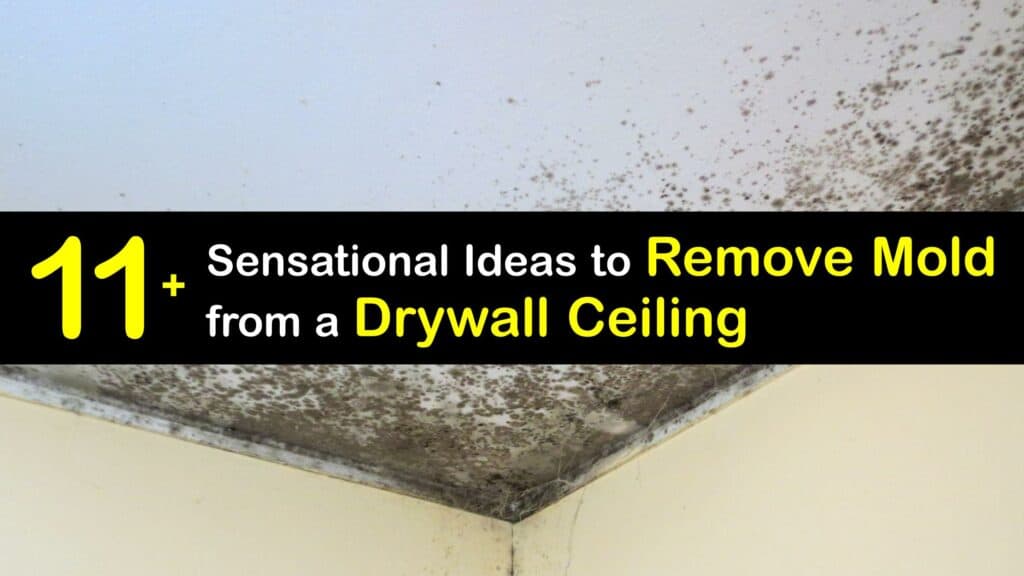 How to Clean Mold off a Drywall Ceiling
Every homeowner needs to understand how to remove mold from a drywall ceiling. Whether you've been a victim of water damage from a burst pipe or roof leak or have high humidity, mold is likely a visitor in your household.
Removing mold from a drywall ceiling doesn't have to be complex. Avoid exposing yourself to harmful substances, craft a homemade mold remover, or use an at-home method to erase ugly mold.
Removing Mold From a Drywall Ceiling
It's essential to periodically perform a mold inspection to look for signs of mold infestation in your home. While visible mold growth or a mold stain strongly indicate an issue, other more subtle pointers herald mold problems, too.
Check for mold at least yearly and address concerns rapidly to avoid damage to your home and health from mold spores and to see if you are infested by black mold mites. Whether you have bathroom mold or spots of black mold, time is of the essence in eliminating it.
What Makes Mold Grow?
Mold may develop on your cellar or external walls when the vaporized water in the air contacts a cold surface and liquifies. Mold often grows in bathrooms and laundry rooms because they are frequently moist.
Mold and mildew are often seen coexisting adjacent to humidifiers and any spaces that are moist and susceptible to mold, including the walls and ceiling. Mold spores seriously impair the quality of the air within your house.
Mold mainly grows in conditions of excessive wetness, such as those following water damage from a roof leak, faulty air duct, or burst pipe. Mold in bathrooms and attics is frequent because these spaces frequently provide the right environment for mold growth.
Molds grow on a variety of surfaces, including sheetrock and drywall, though they prefer a porous surface.
How to Remove Mold From a Drywall Ceiling
Mold is quickly destroyed by acetic acid, which also makes it simple to remove. White vinegar's acetic acid concentration makes it an effective mold remover. To fully utilize the vinegar's capacity to eradicate mold, use it at maximum strength.
Use distilled white vinegar sparingly on painted drywall since the acid component could cause the paint to flake or crack. After adding vinegar to a spray bottle, spritz moldy spots.
To ensure you eliminate all spores, let the vinegar stay on the mold colony for at least one hour. For porous material, repeat the process of wiping away the moldy residue with a clean towel until there is no trace of mold.
Homemade Spray to Get Rid of Mold on a Drywall Ceiling
Save money and skip bringing toxic substances into your home by making your own mold removal spray to clean mold off the bathroom ceiling or elsewhere. Rely on potent ingredients like Borax and white vinegar to eradicate mold on contact.
In a sprayer, combine the ingredients and shake vigorously to combine. Spray the location well, then immediately use a brush or cloth to scrape off the top layer of mold. Mist the surface with water, wait ten minutes, and wipe it with a clean rag.
Without rinsing, let it dry overnight to get rid of any concealed mold. Spray loses effectiveness after two to three hours, so don't store the unused portion, and make sure you spray in a well-ventilated room.
Clean Mold off a Plaster Ceiling with Baking Soda
Baking soda has several purposes around the house, including removing black mold. In addition to eliminating black mold, it also absorbs moisture mold loves and is safe for your pets and family. It kills mold on wood as well as plaster and drywall.
Shake a spray bottle of water with one-fourth of a tablespoon of baking soda until it dissolves. Apply the baking soda and water solution to the moldy spot, and scrape the surface with a scrub brush to remove the mold.
Rinse the area with water to eliminate any leftover baking soda and residue. Re-spray the site and allow it to dry without wiping; this will eliminate any remaining mold and prevent its recurrence.
Trust Hydrogen Peroxide for Mold Cleanup
Most medicine cabinets include hydrogen peroxide – an antifungal, antiviral, and antibacterial solution – which works well to cure mold. Grab a spray bottle with hydrogen peroxide.
To avoid discoloration or surface damage, test a small, inconspicuous place first. Spritz the area with peroxide, then spray some clean water on the moldy area and let it sit for ten minutes. Lightly scrub the site to get rid of the mold spots and black mold. Wipe the surface dry after it has been cleared of all mold and stains.
Try this solution to clean black mold off concrete basement walls or use it on the sidewalk.
Eliminate Mold Spores From the Bathroom Ceiling
In addition to its many cleaning and disinfecting applications, bleach is a fantastic mold remover for some surfaces. Though bleach is a good mold remover, not all walls or ceilings should be cleaned with it.
Use bleach carefully in a well-ventilated location, and consider completing a tiny test spot before cleaning the entire region. Mold spores are destroyed by bleach on contact, preventing regrowth and spread. Be cautious when using bleach on painted drywall since it may fade the paint.
Shake the spray container with the bleach and cool water until well combined to make a powerful mold cleaner. Spray the diluted bleach mold solution on the spot until it is damp but not soggy. Utilizing a brush or scouring pad, scrape the residue away.
Reapply the cleaner sparingly, allow it to dry for 15 minutes, and wipe it off with a fresh towel dampened with water. Check the area the following day after letting it dry overnight. Reapplication is often required.
Tips to Remove Mold From a Sheetrock Ceiling
Removing and replacing moldy drywall is the best solution. Because unfinished sheetrock or drywall is a porous surface, the mold you see most likely entered the structure from below. If sheetrock replacement is not an option, moisten the affected area with a DIY mold remover until it no longer drips and let the area air-dry.
Apply one final light coat after wiping any remaining spray with a clean cloth. Let the spray dry until morning to destroy all the mold.
Commercial Products for Your Mold Problem
There is an extensive range of store-bought mold removal products if you don't feel comfortable using a DIY technique. Head to your local hardware shop and pick up Concrobium Mold Control or another mold remover.
Be sure to consider the material of the affected area, whether it's a popcorn ceiling or unpainted drywall, and purchase the appropriate mold remover. Use the mold treatment as instructed on the product label, paying attention to safety precautions.
Professional Mold Remediation for Extensive Mold
If you don't feel confident dealing with your moldy drywall or facing a massive amount of surface mold with the likelihood of a deeper infestation, consider seeking professional support for your mold remediation project.
Mold is dangerous for your health and a home's integrity. While there are several excellent DIY options to remove mold from drywall, professionals are best to handle extensive mold problems. If you're unsure about the scope of mold you're dealing with, call a local restoration company and begin with a professional inspection and estimate.
Considerations for Cleaning Mold off a Drywall Ceiling
Wear eye protection or goggles to shield your eyes during mould removal and a dust mask with filtration or a respirator to protect your lungs from inhaling mold spores. To prevent skin responses or cross-contamination, put on rubber gloves and clothes you can wash in hot water to kill any spores they may take up.
Prepare a plan for each piece of clothing to be immediately cleaned or disposed of. Keep children and pets out of your work area and carefully handle mold spore material. Skin irritation and significant respiratory problems could result from mold exposure.
Tips to Prevent Mold Growth
The best way to sidestep a mold colony inside your home is to control the humidity and dampness. Be proactive in checking for and fixing leaks in your roof, window seals, and pipes, and address any water damage as quickly as possible, so mold spores don't have time to colonize inside your house.
Keep areas prone to moisture, such as the bathroom, as well ventilated as you can. Open a window to dry out the air after taking a shower, or run a dehumidifier to keep the humidity inside your entire home low.
If you incur severe water damage, work with professionals and be sure to moisture test walls and ceilings to predetermine mold risk, rather than waiting for ill effects to begin.
Knowing how to clean mold off a drywall ceiling is a valuable skill. Mold is not only unappealing but also degrades your house's air quality and is a health risk. Take care of mold quickly with uncomplicated home remedies for mold removal.
If you loved this article on how to remove mold from a drywall ceiling, please share these brilliant ideas for removing mold from a drywall ceiling with your friends and family on Pinterest and Facebook.