Suede is a soft, fuzzy leather that improves any look, whether a suede shoe or a suede boot. Many people question how to remove mold from suede shoes because the footwear is fashionable and popular. Suede is a modern and exquisite shoe, yet, these lovely boots have a few drawbacks when it's time to clean. They are incredibly delicate and vulnerable.
Mold stains on suede shoes, in particular, are tough to remove. However, just because a mold stain appears on your suede boot doesn't mean it's no longer useable. Find out how to care for your suede shoes and return them to their glory days if you know how to wipe the mold off of suede shoes.
Easily remove mold from suede shoes and safely fix your boots with a little knowledge and some everyday household items. Begin stain cleaning as soon as possible, as stains left on your suede item for an extended amount of time may leave a permanent mark. For ways to remove mold from suede shoes, go no further than our list of helpful suede cleaning recommendations.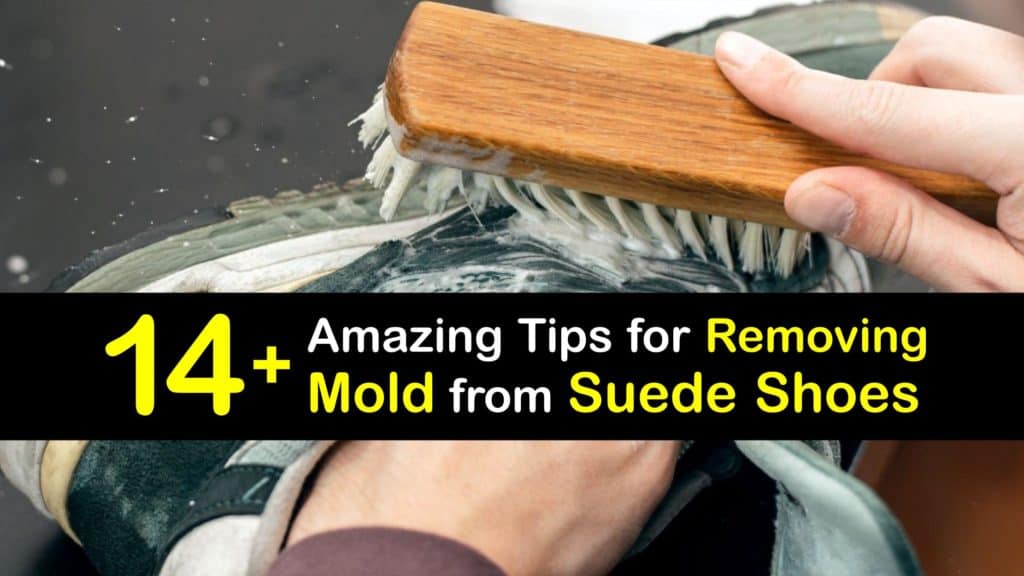 Quickly Remove Mold from Suede Shoes
Suede and imitation suede are found in many fashion items, including suede boots and purses. Suede is soft to the touch, fashionable, and works well in various corporate and casual settings. Nothing is more frustrating than mold, grease, or other tenacious stains on your special suede items.
Fortunately, although it is delicate, knowing how to remove mold from suede shoes makes restoring your suede boot a breeze. Allowing a grease stain or a challenging stain to ruin your day is not an option. Take a look at the items listed and follow our instructions for removing mold from suede shoes.
How to Clean Mildew Off Suede Shoes with Dish Soap
Dish soap rapidly and efficiently removes mold spores and the musty odor from suede shoes. Dish soap is ideal for cleaning leather shoes because it revitalizes the leather and eliminates odors without causing it to deteriorate. It works well on tough stains like grease stains.
Soak a clean, soft cloth or brush for a few minutes in the soapy solution. Clean your suede item gently to remove any salt stains or mold stains with soapy water. To dry suede shoes, blot them with a paper towel or clean cloth and lay them flat to dry.
Clean Canvas Shoes with a Homemade Cleaning Solution
Learn how to clean mold off of suede shoes with items from the pantry. This shoe cleaner and deodorizer removes loose dirt, odor, and the most stubborn mildew stain from your suede boots.
Add ingredients to a sprayer and vigorously shake the spray canister. Spray onto the suede garment and wipe all shoe surfaces with a sponge to clean. Let the suede air dry. If strong odor lingers, reapply the spray. Buff with a suede brush and finish with a suede protector spray to avoid future stains.
Follow the same process as one way to clean moldy leather, too. A finishing layer of wax or leather protectant can safeguard your leather against problems later.
Cat Litter Eliminates Musty Odor from Moldy Shoes
You don't want moisture or a pungent stench in your suede shoes, so use cat litter to absorb both. Cat litter absorbs any water left behind from mold or cleaning while acting as a shoe deodorizer to make your shoe fresh.
Cat litter is an intelligent solution for getting a musty odor from suede shoes and moisture from shoes since suede stretches when it gets too wet. It doesn't utilize harsh chemicals and doesn't require additional spraying or wetting.
Pour cat litter into your shoes and on the outside of your boots, paying particular care to the moldy area. Leave the cat litter in your shoes overnight. To enjoy odor-free footwear, toss the litter in the morning and clean your boots with a moist cloth. After washing the suede, use a suede brush to refresh it.
How to Remove Mold from Suede Shoes with Corn Starch
Cornstarch is a starch derived from corn, as the name suggests. Mold is an organic compound, and cornstarch is an organic solution. Cornstarch makes the mold spores soluble and pulls them from the pores of the suede shoes because an organic substance dissolves in an organic solution.
Cornstarch leverages these solubility properties to clear any mildew stain or difficult mold stains from your suede items safely and effectively without damaging discoloration. Before adding a thick layer of cornstarch to the mold stain, make sure your shoes or boots are dry.
Allow the cornstarch to settle on the stained area for 30 minutes. Cornstarch is an excellent absorbent, absorbing most of the stain once drawn out of the suede's pores.
Wipe away any extra cornstarch using a clean cloth or paper towel, and gently brush the area with a suede brush. Apply more cornstarch as needed until the stain is eliminated.
Remove Mold from Suede Shoes with a Suede Eraser
Use a commercial suede eraser or a pencil eraser to remove stains, scuffs, and flaws from your suede shoes. Dry mold stains and salt stains respond well to the suede eraser procedure. If the mold is still wet, use one of the absorbent methods listed above to dry it before using the eraser.
Work slowly with your eraser as you go back and forth over the mark. Pay special attention to areas of darker color since these require more effort to lift fully. After erasing the stain, polish your shoes lightly with a stain brush to restore their finish.
Try a Commercial Suede Cleaner
Many professional suede cleaners are available if you're not at home or don't have the supplies for a DIY approach. These treatments are made specifically for suede and are meant to be mild on both suede and faux suede while effective against difficult stains.
If you're in a hurry, pick up some suede cleaner at your local store and deal with the mold stain as quickly as possible.
Remove Mold from Suede Shoes with Talcum Powder
Like cornstarch, talcum powder or baby powder is a brilliant absorbent. Get your baby powder out if you have a mold stain on your suede item and are wondering how to remove mold from suede shoes.
After the mold stain appears, apply a layer of talcum powder over it as soon as possible. Use your fingers to pat the baby powder into the area, and wait around half an hour for it to absorb.
Begin carefully brushing away the powder with a nail brush or a suede brush. Brush softly to remove all the baby powder and discoloration from your suede shoes.
Cleaning Moldy Suede Shoes with Baking Soda
Baking soda is a two-in-one remedy for suede mold stains. Baking soda absorbs liquids like cornstarch and baby powder, and it's also a powerful stain remover like white vinegar.
Because of its ability to absorb grease, odors, and filth, baking soda is an appropriate option for cleaning moldy suede as well as to get mold out of a mattress. Generously apply baking soda to the unclean spots of your suede and massage it with a suede brush. Allow about 15 minutes for the baking soda to sit before brushing off dirt and mold spores.
White Vinegar Cleans Moldy Suede Shoes
White vinegar is a standard cleaner to remove stubborn stains off suede boots. Pat the oil stain lightly with a paper towel if it is still wet.
To make your own suede cleaner, mix the two ingredients in a bowl or add to a sprayer. Apply a tiny amount of the cleaner to the moldy area of your suede shoes with a clean cloth or gently pour a small amount of the cleaner onto the suede item directly. Allow the stain-affected part of your shoe to dry after using this cleaning solution.
The vinegar breaks down the imperfection and lifts it from the suede material. After gently drying, use a nail brush or a suede brush to sweep away residue and buff to revive the appearance of your shoes.
Hydrogen Peroxide Cleans Mold from Suede Shoes
When it comes to removing mold from suede shoes, hydrogen peroxide is a godsend. Hydrogen peroxide brightens dull or discolored or dull surfaces and is a potent disinfectant and multi-purpose cleanser. To use hydrogen peroxide as a mold remover, combine with water to ensure it's gentle enough for use on suede.
Whether you need to deep clean black suede shoes or those of another color, massage the mix into the stained area with a clean cloth to remove the stain. Scrub in circles with a scrub brush to remove loose mold and help lift persistent stains. After rinsing with clean, cool water, allow drying naturally.
How to Clean Mold Off of Suede Shoes with Saddle Soap
Saddle soap is a leather cleaner made for leather, though it works well on suede. Saddle soap is an excellent option to remove mold from suede shoes without fading or deteriorating the fabric. Use the saddle soap according to package instructions and follow with a leather conditioner.
Rubbing Alcohol Eliminates Mold Fast
Mold stains wreak havoc on the appearance of suede shoes. Rubbing alcohol, which works effectively for stain removal, is undoubtedly already in your home. The mold's organic components are broken down by alcohol, which removes the discoloration, whether you need to wash suede clothes or have moldy suede shoes.
Before using this cleaning product, try it on an inconspicuous area, as rubbing alcohol is not suitable for all materials. Perform a small test patch to guarantee that this process is safe for your boots.
Soak a clean cloth or towel in rubbing alcohol to remove stains. Swab the filthy area gently with a damp cloth and thoroughly rinse with cool, clean water to eliminate the mold. If the discoloration persists after your shoes dry, repeat to ensure all dirt is removed, and the suede shoes' original color is restored.
Petroleum Jelly Gently Restores Suede Shoes
Petroleum jelly is perfect for dry and cracking suede or leather, as it restores and revitalizes tired suede garments to regain their natural luster and finish. Remove any mold and musty odor using another method, and apply a thick jelly layer over the affected area.
Let the petroleum jelly sit on the shoes for at least half an hour, then wash off thoroughly and leave to dry. Consider a suede protectant to preserve its integrity and finish by buffing with a suede brush for a stylish finish.
Use Laundry Detergent on Moldy Shoes
Regular laundry detergent won't remove mold stains, but a mild detergent used in a concentrated way is a viable alternative. Because of the expense of detergent and the amount required, this method is less cost-effective, but it may be a realistic option if you don't have anything else
Color-safe bleach detergents are usually the most efficient for removing heavy stains without damaging the color of your suede shoes.
Apply a generous amount of laundry detergent on the mold stain, work it in with an old toothbrush, and set it aside for 15-20 minutes before washing on a regular cycle in the washing machine. If the stains persist, try a new cleaning method or mild detergent.
It is not recommended to put your Vans in the washer or your suede shoes as this can damage the fabric. Hand-washing is the safest bet.
Spot Cleaning is Perfect for Suede
Only use spot cleaning on the stain-affected area of the garment; it is a good alternative for suede or leather boots and other delicates. Because suede is tricky to keep clean, a spot treatment is an excellent way to remove the mold stain without harming the shoe.
Select a strategy from our list and focus on the dirt-affected region to decrease the number of cleaning products coming into contact with your footwear, minimizing damage.
Mold stains on suede shoes don't have to be a terrible thing. Shoe polish and other leather-shoe-related products exacerbate the problem. When you know how to remove mold from suede shoes, you can relax and enjoy your suede boots; knowing if the worst happens and a mold stain appears, it's an easy cure.
If you loved this article on how to remove mold from suede shoes, please share these valuable tips to remove mold from suede shoes with your friends and family on Pinterest and Facebook.