If you live in a warm and humid region, you probably have a lot of moss growth to contend with around your home. Large patches of moss growing along concrete surfaces such as the driveway, sidewalk, or wall structure, are unsightly, but not difficult to remove. We'll show you how to remove moss from concrete using simple and accessible ingredients and techniques.
Moss is a low growing, flowerless plant that typically grows in mats or dense clumps in shady and damp areas. Many think these simple plants are a form of fungus, but unlike fungi, their green carpets of tiny leaves contain chlorophyll.
Moss absorbs nutrients and water through their leaves. While moss is ecologically essential and not harmful to humans, there are times when moss growth is undesirable in specific locations such as a concrete patio, or on pavers and shingles. Fortunately, moss removal is easy to do using simple cleaning solutions and techniques.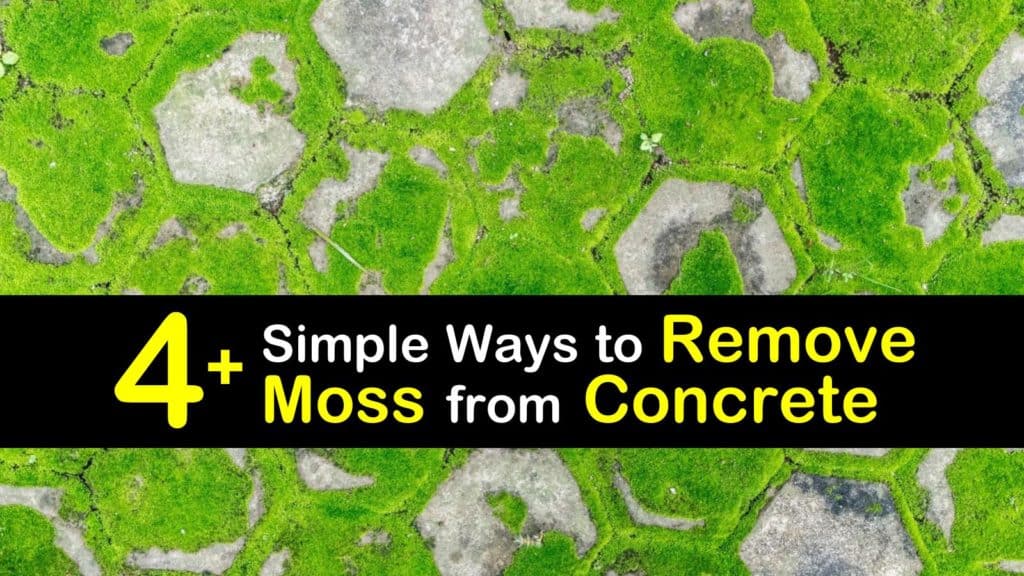 Removing Moss from Concrete Surfaces
There may be times when you want moss. Planting between pavers keeps out weeds and gives an old-fashioned look to a walkway. However, moss doesn't always grow where it should.
Removing moss and weeds from concrete gives the surface a clean appearance, and takes just a few simple steps.
Remove moss from small concrete areas using simple ingredients or perform heavy duty cleaning for large patches of moss during home improvement projects.
Easiest Ways to Remove Moss from Concrete
Sometimes, the most straightforward solutions are the best choice for cleaning. If you have small patches of moss growing in a concrete sidewalk or driveway, try using a stiff brush and water to remove it.
Put a large pot of water on the stove and bring it to a boil. Pour the boiling water carefully into a watering can or use a tea kettle and pour the hot water directly onto the concrete's mossy areas.
Allow the area to cool and use a stiff brush to scrub away the moss. Use the garden sprayer on a hose to spray the moss debris away. Check the area after a couple of days to make sure that all of the moss is gone.
How to Remove Moss from Concrete with Baking Soda
Using baking soda as a homemade moss killer for concrete is one of the easiest and cheapest solutions for cleaning moss off concrete naturally.
The powder increases the pH, making it an inhospitable environment for the moss to grow. It's easy to apply, and you probably have some in your kitchen cupboard right now.
One of the ways to clean a concrete driveway that has accumulated some moss growth is to shake a decent layer of baking soda over the affected area on the concrete and allow it to sit for about 24-hours.
Use a stiff bristled broom to brush away all of the moss remnants. If the baking soda doesn't work to remove the moss permanently, remove moss from brick with vinegar.
Removing Moss from Concrete with White Vinegar
Vinegar is an acidic liquid that kills moss by lowering the pH. Vinegar is inexpensive, easy to apply, kills moss effectively, and prevents it from growing back. This is also an excellent solution for getting oil stains out of concrete.
For getting rid of moss in your yard or on the driveway, place one part vinegar and one part water in a bottle or garden sprayer and shake well to mix. Spray the liquid directly on the moss growth on the concrete or the lawn and let it sit for a couple of days. Check the area to see if the moss is dry and dead.
If not, repeat the spray solution once more. Use a stiff-bristle brush for scrubbing away the dead moss on concrete or rake up the moss from the yard. Rinse concrete thoroughly with a garden hose.
Use this remedy to get rid of weeds in gravel driveway, too. Adding some salt to the mixture ensures even more success.
Removing Moss from Concrete with a Bleach Solution
One of the most effective ways to remove moss from concrete is with bleach. It is also an excellent solution for killing mildew and removing stubborn stains.
To kill stubborn moss on concrete and prevent regrowth, make a bleach solution with one part household bleach and four parts water.
Fill a garden sprayer or bottle sprayer with water and add the bleach. Put a pair of gloves on your hands to protect them from the solution. Spray an even layer of the bleach liquid over the surface of the affected area.
The solution takes about one week to kill the moss. Check the area after a couple of days to see if the moss is drying out and dying. Apply another coat of the bleach spray if the first application doesn't work.
Use a scrub brush to scour away the dead moss and rinse the area with a garden hose. Make sure to avoid rinsing any of the bleach on other plants and surfaces.
Remove Moss from a Driveway with a Power Washer
If you'd rather not use a homemade cement driveway cleanerto remove moss from a driveway, use a pressure washer to spray the moss away from the surface of the concrete with ease.
Make sure to cover plants and other items near the area while pressure washing to protect them from the strong water pressure. Follow the instructions for your washer and use a 25-degree nozzle tip.
Put on a pair of protective glasses, aim the washer nozzle two to three feet away from the affected area, and use a side-to-side sweeping motion across the moss to remove it.
While moss is beneficial to the environment and doesn't pose a health risk to you and your family, it is not helpful growing over the concrete around your home.
Killing moss is easy using simple ingredients like white vinegar and baking soda, and removing dead moss is a breeze with a scrub brush or garden hose.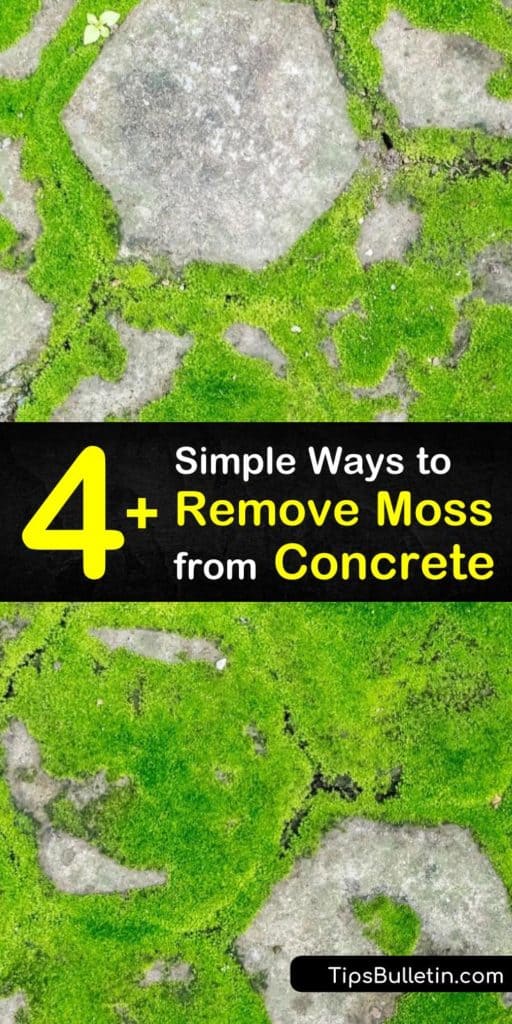 Now that you learned how to remove moss from concrete with ease, why not share our moss removal tips with your friends and family on Pinterest and Facebook?