Getting rid of odors from leather boots is easy and can be quite inexpensive with the right approaches.
Here's how to effectively remove odor from leather boots:
Use baking soda as a deodorizer by placing it inside socks and stuffing these into your boots overnight.
Freshen with essential oils by creating sachets with baking soda and a few drops of oil, placing them inside the boots.
Dry out moisture, which causes most odors, using sunlight or a UV lamp to kill bacteria.
Absorb odors with cat litter by filling the boots and leaving them overnight.
Freeze the boots in a plastic bag to kill odor-causing bacteria.
Anyone who owns leather boots knows the joy of wearing them in the garden, to the office, in the snow, and in the rain. They're incredibly stylish and versatile, but like all forms of footwear, your favorite boots are not immune from developing a smell. To continue enjoying your boots, it's time to learn how to remove odor from leather boots.
The go-to for many to get rid of unpleasant odors is to cover them with an air freshener, but this is often ineffective. Most commercial sprays offer temporary relief from smells but only mask the bad odor without eliminating it.
While washing your boots may seem like the easiest way to clean and remove bad smells, excessive washing diminishes the quality of your leather shoes or hiking boots. Follow our tips to effectively deodorize your footwear using a combination of household items and unique solutions to remove bad odor from your leather boots.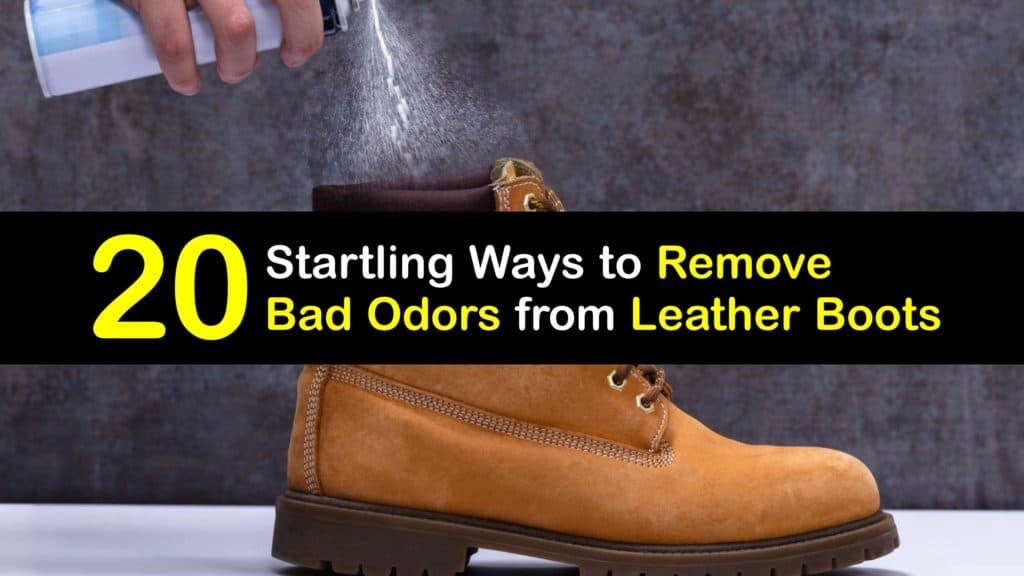 How to Get the Smell Out of Boots
Aside from being unpleasant to smell whenever you take your boots off, the smell in your leather boots comes from bacteria.
Undried moisture from your sweaty foot contributes to odor causing bacteria growing in your shoes. The threat of bacteria in your shoes makes effective drying and prevention just as important as removing the smell in your shoes.
How to Remove Odor from Leather Boots with Cat Litter
If you own cats, it should be no surprise that the litter you pour in their boxes effectively traps moisture and odor.
Measure a cup of cat litter to pour into each boot; it should be enough to cover the bottom of your boot and fill up the toe box.
Leave the kitty litter inside each boot overnight before dumping it out the following morning. Use a vacuum wand extension to remove the remainder of the litter from inside your boot.
Homemade Boot Deodorizer
Baking soda is a household staple that you may not even think about as it works passively at controlling odors in your refrigerator. The same idea works when tackling boot odor.
To create a breathable and easy-to-use homemade boot deodorizer, use baking soda in a pair of cotton socks over and over again.
Pour baking soda into each sock before tying the ends off into a knot. Depending on the size of your boot, you may want to use more baking soda to ensure your deodorizer fills the toe area.
Stuff the socks into the boots and leave them to sit overnight. Remove the socks the next time you wear the boots and reuse them if needed.
How to Clean Smelly Work Boots with Essential Oils
Essential oils are a favorite for those who enjoy cleaning green; some essential oils possess antibacterial properties and leave a fresh and natural smell behind when used in regular cleaning.
Combine essential oils with the odor-fighting power of baking soda to create a smart answer for how to remove odor from leather boots. But be careful to dilute the oil as a deodorizer, otherwise, the oils could stain the suede or leather. Follow our method to get oil out of leather boots if any of the essential oils stain the material.
The concept behind air fresheners is to create an effective odor fighter to tackle odors either naturally or with force.
Combine baking soda and essential oil like tea tree oil in a bowl. Press coffee filters flat and fold them to resemble an envelope or a paper sachet (imagine a tea bag).
Folding creates a pocket for you to scoop your baking soda mixture into before you seal it shut. Use tape (regular or double-sided) or glue to hold the filter together.
If you use glue, allow it to dry before placing a sachet into each boot.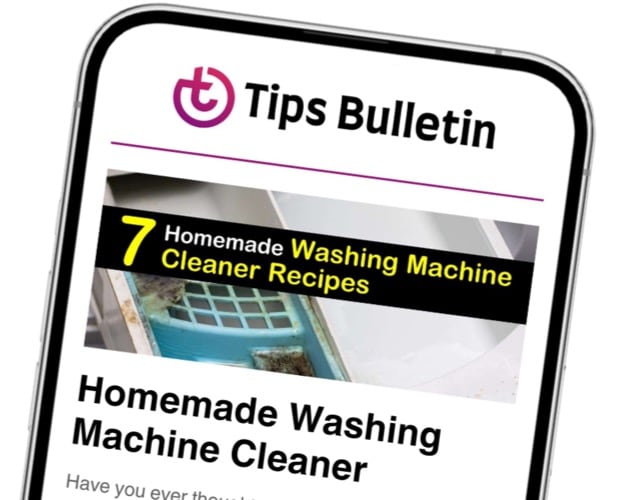 Finally, an email that Transforms Your Home.
Get the latest home and garden tips from our experts, delivered straight to your inbox.
Freshen Smelly Boots with a Dryer Sheet
Dryer sheets are capable of more than repelling hair from your clothes in the dryer. When used inside your smelly shoes, they effectively neutralize shoe odor.
Pluck a few sheets out of the box and lay them inside your shoe flat against the insole, and maybe stuff one into the toe area as well. Leave the sheets overnight to remove the unpleasant odor.
If you have a collection of boots with an odor and a bad smell is starting to take over your closet, try adding dryer sheets inside your closet to eliminate lingering odors.
Eliminate Odor in Smelly Shoes with Powder
Baby powder, commonly made with talc or cornstarch, works well when preventing rashes and is an effective freshener and cleaning agent.
When looking for answers on how to clean smelly work boots, sprinkle a small amount of baby powder into each boot.
Leaving the powder in your boots between uses eliminates the unpleasant smell and leaves them smelling fresh. Before wearing the boots again, shake out any excess powder, or vacuum the powder.
Kill Bacteria and Shoe Odor in Your Boots with Rubbing Alcohol
Although generally unpleasant, a foul odor in your shoes can form mold in your footwear. Untreated moisture in your boots leads to bacteria forming, which leads to odors, and mildew forming in your shoes in the most severe cases.
Rubbing alcohol is a common and effective disinfectant, and it's a great way to kill the unpleasant smell in your shoes.
Remove the insoles of your boots before combining rubbing alcohol and water into a 16-ounce spray bottle. Spray the mixture into your leather boots.
Allow your boots to dry before wearing them, and respray your boots if the smell lingers after the first treatment.
DIY Deodorizer Spray
By combining several essential cleaning agents, creating your boot deodorizer is a simple and effective solution for how to clean smelly work boots.
Include your favorite essential oil to leave your boots smelling fresh without involving harsh sprays or chemicals.
Combine the rubbing alcohol and vinegar in an 8-ounce spray bottle before including the oil drops of your choice. Tea tree oil has antibacterial properties, and lemon essential oil works well at eliminating any odors.
This mixture will also clean football cleats and soccer cleats – both inside and out. Wipe or brush off excess dirt on the exterior first and then rub down with this cleaner and deodorizer.
Absorb Moisture and Eliminate Odor with Fruit and Salt
Like baking soda, salt absorbs odors and moisture in the air. If you're dealing with a smelly shoe problem, peel an orange and sprinkle salt onto the peel before carefully placing it into your boot.
If necessary, repeat this process for multiple peels and let them sit inside your boots overnight. The granular salt absorbs any excess moisture inside your boot while the orange peel leaves your boot smelling citrusy fresh.
Homemade Boot Freshener
Although commercial fabric fresheners may seem like the easiest method for removing odors, creating a freshener from items you already have lying around is just as simple.
Avoid harsh chemicals and ineffective scents by making your freshener using baking soda and essential oils.
To create this spray, pour your water into a saucepan or pot and bring it to a rolling boil. Remove the water from the heat and add baking soda along with the oil of your choice, stirring until combined.
Allow the mixture to cool completely before pouring it into a 16-ounce spray bottle. Spray the insides of your boots to absorb odors and leave them smelling fresh.
Removing Odors with Vinegar
Vinegar is acidic, making it an essential tool for tackling many cleaning jobs around your home. Vinegar is also great at removing smells and eliminating odors from fabric and leather materials.
Combine white vinegar and water in equal parts in a spray bottle. Apply the mixture to the interior of your boots. To clean the outside of your boots, combine vinegar and water in a bowl and clean your boots using a microfiber cloth.
You can also try this remedy to get scuffs out of leather boots. Dab a little of the mixture onto a clean cloth and rub over the scuff marks. For deeper scratches, use a dot of olive oil instead and rub it in well.
Cornstarch Deodorizer Powder
Cornstarch is used for cooking but has uses outside the kitchen as deodorant, skincare tool, and even dry shampoo. Create a simple yet valuable deodorizing powder with other eco-friendly ingredients.
Mix cornstarch, baking soda, and baking powder in a bowl until well combined. Add your favorite essential oil. We suggest lavender, tea tree, or lemon oil to eliminate odors.
Pour this powder into your boots and leave it overnight or at least eight hours. Seal any remaining powder in an airtight container to keep it fresh.
Dump the powder from your boots the next day and vacuum out any remaining powder before wearing them.
You can also use this remedy to clean suede boots. Sprinkle over the outside of the shoes and use a suede brush to work the powder into the material. Keep brushing to remove excess powder.
Tackle Boot Odor by Removing the Insoles
One way to eliminate the odor from your stinky shoes is to remove and replace the insoles from your boots.
Insoles, like laces, are the only parts of shoes and boots that are easily removed and replaced. If the laces of your boots become dirty, swap them out and re-lace your shoes.
The insoles of your shoes are often the most significant source of shoe odor due to them coming in complete contact with your foot.
Replacing your insoles helps cut down on the smell of your shoe, but there are specifically designed odor-fighting insoles to help absorb excess moisture like sweat from your feet, too.
Inserting Teabags into Your Boots
Teabags are a surprisingly effective solution for removing odors from your boots. Because tea bags contain loose dried ingredients inside a sachet, they are absorbent.
Depending on the size of your boots, place at least five bags into each boot, if not more. Because the strength of citrus eliminates unpleasant odors, insert citrus-based teabags into your boots overnight.
Manage Light Odors with Fruit Peels
Although not quite as effective as other remedies for smelly shoes listed here, common fruits like oranges, lemons, and grapefruit are natural ways to tackle minor odor issues in your shoes.
Peel some of your favorite fruits and leave several of the peels inside your boots overnight.
Cut Through Odors with Apple Cider Vinegar
For a strong cleaner and deodorizer, skip the harsh chemicals and gather your supplies from the kitchen and bathroom.
Rubbing alcohol and apple cider vinegar are versatile disinfectants that are capable of removing bacteria from your boots along with freshening them.
Combine these two powerhouse cleaners in an 8-ounce spray bottle along with the essential oil of your choice; tea tree oil or lemon is ideal. Once combined, shake the bottle to mix before spraying inside your boots for a homemade shoe smell remover that really works.
Reuse this spray as needed when you notice the smell in your boots, or use it daily after taking your shoes off for regular maintenance.
Properly Dry Your Boots
Moisture is the number one cause of foul odor forming in your footwear because bacteria thrive in warm damp conditions. This is exactly what your shoe becomes if not dried properly, especially from sweat.
After a day of wearing your boots, rather than taking them off and placing them back in the closet or another dim place, try drying leather boots in the sun or dry them with a UVC lamp.
Undo the laces and pull the tongue of your boot out to open them up to better airflow.
Place your boots in direct sunlight to allow them to dry, or put them under a UVC lamp. Both options help dry your boots out while the rays help kill bacteria.
Use Cedar Blocks to Remove Odors
Cedar blocks are standard tools used with different types of shoes to help them retain their original shape. Many place shoe trees or shoe blocks into their shoes when storing them for extended periods or cleaning them.
Shoe trees made from cedar or another material are also an ideal way to stretch leather boots wider if needed. Adjust the settings on your shoe tree as needed.
Blocks made of cedarwood absorb moisture and remove odor from shoes. This method is a great way to maintain your shoes. Place a cedar block into your shoe at the end of the day and take it out when you are ready to wear the shoes.
Freezing Your Boots
Although putting your boots in the freezer might seem like an odd solution to remove smell and bacteria, it's an ingenious and simple way to kill odor-causing bacteria.
Place your boots in a plastic bag and set the bag in your freezer overnight. Remove your shoes from the freezer and leave them out to dry out completely in the sunlight. Use the freezer to get rid of all kinds of odors both inside and outside your shoes. Since smoke smell often sticks to leather, it's a great way to eliminate this unpleasant aroma.
Commercial Deodorizer
If natural methods for removing odors have not been effective for removing the foul odor from your boots, you may want to purchase a commercial shoe deodorizer.
Depending on the type of deodorizer, this may be a more expensive option, but commercial options typically contain antibacterial ingredients and agents to absorb moisture.
These deodorizers also usually contain an additive to leave a fresh, sometimes artificial, scent. Read labels carefully to avoid purchasing a product that could become an irritant.
Follow the product instructions for proper usage when cleaning and freshening your boots.
How to Clean Stinky Work Boots
Although foot odor and moisture inside your shoe may be to blame for the bad smell in your shoes, external causes may also cause your leather boots to smell.
Leather is known for its signature scent, but the more you use your leather bag or any other leather product, it starts to absorb odors into the leather surface.
This absorption causes your boots to smell, even if the inside does not. There are numerous products on the market when looking for how to clean smelly work boots, and some do double duty by deodorizing your boots at the same time.
Care for Your Boots with Saddle Soap
Saddle soap is a compound made for cleaning and conditioning leather goods. Made from soap, lanolin, and a preservative like beeswax, saddle soap will remove embedded grime from leather items like boots, gloves, and jackets.
Remove excess dirt from your boots with a clean cloth or brush before using a damp cloth to rub the saddle soap onto the leather surface to form a lather.
After rubbing the soap well into the leather, wipe away excess with a clean damp cloth, and rub your leather boots with a clean, dry white cloth.
Leather Cleaner
Whether it is mink oil, a leather conditioner, or leather cleaner, most leather products do not remove odors, only grime and dirt. However, specialty leather cleaners exist with ingredients designed to neutralize odor from leather surfaces.
Follow the label instructions for cleaning your leather boots to ensure you prolong their life.
Preventing Boot Odor
When it comes to dealing with odor in your boots, preventing odor is often a more straightforward process when compared to eliminating odor.
Continue reading for easy steps to add to your routine to lessen the odor in your boots to keep you from deodorizing your boots every week.
Wearing Proper Footwear
Bacteria in your boot causes odor, and moisture causes bacteria. The best way to reduce the sweat coming into contact with your boots is to wear socks.
Our feet sweat all the time; things like weather, shoe tightness, and daily activity increase how much our feet sweat and contribute to foot odor. Socks help absorb excess sweat and keep it from seeping into the insoles of your boots.
Daily Care
If smelly foot odor is something you struggle with, make sure you wash your feet well in the shower and ensure your feet are dry before putting your boots on.
Applying baby powder to your feet before getting dressed also helps deal with odor and moisture before it starts to affect your boots.
If possible, avoid wearing the same boots every day. If you own more than one pair of boots, rotate them to give your shoes at least a day's break in between wearing them.
Allow your shoes to dry out properly when you're not wearing them using one of the methods for drying we've listed, or stuff them with newspaper to absorb excess moisture.
To make the most out of your leather boots, practice wearing them smartly and caring for them even when they're not on your feet.
We hope you learned how to remove odor from leather boots with our guide and consider sharing our recipe for creating a homemade boot deodorizer on Facebook and Pinterest.