Have you ever slept on a stinky mattress? If you have, then you know how important it is to understand how to remove odor from mattress. These tips will ensure that you never have trouble with bedroom smells ever again.
We will go over mattress cover, new mattress, and pillow top smells, too. Does your box spring smell? That, too, we have a solution for! Gather dish soap, baking soda, a spray bottle, and a vacuum cleaner, and you will have everything you need for DIY mattress cleaning.
Not only will you remove even the nastiest mattress smells, but even dust mites will stand no chance against this cleaning solution! You will remove all the dead skin and bodily fluids from the mattress, so they will have nothing to consume. Problem solved!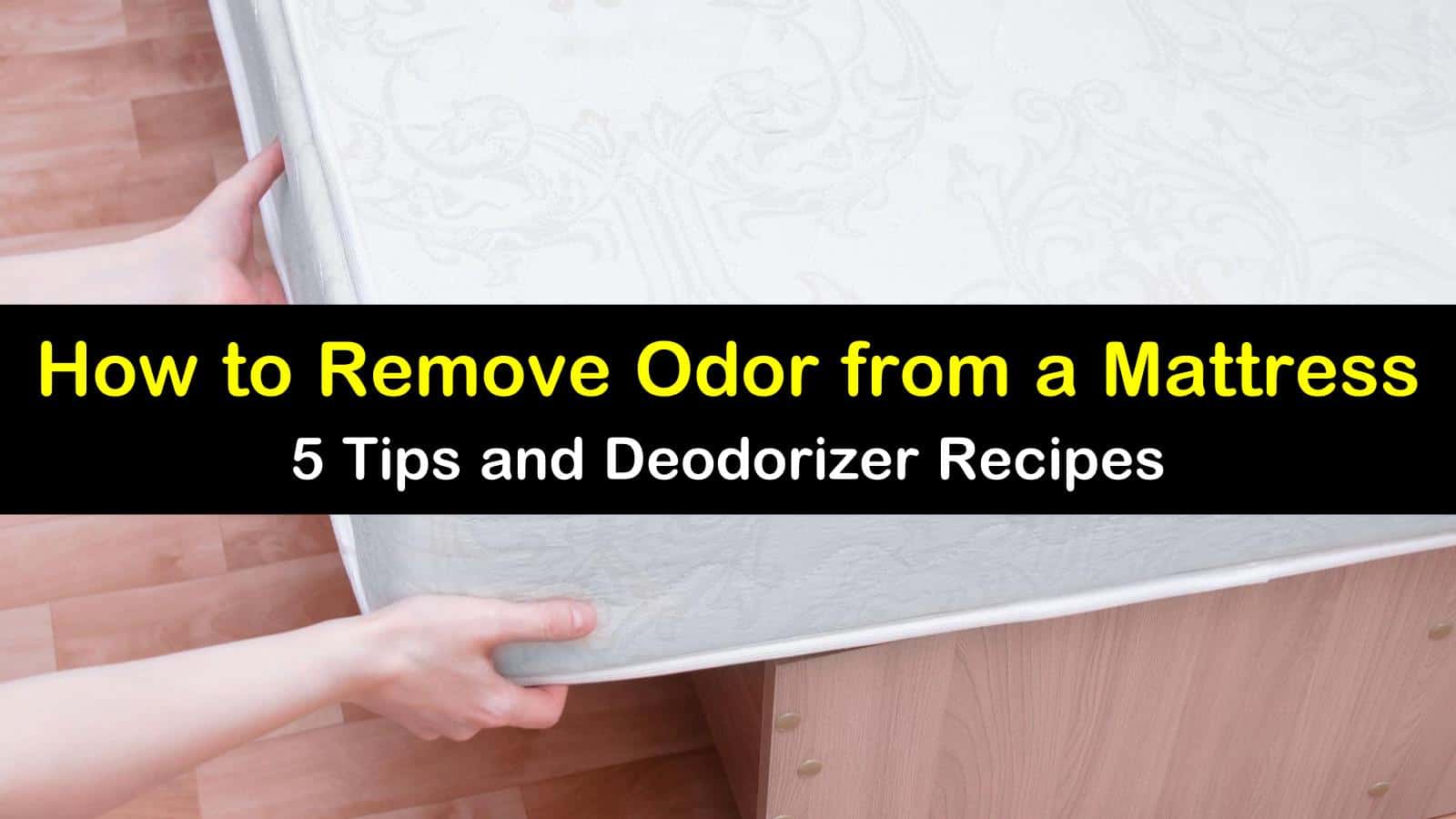 Our Tips for Removing Odor from a Mattress
Mostly, mattresses are a collection of fabric, foam, and springs. Luckily, cleaning fabric is easy; use detergent and throw it in the washing machine. Unfortunately, while we can remove odor from clothes without washing them, we can't do that with a mattress. The solutions below are our best options for deodorizing the mattress you sleep on every day.
There are several basic household ingredients you can use for simple mattress cleaning and deodorizing. Pick and choose what seems to work best for you. Note that while a charcoal odor absorber is great for stinky shoes, it may not work in the same way for a mattress.
Sprinkle Baking Soda on Your Mattress
Our parents know to sprinkle baking soda on upholstery and mattresses and make your bed smell better. Our moms and wives know this trick of old. Grab a box of baking soda from the fridge or the grocery store. Pour out about two cups of it into a bowl.
Slowly sprinkle a fine layer of the baking soda on your mattress for a simple DIY odor eliminator that is both cheap and effective. Add some extra to the mattress stains. Now leave it for most of a day.
The baking soda should absorb any moisture and the associated smells from the mattress. Finish by vacuuming up the stink and the baking soda. If you don't have a vacuum cleaner at home, there are many ways of cleaning a mattress without a vacuum, including removing baking soda by hand.
As a bonus, this remedy should work as a stain remover, even better than some cleaning products you may find in the grocery store. To finish off your deodorizing session, use this disinfectant spray for mattresses so that it not only smells clean but is clean.
Eliminate Cigarette Smoke Smell from Mattress
Even a memory foam mattress can benefit from these cleaning tips. Dig out a bottle of essential oils like citrus, lavender, or any other flavor you like.
Cover the entire mattress in a fine mist from the spray bottle. Not only should this help clean urine up, but it will eliminate cigarette smoke smell from mattress, as well as other unpleasant odors.
Wait for the deodorizer to evaporate in the air, and the odor should be gone. There's no need for blotting the mattress with liquids and paper towels, and intensifying the problem.
You'll think that your mattress smells lovely. However, that's not the only smell you need to eradicate. Sometimes you will need to clean a down comforter at home, too. Essential oils can also take care of this issue.
Use White Vinegar for Memory Foam Mattress Odor Elimination
If our previous tips haven't given you the results you want, try out this recipe below for getting smoke smell out of a memory foam mattress. It'll make sure your memory foam mattress odor elimination is complete.
Pour the liquids in a spray bottle, shake to mix, and cover the surface of the memory foam mattress with it. Given enough time to evaporate, around half an hour, it should kill the odor-producing bacteria and absorb the smells. This is a great solution to get dog pee smell out of a mattress. As a bonus, it should absorb some allergens and new bed smells, as well.
As another step, run that across the bed if you have a vacuum cleaner with an upholstery attachment. After all that work, your newly clean mattress smells nothing like urine.
We have discovered that when your mattress smells musty it's usually not just in the bed. We've found it in rugs, blanket, and almost every other type of fabric.
You might even need to get musty smell out of carpet, too. Vinegar is ideal for removing unpleasant odors and as a homemade stain remover for carpet and from all kinds of other surfaces, too.
How to Eliminate Urine Odor from Mattress with the Sun
The cheapest way to clean the surface of a mattress and for getting rid of urine smell in a mattress is with the sun. You'll never wonder how to eliminate urine odor from mattress again. It even works on mildew.
Strip the mattress of all the bedsheets and comforters and throw them in the wash. Depending on the material, putting a mattress topper in the washing machine is another option. Find a tarp to put on the ground outside; after all, you do not have a waterproof mattress.
Place your bed outside on the tarp and blot as much of the wet urine as you can. Let the mattress soak in the rays of the sun and air dry for eight hours or longer.
If you have a mattress pad, bring that out into the sun, too. Even the urine stains should fade after a day or two. You won't even have to clean up the smells yourself.
We all know that urine stains from kids aren't the only possible problem in a house. Your pets can also pee on the carpet. If you have a dog or a cat who missed the litter box, you'll be interested in the best carpet cleaner for old pet urine.
Steam Cleaning
Can you steam clean a mattress? Of course, you can. Steam cleaning not only eliminates unpleasant odors but also gets rid of nasty stains and dust mites, too. Rent a steamer from your local home improvement store.
How to Remove Odor from Mattress with an Ounce of Prevention
You won't have to clean a mattress if you invest in a mattress cover or mattress protector. If it's a good one, it'll prevent all sorts of odors from penetrating your mattress and you won't need a homemade odor eliminator.
It'll keep bed bugs and dust mites away, and it'll even make cleaning the mattress as simple as throwing the mattress cover in the wash.
There will be no more deodorizers to try and neutralize odor in mattress and no more cleaning up urine stains. You will not have to haul the mattress outside again, or cover it in hydrogen peroxide.Mattresses aren't the only fabric in the house that smells can permeate.
You can also find odors in carpets and couches. Leather couches, in particular, are extremely difficult to clean, so you will need to know how to remove smoke smell from leather with the tips provided.
After all of this work, you should have a smell free mattress. Sleeping should be a welcome relief once again, in an amazingly clean bedroom.
How to Get Rid of an Old Mattress
If you decide to get a new mattress, what can you do with the old one? Donating old mattresses to charitable organizations is one idea. Another is to recycle your mattress with a waste disposal agency in your area. Check out your local listings for more information.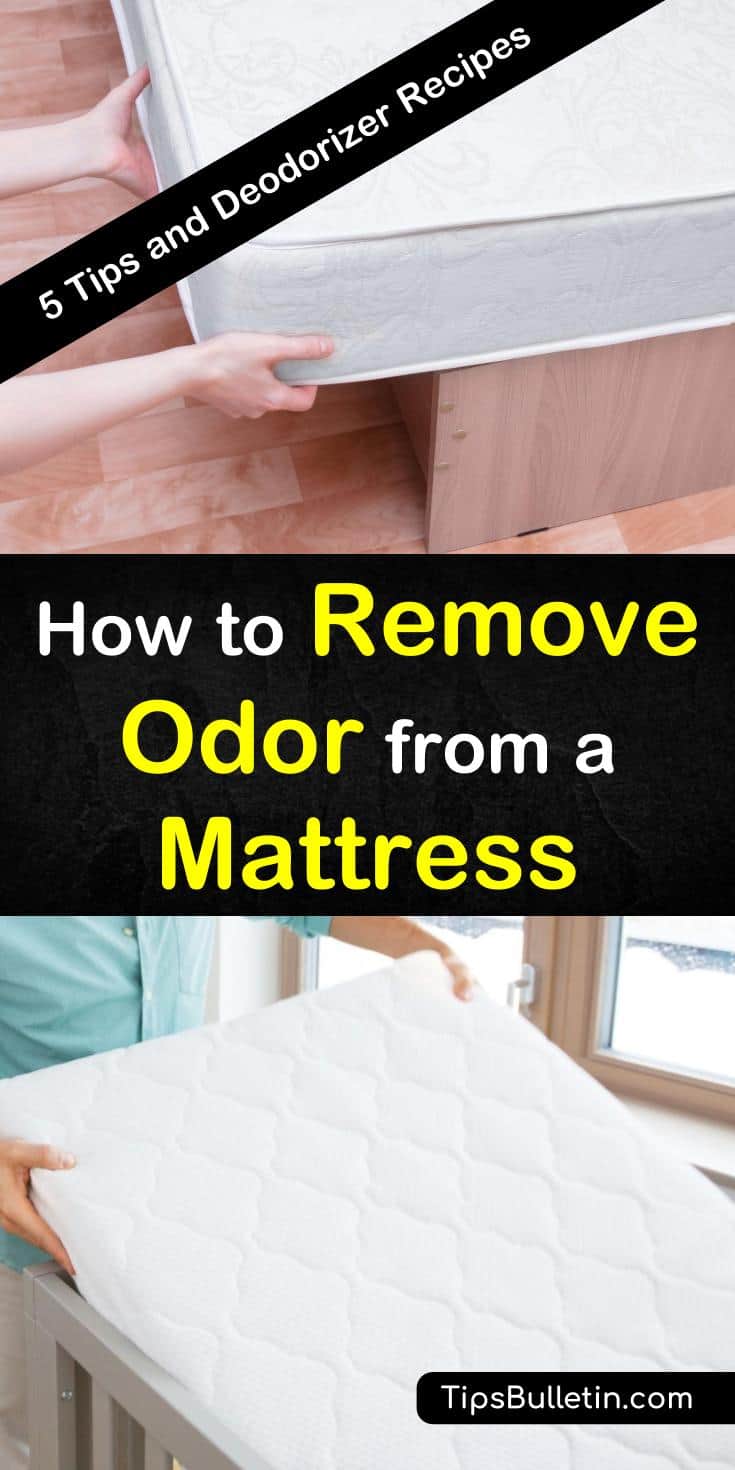 Now that you are an expert on how to remove odor from mattress, we hope you are willing to share your tips about deodorizing a mattress on Facebook and Pinterest.