It's good to know how to remove oil based paint from wood, whether you're a hobbyist who spilled some on your hardwood floor or an artist who uses the medium. Though removing oil based paint from wood might appear difficult, it is done quickly with the right chemicals and techniques.
Once you understand how to get oil based paint off wood, you'll be confident in your ability to finish jobs and manage accidents. Oil paints are robust and apply a lot of colored pigment, drying to be tough to remove and permanent.
Because they are a little more fragile than non-porous materials such as plastic, porous materials like wood present an additional barrier when removing unwanted oil paint. Regular household materials, including dish soap, distilled white vinegar, and nail polish remover, work well to remove oil paint and won't break the bank.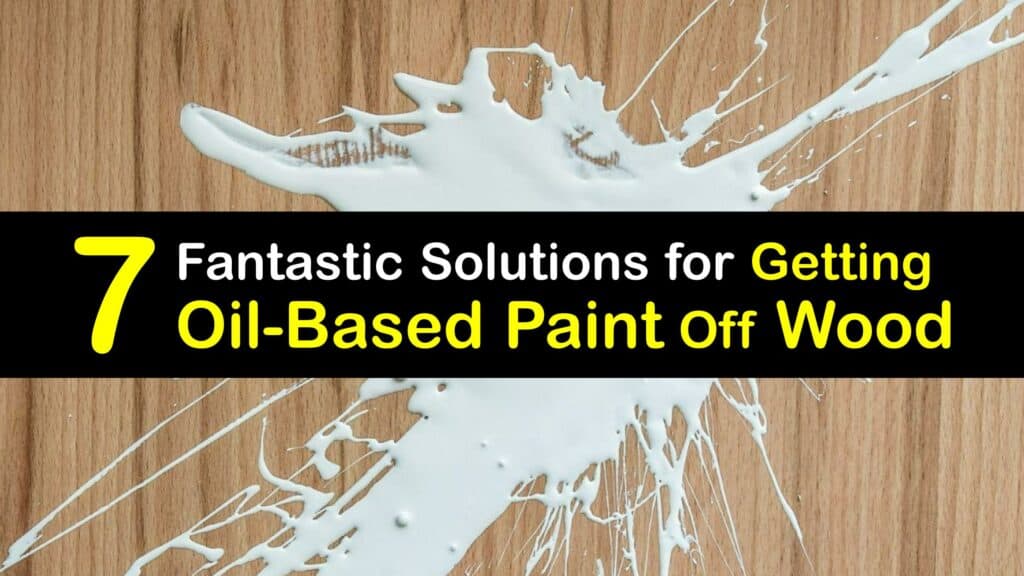 How to Get Oil Based Paint Off Wood
Removing oil based paint from wood doesn't have to be a struggle. Many commercial paint cleansers remove the coloring from your wooden goods, but they are frequently harmful and expensive.
Learning how to remove oil based paint from wood with everyday items saves you money and reduces your exposure to toxic substances. Dab up as much of a paint stain as possible with a paper towel while it's still wet, and choose a method from the list below to deal with the residue.
Removing Oil Based Paint From Wood Floor
It's crucial to know what kind of paint you're clearing. Oil paint requires a specific procedure compared to latex paint, and incorrectly addressing the problem could affect the outcome.
When removing oil paint, porous surfaces like wood are handled more delicately than non-porous surfaces like plastic. Cover clean wood surfaces to prepare, and make sure you have old clothes, protective gloves, and safety eyewear to use while cleaning.
How to Remove Oil Based Paint From Wood Trim
Isopropyl alcohol, sometimes known as rubbing alcohol, is a liquid used for various industrial and domestic purposes, including cleaning. This inexpensive cleaning product, found in many home goods and general food stores, is ideal for paint removal from many surfaces, including wood.
Rubbing alcohol is helpful for removing paint splatters from wood or from many porous and non-porous surfaces, albeit it is less effective than a paint stripper.
Pour some rubbing alcohol onto a soft cloth and paper towel, and rub it back and forth over the stain until the paint begins to lift. If the cloth becomes saturated in paint pigment when you need to clean paint drips off wood baseboards or other wooden surfaces, stop and switch to a clean section of material to continue to work on the mark.
Getting Oil Based Paint Off Wood Stain
A putty knife or paint scraper is a mechanical instrument for removing paint; they are inexpensive and available at most hardware stores. Hold the scraper tightly and glide it forward to remove oil stains from a wood table. Use shallow, steady strokes to prevent accidentally scratching the wood and harming the structure.
Old paint or thoroughly dried paint responds well to a paint scraper. The big end of a scraper flattens to a fine edge to remove the paint off the board and slip past cracks and other imperfections in the paint. Position the tool's edge at an angle to the paint layer and scrape while wearing protective goggles to safeguard your eyes from paint chips.
The Best Way to Remove Oil Based Paint From Wood
Commercial paint strippers remove paint from wood by dissolving the bonds between the paint and the wood. Chemical stripper or paint thinner is available in numerous varieties made for different kinds of paint.
Before you strip paint, test the product to ensure it works well and won't taint your wood. Choose a chemical paint remover suitable for oil-based paint and follow the product manufacturer's directions on the label for the best results.
Sometimes, if you have a large area of paint to remove, like when you get paint off kitchen cabinets, a paint stripper is the less painful option. Ensure plenty of ventilation and wear gloves.
Removing Paint with Nail Polish Remover
The primary component of nail polish remover is acetone. Acetone effectively removes stains and oil paint from wood and cleans nail polish. You may also find that you can get oil based paint off clothing the same way. Be sure to dab rather than rub the paint to keep it from spreading.
Use a cloth or paper towel and a generous amount of acetone to rub the affected region back and forth gently. If the fabric becomes heavily colored with excess paint, stop and use a fresh towel and more acetone, and continue cleaning until all of the oil paint is gone. Wipe the timber with a damp rag and leave it to air dry.
Clean Paint Stains Off a Hardwood Floor
Dish soap is a tough stain remover and is an appropriate choice for cleaning oil paint from wood before it dries. If you notice a paint spill soon after it happens, soak up as much as possible with an old towel or paper towel, and use this uncomplicated dish soap cleaner to wash away the rest.
Mix the dish soap with water in a small bowl, dip a rag in, and squeeze until damp. Use the rag to wipe up the oil-based paint, working methodically until all the color lifts.
Use Sandpaper to Remove Paint From Wood Flooring
Another simple method to strip old paint from wood is using sandpaper and power sanders. Don eye protection and a face mask since sanding to eliminate color produces a lot of dust; do not use electric sanders indoors.
Clean the painted surface thoroughly with degreasing cleaner, dish soap, or household cleaning product, and let the surface air dry. Start with coarse 80-grit sandpaper. Apply enough force to the board to remove the paint without harming it.
Move on to a medium 150-grit abrasive before finishing with a fine 220-grit, wiping the surface every time you switch the paper to remove any remaining dust. When the paint has been completely removed, use a moist cloth to remove dust from the surface.
Paint splatters outdoors are sometimes easier to handle. Pressure washing exterior wood siding often eliminates or at least loosens paint stains to make cleaning less of a chore.
When you drop your paint brush on a wooden floor or have a paint splatter on wooden furniture, it's time to figure out how to get oil based paint off wood. Clean stubborn paint with a simple at-home paint remover to ensure your wood looks clean and polished.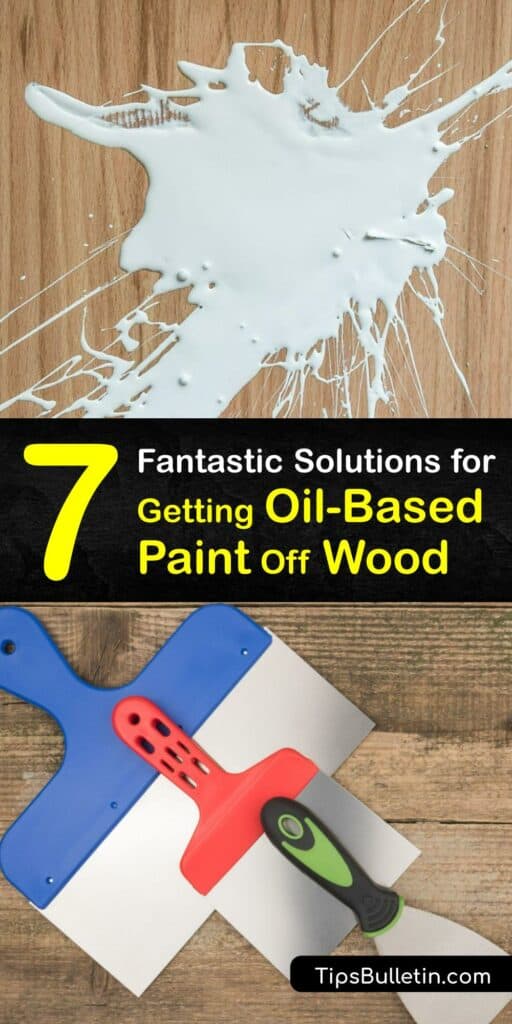 If you loved this article on how to remove oil based paint from wood, please share this brilliant information on removing oil based paint from wood with your friends and family who work with paint on Pinterest and Facebook.