Bowlers know they won't get perfect strikes if they don't take care of their bowling balls and resurface them from time to time. Whether you're a new hobby player or have been bowling for years, you need to understand how to remove oil from a bowling ball to keep the ball rolling.
Each new ball is encased in a type of coverstock that helps your ball roll down the lanes. Over time, lane oil seeps into the pores of the ball and prevents it from moving the way it should.
You don't have to go to a local pro shop for resurfacing materials. It is possible to get oil out of bowling ball at home with only a few basic supplies.
All bowling ball brands such as Brunswick, Motiv, and Ebonite are covered in a reactive resin that increases the porosity of the ball and creates better friction while it moves down the lane.
The pores in the ball are absorbent and do get clogged over time. This clogging is when a DIY bowling ball oil remover aids in oil extraction before applying a rejuvenator to get you back at the top of your game.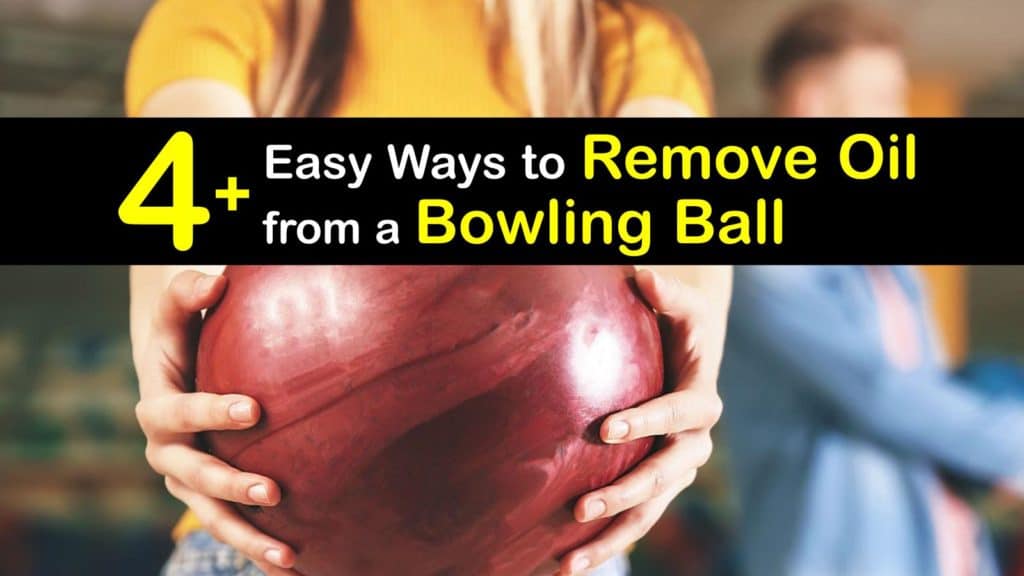 Why It's Necessary to Get Oil Out of Bowling Ball at Home
Learning how to remove oil from a bowling ball isn't necessary if you plan to take it to a pro shop. However, these services are not inexpensive.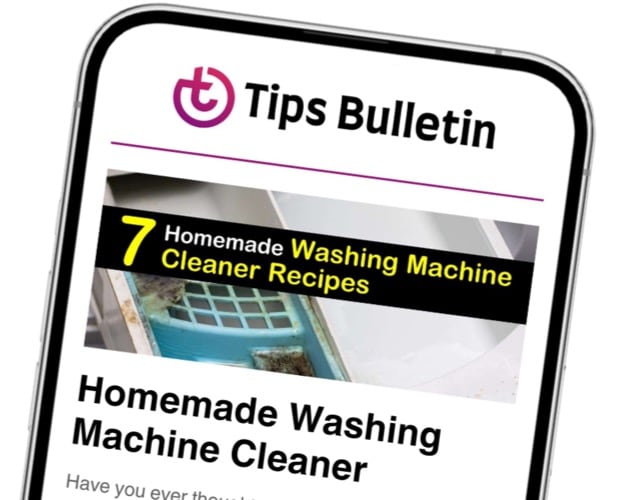 Finally, an email that Transforms Your Home.
Get the latest home and garden tips from our experts, delivered straight to your inbox.
Finding the best way to get oil out of bowling ball is necessary because it removes buildup on the surface of the ball that prevents it from moving the right way down the lane.
Some shops do include a free cleaning with qualifying purchases, but this isn't available to everyone who shops there.
According to the United States Bowling Congress (USBC), bowlers should clean their balls with safe cleaning agents at least once every six games.
Deeper cleanings should occur between every 20 and 50 games played. Keep reading if you're interested in creating your own DIY bowling ball oil remover with a few simple ingredients.
How to Remove Oil from a Bowling Ball
These clean-a-bowling-ball methods are some of the best ways to remove buildup from the surface of your ball. Simple things like tap water, hot air, and a microfiber towel are all that's necessary to get things rolling again.
Making DIY Bowling Ball Oil Remover
One of the best natural methods to remove buildup on your bowling ball is to create a spray at home. These sprays are often strong enough to remove the multiple layers of buildup without seeping into the bores and damaging the ball itself.
Do not use acetone in any DIY cleaner because it damages the ball's urethane and seeps into the pores of your equipment.
To make your own bowling ball cleaner, pour equal amounts of Simple Green, rubbing alcohol, and warm water into a spray bottle. Replace the top of the full spray bottle and shake it so that everything mixes well.
Spray the cleaning solution over the surface of the ball before wiping it off with a microfiber towel. Spray and wipe the ball clean once more if necessary.
The Immersion Method for Bowling Balls
One of the most effective cleaning strategies to get oil out of a bowling ball at home is immersing it in water. Start by filling a large bucket with hot water and a few drops of dish soap.
Before putting your ball in the water, make sure to use duct tape or masking tape to cover the finger holes and prevent water from seeping inside.
Gently place the ball into the bucket of hot water and allow it to soak in the hot water bath for up to 30 minutes. Remove your ball from the bucket and allow it to dry at room temperature. Use a sanitized microfiber cloth for removing any remaining moisture and polishing a bowling ball.
Abralon Pads
Abralon pads are made by popular bowling ball supply stores like Jayhawk. These sanding pads help you finish your ball to your desired grit level.
The pads are also efficient at removing oil buildup on the surface of your ball. These are available for purchase online or at your local pro shop. Make sure to follow all directions before using them to prevent any damage.
Cleaning Bowling Balls with Windex
It surprises many new bowlers to learn that they can clean their supplies with a little Windex. Windex is a recommended cleaning product by the USBC, and many of us already have it at home.
Try to use a microfiber cloth whenever cleaning your bowling ball because it helps to remove all of the excess moisture from the spray. You might have to spray the ball several times before you get it to your preferred slickness.
Utilizing Pro Shops
Even though they aren't necessary, pro shops are a simple way to guarantee that the job gets done right the first time. Pro shops also use some of the most popular products to clean your equipment and have knowledge that you might not have learned yet.
They have access to equipment like ball spinners or products for resurfacing your ball to help with the porosity and friction. If you prefer not to do the job yourself, use a local bowling pro shop.
Bowling is not the most popular sport in the world. Still, those that participate know how much fun it can be. When you take care of your bowling equipment, you set yourself up for success and immediately notice a difference in how your ball moves down the lanes.
Cleaning your bowling ball is crucial for your success, and it often surprises people how simple it is to do yourself.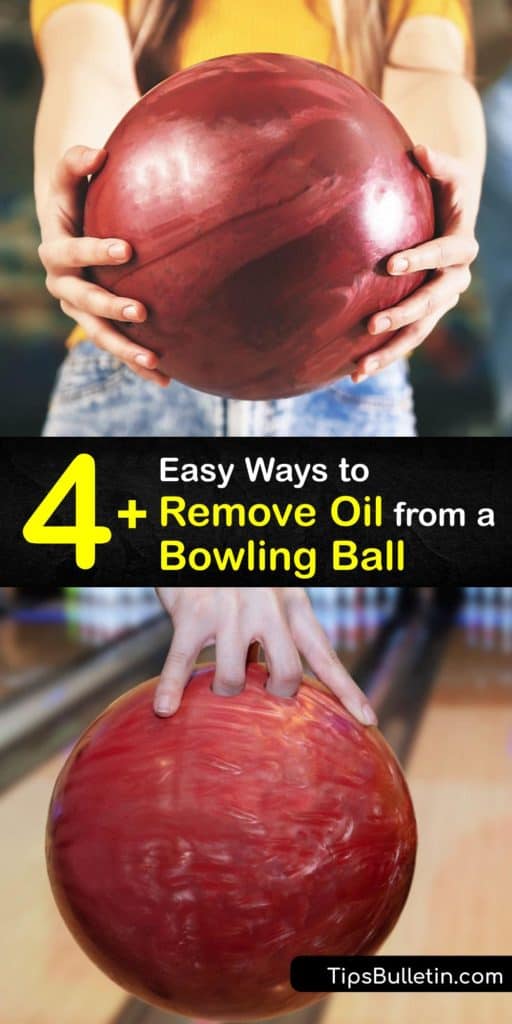 If learning how to remove oil from a bowling ball has improved your game, share these ways to get oil out of bowling ball at home on Facebook and Pinterest.