The need to strip paint from wood comes from the desire to uncover the natural appearance of your hardwood floors under layers of paint or to remove unsightly varnish from wood furniture. Regardless of the reason, uncovering the wooden surface beneath the paint involves learning how to remove old paint from wood surfaces.
Removing paint can be time-consuming to ensure you remove all paint without damaging the condition of the wood underneath. With the right type of paint stripper, it's possible to remove paint stains from various woods. Common wood to strip paint from includes wood trims, furniture, frames, and floorboards.
Some options for paint removal are more aggressive than others and may affect the appearance of the wood. If you plan to repaint the wood, ensure a smooth surface after stripping the old paint. Continue reading for tips on removing old paint and the right tools to make the job as easy as possible.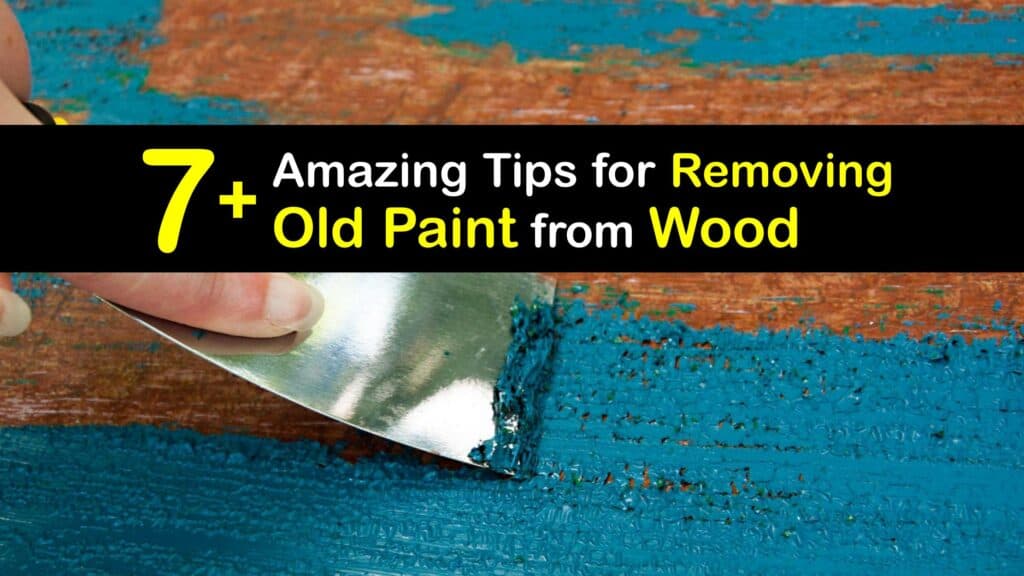 How to Get Old Peeling Paint off Wood
The most challenging part of stripping paint is finding a technique that works effectively for you, whether you are removing paint from finished wood or not. There are several ways to remove paint, the most popular being commercial paint removal products or natural ways to remove paint from wood. This article details several strategies to achieve the desired result.
Is Your Wood Worth Stripping?
Wood is highly durable, which is why most homes use hardwood as their foundation; however, wood loses durability over time. Small pieces of wood, like trims and baseboards, become worn, and wood generally rots if it is not maintained. If your wood suffers from rot, stripping the paint may damage the wood and leave little wood behind to repaint.
Check for rot by looking for fungus spores on the wood, a musty scent, or any visible fungus. If the wood is wet or spongy, it is a sign of water damage. Before stripping, remove any damaged or rotted wood before filling any holes or cracks and sanding to make it smooth.
Tips for Handling Lead Based Paint
Lead paint speeds up the drying process, improves the appearance and durability of dried paint, and makes the paint more resistant to corrosion from moisture. Due to health issues caused by the toxic nature of lead, this paint was discontinued in place of safer options like water based paint.
The United States banned lead paints in 1978, and any house built before this date likely contains lead based paints. The danger in lead paint comes from ingesting it, which children have done throughout history because of its sweet taste. Lead paint is also easily inhaled when sandpaper removes the paint layers from wood.
Purchase a DIY kit to test the paint if you suspect it is lead-based. Contact a professional for advice for your safety.
How to Remove Old Paint from Wood With Oven Cleaner
If you want to avoid purchasing a paint stripper and have oven cleaner on hand, this kitchen supply item works great for removing paint. Because oven cleaners come in spray form, it's best to use this product outside or in a well-ventilated area.
Evenly spray the wood with oven cleaner and leave it to sit for ten minutes before checking for bubbling or changes in color. If you're stripping the paint outside when removing oil-based paint from wood, use a sprayer to rinse off the oven cleaner or a paint scraper to clean the wood beneath.
How to Thin Paint With Vinegar
Thanks to the acidic nature of vinegar, this common household item is useful when searching for tips on how to get old peeling paint off wood. When used in cleaning jobs, vinegar breaks down and dissolves stains and buildup. To use vinegar for paint removal and for stripping paint from cabinets without sanding them, warm the vinegar with water before applying it to the paint.
Heat water and vinegar on the stove until it is warm but not too hot to handle. Remove the mixture from the heat before placing an old rag inside to soak up the vinegar and water. Use this rag to apply the vinegar onto any areas of peeling paint. Get acrylic paint off wood with ease with this method.
Leave the vinegar for 15 minutes before peeling the paint off with a scraper when using this way to get dried paint off wood trims and baseboards. If the paint has not softened enough, reapply the vinegar before scraping again.
Using Paint Stripper to Remove Old Paint
Pour paint thinner into a container and use a paintbrush to apply to small portions of the painted wood at a time. Wait for about 30 minutes after the paint stripper application for the paint to begin peeling away.
Getting old paint off wood may take longer, depending on the number of layers. To remove stubborn paint layers, allow the paint stripper to sit for a few hours. Oil based paints may take up to 24 hours to soften. Test the paint periodically to see if it has softened enough to remove before scraping with the wood grain using a plastic paint scraper.
Removing Stubborn Paint From Wood
After applying a paint stripper and allowing the paint to bubble and peel, switch to a more abrasive scrubber if you struggle to remove the paint with a putty knife. Old toothbrushes or toothpicks remove paint from small areas of ornate wooden furniture that large strippers and brushes can't reach.
For hard removal jobs, dip a brush or steel wood pad into the thinner before scrubbing the painted wood. Once you remove any remaining paint, rinse the area with water to rinse away loose paint.
This strategy works well for getting paint off concrete and cement surfaces. You can also try a pressure washer.
How to Melt Paint With a Heat Gun
Commercial heat guns are natural ways to remove lead paint from wood without chemical strippers. Safer than torches that use actual flames, heat guns help melt the paint and make it easy to peel.
Move the heat gun in a sweeping motion to loosen the paint without focusing on one spot, which may cause combustion. Once the paint softens, use a scraper to peel the old paint off.
Keeping the heat gun at a safe distance also helps prevent burning the wood. Because this way of removing old paint from wood doesn't involve chemicals, it is likely the best way to remove peeling paint from wood.
Removing Old Paint from Wood With a Paint Remover
To prepare your home for using a paint remover, protect your floors or any other areas you don't want to treat by covering them with a plastic tarp and sealing them with tape. Remove screws or nails from the wood before application.
To avoid chemical paint strippers, Klean Strip Green is an alternative to chemical strippers that doesn't contain volatile substances like methylene chloride. Klean Strip Green paint stripper works great when removing latex paint from wood, which is often used when repainting old furniture.
Before working with a paint stripper, wear protective equipment like gloves, a face mask, and long-sleeved clothing to avoid contact with your skin and any splashing paint stripper.
Tips for Using Paint Scrapers
When removing old paint from wood, the scraper you use makes the job easier and may even eliminate the need for paint thinners. Plastic scrapers are popular because they cause the least damage to the wood underneath; however, they are usually ineffective. Scrapers made with brass blades work well on tougher paint jobs.
As you start scraping paint away, always work in one direction with the wood grain. Once a majority of the paint is gone, lightly scrape against the grain to remove loose paint chips.
Removing Paint With Sandpaper
Another paint removal method that does not require chemicals or additional products is sandpaper. Sanding paint away involves applying even pressure to the surface you're sanding to rub away the top layer.
For small paint jobs, a strip of sandpaper works well, but a power sander works best for larger-scale projects. Using a sander ensures the level of sanding is even to avoid damaging the wood by applying too much pressure in one spot. When sanding multiple layers of paint, start with coarse paper, around 80 grit, before working to fine grit paper.
Almost every homeowner has to scrape old paint from wood at some point and needs to discover the best way to complete this task. Thinning a chipped color from an old piece of furniture or removing a star painting your children left on the back of their door doesn't have to be a costly project.
With natural options for removing paint and suggestions on the best practices for using commercial paint thinners, you have all the help you need for your next project.
If our tips on how to remove old paint from wood help with your next DIY project, please share our guide on how to get old peeling paint off wood with your friends and family on Facebook and Pinterest.