Tiles are popular wall decor and fit in so many spaces. Ceramic tiles look amazing in the kitchen, marble tiles elevate a bathroom, and decorative tiles add personalization to any room. Adhesives like grout and mastic are essential for installing tiles. Yet, many do-it-yourselfers find it difficult to discover how to remove old tile adhesive from the wall.
When removing your tiles, getting tile adhesive off walls is more complex and less enjoyable than putting it up. Finding a simple solution to remove old adhesive from walls may seem challenging. Still, anyone can learn how to remove tile glue from a wall.
If you don't own power tools like a hammer drill and angle grinder, rent or borrow them from family or friends. Or, you can remove grout from tile and glue residue using a utility knife or floor scraper and a softening solution. Don't let fear of old adhesive stop you from redecorating. Follow uncomplicated tips to get rid of old wall glue effortlessly.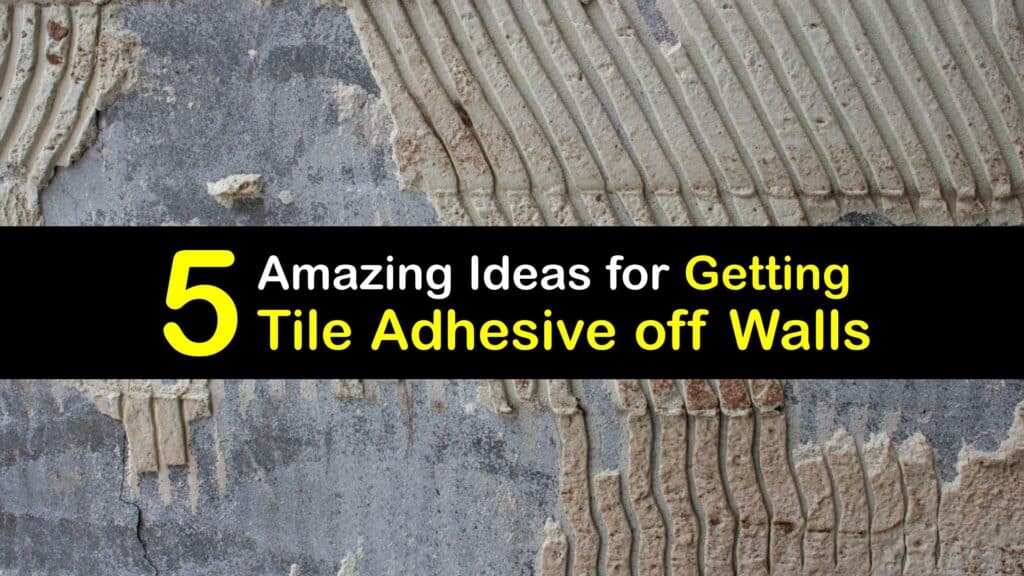 How to Remove Tile Glue From a Wall
Wall tile is a gorgeous addition to a space, though when it comes time to remove it, getting tile adhesive off walls is tricky. The glue must be durable and form a solid bond to hold heavy tiles on the walls safely. While this is a desirable quality, it makes getting rid of the adhesive a little challenging.
Luckily, there's no need to hire a service to take down old tile adhesive. Discover the best techniques for how to remove old tile adhesive from the wall and the tools you need.
Why Getting Tile Adhesive off Walls Matters
Wall adhesives are intended to be durable. They set hard and form a solid bond that is tough to break when it's time to redecorate. One of the most challenging parts of tile removal is removing tile adhesive from the wall.
Whether you're dealing with mastic or tile grout such as cement mortar, lifting all the broken tile parts and glue residue is essential for the new tile to lay correctly. Fortunately, getting rid of the old tile adhesive residue is possible with the proper knowledge, tools, and some elbow grease.
How to Remove Old Tile Adhesive From the Wall
A hammer drill quickly removes old wall tile residue and leftover adhesives like grout or thinset. It's also a simple way to remove adjacent tiles to repair a broken section.
Your hammer drill should have at least a 3-inch chisel bit attached. Start by adjusting the drill to the hammer mode and placing the blade at a 45-degree angle against the wall surface. Stick to larger chisels as they remove thinset quicker to accelerate your project.
Avoid pushing down on the wall unless working in difficult areas. Lower the angle of your chisel tip for thicker existing tile or residue. Take care not to damage the underlying structure while using a hammer drill to remove old adhesive on concrete walls or a concrete floor.
Refer to the manual for your hammer drill and pay special attention to safety precautions.
Get Old Tile Adhesive off Walls With an Angle Grinder
An angle grinder is an asset when you remove ceramic tile adhesive from a wall. The spinning grinder blade contacts old grout and thinset at high speed to obliterate them. Before beginning, familiarize yourself with your specific machine's instructions.
Use a 7-inch diamond-cut disc to remove wall adhesive. If your current dust shroud is loose, install a new one first. Turn on the grinder and move the edge along the wall or floor tile adhesive to break it down. Stabilize the angle grinder with your top hand to stop it from moving as you pass over the wall.
Remove Tile Glue From Drywall by Hand
If you don't have access to power tools, you can still remove glue from tile wall and clean thinset off tile by other means. Since hand tools aren't as strong as power tools, softening the glue remnants before removing them from a tile floor or plaster wall helps.
Boiling water degrades the bonds through heat, and white vinegar contains a mild solvent called acetic acid, which loosens the adhesive.
Pour the boiling water and vinegar mixture over the old glue carefully. After about an hour, the adhesive surface should show signs of fracturing. Start taking it off by striking it with a 1-inch putty knife at a 45-degree angle or scraping it with a putty knife or utility knife.
Add more hot water to make it malleable if it does not pull away easily. Take care not to dig in and gouge the drywall or plasterboard while scraping.
This recipe can also be used as afloor adhesive removerfor concrete following the removal of tile. Properly preparing floors for new tile or hardwood is an essential step in renovations.
Precautions When Removing Tile Adhesive From Walls
Whether you're removing the surrounding tiles and repairing a crack or hope to begin tiling with an entirely new design, removal is the first step. Most adhesive removal is messy and dusty. Reduce cleanup by working in a well-ventilated space, removing valuable furniture, and covering the rest with dust cloths.
Always protect your eyes with safety glasses while working with power tools, and consider a dust mask and gloves. Read and familiarize yourself with the operating instructions for any machinery, and pay attention as you work. If the wall starts deteriorating beneath the adhesive, stop immediately and try a different approach.
Save money on hiring contractors by learning how to remove tile glue from a wall yourself. Though it's time-consuming, removing old adhesive from a wall doesn't have to be complicated. A clean, smooth wall is the key to a beautiful paint job or the foundation to lay more tile. Use straightforward techniques to eliminate glue and grout residue from your wall.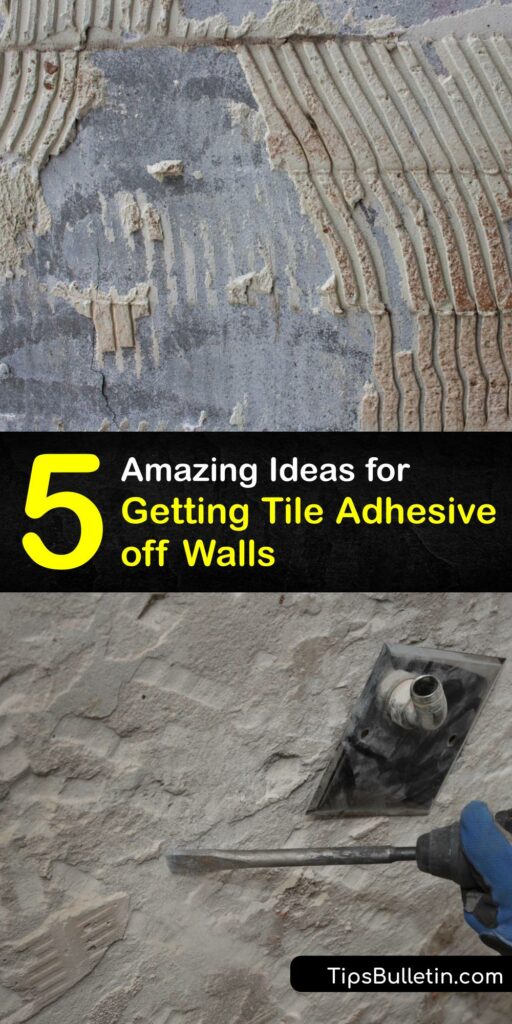 If you loved this descriptive article on how to remove old tile adhesive from the wall, please share this knowledge with your friends and family who are getting tile adhesive off walls on Pinterest and Facebook.