Home improvement projects are a pain, but the results are always worth the effort, especially in older houses. Wallpaper removal is always an issue during renovation and often takes longer than anticipated. We'll show you how to remove old wallpaper from plaster walls to make the job easier.
There is nothing like moving into an old house and realizing there is more work to do than you first thought. This is often the case if the previous owners had awful taste.
Changing the wall color to suit your style with a coat of paint is one thing, but what about all that old wallpaper? Years ago, wallpaper was mostly aesthetic without much function and often used to cover plaster walls.
As both the paper and walls age, separating the two becomes a problem. The wallpaper refuses to come off in clean strips, and the old plaster and lath tend to crumble as you work.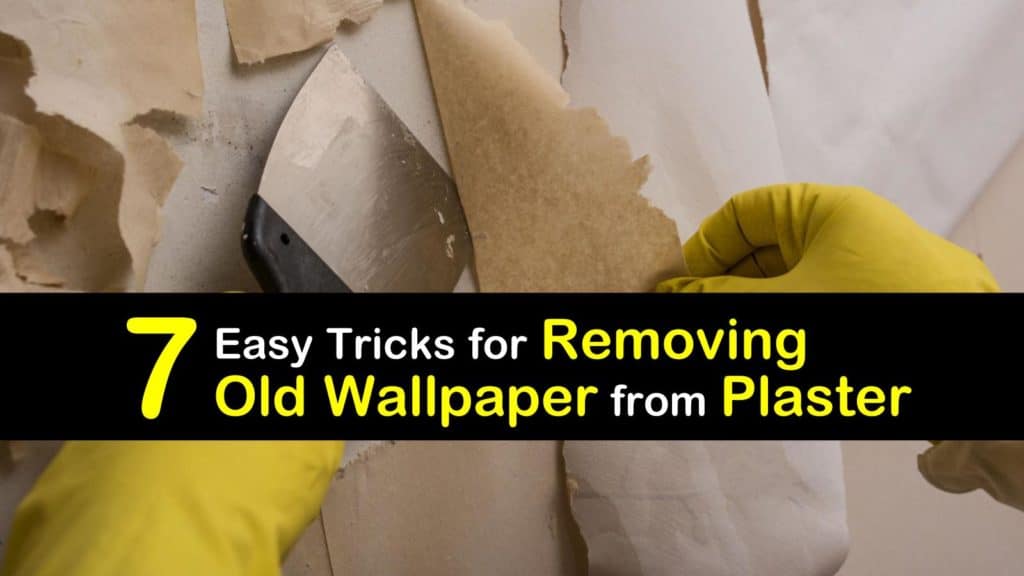 Removing Old Wallpaper from a Plaster Wall
If it is more trouble to clean nicotine off wallpaper or you have several areas that are peeling, removal may be the best course. You may not want to tackle cleaning soot off walls either.
While it seems as if the old wallpaper is the only thing holding the wall together, there are ways to remove the paper carefully to make the task more manageable and almost headache-free.
Steps to Take before Removing Wallpaper from Plaster
Simply walking into the room and ripping the paper off the wall is the worst way to go about removing old wallpaper.
There are certain steps to take before removing wallpaper from plaster, and preparing ahead of time makes the entire chore faster, more efficient, and less messy.
Wallpaper Removal Preparation
The first step to follow when you need to remove wallpaper from drywall is to determine which type of wallpaper is on your walls. Try and peel an edge of the paper, and if it peels easily, it is dry-strippable. But if it tears, it's probably porous or non-porous.
The second step is to check if there is more than one layer of wallpaper. Learn how to take off a wallpaper border that is on top of another layer of wallpaper.
Peel away a small section to see what is behind it. Do you see the plaster wall or more paper? The more layers there are, the harder the job is.
Once you figure out your wallpaper situation, it's time to find the right materials. Having everything ready makes the task go a lot faster.
Gather items such as a scraper, putty knife, utility knife, bucket, spray bottle, steamer, removal solution, and drop cloth before you start to take off wallpaper.
Clear the side of the room where you intend to work and tape a drop cloth or newspaper along the floor and use painter's tape to secure it to the baseboards. Cover the outlet with tape to protect it from drips until you finish the job.
How to Remove Old Wallpaper from Plaster Walls by Scoring
Scoring and perforating the paper is necessary when removing old wallpaper, as it enables the moisture to reach the glue, allowing you to remove the paper in strips for a cleaner process.
Use a perforation tool to perforate porous wallpaper in sections, or use a scoring tool. If you decide to score the paper, make sure not to be too aggressive to prevent damaging the plaster beneath.
Scoring can be helpful when you need to remove wallpaper that has been painted over, too.
Removing Wallpaper Glue from Plaster Walls
The simplest tool for removing wallpaper glue from plaster walls is hot water. If you have a porous or non-porous paper that is not dry strippable wallpaper, use a bucket of hot water to loosen the glue from the wall.
Combine five ounces of wallpaper remover solution for every gallon of water, or mix equal parts liquid fabric softener and water, and pour it into a bucket and a spray bottle.
Work with one four-by-ten section at a time, and wet the paper with the solution by spraying it or soaking it with a sponge.
Use a paint roller or sprayer to reach high areas of the wall. Let the area sit for ten minutes to loosen the glue and strip the paper away. Repeat with each section until the paper is gone.
If you discover mold beneath the wallpaper after stripping, it's crucial to get rid of mold on plaster basement walls before painting or adding new wallpaper or you will continue to have the same problem.
Remove Wallpaper from Plaster with a Steamer
To make the job of removing old wallpaper easier, consider using a steamer to loosen the wallpaper adhesive. These machines are easy to rent from many home improvement stores and relatively simple to operate.
To remove wallpaper from plaster, pour water into the steamer reservoir by following the manufacturer's instructions and let it heat for half an hour. Put on a pair of rubber gloves to protect your hands from hot water drips.
Work in small areas, and hold the steamer on the wallpaper surface to allow the steam to penetrate and soften the glue. Scrape the paper in sections as you move along the wall.
How to Strip Wallpaper off a Plaster Wall
After you loosen the glue with hot water or steam and score the paper, it's time to begin stripping wallpaper. This is the messiest part of the job, so make sure to have a drop cloth in place and a garbage can nearby.
Begin at the corner of the wallpaper and slip a putty knife or scraper beneath the layer of the paper. Hold the knife at an angle while sliding the blade between the wall and the edge of the paper, and try not to gouge into the drywall or plaster.
If you hit a stubborn area, spray it with more solution to loosen the adhesive. Peel the wallpaper away from the wall as you slide the blade through.
Cleaning up after Removing Old Wallpaper
After removing wallpaper glue from plaster walls, it's time to perform a little clean-up before you put up new wallpaper. Use a simple cleaner or DIY wall cleaning solution to get the walls smooth and free of debris.
Pour hot water into a bucket and soak a large sponge. Begin at the top corner of the wall and use the sponge to scrub away old glue and bits of paper.
If there are still bits of adhesive, use a stripper to remove wallpaper glue. Make your way down the wall and repeat on the next section until the wall is clean. Allow the plaster to dry for a day or two before repairing or painting it.
How to Repair a Plaster Wall after Wallpaper Removal
After you remove wallpaper from plaster, there are often areas of damaged plaster. It's important to repair cracked or crumbled patches before proceeding with further wall treatments.
Use joint compound to repair damage from the scoring tool or to patch gouges. If the damaged area is large, trowel a skim coat of the compound over the entire space.
Allow the wall to dry completely, and use sandpaper for sanding rough areas until the walls are smooth. Use a damp rag to clean away all sandpaper dust and prime the wall with an acrylic primer before putting up new wallpaper.
Newer wallpapers are fun and exciting, and their options are almost unlimited when it comes to color and style.
But, removing the old wallpaper leaves much to be desired, especially if it covers plaster. Fortunately, with the proper tools and a bit of patience, the job is nearly pain-free.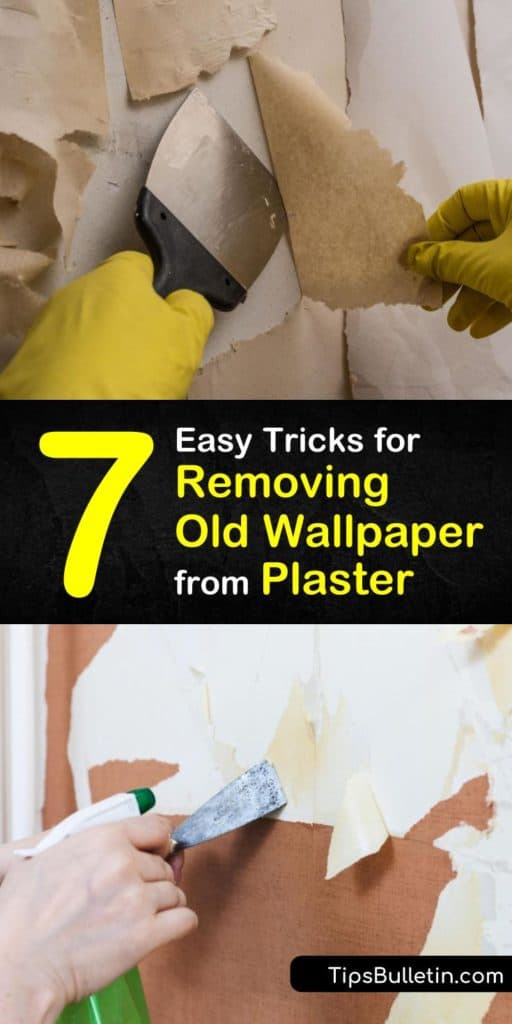 Now that you learned how to remove old wallpaper from plaster walls to make your DIY project more manageable, why not share our wallpaper removal tips and techniques with your family and friends on Facebook and Pinterest?