Is your old bathtub starting to look a bit dingy? Bathtub refinishing is a worthwhile home improvement project, but it's sometimes intimidating at first. Read on for step-by-step instructions on how to remove paint from a bathtub without damaging the surface underneath.
The best way to remove paint from your bathtub depends on the material. Commercial paint strippers often damage surfaces like fiberglass and acrylic. Before reaching for harsh chemicals and solvents, try using one of the natural methods listed below. Chances are, you have everything you'll need at home.
Perhaps your family has just moved into an older home, and the bathroom needs updating, or it's merely time to restore your bathtub to its former shine. It's much more cost-effective and environmentally friendly to refinish your tub instead of replacing it. Use the best cleaner for a fiberglass tub along with tried and true methods to get paint off of any type of bathtub safely.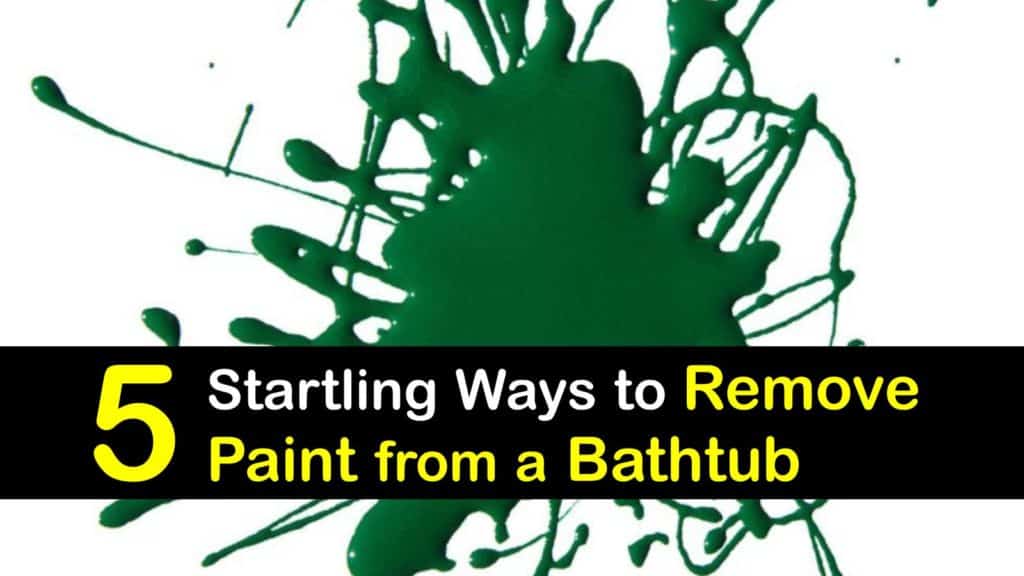 Best Ways to Remove Paint from Different Types of Bathtubs
It's easier to remove paint from a metal or porcelain tub than from a fiberglass or acrylic tub. Plastic-based materials are easy to damage with chemicals and solvents, which wear away the surface's protective coating.
Porcelain is much more durable and scratch-resistant than plastic. Still, it is susceptible to cracking and chipping from heavy impacts.
Metal bathtubs like stainless steel, copper, or cast iron are the most durable. The metal surface is resistant to damage from abrasive cleaners and is less prone to mold and mildew problems.
Metal also has better heat conductivity than plastic and keeps the water warm longer. Stainless steel tubs often come with a porcelain coating.
Take extra care when trying to remove paint from the glass around the bathtub. When trying to get spray paint off glass, be sure to follow the same safety measures to avoid damaging or scratching the glass surface.
How to Remove Paint from a Bathtub Made from Acrylic
Acrylic bathtubs are resistant to the buildup of dirt and grime, but they scratch easily. Also, many cleaning chemicals and paint remover solvents dissolve and destroy the material.
Avoid using abrasive cleaning products on acrylic bathtubs to eliminate paint stains. Ajax is a non-abrasive shower cleaner with bleach that's safe to use on acrylic surfaces. Remove dried paint from vinyl siding with this method, too.
If you're cleaning up a fresh paint spill, try to wipe up as much of the paint as possible with paper towels before using a vinegar based bathtub cleaner. Liquid laundry detergent is ideal for removing paint from easily damaged surfaces like acrylic.
Fill your bathtub with two inches of hot water, or enough to cover the paint stains if they're on the sides of the tub. Add three ounces of laundry soap for every two inches of water. Allow it to soak overnight so the detergent has a chance to loosen the paint.
Using a soft sponge, firmly scrub the paint stains. Drain the tub or leave the solution on the stain to continue acting as you wash.
After this initial treatment, keep the area wet with hot water to prevent the paint from drying and cooling on the tub's surface. Spread a generous portion of baking soda over the stain and allow it to soak in for ten minutes.
Spray the area with vinegar. The frothing reaction between baking soda and vinegar dissolves the rest of the paint. For particularly stubborn paint stains, apply vinegar to the sponge and scrub as the bubbling reaction occurs.
Remove Paint from a Porcelain Tub
Porcelain is resistant to scratching and damage from most household cleaners and solvents. It's safe to use a scraper or razor blade to remove flaking paint or accidental paint splatters from a porcelain bathtub.
In some cases, solvents aren't necessary, and it's possible to remove paint from a porcelain tub just by scraping.
Loosen the paint with rubbing alcohol for water-based paint, or acetone for oil-based paint. Soak a sponge in the solvent and rub the affected area vigorously.
Alternatively, utilize a commercial paint stripper. Use a paintbrush to apply the paint remover product to the paint stains.
After about ten minutes, the paint should start bubbling as it loosens from the tub's surface. If that doesn't happen, apply another layer of paint stripper.
Employ a razor blade or scraper to peel the loosened paint. Once all the paint is gone, wash the tub with warm soapy water and rinse to remove any residual paint remover.
Always use protective equipment like rubber gloves, safety glasses, and a respirator mask when handling caustic chemicals and solvents.
Get Rid of Paint on a Cast Iron Tub
Cast iron bathtubs are often finished with a layer of porcelain or enamel to protect against rust. Sometimes older cast iron tubs have been previously painted either inside or outside. After a while, they need refinishing.
Before starting the paint removal process, begin by thoroughly cleaning the tub with dish soap and a lightly abrasive sponge to remove built-up dirt and grime.
If you're trying to remove paint from a porcelain coating, follow the instructions listed above. To remove paint from uncoated cast iron, use sandpaper or steel wool.
When sanding paint off of cast iron by hand, use a circular motion and regularly clear debris from the surface with a damp rag. Or, use an electric sander to eliminate old paint.
To refinish your cast iron tub, immediately apply a new layer of paint, lacquer, or refinishers oil. Purchase a complete refinishing kit online or at your local hardware store.
Remove Epoxy Paint from a Fiberglass Bathtub
Epoxy paint is made from latex acrylic and serves as a durable, long-lasting coating for bathtubs. However, if misapplied, epoxy paint may start peeling or flaking.
Luckily, it's relatively straightforward to remove epoxy paint and restore your bathtub to the original fiberglass surface.
Although solvents like paint stripper and acetone remove epoxy paint faster, they're likely to damage the fiberglass tub. Instead, use a milder solution to loosen epoxy.
Combine baking soda with enough vinegar to form a thick paste similar to cake frosting. Spread the paste over the painted area, and allow it to sit for at least 30 minutes. Scrub the loosened paint with a non-abrasive sponge. Repeat as necessary.
Once all the paint is gone, wash with warm soapy water and rinse to eliminate any remaining paste or debris. This technique also works for dried latex paint. Cleaning hot tub jets with vinegar and baking soda is easy and effective, too.
A baking soda and vinegar paste is also an excellent way to get iron stains out of bathtub. A little elbow grease may be necessary.
How to Remove Paint from a Metal Bathtub
Metal bathtubs like copper and stainless steel are an attractive bathroom upgrade. However, they're susceptible to damage from scratching with abrasive cleaning products like steel wool or Mr. Clean Magic Eraser.
After thoroughly cleaning the bathtub, apply olive oil with paper towels to loosen the paint stain. Allow it to sit for several minutes.
To protect the metal surface from scratching, wrap a plastic paint scraper with a thin rag, and scrape the lubricated surface to remove as much paint as possible.
Next, dampen a clean rag with mineral spirits. Apply the rag to the stain for one full minute. Use a clean rag to wipe the remaining paint away. Use this method for removing paint from your faucet and caulk as well.
Whether it's the result of a drywall or tile refinishing project or it's time to refinish your bathtub with a fresh coat of white paint, it's critical to know how to safely remove old paint without damaging the underlying surface.
You may need to remove epoxy paint from a fiberglass bathtub when it starts peeling. Or, perhaps you dripped latex paint during your latest home improvement project and need to know how to remove paint from a porcelain tub.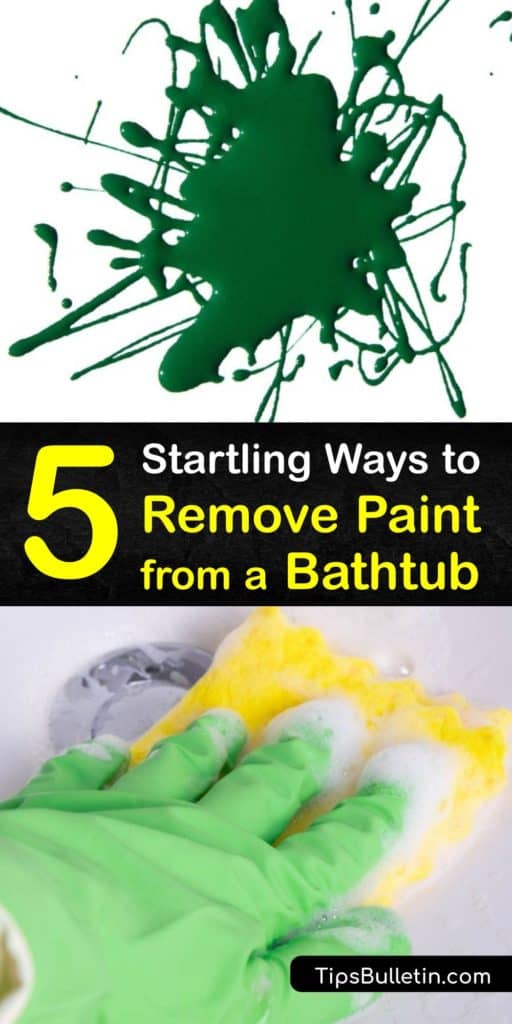 Whatever your need, we have a DIY solution that works. If you found these paint removal tips helpful, please share this article about how to remove paint from a bathtub on Pinterest and Facebook with your friends and family.