Your floors are some of the dirtiest surfaces in your home, from everyday dirt and muddy footprints to pet hair and spilled beverages. Now add splattered paint into the mix, and you've got your work cut out for you. Learn how to remove paint from carpet using a few simple solutions and a little bit of elbow grease.
Paint spills are dreadful, whether they are from acrylic paint, latex paint, or oil paint. And, they are even worse if the spill occurs on upholstery or carpeting.
The stubborn color pigments of paint stick to the carpet fibers, making clean up a pain, especially if you use the wrong cleaners.
There is a variety of cleaning products on the market, but not all of them effectively remove stubborn stains such as dried paint. Trying to remove wet paint using the wrong method only spreads the paint stain, making it worse.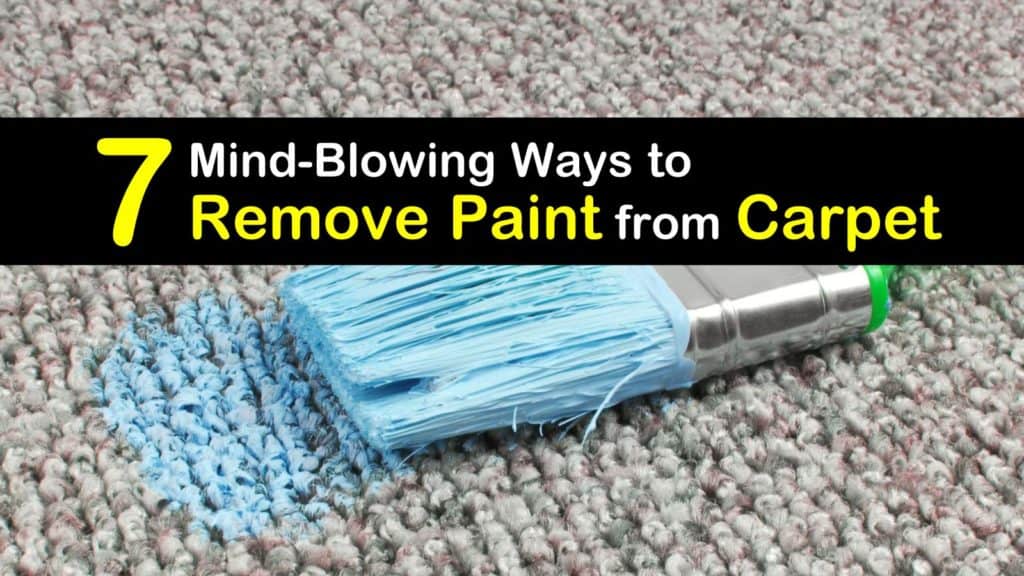 Ways to Remove Paint from Carpeting
Carpet cleaning doesn't have to be a tedious chore, even if you are cleaning up spilled paint. The key is to use the proper technique and carpet cleaner for the job. We'll show you how to remove both wet and dry paint in a few easy steps.
Preparing Fresh and Dry Paint Stains for Removal
Before you remove dried paint from carpet or fresh, wet paint, it's important to perform steps to prepare the stain for cleaning. Otherwise, removing the stain becomes a bigger job than is necessary.
To remove fresh paint, begin by using a paper towel to blot up as much excess paint goo as possible. Continue using fresh paper towels until most of the wet paint is gone.
Get a clean rag wet with warm water and dab at the spot to remove more of the stain, making sure not to push it outward.
To loosen up dried paint, use the edge of a putty knife or razor blade to scrape away bits of the stain from the carpeting gently. To remove large clumps of dry paint, try using needle-nose pliers to pull up the hardened bits.
Scoop up the pieces of dry paint and discard them as you work the stain away. Dry vacuum the area once you are finished.
How to Remove Dried Paint from Carpet with Soapy Water
The simplest way to remove dried paint from carpet is to use soapy water, just as it is to remove dirt from carpet. The combination of hot water and dishwashing detergent makes a homemade carpet glue solvent or helps to loosen the paint from the carpet fibers.
To get grease out of carpet or eliminate paint stains, make a soapy solution by pouring hot water and a few squirts of dish soap into a bottle and gently mixing it.
Spray the liquid on a sponge or directly onto the affected area, and then use a blotting motion to clean the paint from the fibers.
This action is essential to avoid spreading the stain. Rinse the sponge with fresh water and repeat the process until the paint is gone. Dry the carpeting with a clean towel or allow it to air dry.
Try this simple remedy to eliminate slime in carpet, too. You may be surprised at how effective it is.
Remove Paint Stains from Carpet Using WD-40
WD-40 has many household uses, from quieting a squeaking door to loosening rusty screws and to get paint off leather items. This liquid is also a useful tool to remove paint stains from carpet by softening the stain for easy cleaning.
For this way to get paint out of carpet, spray WD-40 onto the paint stain and let it sit for about ten minutes to loosen the stain. Wet a clean sponge with hot water and add a couple of drops of dish soap. Scrub the spot using a circular motion without spreading any of the stain outward.
Rinse the sponge with cold water and repeat the steps to remove the paint. Once the carpet is clean, use paper toweling to dry the area or air dry.
How to Remove Paint from Carpet with Turpentine
Turpentine is a popular liquid for dissolving paint from many surfaces and also works to clean paint from carpet. This solvent to get oil based paint out of carpet breaks dried paint up from the carpet fibers, making it possible to clean away all of the stain.
Always test new cleaning products on an inconspicuous area of your carpet to check for colorfastness. Apply a small amount of turpentine or paint thinner to a clean white cloth and dab at the stain to loosen it.
Continue doing this with clean sections of the fabric until the stain is gone. Get a towel wet with warm water and a small amount of soap and clean the carpeting to remove all residue. Dry the area with a towel before walking on the carpet.
Cleaning Paint Stains off Carpets with Fingernail Polish Remover
If you have a small spill of paint on your carpeting, consider using fingernail polish that contains acetone to remove paint stains from carpet, as well as to remove acrylic paint from clothing. This liquid is a solvent that lifts away stains from surfaces.
Pour a small amount of fingernail polish with acetone onto a cotton ball and dab at the paint spot. Discard the used cotton and repeat with fresh cotton balls until the stain is gone.
Wet a clean rag with hot water and a bit of dish soap and gently scrub away all polish and paint residue before drying it with a towel.
Removing Dry Paint from Carpets with a Steamer
To remove wall paint from carpet that is particularly stubborn, try using a handheld steamer. High temperature and water break the pigment away from the fibers for effective paint removal without using chemicals.
Hold a handheld steamer or clothing iron with a steam setting over the paint stain. Do not place it directly on the carpeting to prevent damage.
Heat the area with hot steam and use a towel to blot up loosened paint. Repeat these actions to remove all of the paint.
How to Clean Paint from a Carpet with Hydrogen Peroxide
If you prefer the natural approach to cleaning, try hydrogen peroxide. This liquid has mild oxidizing agents that work wonders at cleaning many stains, including paint.
Apply enough hydrogen peroxide to a clean cloth to get it wet but not saturated and spread it over the area. Let the stain soak for about an hour, then use the cloth to blot up softened paint.
Fold the fabric frequently while blotting to use fresh areas of the towel. If the stains persist, repeat the entire process once more.
After the stain is gone, clean the cloth under warm water and rinse the carpet to remove all residue. Pat the spot dry with a clean towel or let it air dry.
Keeping your carpeting clean is hard enough with all of the traffic it receives, and spilled paint only makes matters worse. While it seems as if the rug needs replacing, these carpet stains are easier to clean than you think using the right methods and cleaners.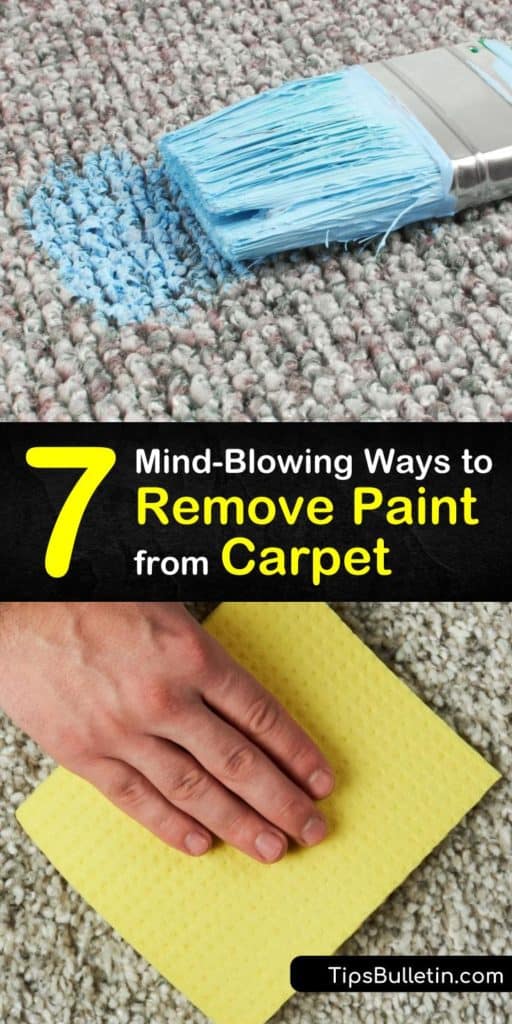 We hope that learning how to remove paint from carpet puts your mind at ease and restores your carpeting like new, and we'd love it if you'd share our carpet paint cleaning tips and solutions with your circle of family and friends on Pinterest and Facebook.