Accidentally spilling acrylic or any type of paint on a concrete surface seems like a long and strenuous process to clean up. Whether you have an old paint spill on your basement floor, garage floor, or any other concrete surface, it is not impossible to remove paint. Learning how to remove paint from garage floor surfaces is straightforward when using the correct tools from your local hardware store.
We describe how DIY paint removal is an efficient way to restore concrete to its original condition. Although some paint strippers contain chemicals, everyday household products can also act as a paint thinner.
Follow the initial instructions we provide you for the preparation of cleaning loose paint off your garage floor, as it makes the cleaning go a lot quicker. Then, follow our ways of cleaning concrete with vinegar and baking soda to make your floors look new again.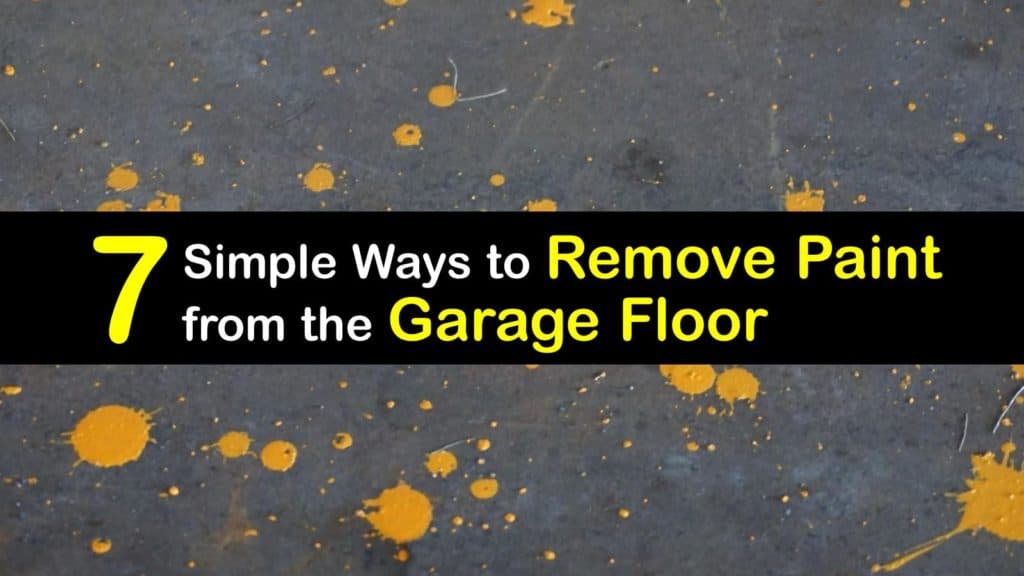 Preparing to Clean a Paint Spill
Before you get spray paint off garage floor surfaces, you must first invest in the correct protective gear. Protective clothing like safety goggles protects your eyes from the excess dust and chemicals that may be in the air.
Similarly, wearing a respirator mask over your mouth prevents harmful chemicals from damaging your lungs. We suggest wearing rubber gloves because the skin on your hands is more sensitive to the ingredients in a paint remover.
How to Remove Paint from Garage Floor Areas with Baking Soda
Baking soda is a fantastic way to remove paint spills without using harsh chemicals. The ingredients in baking soda dissolve dirt, grease, paint, and grime when it interacts with water.
Use a baking soda mixture when you have a large area with paint because it is inexpensive compared to other cleaning solutions.
Pour the baking soda and warm water into your bucket and stir the mixture, so the baking soda blends with the water.
Pour a small amount of the cleaning solution on the affected area and use a scrub brush to break down the loosened paint. After the pigment loosens from the paint spill in your garage, use a garden hose to clean the area.
Baking soda is ideal to clean paint from an old bathtub, as well as a variety of other surfaces, too.
Get Spray Paint off Garage Floor Surfaces with a Power Washer
While you can't remove dried spray paint from carpet this way, pressure washing a paint spill is a quick solution to treat concrete surfaces. A pressure washer distributes water at a high pressure to get rid of dirt, grime, oil, and paint that resides on your garage floor.
Utilizing a pressure washer to get spray paint off garage floor surfaces works best if the paint spill is brand new. Aim the hose at the stain and spray the surface.
Ensure you do not aim the power wash at the same location for too long, as the intense pressure leads to damage on concrete surfaces. If a small amount of paint remains on the surface, use a scraper to loosen it before pressure washing it.
How to Remove Epoxy Paint from Concrete Garage Floor Surfaces with a Sandblaster
If you have spilled epoxy paint on your concrete floor, a sandblaster is a fantastic tool to use to loosen up the paint. A sandblaster uses an air-powered pressure gun that shoots sand at high speed against the surface to get epoxy off concrete surfaces.
The sand loosens the paint and makes it effortless to rinse away. After filling the sandblaster with sand, open the nozzle valve slowly so only a little sand sprays from the end.
Spray the sand on the affected area with a slow up and down motion. It is essential to continue moving the nozzle because floor grinders like a sandblaster damage concrete when the sand is only directed at one area.
If you have to remove epoxy paint from concrete garage floor areas, a sandblaster makes the cleaning faster and less arduous.
Cleaning Paint from Garage Floors with Vinegar
Will vinegar remove spray paint from concrete? Vinegar is an eco-friendly and inexpensive chemical paint stripper alternative. The ingredients in vinegar are effective at breaking down the paint stuck on your concrete floors.
Not only does vinegar do a great job at cleaning up paint, but it also disinfects the area from bacteria. It's also one of the best ways to get grease off of concrete.
In a large bucket, pour equal parts warm water and vinegar. Use a brush with a bristle to work the cleaning solution into the paint.
Make sure to heavily coat the paint with vinegar and let it sit for 15 minutes before rinsing the solution with a garden hose. Understanding how to remove paint from garage floor is easy with vinegar and water.
Try vinegar to remove vinyl flooring from concrete as well as the adhesive. While you may need repeat applications, it's a great chemical-free way to lift the vinyl.
Paint Thinner is a Fantastic Way to Clean Garage Floors
If you have an old paint stain on your concrete floor, use paint thinner to clean it. Paint thinner contains chemicals designed to loosen the bonds paint forms. After the absorbent solvents are active, it is effortless to clean the stain.
Pour a generous amount of paint thinner on the paint spill and let the solution sit for ten minutes. Utilize a wire brush or a paint scraper to peel off the layers of dried paint.
To finish cleaning the area, use a pressure washer or garden hose to get rid of the paint thinner. Repeat treatment with paint thinner on the paint spill if it is not completely cleared.
Paint thinner works great if you have to remove epoxy paint from concrete garage floor surfaces.
Prevent Damage to Concrete with Epoxy Coating
Cleaning paint spills off your garage floor is much more manageable when the concrete has an epoxy coating. Sealers like epoxy coating are made up of polyamine hardener and epoxy resin.
The protective layer over your garage floor makes the surface resistant to chemicals, oil and grease, paint spills, and abrasions and it makes it easy to clean a cement basement floor or garage.
If you do spill paint on a floor cover with epoxy coating, a mixture of ammonia and warm water quickly lifts the paint from the surface. Combine five ounces of ammonia with a gallon of warm water and use a paint scraper or a brush with a bristle to remove the paint.
How to Remove Acrylic Paint from Concrete Surfaces
Acrylic paint is quite simple to remove from concrete surfaces. The ingredients in acrylic paint are water-based and not chemical-based, which makes clearing the surface significantly easier.
A pressure washer or a bucket of hot soapy water, and a scrub brush is all that you need. If you do not have access to a pressure washer, mix hot water with two tablespoons of dish soap in a plastic bucket.
Use a scrub brush to wipe down the area with the soapy water, or use a pressure washer over the surface to loosen up the paint. Continue cleaning the floor until the stain is removed.
After removing paint stains, the flooring could probably use a good overall cleaning. Make a natural mopping solution with vinegar, dish soap and water to get rid of dirt and any other blemishes.
It is not a lost cause to remove epoxy paint from concrete garage floor surfaces rested on ground clay. Several tools needed to eliminate a paint stain are found at your local home improvement store or are already in your home.
Products like baking soda and vinegar are magnificent alternatives to chemical-based paint thinners from the store.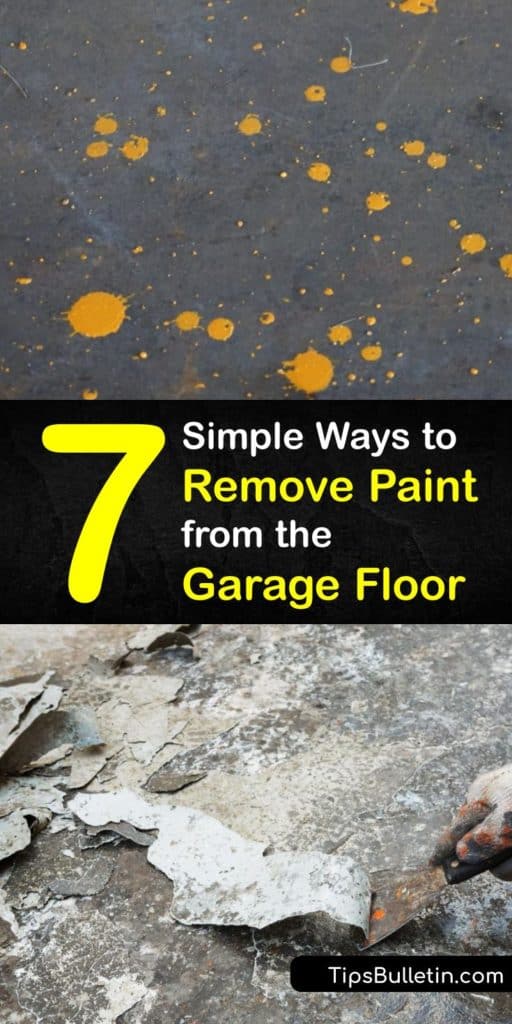 If you learned how to remove paint from garage floor areas, please share this article with tips on removing spray paint with your family on Facebook or Pinterest.