Finding an attractive piece of furniture at your local second hand or thrift store is always a lucky find. However, giving it a proper makeover is a chore, especially if it is wooden. We show you how to remove paint from wood furniture, whether to refinish the entire piece or clean away accidental paint spills.
Wood furniture has character, with its smooth surface, distinct grain patterns, beveled edges, and decorative curves. But, for some strange reason, many people prefer to paint over wood, and depending on how many layers of paint cover its surface, you have your work cut out for you.
Refinishing old furniture is one thing, but cleaning away splatters or drips of paint from your favorite wooden table or chair is another entirely. What works to remove-paint from one item does not always work on the other and sometimes damages the wood varnish or stain, leaving an unsightly blemish.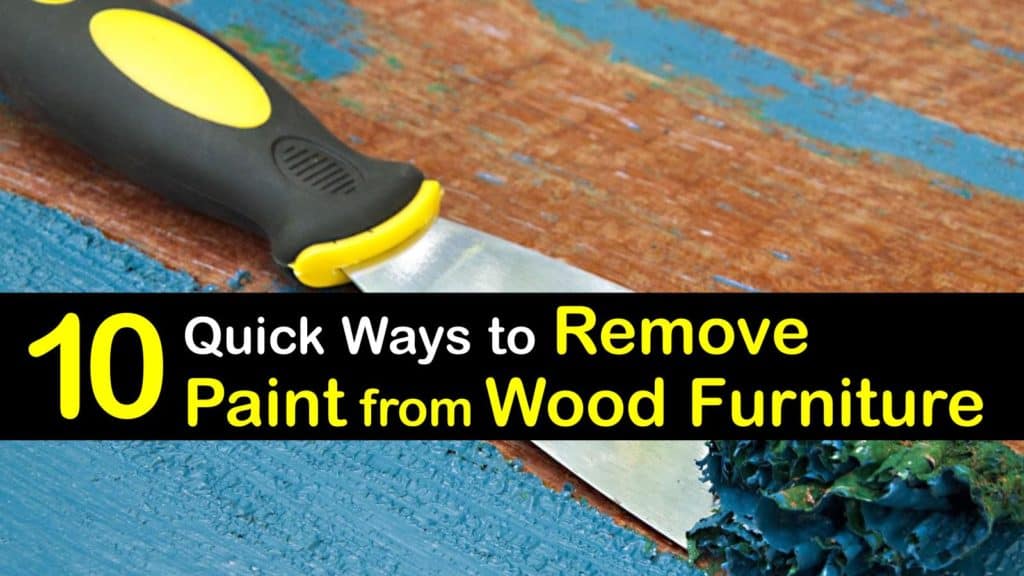 Removing Paint from Wood Furniture
Natural wood furniture is timeless, and maintaining it makes it last for generations. Here are several ways to remove dried paint from wood trim and furniture, whether you have a paint spill to clean up or decide to refinish the whole piece.
Some of these solutions also work to get stains out of untreated wood but work carefully to ensure you do not cause damage.
How to Identify Wood Furniture Types
While it's a good idea to clean furniture before painting or staining to ensure the result is flawless, it's just as important to know what type of wood you're working with. Here is how to identify the wood to determine the best way to treat it.
First, determine if it's soft or hardwood by inspecting the wood for dents or scratches since softwood, such as pine, cedar, and redwood damage easier than hardwood.
If you don't see any, test an inconspicuous area by scratching the wood with your fingernail. Next, use visual cues to differentiate between softwood types. Pine has a smooth and straight grain texture and an abundance of knots.
Cedar has a straight grain , a rich red color, and a distinct scent. Redwood is dark red with a wavy grain of intricate patterns, and Douglas fir has a tight, straight grain with a light brown color.
Most hardwoods have porous, rough patterns in the grains. Oakwood has straight grains with visible growth rings and is light brown, while maple has unusual grain patterns and is a light, creamy color.
Walnut is dark brown with a straight grain, and mahogany is reddish-brown with a smooth texture and few knots. Finally, ash is very light in color and has wide spacing between growth rings, while beech has a straight and tight grain pattern with a cream tone.
Determining whether you need to clean a teak table of a paint stain or one made from pine will help you treat the material safely.
Preparing Wood Furniture for Paint Removal
Once you establish the furniture's wood type or need to strip paint off cabinets, it's time to prepare for paint removal. Taking these steps beforehand ensures that the job is done right and makes it easier and more efficient.
In 1978, lead paint was banned in the United States, so if you have old furniture to restore, there is a good chance the paint contains lead. Make sure to test the paint before working on it by chipping off a small piece from the wood.
Disassemble as much of the furniture as is feasible to make the work easier. Remove knobs, hinges, and other small parts, and cover non-removable areas with plastic and painter's tape.
Clean the wood's surface with soapy water if there is dirt accumulation and spread drop cloths around the work area. Gather all the tools and items needed to complete the work and use proper ventilation during the paint removal process.
Get Paint off Wood Furniture with a Heat Gun
A heat gun is a terrific tool to get paint off wood furniture or to remove adhesive residue from wood. It is similar to a hairdryer, but it uses higher temperatures that melt paint from the wood surface, making the act of scraping away old paint nearly effortless.
Start by reading the instructions on your heat gun to prevent a fire hazard. Turn the gun to the lowest wattage setting and hold it far away from the wood to avoid burn marks.
Use one hand to move it in a circular motion and the other hand to scrape up bits of softened paint with a paint scraper when you use this way to remove old paint from wood. Always keep the gun moving and do not hold the heat in one area. Continue as you move over the entire piece of furniture.
How to Remove Paint from Wood Furniture
If you don't have a heat gun or prefer not to use one, a paint stripper, such as Citristrip, is a good alternative.
There are three types of solutions to strip paint and old finish. Caustic strippers are the quickest, biochemicals are the safest, and solvents are the most dangerous to breathe.
Begin by sanding any remaining paint on the wood to scuff it for easy stripping. Read the directions for your particular brand of stripper since different types have varying instructions.
Put on protective gloves and a mask and apply the stripper as recommended. Use a paint scraper to scrape away the soft paint gently.
Scraping Softened Paint off Wood Furniture
There are a few ways to get paint off wood furniture by scraping, and it all depends on how stubborn the paint is and how many layers there are.
A metal scraper, putty knife, plastic scraper, steel wool, and other household items are all useful to get the job done.
Paint Scraping
Scraping is a necessary task whether you use a heat gun, chemical stripper, or a combination of both to remove paint. That said, there are different types, and they each have their own specialty.
A metal scraper is useful for prying away thick paint or several layers of paint, while a plastic one is suitable for scraping away paint left behind after using a heat gun.
If you do not have a traditional paint scraper, consider using everyday items for small paint areas, such as an old credit card, toothbrush, flat-head screwdriver, or spatula.
Place your scraper of choice at a 45° angle at the paint's outer edge on flat surfaces and apply gentle force while pushing the tool away from you.
A putty knife works well to clean the paint out of crannies and crevices without gouging. Use a scrubbing tool to brush away loose paint flakes as you work across the wood's surface area.
Removing Paint Spills from Wood Furniture
Spilling paint on your wood furniture feels like a disaster, especially if it's dry, and using a chemical paint stripper damages the finish. Here is how to safely remove dried paint stains from wood with olive oil. It's also a great way to remove paint from a wood floor.
Pour olive oil onto a cloth and spread it over the paint spill for about an hour to soften the stain, whether you need to remove paint from stained wood or have another application. Use the rag to wipe as much of the paint away as possible, and then use a scraper to clean the rest off the surface gently.
Wet a sponge with warm water, add a couple of drops of dish soap, and use it to clean away the oil and paint residue from the furniture. Rinse the affected area with clean water and dry it with a towel.
You may find that this remedy will also be successful to get Sharpie off wood if you find a mark where it isn't supposed to be or to get scratches off wood if they are small and thin.
Cleaning Small Paint Stains off Wooden Furniture with Acetone
If you notice a small, dried paint smear left behind by a paint brush or rag on your furniture, not to worry. Acetone is a solvent that works well to remove paint. This method is ideal if the finish is not lacquer, and a bottle of fingernail polish is all that is required.
Apply a small amount of fingernail polish remover to a cotton ball and blot the paint with it, making sure not to spread outside the stain. Repeat the process with new, dampened cotton balls until the paint is gone. The same process works well to remove burn marks from wood if you have a cigarette or cigar burn on your coffee table.
If you do not have polish remover with acetone, mineral spirits is safe for hardwood, but use it sparingly.
Just like when you are cleaning old wood furniture, moisten a sponge with warm water and a squirt of dish soap and clean the area thoroughly to remove all paint and solvent traces. Rinse the spot with clean water and dry it with a soft towel.
Using Cold Temperatures to Remove Dried Paint Spills from Wood
It's best to remove a thick glob of paint splatter from wood after it dries since wet paint tends to smear and spread. We recommend applying cold to the stain before removing it to make it easier to chip away.
If the paint glob is partially dry but slightly pliable, a flexible plastic paint scraper or old credit card often gets it off the wood. Slide the plastic's end beneath the edge of the paint and push it away from the surface with mild pressure.
If the paint doesn't budge, place ice cubes on the stain for about five minutes to make it brittle, and then use the scraper to pry it from the surface.
Removing Wood Furniture Paint Stains with Lacquer Thinner
For particularly troublesome paint stains, it's often necessary to get out something stronger than fingernail polish remover or oil. If the wood finish is acrylic, alkyd, or polyurethane, consider using a lacquer thinner to remove the paint.
Apply a small bit of lacquer thinner to a rag and dab it on the stain. Allow it to sit to do its work for ten to 20 seconds. After the paint softens, use a clean rag to wipe it away or the edge of a putty knife or tool to scrape it from the wood gently.
Once the paint is gone, clean the wood with a soapy water solution, rinse it with water, and dry it completely with a soft towel.
How to Clean Furniture before Painting or Staining
Unfortunately, the job is not complete after you finish removing paint from your wood furniture. There is still one thing left to do: clean furniture before painting or staining to ensure a fresh, smooth wood surface. Be sure to take care of any black or white mold on wood with the proper supplies when cleaning.
Go over the stripped wood with fine grit sandpaper to remove leftover bits of dry paint and smooth out the surface, making sure to sand the wood with the grain. Mix equal parts water and vinegar into a spray bottle and spray it over a wood section.
Wipe the area with a rag or sponge and then repeat the steps in the next section. Continue until the entire piece is clean and finish by drying damp areas with a towel. Allow the furniture to air dry completely before applying new paint or stain.
Removing paint from wood surfaces is not the easiest task, especially if you restore an entire piece. Luckily, there are ways to make the job painless. Stepping back and admiring all your hard work once the job is done is well worth the effort.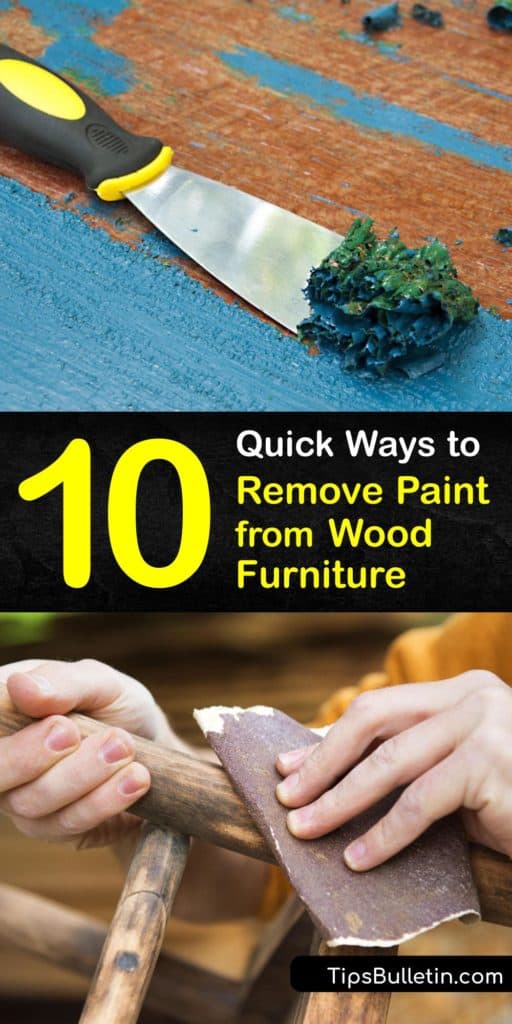 Now that you understand how to remove paint from wood furniture to bring back its natural beauty, why not share our wood paint removal techniques with your family and friends on Facebook and Pinterest?