Paint is terrific for transforming the ordinary into the extraordinary, whether creating a work of art on canvas or simply painting a wall to give it a fresh look. However, getting paint on unintended areas causes a problem, especially if it's wood. Learn how to remove paint splatters from wood with easy solutions and restore its beautiful appearance.
Getting a paint stain on a vinyl floor or linoleum countertop is not so bad since these surfaces are easy to clean. But, getting a paint drip on a varnished wood table or hardwood floor is another matter. Wood is a natural material that absorbs liquids quickly, and gentle cleaners are necessary to prevent damage.
The ideal way to remove a paint spill is to wipe it away from the wood or vinyl flooring while it's still damp. Yet, sometimes you don't realize there is a paint splatter until you finish painting. Then, you have to contend with removing dry paint.
Ways to Remove Paint Splatters From Wood
Removing paint from a wood floor, trim, or furniture is only challenging if you use the wrong cleaners for the job. Discover several ways to get paint splatters off wood for a clean look.
How to Get Paint Splatters off Wood
The easiest way to remove paint if it's water based paint, like dried acrylic paint, is with warm, soapy water. Explore how to get paint splatters off wood with liquid dish soap and water.
Combine a few drops of liquid dish detergent with two cups of warm water and apply the soapy water to the acrylic or latex paint stain with a soft cloth.
Rub it into the paint by going with the wood grain, and remove the loosened paint with a dry cloth. To remove stubborn paint, press a putty knife beneath the paint edge and gently scrape it away.
Removing Paint Splatters From Wood
If the splatter is from latex paint or something stronger like nail polish, try denatured alcohol to get the paint off the surface. You can remove nail polish from a wood table with denatured alcohol. It's a strong solvent that works well for removing paint splatters from wood if soapy water doesn't do the trick.
Apply denatured alcohol to the latex paint stain with a microfiber cloth. Rub the paint carefully without spreading it to clean areas of the wood to avoid harming the finish. Once the paint stain is gone, wash the area with water and dry it with a towel.
How to Remove Paint Splatters From Wood With Mineral Spirits
Removing oil paint from wood is a little different than removing acrylic paint or stripping spray paint from wood on the house. The best way to remove paint splatters from wood if the paint is oil-based is mineral spirits or lacquer thinner.
Open a window to ventilate the space and apply mineral spirits or paint thinner to a soft cloth. Rub the damp cloth on the stain by going with the wood grain, and reapply the solution as needed until the paint is gone. Clean the spot with warm water and dry it with a towel.
Tips for Removing Dry Paint From Wood
There are many easy ways to get paint drips off wood trim by hand. However, how do you remove an old paint stain that dried long ago, perhaps from a previous owner or tenant? Here are tips for removing paint splatters from wood when it's dry.
Begin by removing the dried paint with a plastic putty knife or another item like an old credit card. Press the edge of the plastic beneath the dried latex paint and gently scrape it from the wood.
If that doesn't work, try heating the paint stain with a hairdryer. Aim the dyer at the affected area and use the low heat setting and a back-and-forth motion to soften the paint. Remove the soft paint from the wood with a plastic card or putty knife.
Using Fingernail Polish Remover to Get Paint off Wood
If the paint splatter is small, clean it from the area with fingernail polish remover. Find out how acetone will remove paint from wood furniture. Follow our method to get paint splatters off wood with an acetone-based nail polish remover.
Press a cotton ball over the top of a bottle of fingernail polish remover, flip it over to soak the cotton, and press the wet cotton ball on the paint stain. Start by dabbing the area to lift paint from the material and eventually wipe with the grain to remove paint residue. Once the color is gone, clean the wood with water and dry it with a towel.
Removing Paint From Wood With Rubbing Alcohol
Rubbing alcohol is a widely used solvent that dissolves many stains, from ink to adhesive, and it's perfect for getting acrylic paint off painted walls or wood surfaces. Use this inexpensive alcohol to remove paint from wood.
Pour just enough rubbing alcohol onto a cotton pad to dampen it and rub the cotton on the paint. Clean with the grain as you work, and replace dirty pads with fresh ones until the stain is gone. Clean the paint residue with soapy water, and dry it with a towel.
Clean Paint off Unfinished Wood
Paint stripping is a more significant undertaking than other simple paint removal methods. A paint stripper is your best bet if the paint splatter is large and on unfinished wood. Remove paint with a chemical paint stripper.
Follow the directions for the paint stripper and brush it onto the paint stain as recommended. Wait for the paint to bubble and carefully scrape the excess paint from the wood with a putty knife or paint scraper. Try not to be too aggressive as you remove the paint to prevent damage to the surface.
It may be necessary to reapply the stripper if the paint stain is stubborn. Once the paint is gone, clean the area with mineral spirits and a rag. Check for paint residue and use fine steel wool to lift more color. Finally, give the wood a smooth, clean look by gently rubbing it with fine-grit sandpaper with the grain.
Accidents happen while painting, and it's not uncommon to get a paint splatter on wood trim or a laminate floor. While removing water based paint from wood, the process takes patience. It's simple to restore the wood with the proper paint splatter remover.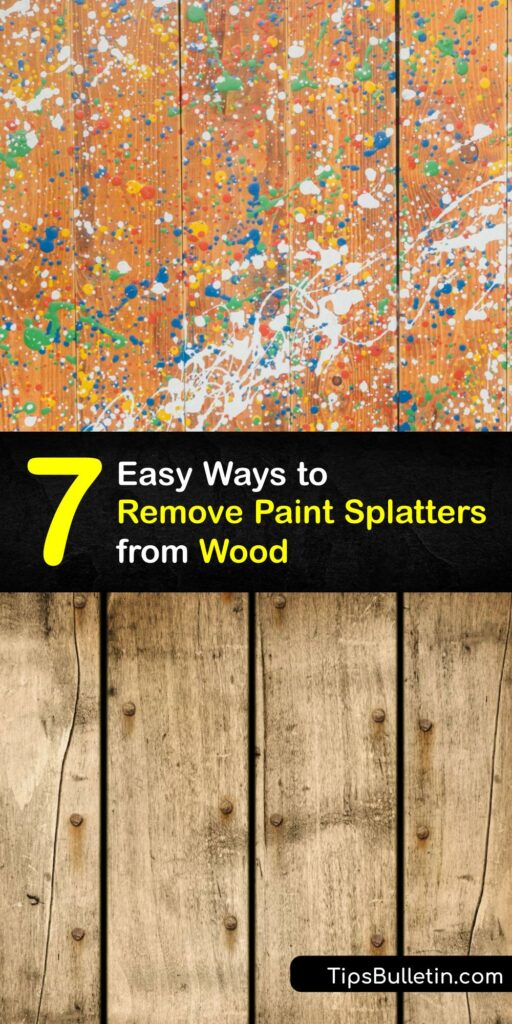 We hope that reading how to remove paint splatters from wood keeps your wood surfaces looking clean, and we'd love it if you'd share our tips for removing paint drips from wood with your friends on Pinterest and Facebook.