It's common to experience random crayon or pencil marks. You may have them after marking off a wood project or from an imaginative child who got too creative on your furniture or walls. Learn how to remove pencil marks from wood using quick cleaning solutions.
As easy as it is to get a pencil mark, marker spot, or ink stain on plastic, paint, carpet, clothes, and other areas, the smudges aren't as simple to remove. Fortunately, there are effective ways to clean pencil marks from a wood surface, some of which may surprise you.
Pencil lead is not actually lead. Instead, it's a form of carbon called graphite. The graphite is mixed with clay; this "lead" leaves a black mark on paper or wood. While it looks challenging to remove, it's possible to clean off wood with various home remedies, including the eraser on the opposite end of the pencil.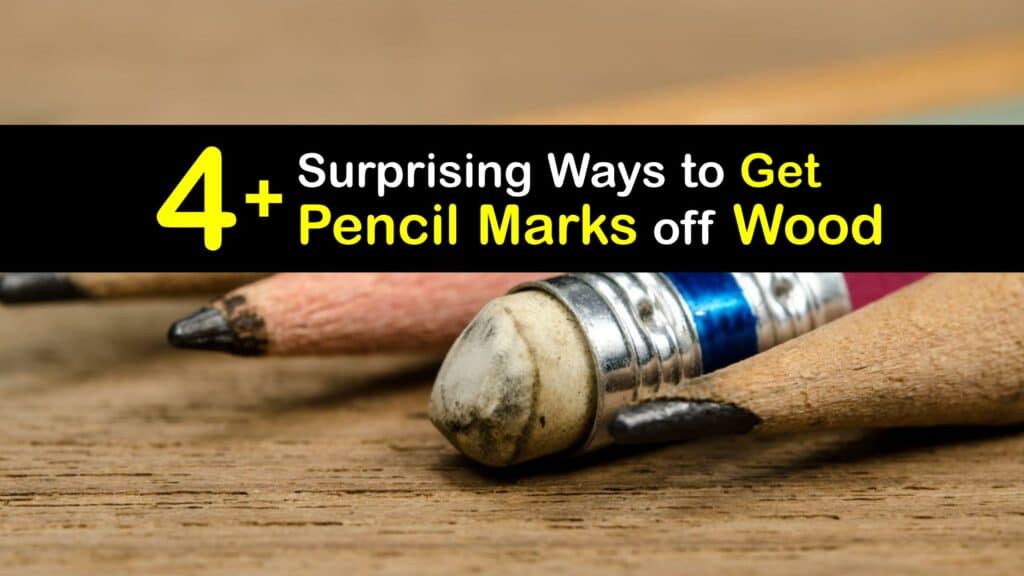 Ways to Remove Pencil Marks From Wood
Unlike pen stains, pencil marks are relatively simple to remove using the proper technique. Discover several ways to get a pencil stain off wood, from a pencil eraser to sandpaper. We'll also show you ways of cleaning waxy crayon marks on wood furniture or any other surfaces.
How to Get Pencil off Wood With an Eraser
The simplest way to remove pencil marks from any surface is to erase them. Yet, it's not as straightforward as erasing a pencil mark from a piece of paper. Find out how to get pencil off wood without causing streaks.
Try to remove the pencil mark gently with a pencil eraser by rubbing the spot from the wood. Rub the eraser with the grain to prevent smudging. If that doesn't work, dampen the corner of a Magic Eraser, wring out excess water, and rub the stain to clean the pencil from the wood. Dry the area with a towel and check for remaining stains.
Removing Pencil Marks From Wood With Denatured Alcohol
Denatured alcohol is a solvent similar to rubbing alcohol, and it works great at removing pencil from painted walls. However, testing this method on an inconspicuous area first is vital to ensure it doesn't stain the wood.
Apply denatured alcohol to a clean, soft cloth and scrub it over the affected area. If you prefer something non-toxic, try acetone or rubbing alcohol instead of denatured alcohol. Once the stain is gone, clean the wood with a damp towel to remove the residue.
How to Remove Pencil Marks From Wood
Soapy water is the best way to remove pencil marks from wood without harsh chemicals. This method is ideal for painted or finished wood surfaces; you only need warm water and dish soap.
Fill a small container with lukewarm water and add a few drops of soap. Agitate the liquid with your hand to create a soapy solution, and apply a small amount to the pencil mark. Avoid putting too much water on the surface since wood is porous and takes a long time to dry. Carefully scrub the area to remove the pencil and wipe it dry with a soft towel.
Using White Vinegar to Get Pencil Marks off Wood
White vinegar is another alternative for cleaning pencil marks and wood furniture with Sharpie marks. The acidic liquid removes stains from grease to pencil and is gentle enough for wood. Learn how to get pencil off wood with a homemade vinegar solution.
Mix the water and white vinegar in a container, dunk the corner of a soft cloth into the liquid, and apply it to the pencil mark. Use a back-and-forth motion along the wood grain until the stain is gone, and wipe away the residue with a damp cloth. Dry the wood with a towel.
Remove Pencil Marks From Wood
A baking soda paste is another option for removing pencil marks from wood. It's mildly abrasive and carefully scours the graphite out of the wood grain. Discover how to use baking soda or white toothpaste to remove a wood stain.
Make a cleaning paste by mixing just enough baking soda and water. Scoop up a small amount of the paste with a soft cloth and rub it over the affected area on the wood. Avoid going against the grain as you clean and wipe away the paste with a damp cloth. White, non-gel toothpaste is a good alternative if you don't have baking soda to get marks off antique wood items. The toothpaste is gentle enough to preserve delicate or antique furniture.
Removing Pencil Marks From Wood With Sandpaper
Sandpaper is your best bet if nothing else works at removing pencil marks from wood, but there is a right and wrong way to sand the wood surface. Find out how to remove pencil marks from wood with sandpaper.
Only perform this step if the wood is unfinished since sandpaper may remove paint or finish. Start by rubbing the small area with coarse sandpaper to remove the pencil mark from the grain, and finish by smoothing the surface with fine-grit sandpaper.
Once the pencil mark is gone, wipe away dust with a damp towel, and allow the wood to dry completely before applying stain or paint.
Pencils are necessary tools whether you use them for school, work, or crafting projects. However, sometimes you end up with pencil marks where they don't belong. Luckily, an eraser, soapy water, and vinegar remove these unsightly marks from the wood, leaving a smooth and clean finish.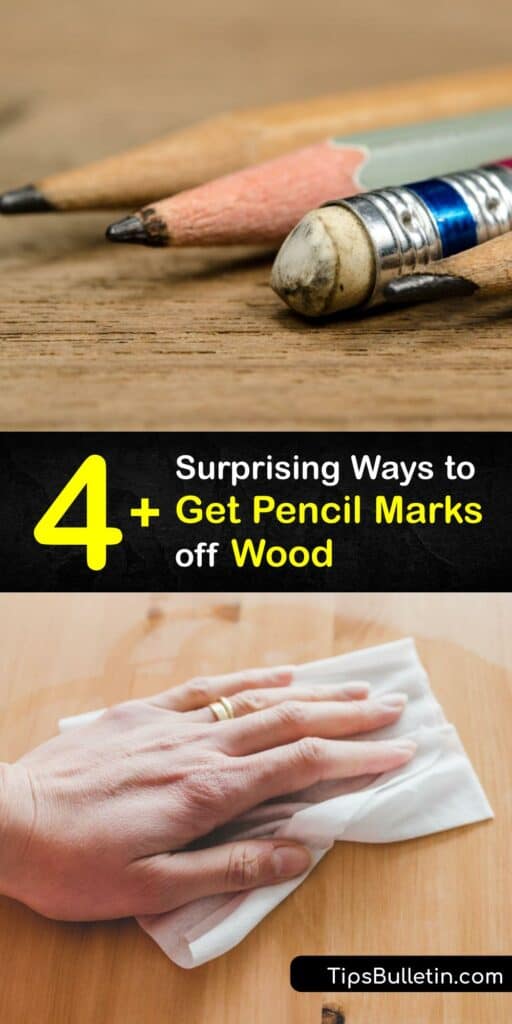 Now that you know how to remove pencil marks from wood without a lot of trouble, why not share our tips for cleaning a pencil mark off the wood with your family and friends on Pinterest and Facebook?