A permanent marker is meant to be non-removable, so it can cause some trouble when it gets on surfaces that it's not supposed to get on! This can be frustrating if you have children who like to create their artwork on your walls or if you've mistaken your Sharpie for a dry erase marker. Fortunately, there is a plethora of tips and tricks available for how to remove permanent marker from a wall or another household surface.
In this article, we'll teach you about nine of the best solutions for removing permanent marker from things where it shouldn't be. You'll learn about everything from wood floors to whiteboards, to laminate, to countertops, and more.
Once you master the tricks and tips in this guide for how to remove permanent marker from a wall, a misplaced black permanent marker stain won't be an issue again!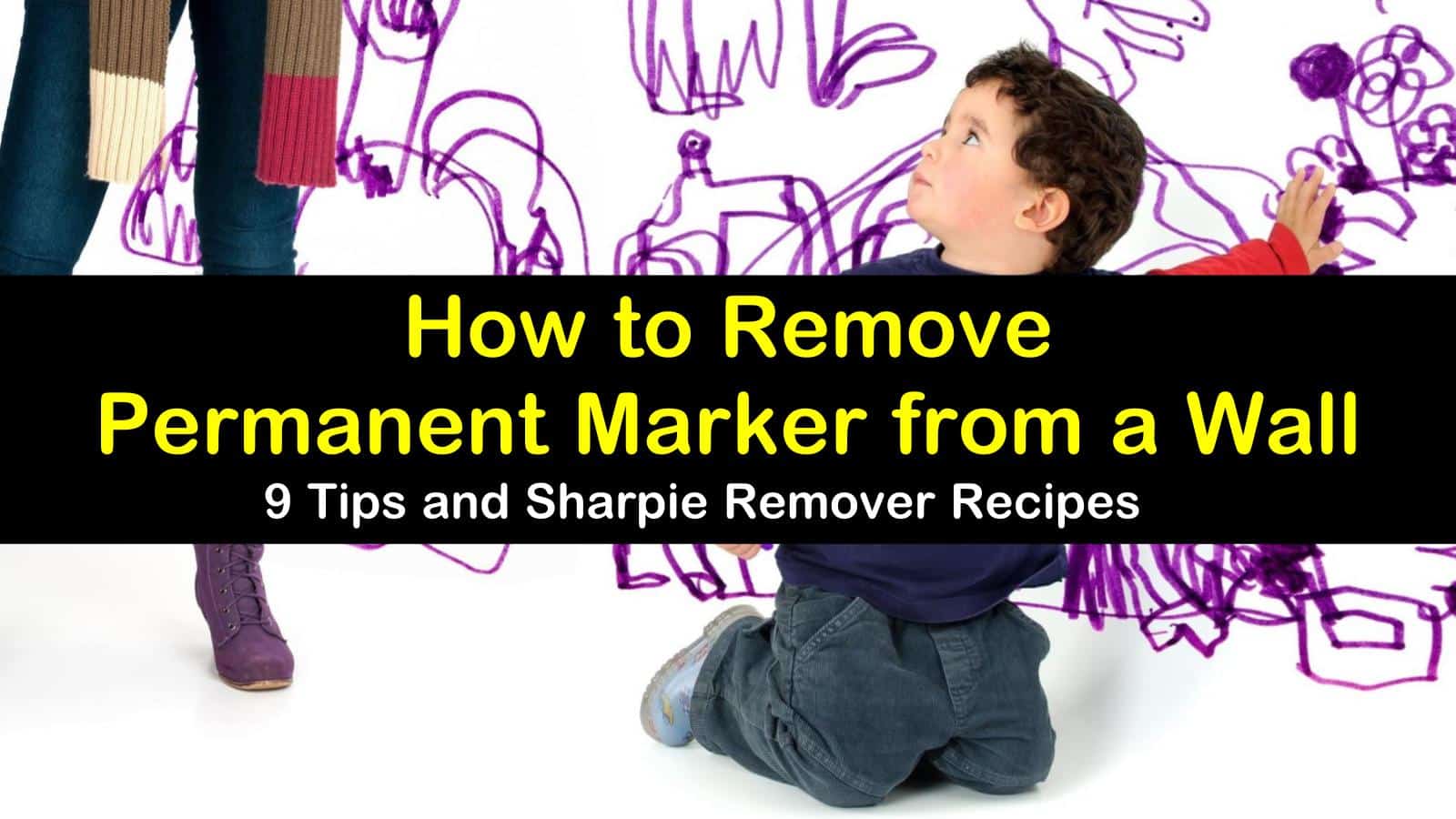 How to Clean Permanent Marker from Walls
You probably think removing Sharpie from things is tough because you've used ordinary commercial cleaners before. While some cleaners are well-equipped to deal with Sharpie marks, most are not!
The solutions we mention in this guide will surprise you, as most of them are household objects that we'll repurpose to remove the Sharpie stains. They still perform better than most commercial cleaners available today.
Removing Permanent Marker from Walls with the Magic Eraser
Mr. Clean Magic Erasers create the hands-down most straightforward way to remove Sharpie from painted walls. Removing permanent marker from walls with the Magic Eraser couldn't be easier – all you do is wet the Magic Eraser and scrub away at the stain.
Wet the Magic Eraser with warm water, squeeze out any excess, then scrub gently at the Sharpie stain. The Magic Eraser is already full of stain-fighting cleansers, so there's nothing else you need to do for this method to work!
How to Get Dry Erase Marker Off a Wall with Isopropyl Alcohol
While dry erase markers come off dry erase boards with an eraser or white board cleaner, they're not always quite so easy to remove from other surfaces. This is especially true for walls.
However, if you're wondering how to get dry erase marker off a wall, you're in luck! Dry-erase lines come right off when you clean flat paint walls with the help of a little isopropyl alcohol.
Dab some isopropyl alcohol on a swab, cotton ball, or rag, then gently rub it against the dry erase marker on the wall. The mark should lift and come away quickly. Make sure to wipe any residue from the wall with a wet sponge or cloth when you've finished.
Isopropyl alcohol is an excellent Sharpie remover for wood surfaces, too. You can even use a sequence of rubbing alcohol and hydrogen peroxide to get Sharpie marks out of microfiber upholstery, as well as other types of fabric.
Remove Sharpie Marks on Hard Surfaces with Toothpaste and Baking Soda
Toothpaste and baking soda might seem like a strange combination, but believe it or not, baking soda and toothpaste make a fantastic DIY stain-fighting combination. Don't use gooey gel kinds of toothpaste, as these won't work. We recommend using a white toothpaste or baking soda toothpaste.
Mix the toothpaste and baking soda in equal parts in a small cup or bowl. Scrub the mixture gently over your permanent marker mark with a toothbrush, cotton ball, or your finger. Let it sit in a small area for a few minutes, then rinse it off with clean water.
Be prepared to use a bit of elbow grease with this method. Baking soda and toothpaste are also safe to use on wooden floors and other wood surfaces, and they're useful for cleaning crayons off walls, too. The area will smell nice, too!
Remove Sharpie from Carpet and Leather with White Vinegar
Distilled white vinegar is an ordinary natural household cleaner and stain remover, and unsurprisingly, it has its place on this list, too.
Dab or spray pure distilled white vinegar on the stain. Let it sit for several minutes while it works, then blot the vinegar and the dye or throw the offending item in the washing machine. Vinegar is an excellent stain removal for leather, too, because it lifts the vinegar stain without damaging the leather.
Vinegar works quite well for removing wallpaper glue residue if you are replacing your old wallpaper with new or will be painting instead, too. Alternatively, you can use a solution of white vinegar and water to make a homemade window washing solution.
Remove Sharpie from Skin and Clothes with Hand Sanitizer
Hand sanitizer is a great way to remove Sharpie from things because of its alcohol content. If you have some on hand, it's great to use to tackle a fresh Sharpie stain before it sets too well into your surface. Squeeze or spray the hand sanitizer on the stain, allow it to sit briefly, then wash it out.
Since hand sanitizer works for skin, it's an excellent permanent marker remover for skin, too. It can be used on fabrics and carpet, as well, but always test an inconspicuous area first to make sure the materials are colorfast.
Scrub Permanent Marker from Skin and Hard Surfaces with Sunscreen
Many people stand by sunscreen as one of the best stain removers for the skin. Just like hand sanitizer, since it's meant for human skin, you can use it without fearing adverse reactions or skin damage.
For this method, squeeze a small amount of sunscreen onto the stain, then use a cotton ball, rag, or damp cloth to work the solution into the magic marker stain. Surprisingly, sunscreen can work on hard surfaces for Sharpie removal, too. However, we don't recommend using it on porous surfaces, as it won't be as effective.
Use Acetone or Hairspray to Remove Sharpie from Clothes
Nail polish remover and hairspray are two surprisingly effective remedies to get permanent marker stains out of fabrics. Acetone is best for sturdy materials that are colorfast, and hairspray is best for leather and other sensitive clothes. For both, be sure to dab your stain carefully with a washcloth – don't rub or swipe, as this could spread the Sharpie ink stains instead of removing them.
Spray a small amount of acetone or hairspray onto the stain, then carefully dab at the permanent marker as it lifts. Be careful not to saturate the fabric in the process. If you can, always throw the fabric article into the washing machine or hand-wash it after the stain disappears.
Believe it or not, Windex can also have much the same stain-removing results as acetone and hair spray. Acetone is also useful for removing Sharpie marks from stainless steel, so we recommend having some to keep your appliances shiny and new-looking.
If you're wondering how to get Sharpie off leather, hairspray can be very useful for this, too, especially if you're not keen on using vinegar.
Remove Permanent Marker Gently with Citrus
Lemon juice and lime juice are gently acidic cleaners that dissolve the permanent marker stain without causing damage to most delicate fabrics.
For this reason, we recommend using it on any material that you're not 100% sure will accept harsher cleaning methods. This natural wall cleaner can be used on multiple surfaces with all kinds of stains.
Spray or pour the citrus juice onto the fabric or wall, then dab the stain away as it's lifted out. Citrus juice is also a mild way to remove stains from white walls.
If you're concerned about the paint on your living room wall and don't want to use rubbing alcohol or other abrasive cleaners, you may be able to remove the stain with lemon or lime juice.
However, as this cleaner isn't as powerful, it will most likely require more effort than the others. It's still better than having to repaint the wall, though!
Citrus can also be used instead of vinegar as the easiest way to take off wallpaper if you are redoing your walls.
Rub Permanent Marker Off White Boards with Dry Erase Marker
Did you accidentally use a black Sharpie marker on your whiteboard instead of a dry erase marker? Never fear – all you need to do to restore your whiteboard is grab a dry erase marker! Draw over the Sharpie marks with a dry erase marker, then wipe everything away.
You may want to use some dry erase board cleaner, or a few baby wipes to make everything pristine again when you finish. This step is entirely optional, though. Keep drawing over and erasing the Sharpie marks until they are completely gone.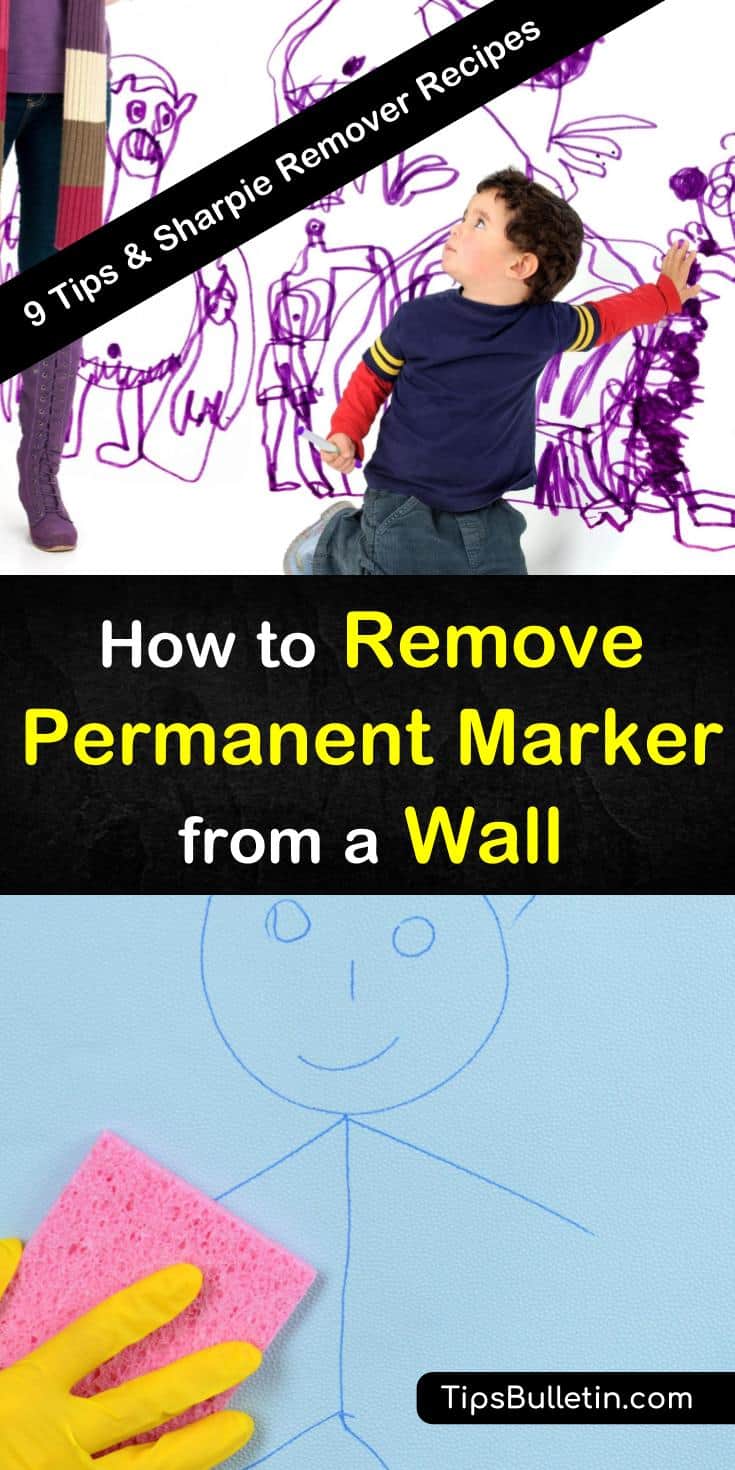 Did you like this guide full of tips and tricks for how to remove permanent marker from a wall? If you enjoyed this Sharpie cleaning products guide, share these tips for how to remove permanent marker from a wall with the people you know on Facebook and Pinterest so we can help them out, too!