Have you recently discovered some unwanted artwork on your leather couch? Does your 10-year-old daughter like to draw on herself or her teammates for swim competitions? Have you found those Sharpie marker drawings on your leather car seats? If you have experienced any of this, you need to learn how to remove permanent marker from leather.
Most of the time when we discover permanent marker ink on leather items we go into full-blown panic mode. We automatically assume that our leather is forever ruined as we think there is no way to we are ever removing Sharpie from leather. After the initial shock and outrage have passed, you need to get to work on the stain.
Luckily, there are several products that you can use when removing sharpie from leather, some you might even already have at home. The first thing you learn about how to remove permanent marker from leather is always testing the products in an inconspicuous area. When using any cleaning product, you run the risk of removing the dye in the leather, or you can damage the finish.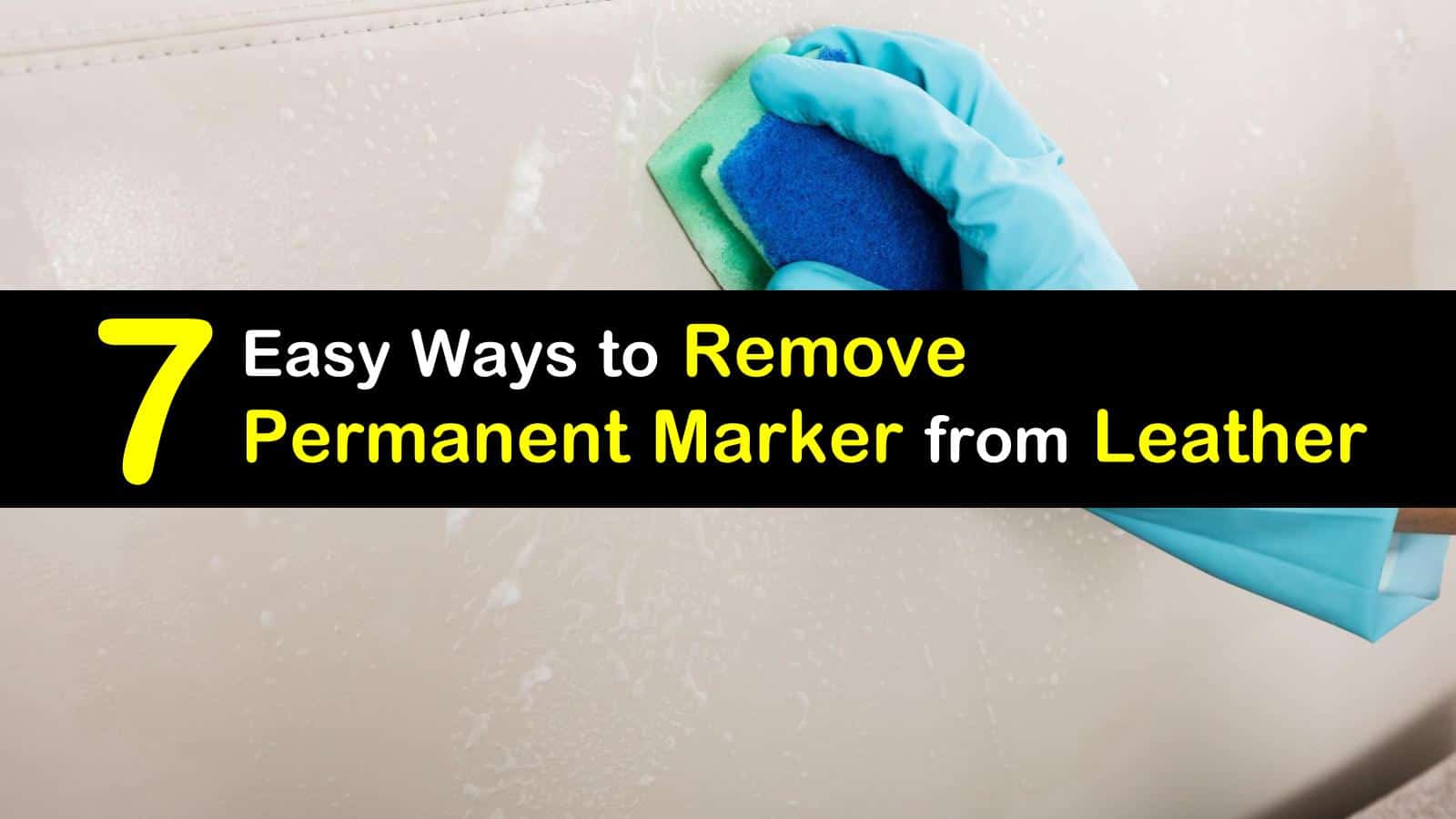 Simple Ways to Get Rid of Marker Stain from Leather
Cleaning products can leave a more obvious mark, or they can make the stain worse. To test the products apply a small amount to a cotton ball and use a circular motion to rub the leather gently. If the cotton ball comes away clean proceed with your preferred method, if any dye or finish appears on the cotton ball, choose a different approach to try.
Spray Sunscreen on Sharpie Spot
A unique way to remove permanent marker stains from leather car seats is with spray sunscreen. The same spray bottle of Banana Boat or Neutrogena sunscreen that you use to protect your child's skin from the harsh rays of the sun will work to get black sharpie off leather seats.
Spray a white towel with a little sunscreen and slowly rub the stain using gentle pressure. As needed reapply the sunscreen, but you will need to be patient as it can take a bit to remove the stain.
To eliminate sunscreen residue left behind on leather, use one of our DIY car interior cleaner recipes. Once the stain is gone apply leather conditioner to the area to restore the leather fully.
Magic Eraser and Other Cleaning Products
This method might sound crazy, but the Magic Eraser made by Mr. Clean is an excellent tool for removing ink stains from your leather. WD-40 or Goo Gone can also be used for stain removal on leather, too.
To use this method the Magic Eraser needs to be slightly damp. Use a firm, circular motion to rub the eraser on the stain.
Rubbing too hard can cause the Magic Eraser to rub away the leather dye, so use small and gentle motions to remove marker stains. Leather conditioner will need to be applied to the area to prevent further damage to the leather.
Oil-Free Hair Spray as Leather Cleaner for Marker Stains
Using oil-free hair spray is very similar to using sunscreen to remove sharpie from leather furniture. Apply a small amount of oil-free hair spray to a clean cloth and gently rub the stain away.
Do not scrub the stain; you want to gently rub the magic marker stain until it goes away. Other products with high alcohol content, such as rubbing alcohol or hand sanitizer, can be used in place of hair spray.
Nail Polish Remover
Avoid using nail polish remover on black, brown, or tan leather as it can remove the color of the leather, as well as the ink stain. Nail polish remover should only be used on cream or white colored leather surfaces, but even then it needs to be used sparingly.
Apply a minimal amount of nail polish remover to the permanent ink with a paper towel or a cotton swab. If you notice any discoloration occurring stop using the nail polish remover right away.
Once the stain is gone, wash the area with a suitable leather cleaner and allow to dry. Apply leather conditioner to restore the leather fully.
Distilled White Vinegar
Distilled white vinegar, which is a very versatile cleaning product, will work best to remove ink from leather when the stain is fresh. It can also work on older stains, but it will take a bit more time. Use a clean cloth to dab the white vinegar onto the marker.
With a clean towel gently blot the stain until gone. The white vinegar can also be sprayed directly onto the stain and then blotted away with a clean cloth. As always, apply leather conditioner to the area to help restore the leather.
Removing Sharpie with Baby Wipes
Baby wipes, as well as makeup remover wipes, are an excellent way to remove permanent marker. Both have been proven to work well at eliminating sharpie from your skin, but they can also be used safely on leather.
No special instructions are necessary for cleaning stains with a baby wipe or a makeup remover wipe. Use the wipe to scrub the leather until the ink stain is gone. Apply leather conditioner to the stain to prevent further damage to the leather.
Baking Soda and Toothpaste
To remove permanent marker from leather, you can use safely use a baking soda and toothpaste mixture. The baking soda helps to lift the ink from the leather by loosening the ink's grip on the leather.
Form a paste by mixing equal parts baking soda and toothpaste. Apply the paste directly to the marker on your leather sofa and allow it to sit for up to two minutes. Use a damp cloth to rub the mixture gently into the stain.
After the stain has gone use a leather handbag cleaner recipe to clean the leather, followed by some leather conditioner to restore the leather. When learning how to remove permanent marker from leather, no one set method will work for everybody.
Some of these methods will work better on certain items than others. If the first method doesn't work, move on to a different one. Regardless of the way you choose, use a good leather cleaner to clean the area after removing the stain to restore the leather.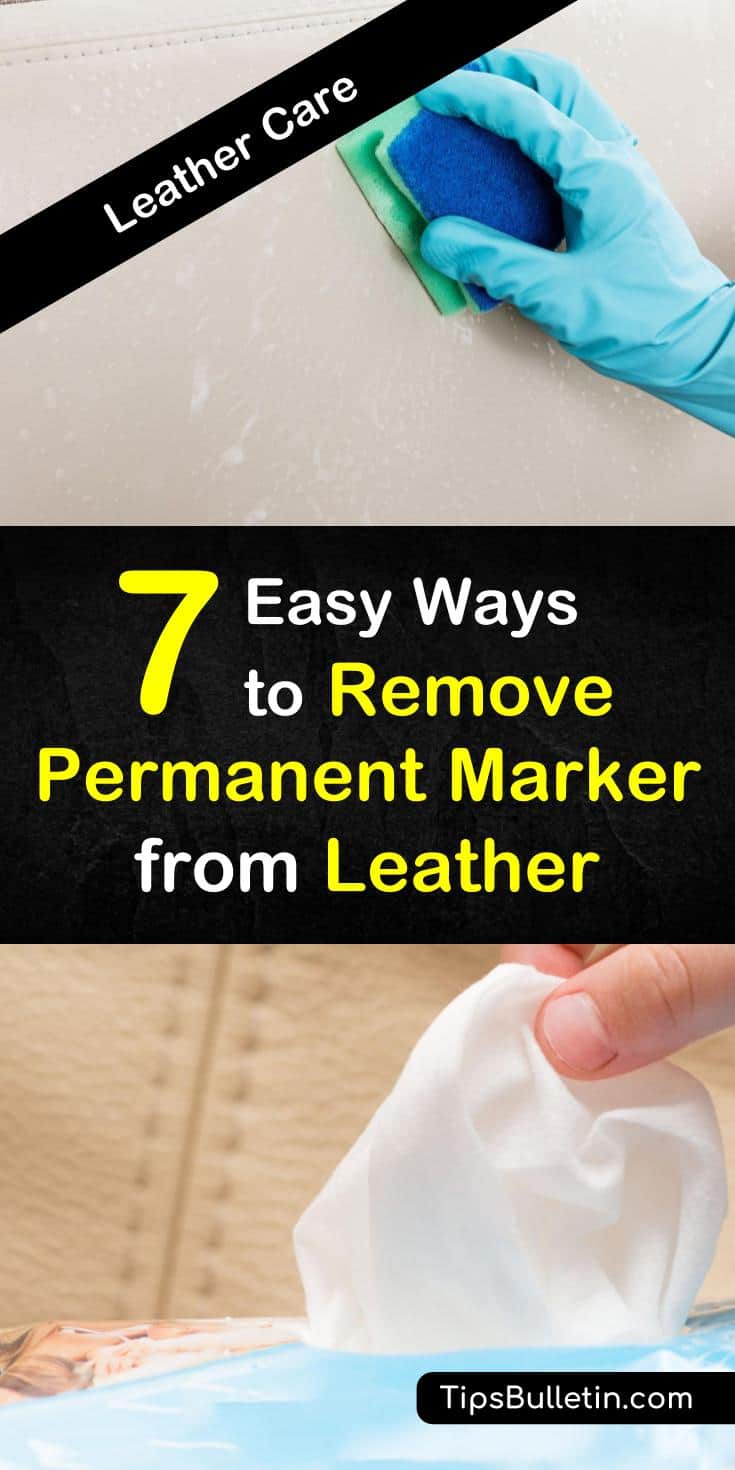 Thank you for taking the time to read through this article on how to remove permanent marker from leather. Hopefully, you found these methods for removing Sharpie marker from leather helpful. Please take a minute to share these leather cleaning tips with others by pinning these recipes to Pinterest or sharing on Facebook.