It's easy to forget about cleaning a retainer while wearing it since brushing your teeth is part of your daily routine. However, retainers and aligners require daily cleaning as well to prevent plaque build-up and keep them fresh. We'll show you how to remove plaque from a retainer to keep it clean and germ-free.
The many types of orthodontic retainers keep teeth straight and are generally a follow-up to Invisalign or braces. Unfortunately, these devices are a breeding ground for germs and bacteria.
Just like your teeth and gums, regular retainer care is essential to keep it free of food particles, germs, and plaque. Dental plaque is typical, even on a fixed retainer or removable retainers.
It is a sticky film that is usually colorless and contains bacteria in the millions. It's important to remove the film while it's soft to prevent it from hardening and forming tartar.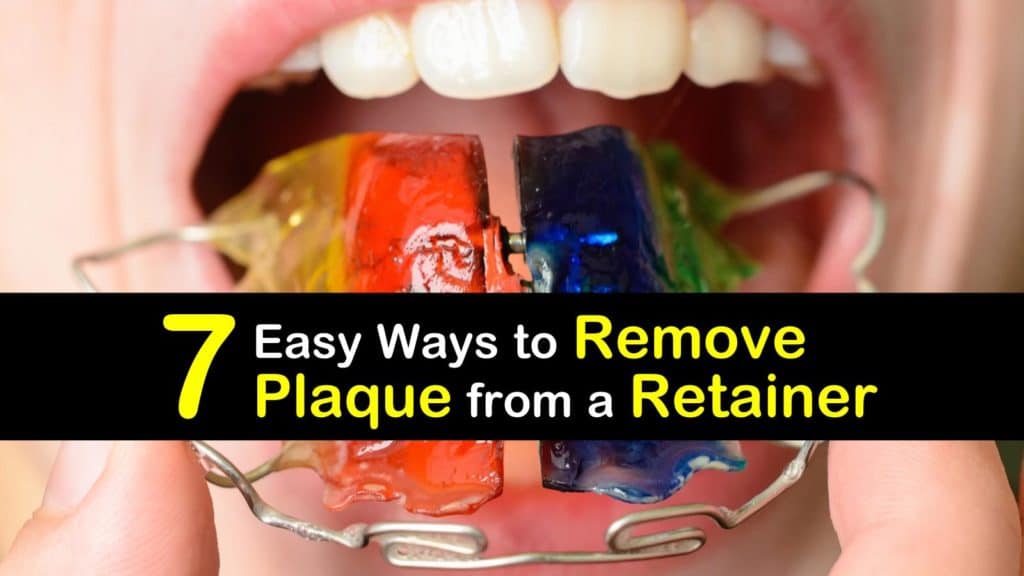 Ways to Remove Plaque from a Retainer
There are several ways to clean plaque off a retainer, and the cleaning solution depends on whether the film is soft or hard. Here is how to remove retainer plaque, as well as ways to maintain your retainer and a range of cleaners to avoid.
Experiment with the different recipes to determine the best way to clean a retainer for you. You may be surprised at how easy it is to clean this appliance and get excellent results.
Basic Ways to Clean Retainers with Plaque
One of the easiest ways to clean retainers with plaque is to use a mild soap and a toothbrush. This method is ideal for plastic retainers, and performing daily cleaning removes a soft plaque film.
Hold the retainer beneath cold, running water to rinse away debris and then set it on the side of the sink. Apply a small amount of mild soap, Castile soap, or non-whitening toothpaste on a soft bristle toothbrush.
While holding the retainer in one hand, use the toothbrush to scrub the inside and outside to remove soft plaque gently.
Turn the faucet to warm water and rinse away all of the soap or toothpaste. Place the clean retainer in your mouth or store it in a safe container.
Get Plaque off Retainers with Vinegar
To get plaque off retainers after it begins to harden, try using a vinegar soak. The liquid naturally loosens hardened plaque, making it easy to scrub away with a toothbrush. You can also try this homemade denture cleaner recipe for stubborn stains on your dentures. Vinegar is ideal for this purpose.
Start by rinsing your retainer with cold water to flush away bits of food, and then place it in a container that contains equal parts water and white vinegar.
Allow it to soak for up to half an hour, and use a toothbrush to gently scrub away areas of plaque, making sure to clean both the top and bottom.
After it is clean, hold it under lukewarm running water to rinse away the vinegar. If you do not plan on wearing it for a while, store it in a retainer case.
How to Remove Plaque from a Retainer with Baking Soda
For tough stains, consider removing plaque from retainer with a mixture of baking soda and hydrogen peroxide. These ingredients work together to scrub away the buildup while eliminating foul odors.
For a homemade mouth guard cleaner or to get your retainer or dentures spotless, pour the water into a container and add the baking soda and hydrogen peroxide. Place your retainer into the liquid to soak for 20 to 30 minutes, depending on how dirty it is.
Remove it from the solution and then rinse it thoroughly under cool, running water until all baking soda washes away. Replace the retainer in your mouth or store it safely until you're ready to wear it.
Cleaning Plaque off a Retainer with Hydrogen Peroxide
Try using hydrogen peroxide to get plaque off retainers and for taking care of dentures on a regular basis. This mild antiseptic and disinfectant not only removes plaque but kills germs and bacteria for a fresh and clean retainer or other dental appliance.
To disinfect a mouth guard or retainer, fill a container with enough equal parts hydrogen peroxide and water to cover your retainer, and soak it in the liquid for 15 minutes to half an hour. Use a soft-bristled toothbrush to scrub the retainer inside and out to clean away loosened plaque.
Dump out the cleaner and rinse your retainer beneath warm, running water. Put the clean retainer in your mouth or store it in a safe place.
Clean a Retainer to Remove Plaque and Bad Odors
One of the mildest ways to clean retainers with plaque is with baking soda. This home remedy for bad breath and removing retainer plaque is natural and only takes minutes to perform.
Sprinkle some baking soda into a container or bowl and add enough distilled water to make a paste-like substance. Give your retainer a good rinsing to remove food particles and then clean it with the paste.
Coat the bristles of a toothbrush and scrub the inside and outside of your retainer to brush away plaque or to remove plaque from a night guard.
After it is clean, hold it beneath running water until all of the baking soda residue washes away. If you don't plan on wearing the retainer, keep it in a container in a safe place.
Cleaners to Avoid when Removing Plaque off a Retainer
There are many things to avoid using on your retainer when cleaning it to remove food, bacteria, and plaque. While they seem like a good option at the time, some cleaners damage clear aligners and retainers.
Harmful Retainer Cleaners and Methods
Do not try to clean your retainer with boiling water or wash it in the dishwasher. While this seems like a good idea to kill germs and bacteria, the extreme heat distorts and warps the retainer.
Stay away from cleaning agents such as household bleach. Retainers absorb these cleaners, and the chemicals dry them out. Avoid using a denture cleaner like Efferdent because these cleansers are too strong and often damage the retainer's surface.
Do not use mouthwash or anything that contains alcohol to prevent your retainer from drying out. If you decide to use toothpaste to wash it, make sure that it is a non-whitening formula.
Preventing Plaque Buildup on Retainers
Removing tough retainer plaque is a chore best avoided. While this film is a common problem on teeth and retainers, buildup is avoidable by taking certain measures and using proper oral care.
Retainer Plaque Prevention
Rinse your retainer after eating to flush away bits of food. Brush it with a soft bristle toothbrush or denture brush and floss it every time you take it out of your mouth.
When not in use, store it in a retainer case or soak it in a cup of distilled water. Perform a deep clean every week to prevent the buildup of plaque and tartar and soak it in a mild cleaner as needed.
A trip to the orthodontist is never high on the list of fun things to do. Therefore, it's essential to clean retainers using the right solutions to ensure they stay clean and free of plaque and tartar, whether they are Essix, Hawley, bonded, or clear plastic retainers.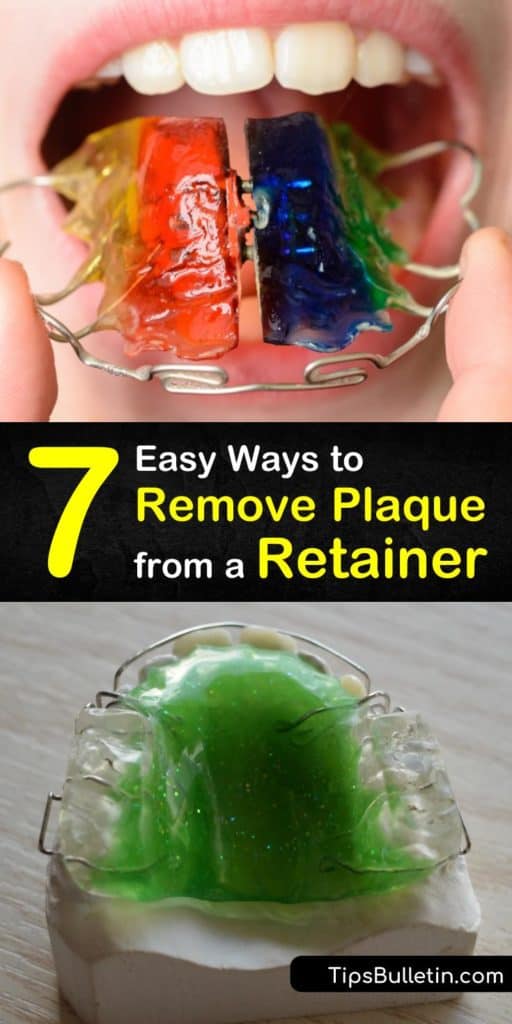 We hope that knowing how to remove plaque from a retainer keeps your smile beautiful, and we'd love it if you'd share our retainer plaque cleaning methods with your circle of family and friends on Facebook and Pinterest.