Our mouths are dirty places where plaque and tartar build up and create tons of issues. If you're one of over 40 million citizens that use dentures, you know the work it takes to get plaque off dentures. Learning how to remove plaque from dentures is essential for your overall oral health.
Denture care is critical because the cost of prosthodontists and mouthpieces are incredibly high, and keeping them clean will make them last years longer and give you your money's worth. After all, who doesn't want to show off a beautiful, clean smile free from bacteria and gunk?
There are two types of dentures. Complete dentures come as a whole set of teeth, and partial dentures are used when some of the patient's natural teeth remain. The same process is used to clean plaque off partial dentures and full dentures. Regardless of the kind you use, keeping plaque and stains off your new teeth will make your mouth sparkle like never before.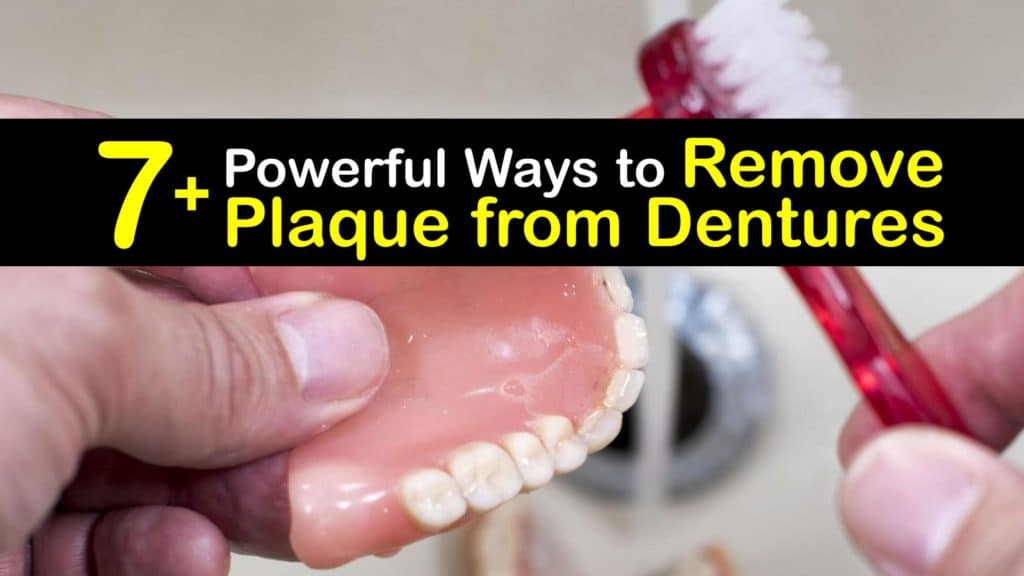 Why Removing Plaque from Dentures is Important
Why is it important to get plaque off dentures and remove plaque on retainers? Plaque is a sticky film that builds up from food particles and millions of bacteria. The bacteria eventually cause tooth decay and may even lead to gum disease without proper denture cleaning and flossing.
Denture wearers are at somewhat of an advantage because they can remove the mouthpieces and metal attachments and scrub every small nook and cranny with a denture cleaner.
The American Dental Association puts denture care as a top priority to help the pieces stay clean, maintain their shape, and stay pliable. While some experts recommend cleaning your dentures every time you eat, that isn't always possible for many people.
Cleaning your dentures daily is necessary for keeping them in the best condition. However, a more in-depth cleaning once per week is also recommended. These hardier cleaning sessions remove even the thinnest plaque films so that all bacteria are removed.
When you clean plaque off dentures, you're also getting rid of bad breath. Plaque is not your friend and should be removed as often as possible, whether you wear dentures or not.
How to Remove Plaque from Dentures
Removing plaque from dentures starts with a simple understanding of how dentures work. Full and partial dentures mold to each individual's mouth shape.
Denture adhesives are used to keep the dentures in place and are made in cream, powder, and strip forms.
These adhesives usually only require a small amount of saliva to wet the bond and keep them in place within the mouth. Dentures are easy to remove, so it makes attempting to clean plaque off partial dentures stress-free.
A Generic Strategy for Cleaning Dentures
Dentalhealth starts with any ordinary toothbrush and toothpaste, and the same goes for denture cleaning. Try purchasing a slightly abrasive toothpaste brand, like Arm & Hammer, so it gently scrubs the plaque off.
Put a small drop of abrasive toothpaste on your toothbrush or a denture brush. Run your dentures and brush under hot water and gently scrub all the surfaces of the mouth piece.
Once every spot is cleaned, rinse the dentures under warm water and set the dentures in their case to air dry.
Using Baking Soda as Denture Cleanser
Baking soda is the most versatile tool to keep around your house. The fine powder is abrasive enough to remove plaque while working as a powerful cleaning enzyme that lifts stains. Turn baking soda into a DIY denture soaking and denture stain removal solution for a quick and easy clean.
Add warm water and the baking soda to a small glass that fits your denture pieces. Add your dentures to the denture cleaning solution and let them sit overnight while you sleep.
In the morning, remove them from the baking soda water and use a toothbrush to scrub all surfaces. Finish the cleanse by rinsing the dentures under warm running water and allow them to dry before putting them back in their case.
Cleaning Dentures with Vinegar
Vinegar is another powerful ingredient. Most people keep vinegar in the kitchen to cook with, but the high acid content breaks down stuck-on tartar so that it scrubs off easily.
If your dentures have small metal attachments, avoid using vinegar so that the metal doesn't corrode. Place your dentures in a medium bowl and fill the bowl with either white or apple cider vinegar until they are just covered.
Soak the dentures for five hours or as long as overnight and remove the dentures from the vinegar.
Use the bristles on your toothbrush to give them a quick scrub and rinse them under running water until the smell of lingering vinegar is completely gone.
Clean Plaque off Partial Dentures with Effervescent Liquids
Effervescent liquids are fluids that bubble. The bubbling effect lifts tough grime from surfaces while the ingredients themselves start breaking them down. Hydrogen peroxide is a standard effervescent liquid that is safe to use on dentures.
To clean plaque off partial dentures, put the piece in a small bowl and cover it with hydrogen peroxide. Let the peroxide work its magic for 12 hours. Remove the denture from the peroxide and thoroughly rinse it under warm water.
Soaking Dentures in Salt
If there is one thing you're sure to have at home, it's salt. Salt isn't the first thing that comes to mind when cleaning plaque off dentures, but turning water into salt water helps keep your dentures shining and prevents them from drying out.
Add a tablespoon of salt to a large glass of water and stir the solution with a spoon until all the salt is dissolved.
Put your dentures in the glass and let them sit overnight. The next morning, remove your dentures from the glass, rinse them under sink water, and put them in your mouth so you can start your day.
Deep Cleaning Dentures
In this article, we mentioned that denture wearers should give their dentures a deep clean once per week. This is the perfect time to use bleach.
Don't worry about getting bleach in your mouth. This cleaner requires you to rinse the dentures thoroughly before using them again. You can also use this cleanser as a DIY retainer cleaner to keep bacteria and mold off a any mouth piece.
Find a glass or bowl large enough to fit your mouthpieces and add about ten parts water and one part liquid bleach to the container. Submerge your dentures in the bleach water and set a timer for 30 minutes.
Remove the dentures and scrub them with a wet toothbrush and toothpaste. Rotate the bristle to reach every small indentation possible.
Once all surfaces are washed, keep your water running and rinse the dentures under cold water for several minutes until all bleach traces are gone.
Washing Dentures with Soap
Hand soap isn't a safe soap to use on dentures because it has added fragrances, but dish soap is perfect for giving your fake teeth a gentle wash. Remove the dentures from your mouth and wash them in the same way you would wash your kitchen dishes.
Make sure to use a clean rag that is free from bacteria and not something that is already dirty or used on something else. Don't let the water you use get too hot, or it may warp your dentures' shape, and they won't fit as perfectly.
More importantly, never put your dentures through a dishwashing cycle or submerge them in boiling water, or the heat might damage them permanently. Use this strategy for washing your denture case as well.
Every time you set your dentures inside their case without cleaning them, bacteria transfer onto that surface.
People often forget that cleaning their cases is just as important, and they often become breeding grounds for bacteria. No matter how often you clean your dentures, they'll never remain clean if you continue to set them in a dirty case.
Ask for Cleaning at Checkups
The American Dental Association recommends getting a dental checkup once every six months. People who use dentures are supposed to visit the dentist more frequently than that.
If you continue to make your checkups, it's easy to ask them to clean your dentures. Dental offices have some of the most powerful denture cleaners. It only takes them a few minutes, and they are the best at removing plaque from dentures.
Denture care isn't much different than regular oral care. Regularly cleaning your dentures with a toothbrush, toothpaste, and some mouthwash is excellent, but sometimes more stringent measures must be taken to remove all the lingering plaque and tartar.
After trying some of these methods for cleaning dentures, you'll want to share your new knowledge with all your friends on social media.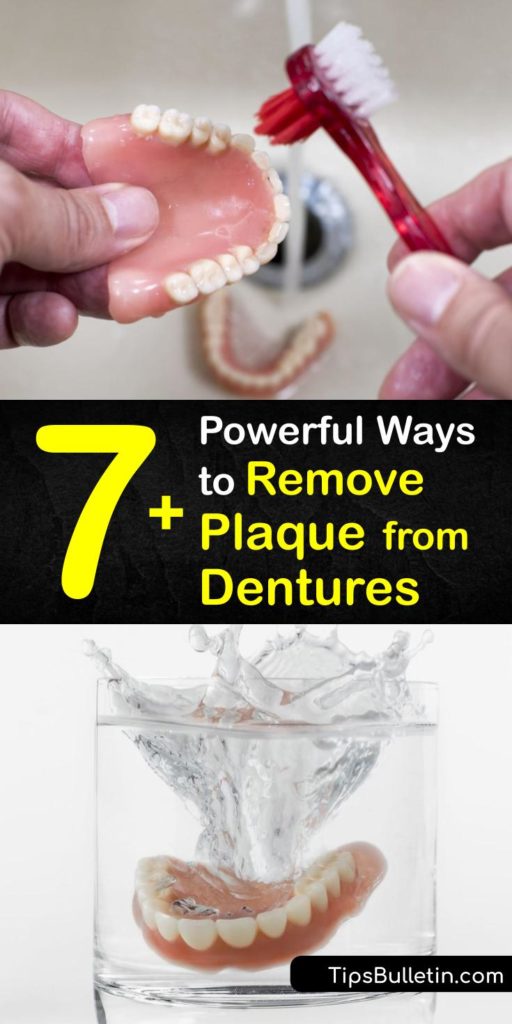 If learning how to remove plaque from dentures has saved you from stains and bad breath, share these ways to clean plaque off partial dentures on Facebook and Pinterest.