Have you recently noticed rust stains on your white clothes after washing them, and you don't know how they got there? Unfortunately, rust on the inside of the washer drum may be the culprit. Find out how to remove rust from a washing machine, inside and out, and keep it in tip-top shape.
Anywhere there's metal, there's bound to be rust, especially when water is involved. Oxidation in the metal causes corrosion, which eats away at the metal, revealing rust. It occurs on all metal types, including stainless steel. Washing machines are mostly metal and eventually begin to rust if you don't maintain them.
Rust stains can happen outside or inside the washer as the paint deteriorates. While rust in the washer is annoying and leaves stains on your clothing, you don't have to recycle it just yet. Many simple home remedies work wonders at rust removal, some of which may surprise you.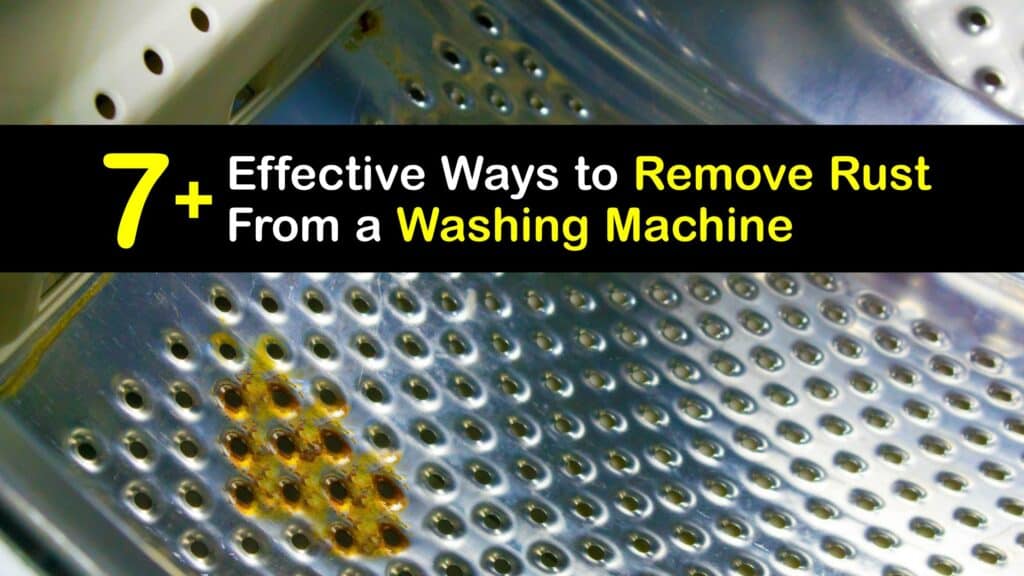 Ways to Remove Rust Stains From a Washing Machine
Rust is a stubborn stain that is challenging to remove, especially if you use the wrong cleaners. Discover what causes rust stains on your washer, how to clean rust off stainless steel appliances, and prevent it from returning.
Why Is There Rust Inside the Washing Machine?
Rust leaves a copper-colored mark on the metal, and it spreads if left unchecked. It can even transfer to your clothes after cleaning them in the washer. What causes rust stains, and does rust ruin a washing machine?
Washing Machine Rust
The leading cause of rusting is oxidation, a chemical reaction when the metal on the washing machine comes into contact with an oxidizing substance and oxygen.
The oxidation eats away at the material, creating rust that resembles the brown color of a cut apple. Though the washer metal has a protective coating, chlorine bleach and other chemicals corrode the coating, breaking into the bare metal.
Another cause for washing machine rust is when the laundry water comes from rusted pipes rather than rust on the appliance itself. In this case, it's necessary to call a local plumber to remedy the problem.
How to Clean Stains Out of a Washing Machine Drum
Lemon juice and white vinegar are acidic liquids that dissolve many tough stains, including those from rust. Learn how to clean stains out of a washing machine drum with a safe and gentle remover.
Fill the washing machine with hot water and add either two cups of distilled white vinegar or lemon juice. Start a normal wash cycle without clothes, and let it soak for an hour before finishing it. The vinegar or lemon acidity dissolves rust on chrome appliances and flushes it down the drain.
Removing Rust From a Washing Machine Interior
You may need to treat the stain further if a vinegar or lemon soak doesn't do the job of removing rust from a washing machine. Baking soda and vinegar work to clean rust stains without damaging the washer interior.
Make a paste by combining equal parts baking soda and warm water. Scrub the cleaning paste over the rust spot and leave it for a few minutes. Add some white vinegar to a spray bottle and spritz it on the affected area.
Leave it until the powder and vinegar stop bubbling, and wipe away the residue with a damp cloth. Not only does this stain remover clean rust, but it removes hard water stains, as well.
If the washer drum still has a stain, apply the baking soda paste again and rub the area with a crumbled-up sheet of aluminum foil. Ensure the rust is gone, and rinse it well with cold water.
Baking soda and vinegar can also work in the washing machine to take rust stains off clothing. Use the same method when rust stains appear on any of your clothes or fabrics.
How to Remove Rust From a Washing Machine Exterior
Since rust spreads, checking the washer's exterior for more rust after cleaning stains out of a washing machine drum is a good idea. Find out how to remove stains from the outside of your washer if you discover more rust.
Pour a cup each of water and white vinegar into a spray bottle, add a squirt of laundry detergent, and shake the container well to mix. Spray the solution liberally over the rust stain and leave it for five minutes.
Use a sponge to scrub the affected areas until the rust is gone, and rinse it with clean water. Don't forget to dry the washer thoroughly to stop further rusting.
Clean Stubborn Rust Stains From a Washer
Old rust is more challenging to remove than newly discovered stains. This deep-set corrosion requires something a little stronger than vinegar and baking soda. Discover how to clean stains out of a washing machine drum with WD-40.
Spray WD-40 on the rust stain and use a clean rag to rub the area with a circular motion. Use new clean rags and more oil as needed until the rust is gone. Dunk a clean cloth into soapy water, wring out the excess liquid, and clean the washer to remove oily residue before drying it with a towel.
How to Sand Rust Stains off a Washing Machine
Sandpaper or steel wool are options for removing rust from a washing machine. Sanding removes a stubborn rust spot from the washer that other methods cannot remove, ensuring the rust doesn't spread.
Rub the rust with fine-grit sandpaper gently. Use mild pressure to prevent scratches on the metal. Steel wool is a good alternative if you don't have sandpaper. Wipe the spot with a damp cloth and towel when the stain is gone. Apply rust-proof metal primer and paint to the sanded area to give it a finished look.
Commercial Rust Removers to Remove Washer Rust
There are various cleaners on the market if you prefer to clean rust out of a washing machine drum without all the fuss. Yet, choosing a product meant for removing rust is essential since all-purpose cleaners are ineffective at rust stain removal.
Commercial Rust Removers
Commercial rust removers are excellent for scrubbing rust stains inside a washer. Check the product label to ensure you use the right cleaner for removing rust. Iron Out Rust Stain Remover and Rust-oleum Rust Dissolver are good examples.
Some removers come in spray form, while others are liquid or gel, so read the label for instructions. Apply the cleaner as directed, leave it on the rust for the recommended time, and wipe it away with a dry or damp cloth.
Can You Prevent Washing Machine Rust Stains?
We all have better things to do than wash rust spots out of a washer. Find out how to stop rust from building up inside and outside your washing machine and guarantee that your clothes always get clean.
Limit the use of bleach to keep the washing machine from rusting. Use oxygenated bleach instead of chlorine bleach, or dilute it with water. Always leave the washer lid open for air circulation between use to stop moisture build-up, which leads to rusting and mildew growth.
Keep an absorbent towel handy and dry the washing machine inside and out after each laundry load. Transfer laundry to the clothes dryer as soon as the cycle completes, and never leave damp clothes in or on the washer.
If your washer sits in the garage or basement, position it in an area away from leaks and other water sources. Lift it off the ground by raising the washer legs, and wipe off water drips as soon as you notice them.
Clean the washing machine monthly with four cups of white vinegar, hot water, and a normal wash cycle. A vinegar wash keeps rust from accumulating and kills bacteria, mildew, and mold. If the washer is extra dirty or has a foul odor, run another cycle with a half cup of baking soda, and wipe it down with a damp cloth.
Treat the stain immediately as soon as you discover rust. Use a commercial rust remover or clean it with a cup of warm water and a tablespoon of oxalic acid.
Your washing machine is supposed to get clothes clean, not leave them with an unsightly rust or iron stain. While it still operates as it should, it's not doing its job if it stains your clothing. Luckily, you don't have to replace your washer with a new one. White vinegar is excellent for cleaning minor rust stains, and WD-40 is the ideal stubborn rust stain remover.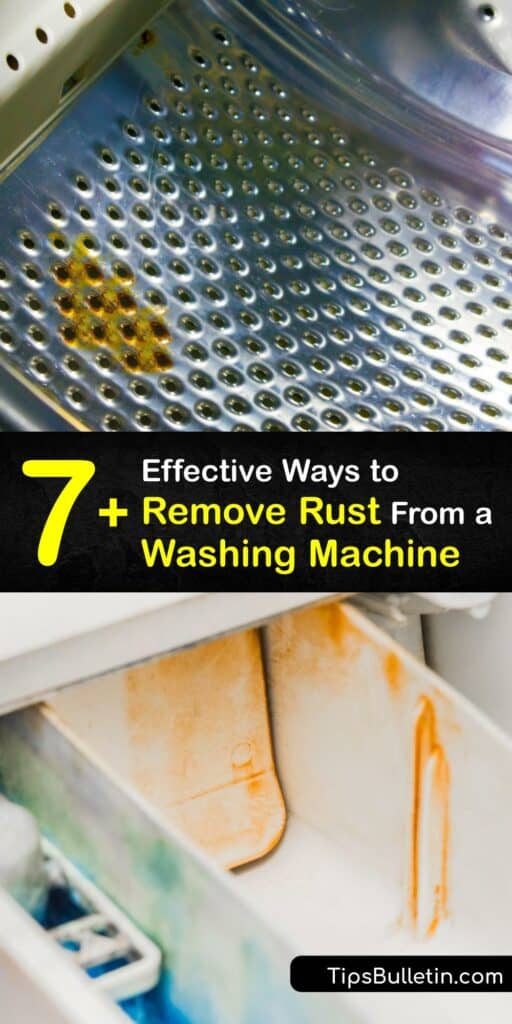 We hope you enjoyed reading how to remove rust from a washing machine, and we'd love it if you'd share our tips for removing rust from the interior and exterior of a washer with your family and friends on Pinterest and Facebook.