Do you have chrome plating around your home? Without the right care, chrome could crack and rust. Discovering how to remove rust from chrome is beneficial when the issue arises for you.
Manufacturers add a layer of chrome to stainless steel and other metals, which provides a mirror-like, classy appeal. It is standard on household appliances and fixtures like the faucet. Your car may even have a chrome bumper so rusty or stained that the car wash does not help.
However, it is crucial not to confuse real chrome with paint. Some metal paints attempt to mimic the appearance of chrome plating. Cleaning these paints is an entirely different process than with traditional chrome.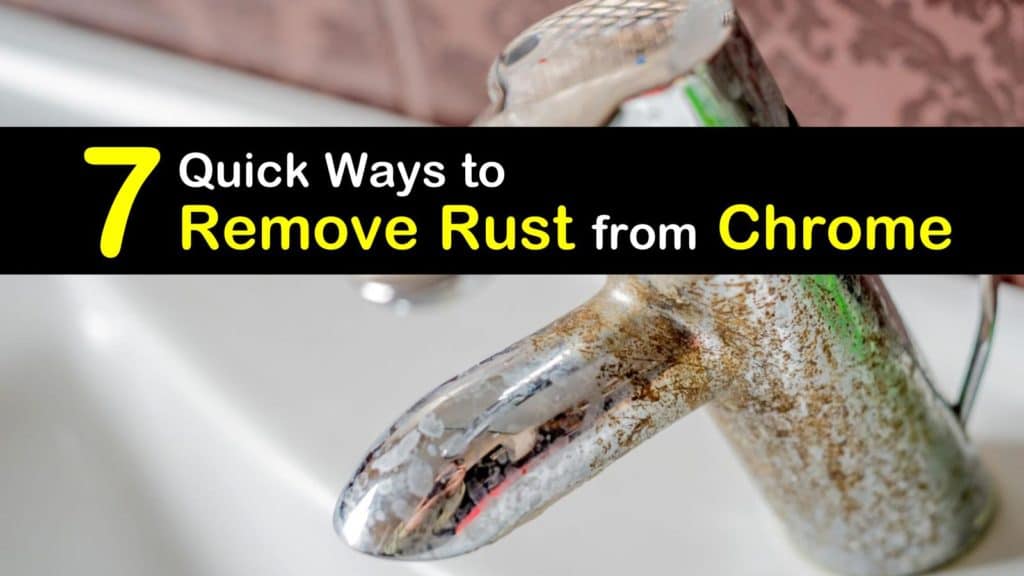 How to Clean Rust off Chrome
High-quality chrome is expensive. Using caution to protect the metal and the coating keeps your things looking better longer. Regular maintenance could be the difference between heavy rust stains and scratches or flawless chrome in the future.
We dive into how to clean rust off chrome using pure homemade cures. Read on to discover how to slow down rusty chrome from coming back in the future. We offer a technique for every preference.
Many products remove rust. The approach you choose depends on the amount of money, time, or energy you hope to invest in your project.
We show you how to remove rust from chrome using homemade chrome rust remover and store-bought options. Follow our step by step instructions for the best results.
Removing Rust with the Aluminum Foil Method
Foil is a soft metal that is ideal to make a rust remover. You probably already have a roll on hand. The foil method works due to a chemical reaction taking place between the materials. It also scrubs without causing scratches and applies a protective layer to slow down rust in the future.
Protective gear and rubber gloves are required. Make sure to wear rubber gloves and eyewear for safety when handling foil against metal. Clean the chrome of dirt with soapy water, or use car wash soap for car parts because dish soap may strip the paint.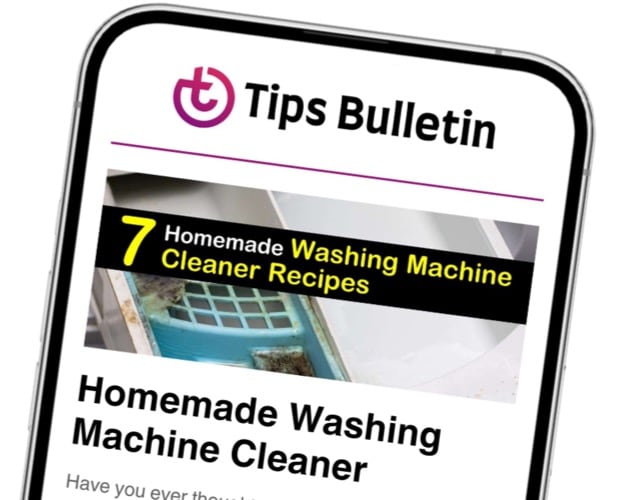 Finally, an email that Transforms Your Home.
Get the latest home and garden tips from our experts, delivered straight to your inbox.
Mild dish soap does the trick for locating most rusty areas. Dip the foil into salt water and rub it along the rust spots with minimal pressure. Re-dip it in clean water as needed and continue until the stain disappears.
When you see rust residue becoming thicker, stop and clean the residue away with a towel. Otherwise, it might be challenging to see the remaining rust.
Rinse the chrome, wiping the shiny metal with a paper towel or soft cloth to dry it thoroughly. Use a blow dryer if needed.
Getting Rid of Rust with Mild Acid
Mild acid cleaners are a natural homemade way to get rid of rust. The process is cheap, but it does require you to use more elbow grease. Any type of mild household acid removes rust, such as lemon or lime juice, cola, and vinegar.
More potent acids may etch your metal. Begin by cleaning the chrome surface of the dirt. Remove any soap scum or greasy residue with dish soap, and wipe it dry with a clean cloth or paper towel.
Proceed by soaking the chrome with your chosen household acid for at least 15 minutes. Use rubber gloves and eyewear for safety. Scrub the rust stains with the liquid on a soft cloth. Mix the juice with equal parts salt before applying the lumpy paste for stuck-on rust.
When you no longer see rust, rinse with water to stop the acid solution. Use a sponge or gentle dish scrub brush to remove the dissolved rust. Wipe the area dry. Repeat until no rust remains, then follow with a sealer.
Using a Homemade Chrome Rust Remover
There are many ways to make a do it yourself rust removal solution at home. This DIY cleaner removes rust with natural household ingredients like salt, vinegar, and flour.
Combine the ingredients into a paste, and apply the mixture to clean metal surfaces. Rub it into the stain in circular motions to remove rust. Allow the DIY remover to sit for 30 minutes after scrubbing.
Rinse with water to neutralize the acid. Dry using a soft cloth. Make sure to wear rubber gloves and eyewear with a homemade rust remover.
Cleaning Rust off Chrome with Vinegar
Vinegar is the best way to remove rust from cast iron and excellent for cleaning rust off chrome. It is another mild acid that eats away rust. Use this homemade chrome rust remover for extremely dirty or new rusty surfaces.
Clean the area with soapy water, then dry. Rather than dilute the vinegar, apply it to rust areas at full strength using a Q-tip or clean cloth. Allow it to rest on the stain for around 20 minutes. Rinse and dry the surface. Repeat the process as necessary.
Using Baking Soda for Chrome Rust Removal
Baking soda is a natural cure for all kinds of issues. It's also used for surface rust on various materials.
Combine baking soda and a little water to create a milky white solution for chrome rust removal or to take care of rust spots on stainless steel. Spread the paste over the chrome to cover rust for a few minutes, then rinse.
Scrubbing Chrome Surfaces with Scouring Pads
Rough scouring pads are another excellent approach for removing heavy rust. However, this technique requires more effort to make sure you do not cause damage.
Use an SOS pad or wool scrub brush with water or another lubricant, scrubbing in a circular motion. You could even cut aluminum foil into strips and wad it together to create a scrubbing pad. Apply light pressure until the rust disappears.
Applying a Store-Bought Chrome Product to Clean Rust
Commercial chrome products are available in many stores for under $10 per can. They are a fast option to tackle rusty chrome.
Try using WD-40 Specialist Rust Release Penetrant spray to cover the crevices and cracks where the rust forms. Scrub the rust areas with either brass wool or steel wool.
These metal wool scrubbers are not too harsh on the chrome with lubricant. Never scrub chrome with coarse brushes without a similar store-bought product, or you may scratch the surface.
Another product worth your money is called Bar Keepers Friend. Pour a little powder into a bowl with water to create a paste. Use a toothbrush or green scrubber to lather the paste along your chrome surface. When the rust stain is gone, rinse with water and dry.
How to Remove Rust from Chrome for Good
After learning how to clean rust from chrome, it makes sense to explore how to prevent future rust. Chrome polish repairs and protects the material after removing rust. It functions as a sealant to avoid issues.
However, most brands of metal polish are expensive. No matter which process you use to clean rust from chrome, follow it by applying a layer of metal polish or car wax to the chrome surface.
You may also clean rust or water spots from the surface using chrome polish, brass, or a fine steel wool brush. Rub the wool in a circular motion with minimal pressure to prevent scratching.
If you use a commercial chrome polish and sealer all-in-one, your work is over. These high-quality waxes are typically available for automobiles.
Otherwise, follow the polish with wax to seal the materials and prevent future rust. Use car wax for automobiles or metal wax for other chrome surfaces. A synthetic polymer car wax lasts much longer than carnauba wax.
To prevent damage, follow the directions on the label of your product carefully. The wax should fill in the cracks and open pores, keeping moisture from sitting inside and causing rust outbreaks. Rinse thoroughly for the best results.
What Causes Chrome to Rust?
You may wonder, "Does stainless steel oxidize over time?" The answer is yes. Stainless steel is well-known for its resistance to corrosion and rust, making it long-lasting.
However, the metal does rust if the protective finishing cracks because the chromium oxide layer coating the top is what helps it become durable.
Although the chrome finish protects the underlying metal against corrosion, sometimes cracks form and rust starts to spread. The surface of the chrome might fail if the chrome was installed incorrectly or suffers scratches from cleaning with an abrasive cleanser.
After the material starts to crack or peel, it no longer protects the metal. That is where rust and corrosion come in. They rise to the top in shades of orange, blue, or green stains.
Always remember to clean the area before removing rust and to rinse well afterward. If a homemade option does not work for you, go with a store-bought rust remover.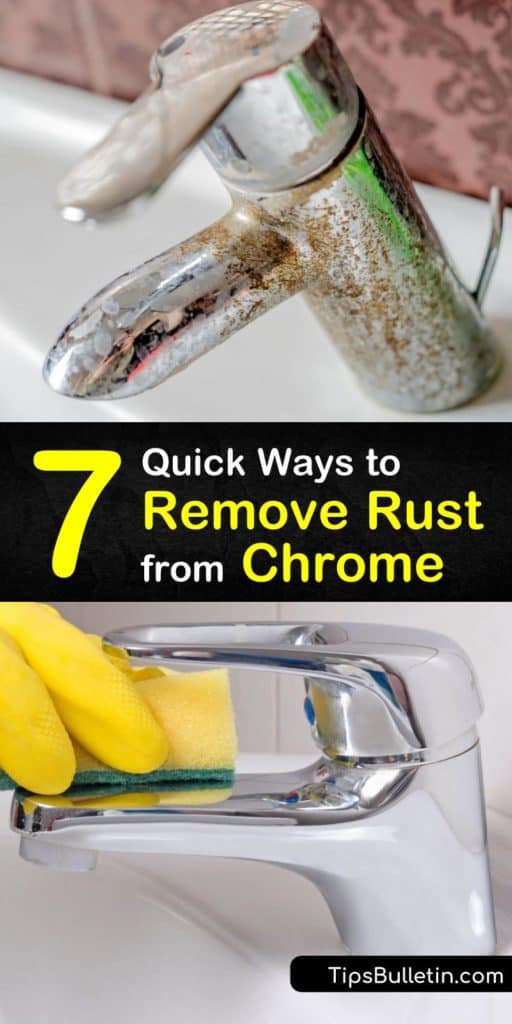 Which approach do you use to tackle rust on your chrome surfaces? If you found our information on how to remove rust from chrome helpful, please share our rust removal tips with your friends on Facebook and Pinterest.