Are the steak knives and chef's knives in the drawer in your kitchen getting rusty? How to remove rust from knives may be one of those questions that you've asked yourself briefly but then discarded because addressing it seemed too challenging or unimportant.
While it's true that rusty knives are mostly an aesthetic issue, rust sometimes rubs off during food preparation, and excessive rust renders a knife unusable. Many kitchen knives are made of steel, either carbon steel or the more rust-resistant stainless steel.
Although they're more prone to rusting, carbon steel knives also tend to develop a patina, which is a natural discoloration that seals the blade against rust. The only types that never rust at all are ceramic knives and titanium knives.
To know how to remove rust stains from a steel blade, it's necessary first to understand what exactly rust is. Rust, or iron oxide, develops when the iron in a knife reacts with oxygen and moisture, whether that's through being dunked in water or through sitting out in a humid environment.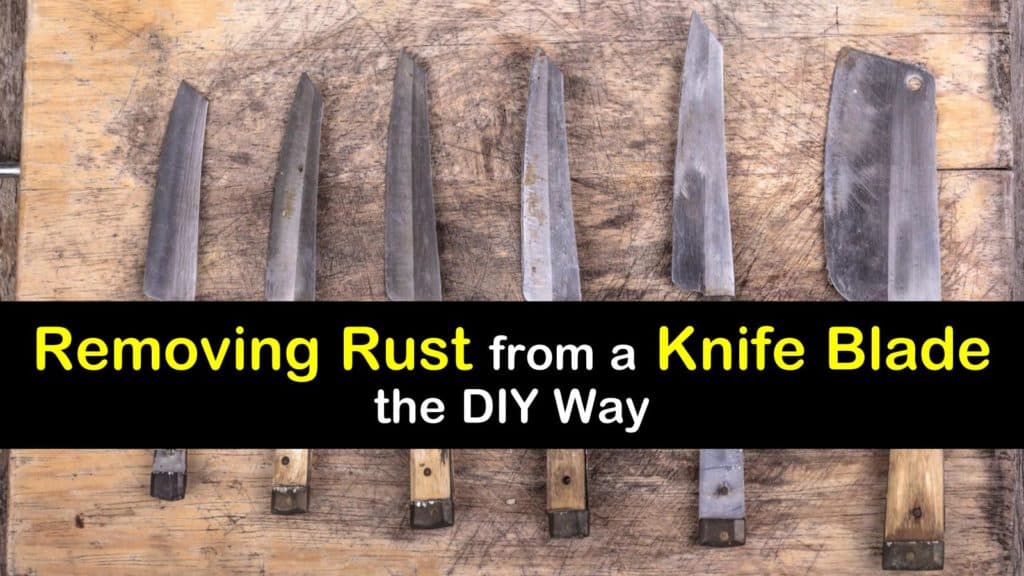 Easy Method for Removing Rust from Steel Knives
The easiest solution, of course, is not to have rust stains develop on your flatware in the first place. To prevent the development of rust, avoid running your knives through the dishwasher. Instead, hand wash them, drying them off completely with a soft cloth.
If you do need to clean rust off a knife, the first step is to wipe away dirt and oil stains under warm running water. Once you dry the blade thoroughly, choose between baking soda or one of several types of acid to loosen the rust from your chef's knife.
Although some people recommend using steel wool for rust removal, it can cause damage when removing rust on stainless steel appliances or a steel knife.
If you have a chrome blade, it's possible to use a crumpled-up ball of aluminum foil to remove rust, but it could, again, scratch your knife.
Sandpaper is an effective way to clean rust off a knife but can also damage the blade if you're not careful, so we recommend an acid solution for removing rust from a knife blade.
How to Remove Rust from Knives using Lemon Juice
You have several options for making use of lemons' acidity to remove rust spots from knives. For the best solution, mix equal parts warm water and lemon juice in a tall cup, then leave the rusty utensil soaking for ten minutes. Scrub away the rust with either a cloth or a scouring pad.
Alternatively, rub half a lemon along the knife blade, then wipe away the liquid and rust with a scouring pad. Make sure not to leave the lemon juice sitting on the surface for too long so that it doesn't have a chance to damage the metal.
This technique successfully removes small rust stains from steel knives. Increase the effectiveness of this natural rust remover by incorporating the abrasiveness of either salt or baking soda.
Sprinkle one of these powders onto the rusty knife and then either squeeze lemon juice onto the surface or wipe away the granules with a cloth soaked in lemon juice. In all cases, finish by rinsing off the cleaning solution and wiping the blade dry with a clean cloth.
If you're interested in learning how to remove rust from knives without breaking out the lemons, try citric acid powder, available at businesses like grocery stores and health food stores.
As long as your knife does not contain paint or another coating, the best way to remove rust is to combine three tablespoons of the acid with hot water and soak the blade in the solution overnight. Afterward, scrub off the rust and give the knife a thorough rinse and dry.
Use Vinegar to Clean Rust Off a Knife
The acetic acid in white vinegar makes this everyday cooking and cleaning product another versatile choice for removing rust from a knife blade. As with lemon juice, one option is to soak your knife in the vinegar, either in a tall glass or in a shallow bowl or dish.
Only leave it soaking for about five minutes. To achieve a similar effect with less vinegar, dampen a cloth with the acidic liquid. Either leave it wrapped around the blade for five minutes or use it for scrubbing at the rust stains.
As always, once you remove the rust with a cloth, scouring pad, or dish sponge, rinse away the vinegar and rust flakes and wipe the utensil with a clean, dry cloth. As an alternative, mix equal parts white vinegar and dish soap.
Either clean your stainless steel knife with a cloth dipped in this mixture or, for more resistant rust stains, soak the blade in the cleaner for one hour. In either case, rinse away the vinegar-dish soap solution and dry the knife thoroughly.
This solution works quite well to get rust stains out of a tub, too.
However you use it, vinegar is an effective home remedy for removing rust from a knife blade. This popular household cleaner is also an easy way to clean grill grates.
How to Remove Rust from Knives with Potatoes and Onions
You probably don't think of these vegetables as being acidic, but if you cry when cutting onions, that's because of their sulfenic acid. Potatoes, meanwhile, contain several acids, including oxalic acid.
To take advantage of this incredible property of potatoes, stick your rusty blade into a potato. Leave it sitting there for a few hours, then rinse and carefully dry the knife. Throw away the potato so that you won't ingest any rust flakes that have fallen off inside it.
Another option is cutting a potato in two, spreading dish soap on one of the halves, and sprinkling either salt or baking soda on the surface to add abrasive power.
Rub this all-natural cleaner over the patches of rust, then finish by rinsing and drying your newly rust-free knife. The potato method is also a great way to clean a cast iron skillet.
Instead of stabbing onions with the knife, saw away as though you're dicing onions for your dinner. This simple way to clean rust off a knife makes rust flake right off.
Of course, when you're done, make sure to wash the blade under running water, wipe it dry, and toss the onion in the compost bin.
Removing Rust from a Knife Blade with Baking Soda
Unlike the principal ingredients in the previous tips, baking soda is not acidic – it's a base. However, its abrasive quality means that it dislodges stains from various types of surfaces.
A paste made from this white powder and water effectively cleans rust off a thin knife with only light rust stains.
To get rust off stainless steel knives or other utensils, pour the baking soda into a bowl and add water a little bit at a time until you have a thick paste. Use a toothbrush to spread the cleaning paste all over the knife blade, then wait two to three hours.
Scrub the paste and rust away with an abrasive dish sponge. Rinse off any remaining paste in the sink and dry the blade thoroughly with a clean cloth.
You can also rinse the rusted knife and shake off the worst of the water before dusting the metal blade with baking soda.
Like when flouring a cake pan, the powder sticks to the damp surface. After the knife sits for an hour, scrub at the rust with a scouring pad, then rinse and dry your blade.
Apply Oil to Protect Your Knife Against Rust
Whether you choose baking soda or a type of acid to clean rust off a knife, follow the same overall process of wiping away stains, applying your chosen treatment, scrubbing, rinsing, and drying with a clean cloth.
Once you remove the rust and get the metal perfectly dry, there's one final step to prevent the rust from returning: coat the blade with a little mineral oil on a soft cloth.
Oil guards knives against rust by forming a water-resistant coating around the blade, even finding its way into all the tiny dips and dents in the metal.
Besides applying mineral oil after removing rust from a knife blade, aim to coat your knives with oil two to three times a year to protect them against rust formation. You can also apply oil to the moving parts of a pocket knife to keep them in good order.
For proper knife maintenance, it's vital to wash blades by hand and to make sure that they're completely dry before putting them away. It's also essential to keep your knives sharp.
If you don't have a knife sharpener, sharpen them using everyday objects like the bottom of a ceramic coffee cup or a nail file.
Rust prevention involves looking after your knives throughout their life cycle. It's easy to slip up once or twice or even to neglect taking care of your knives altogether, tossing them in the dishwasher along with other silverware.
With this kind of treatment, the blades are likely to develop red-orange blemishes. You can't change your past behavior, but you now have the tools to get rid of the resulting rust.
You now know how to remove rust from knives using common household ingredients, whether by squeezing lemon juice, soaking in vinegar, rubbing with a potato, or making a baking soda paste.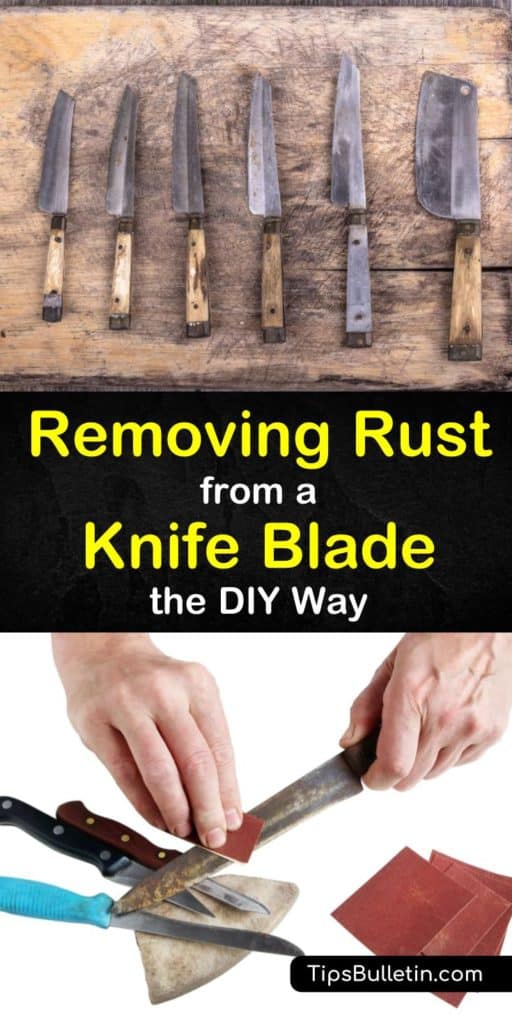 If you found this article about removing rust from knives useful, please share these tips for rust removal with your friends on Facebook and Pinterest.