Stainless steel is a marvel of modern technology. It resists rust and stains in the dishwasher and keeps your kitchen and home looking shiny and beautiful. However, if your pots or sink gets damaged, you need to know how to remove rust from stainless steel.
Keeping your stainless steel free of rust will ensure that it lasts for a long time and stays clean and unmarked. This article looks at how to clean rust off stainless steel and keeping it off.
You'll discover some excellent home remedies for easy cleaning jobs, and we delve into more robust approaches you can use to tackle difficult cleaning tasks. Before long, your stainless steel appliances and fixtures will gleam.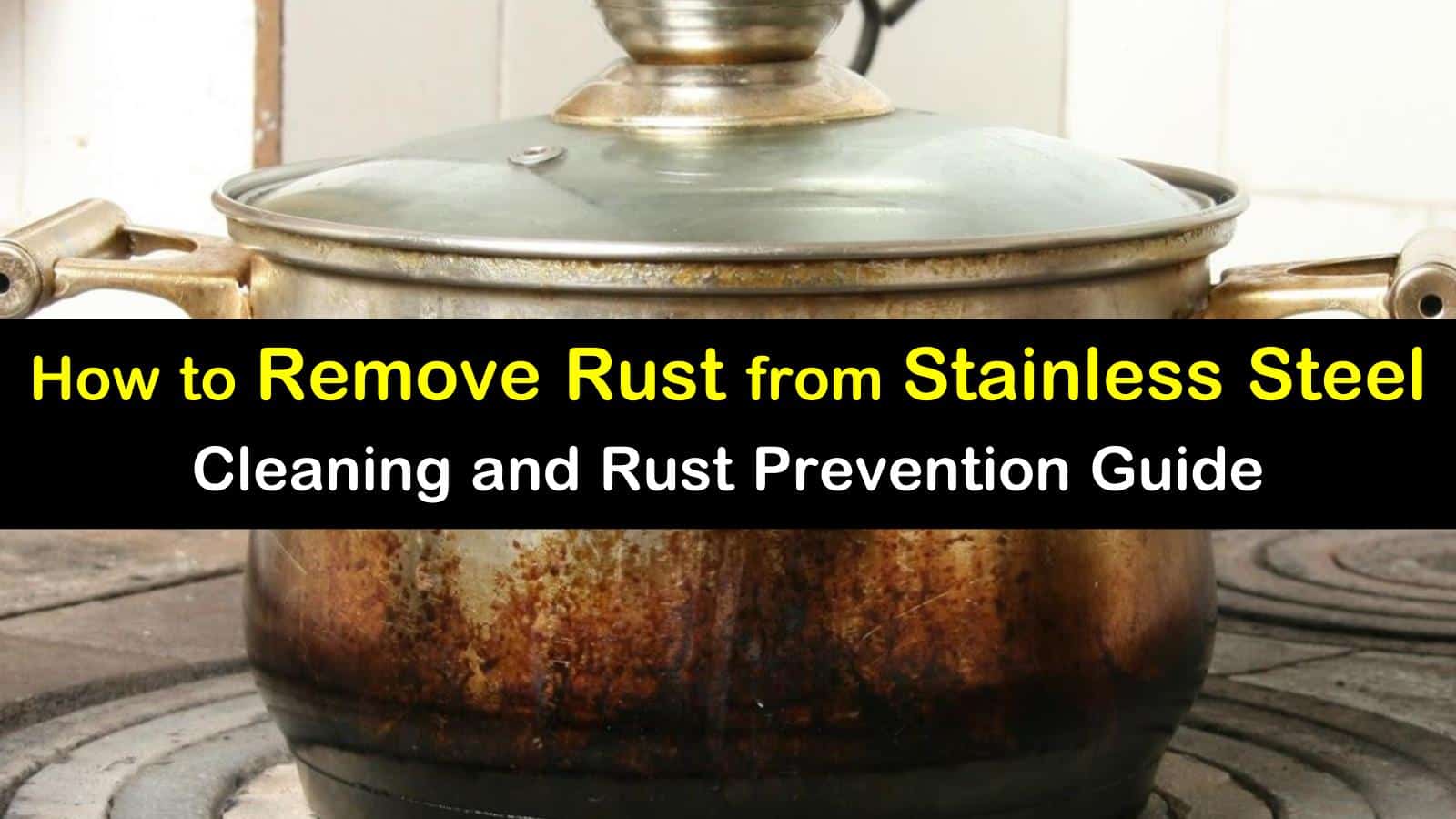 Removing Rust from Stainless Steel
Do you know what to clean stainless steel with so that it maintains its shine and durability? If you have stainless steel pots and pans, silverware or other items you may wonder does stainless steel rust.
Stainless is not impervious to rust but most stainless steel rust spots arise from neglect and misuse. If you take care to clean your stainless regularly, you should never have issues with rust.
Stainless steel is steel mixed with chromium, which protects it against rust. Make a homemade cleaner for stainless steel that you can use to get rid of baked-on food stains and water marks as they happen and you will not have to worry about a rust problem.
Preventing Rust on Stainless Steel – DIY Options
When stainless steel oxidizes, it forms a protective layer of chromium oxide instead of rust. If you scratch stainless steel with steel wool or leave it soaking in water for too long, you can remove the chromium oxide layer and let in rust.
Fortunately, you can stop rusting and make an excellent natural rust remover using essential household items that can handle most stainless steel rust. This section examines different stainless steel cleaning options that use household products.
Our home is full of excellent cleaning products, and it's easy to find one that will gently clean tarnished stainless steel and allow chromium oxide to reform. With nothing but simple cleaners found in your pantry and under your sink, you can remove rust and keep it off.
Clean Your Stainless Steel with Baking Soda
Baking soda is one of the first natural kitchen cleaners we think of when we need reliable cleaning power. Thanks to its mild abrasiveness and cleaning abilities, baking soda is perfect for cleaning coins, laundry, and tile grout.
It's the right choice when you need to get your stainless steel looking pristine, whether it's on your stainless appliances or your silverware. You can even use it as a way to remove rust from tools for gardening or those needed when working on the car.
Clean the stain with water and mild soap. Then, mix the baking soda and water into a paste. Apply the paste to the rust with the toothbrush, and gently scrub the spot until the stain is gone.
Repeat as needed. When you've removed the stains, rinse the area with clean water and wipe it clean with a dry cloth.
Knock out the Rust with Vinegar
Vinegar is perhaps the only household product that has more cleaning uses than baking soda. Vinegar contains acetic acid, which works as a mild corrosive cleaner to eat away at rust and dirt. Using vinegar is a fantastic method of removing rust stains from a tub or other stainless steel surfaces.
You can alternatively substitute lemon juice and get similar results. Regular vinegar cleaning is a fantastic way of preventing rust on stainless steel.
Fill the container with vinegar, and submerge the stainless steel item, if possible. If the piece is too large to submerge in vinegar, pour the vinegar onto the rust spot. Let the vinegar work on the rust for about five minutes.
Scrub lingering stains with the toothbrush bristles until you remove rust stains completely. Rinse the surface with water, and wipe it dry with a clean, dry cloth.
Did you know that you can easily learn how to clean a stainless steel coffee pot, inside and out, with vinegar, too? Vinegar not only gets rid of coffee stains and smells but sanitizes the coffee maker at the same time.
Apply vinegar to remove coffee stains from stainless steel thermos interiors and exteriors, as well. A bottle brush may be helpful to scrub the inside.
Along with cleaning a multitude of other surfaces in the home, vinegar is ideal to clean a vent hood that has become stained with grease spots. Vinegar cuts through the grease with ease and leaves the stainless gleaming again.
Attack the Rust Spots with Cream of Tartar
You probably don't think about cream of tartar that much, but it's a kitchen staple and a great companion when you need to tackle stains. Cream of tartar is powdered tartaric acid, and just like acetic acid, it eats away at rust spots with ease.
It's a great option when you need to clean a rusty iron or sink. Give this scouring option a try when vinegar and baking soda don't take care of the problem.
Combine the cream of tartar and lemon juice in a bowl. Dip the sponge or dishcloth in the mixture, and apply it to the rust spot. Gently scrub at the place until the stain lifts away. Rinse the spot with clean water, and wipe it dry with a clean cloth.
How to Clean Rust Off Stainless Steel – Cleaning Stubborn Spots
Your best efforts might not get difficult rust spots out of stainless steel. If you run across a tough stain that homemade cleaning solutions can't handle, you'll need to reach for more potent agents.
There are plenty of commercial cleaning products that you can use to remove stains from a stainless steel sink and other items. In this section, we look at the top ways to tackle stubborn spots on your stainless steel.
You'll learn about the magic of oxalic acid, which will wipe away almost any rust from stainless steel. We also look at commercial stainless steel cleaners and give you a foolproof method for using them on rust stains.
Get Your Stainless Steel Clean with Oxalic Acid
Oxalic acid occurs naturally in some plants and is a critical ingredient in many metal cleaners. You can purchase oxalic acid by itself and use it to get difficult-to-clean spots looking brand new again.
Always wear proper safety gear and use adequate ventilation when you work with oxalic acid, as long-term exposure can irritate your skin, eyes, and lungs.
Don your safety gear. Fill the container with oxalic acid. Spray the rust thoroughly, and let the solution sit for about a minute.
Rub the stainless steel surface in the direction of the grain until the rust lifts away. Rinse the surface with clean water, and then dry the steel with a clean cloth.
Oxalic acid is the ideal product to remove rust from grill grates if you have that problem. You can also scrub the grates with half of a potato, which contains oxalic acid.
Take Care of the Stain with a Commercial Stainless Steel Cleaner
If your home remedies and pure oxalic acid don't clean away the rust, pull out a high-powered cleaner. Commercial stainless steel cleaners contain active agents that will cut right through almost any stainless steel stain you can imagine.
Don your safety gear, and dampen the sponge with the cleanser. You only need to use a little to clean a large area. Apply the polish to the rust spot.
Run in the direction of the grain until the stain is gone. Rinse the spot with water, and dry the area with a clean cloth.
Which Cleaners Should I Avoid When Cleaning Stainless Steel?
It might be more important to know what cleaning products not to use on stainless steel than it is to know which ones work well. Using the wrong cleaning product can result in much more than a lingering stain. You can scratch or damage your stainless steel appliances easily if you use the incorrect products.
Never use a metal abrasive such as steel wool or steel brushes. These scratch stainless steel and expose them to more rust. Also, steer clear of cleaners with bromine, fluorine, iodine, or any other chloride. Chlorides are too abrasive and will leave cloudy, dull discolorations on your stainless steel that can corrode and rust.
We hope you enjoyed our stainless steel rust remover guide. Stainless steel is a beautiful modern convenience, but rust spots can be tough to remove.
This article helps you find the best stainless steel cleaners for your needs and ensures that your appliances and sinks stay shiny and attractive. With a little elbow grease, you won't need to worry about rusty stainless steel again.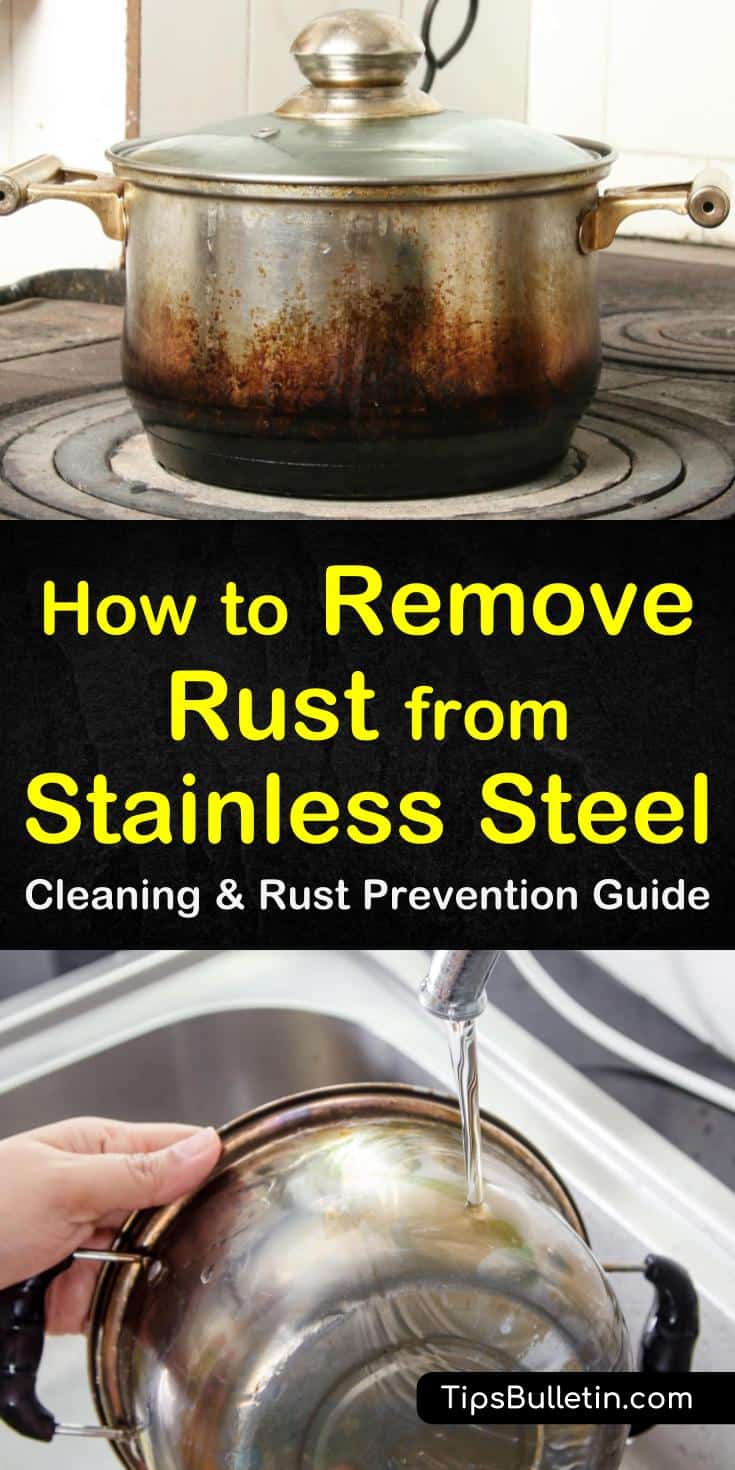 Thank you for reading our stainless steel cleaning tips. If you found our article on how to remove rust from stainless steel to be useful, please share this guide to the best way to get rust off of stainless steel with friends and family on Pinterest and Facebook.