If you've ever left your tools out in the elements, then you undoubtedly have some rusty tools. Rust is also common in old tools stored improperly. Replacing these tools is not necessary when you know how to remove rust from tools.
Rust, or iron oxide, on metal tools is the result of exposure to moisture and oxygen over long periods. This combination forms a compound called oxide, which weakens the metal bonds. It's usually during home improvement projects that you discover you have rusty tools.
Specific hand tools are susceptible to rust, especially in humid environments. While there are steps to take to prevent moisture in toolboxes, rusty-tools require specialized cleaning to remove surface rust. Instead of tossing out your rust stained tools, restore them by using detergent soaks, steel wool, and oxalic acid.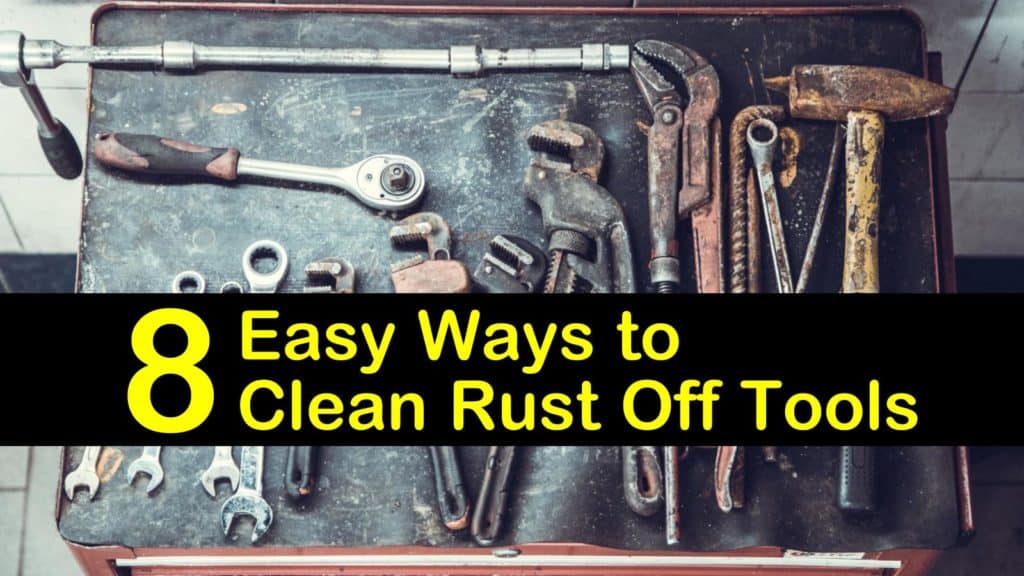 How to Clean Rust Off Tools
Rust is difficult to remove from metal surfaces but not impossible. Clean rust from tools without using harsh chemicals by applying a little elbow grease and the right cleaners. We'll show you several ways to clean and remove rust from metal so that you can enjoy rust free tools.
Pre-Washing Hand Tools Before Removing Rust
Starting with the simplest solution is often the best way to resolve a problem, and that is true with rust as well. If your tools are not only rusty but caked in dirt and grease, use a soapy solution to remove grime before you use the best homemade rust remover.
Before you clean aluminum corrosion or rust, pour warm water into a bucket or tub and add a few squirts of grease-cutting dish detergent. Agitate the liquid to create a sudsy solution.
Soak the rusty tools in the soapy water for a few minutes and then use a scouring pad to remove grease and grime. Remove the tools, rinse them beneath warm water, and dry them with a towel.
How to Remove Rust from Tools by Sanding
After your tools are clean of grease, use an abrasive pad to remove rusty areas on the metal surface. Here is how to clean rust off tools using steel wool and sandpaper.
Position your tool on a flat surface and use steel wool for scrubbing away large flakes of rust. Coarse sandpaper is also useful for removing thick patches of rust stains before moving on to the surface rust.
Once the crusty areas of rust are gone, use a sheet of fine grit sandpaper to remove uneven areas of lingering rust. Switch to new sheets as the paper gets dull. Continue rubbing the metal surface to restore shine.
Cleaning Rust Off Tools with Vinegar
Instead of using a commercial product such as Evapo-Rust, try using a combination of white vinegar and salt for cleaning rust off tools. The cleaner works as an acidic solution for removing rust from a washing machine and other stainless steel appliances.
Not only does vinegar make an excellent rust remover, but it's useful for cleaning a stainless steel grill and other stainless steel surfaces.
Choose a large plastic container or bucket that fits your tools. Place the tools into the tub and pour white vinegar over the top until they are submerged. Add a quarter cup of salt for each quart of vinegar.
Sprinkle the salt throughout the vinegar solution to disperse it. Set the container in a location away from children and pets. Allow the tools to soak for up to three days.
Remove the tools one by one and place them on a flat surface. Use a scouring pad to remove rust from the surface. For crevices and hard to reach areas, use an old hard bristle toothbrush. For thick and stubborn rust, use a wire brush to scrub it away.
Empty the container and rinse it with clean water. Place the clean tools into the tub and add enough water to submerge them. For every quart of water into the container, pour a quarter cup of baking soda.
Soak the tools in the solution for ten minutes to neutralize the acids from the vinegar, and dry them with a clean cloth. If the rust stains persist, try using oxalic acid to remove rust.
Use vinegar as a homemade chrome rust remover, too. If you can't soak the item, use a cloth dipped in the solution to rub on the rust. Rinse when finished.
You can also try this remedy if you need to clean rust from concrete in a smaller area. It often works like a charm to get rid of rust stains on all kinds of surfaces.
Remove Rust from Tools with Oxalic Acid
Oxalic acid works wonders at removing rust from tools. This commercial product sells at many home improvement and hardware stores. While the acid is quicker at cleaning metal surfaces than homemade solutions, there are cautionary steps to take when preparing and using the solution.
Oxalic acid releases mild fumes, so make sure that the area is well ventilated by opening windows and turning on fans. Put on a pair of rubber gloves and goggles and pour both the water and oxalic acid into a tub that is large enough to accommodate your tools.
Place the tools into the solution and allow them to soak for 20 minutes to break down the rust. Rinse the tools under clean water and dry them thoroughly.
Cleaning Rusty Tools with Citric Acid
Citric acid works well at cleaning away rust stains from metal surfaces, and the natural way to use this is with a lime or a lemon since they are both high in citric acid. This solution also does a great job as a bathtub rust remover.
Slice a lemon or lime in half and set aside. Place the hand tool into a plastic container and sprinkle a decent layer of salt over the rusty areas. Squeeze the juice from the lime or lemon over the entire surface and allow the two ingredients to sit for three hours.
Use the rind of the fruit to clean rust off the metal surface. Rinse the tool thoroughly with clean water and dry it with a towel.
Use Baking Soda to Remove Rust from Tools
Sodium bicarbonate or baking soda is a powder that is not only a tool rust remover but a cast iron rust removal solution as well. The alkalinity of the powder causes a reaction with acids and removes rust from many surfaces.
Pour the desired amount of baking soda into a small bowl and add just enough water to form a paste. Apply the baking soda paste onto the surface of the tool and let it sit for one hour.
Use a toothbrush to scrub away rust stains, rinse with clean water, and dry the metal thoroughly. If stains persist, repeat the process once more.
Clean Away Rust from Tools with a Potato
No, you didn't read the title wrong. Potatoes do remove rust. They naturally contain oxalic acid, which creates a chemical reaction and breaks down rust from metal surfaces.
Cut a potato in half, and squirt a small amount of dish soap onto the open end. Position the soapy potato onto the rusted area of the tool and allow it to sit for two hours. Remove the potato and repeat the process with the other half.
Check for stubborn rust stains after applying both potato halves and use a toothbrush to remove any leftover rust. Rinse the tool under clean water and dry it with paper towels.
Preventing Tools from Rusting
After cleaning your tools to remove rust, there are steps to take to avoid rusting in the future. Keep your tools rust-free by merely controlling the environment of your tools and applying a protective coating.
The first and most crucial step in preventing your tools from rusting is to put them away after each use. Tools left out in inclement weather like rain rust a lot faster than those that are kept dry.
If you keep your toolbox in an area where moisture builds up, place moisture-absorbing gel packs in the box or drawer along with your tools. Silica-gel desiccants not only absorb moisture but lower humidity levels in enclosed areas.
Treat metal hand tools with butchers wax to keep the surfaces rust-free for longer periods. Visit your local hardware or auto store and choose the automotive-paste-type wax. Apply the wax regularly to prevent rust problems on tools.
Rust spots and corrosion on your favorite tools are not only unsightly but prevent them from working effectively. You don't have to replace your tools if you understand how to use the right rust removal techniques and solutions. Using an abrasive material and the right cleansers remove rust from the surface of the tools and restore your hand tools so that they get the job done.
Now that you learned how to remove rust from tools to restore them like new, why not share our tool rust removal tips with your family and friends on Facebook and Pinterest?