It's just a fact of life that carpet stains happen, whether they result from spilled drinks or dirt tracked in on your shoes. Sometimes, however, these stains are a surprise and challenging to remove, such as rust stains. Fortunately, we've done our research, and we'll show you how to remove rust stains from carpet using simple cleaning solutions.
Many items such as rusty furniture legs and children's toys tend to leave stains on carpeting if they are damaged or wet. While you can move the rust-causing item, there is still a stain on the rug to remove.
Your first instinct might be to call a professional or replace the carpeting, but the truth is, many inexpensive household ingredients remove rust with ease.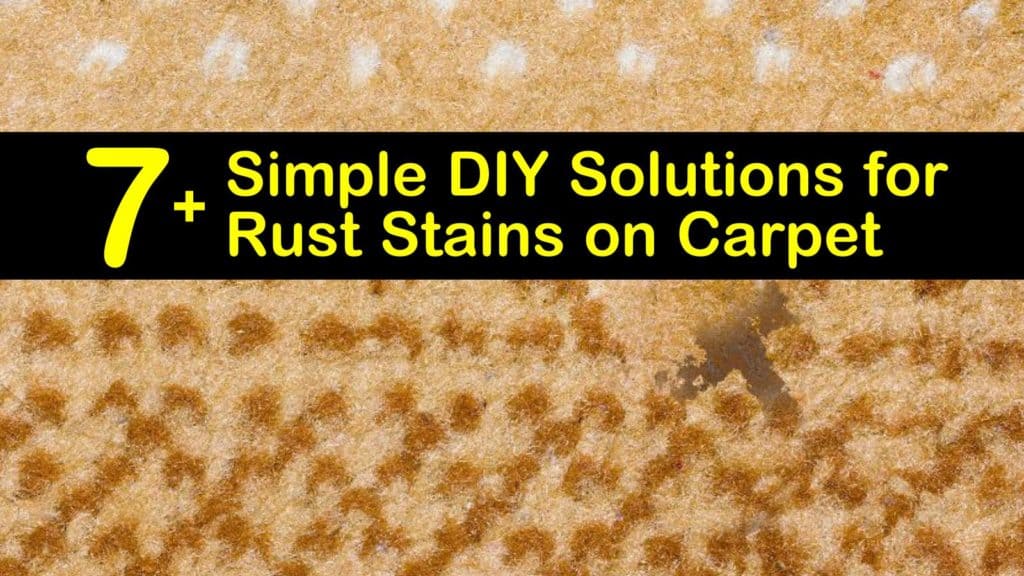 Cleaning Rust Stains on Carpeting
When removing a rust stain from carpeting, it's best to start with the most straightforward solution and work your way from there. Each step you take during the cleaning process removes a bit more of the stain, without making it worse, eventually leaving a stain-free carpet. All that is required are the right cleaning solutions, a little patience, and some elbow grease.
How to Get Old Rust Stains Out of Carpet
There are many solutions to remove rust from clothes, carpeting, and other surfaces, but sometimes the best solution is the easiest. Here is how to get old rust stains out of carpet with a knife and a little bit of soap.
After removing the source of the rust stain, use a butter knife to scrape the rust away gently from the carpeting. Try and loosen small flakes of rust away from the fibers and then clean up the fragments with a vacuum cleaner.
It's essential to remove these loosened rust flakes before applying a soapy solution to prevent spreading the rust stain further. Combine the warm water and liquid dish soap in a container.
To get dirt stains out of carpet, dunk a sponge into the soapy solution and use a blotting action rather than a rubbing movement to saturate the stain. Let the spot sit for about five minutes and then soak up the water and rust with a clean cloth.
Remove Rust Stains on Carpet with White Vinegar
Vinegar is ideal for more than just cooking and adding to your favorite homemade salad dressing. One everyday use of vinegar is to remove stains from just about any surface.
How does vinegar remove blood from carpet as well as rust stains on carpet? The acidity of this liquid works well for loosening and dissolving the rust or blood, making it easier to lift away from the rug.
Dab the corner of a clean cloth into the vinegar and apply it to the rust-stained area. Press the vinegar into the fibers to ensure that the stain absorbs the liquid.
Sprinkle salt over the spot and let it sit for about half an hour. Use a dry cloth to dab at the area until the rust is gone.
How to Remove Rust Stains from Carpet with Ammonia
If a soapy solution or plain vinegar doesn't remove the rust stain, make a homemade rust remover for carpets with ammonia. Ammonia is an effective cleaner that breaks down grime and removes tough stains like rust.
Combine the ammonia and water in a container and pour the solution directly onto the stained area of the rug. Allow it to sit for about five minutes and then use a clean white cloth to blot the area clean and dry.
Clean Rust-from-Carpet with Lemon Juice
While everyday dirt is easy to remove if you shampoo carpet by hand, a rust stain requires something a little stronger. Lemon juice is acidic and breaks down and removes rust particles clinging to the rug, while salt acts as a mild abrasive.
Before cleaning the rust stain with a liquid, use a butter knife to scrape the rust gently away from the carpet surface, and use a vacuum to suck up all the fragments before wet-cleaning the stain.
Squeeze fresh lemon or bottled lemon juice on the rust stain and sprinkle some sea salt or table salt over the wet area. Let the two ingredients sit for about five minutes.
Pour the hot water over the stain and watch as the rust disappears. Use a white towel to blot as much of the liquid as possible before letting the area air-dry.
Removing Rust Stains from Carpeting with Baking Soda
When combined with vinegar, baking soda is a powerful cleaner that removes stubborn stains such as rust. The alkalinity of the baking soda and the acidity of the vinegar creates a bubbling reaction that loosens and dissolves rust.
Pour some vinegar into a bottle sprayer and spray the solution directly onto the rust stain. Set the sprayer to stream for accurate spraying.
Sprinkle some baking soda onto the wet area and let it sit for a few minutes while the ingredients foam and bubble. Use a white cloth to dab up the cleaning solution and stain, using dry sections of the towel until the liquid absorbs.
How to Remove Carpet Rust with Rubbing Alcohol
Rubbing alcohol is great for removing dried paint from carpet, as well as tough stains like ink and rust. While it works safely to clean many surfaces, test the cleaner on an inconspicuous area first to check for color-fastness.
Use this simple method to make your own car carpet cleaner. The rubbing alcohol will work into the tight fibres to disintegrate any tough stain.
Pour rubbing alcohol into a bottle sprayer and spray enough liquid on the stain to cover it. The alcohol also works for cleaning if diluted with an equal amount of water. Use a white cloth to blot the stain gently and repeat if necessary.
Clean Away Rust Stains with Hydrogen Peroxide
While it's tempting to grab a bottle of bleach to clean dirty carpets or an area rug, this causes discoloration of the carpet fibers. A safe alternative for cleaning carpets and upholstery is hydrogen peroxide. This solution has oxidation properties that loosen and remove tough stains.
Test a hidden portion of the carpeting to ensure that the cleaner won't leave another stain. To get rust or coffee stains out of carpet, pour hydrogen peroxide into a bottle sprayer and set it to stream for better accuracy.
Spray the peroxide directly on the rust stain until it is saturated. If you do not have a spray bottle, carefully pour the liquid on the spot. Use a white cloth to blot at the stain to remove the rust and liquid.
Use Natural Ingredients to Remove Stubborn Rust Stains
If all else fails and that rust stain still lingers, try giving it a one-two-three punch with vinegar, lemon juice, and salt. The two acids break up the stain while the salt provides mild abrasion to loosen the rust. For other surfaces, try a rust remover for concrete.
To use the best DIY carpet stain remover, use this recipe to combine the white vinegar, lemon juice, and salt in a container, and mix it. Pour the liquid directly onto the rust stain until it is saturated and allow it to sit for two hours. Use a clean cloth to dab at the spot until the liquid and stain are absorbed.
Cleaning a Rust Stain on the Carpet with Cream of Tartar
Cream of tartar is a spice in your cabinet that you usually do not grab while cleaning around the home, but it is a handy tool for cleaning rust stains on the carpeting when combined with baking soda and hydrogen peroxide.
Pour the cream of tartar and baking soda into a container and mix them. Add a small amount of hydrogen peroxide while stirring the powders until the mixture reaches a paste-like consistency. Use your fingers to smear the cleaning paste on the surface of the rust stain.
Allow the area to sit for about 30 minutes and then use a damp, white cloth to wipe away the paste and stain. Rinse the towel with clean water and repeat until all the residue is gone. Pat the carpet with a paper towel and let it air-dry.
A professional cleaner and harsh cleaning chemicals aren't required for carpet cleaning as long as you use the right carpet stain removal solution to get the job done. All it takes is a few natural and inexpensive ingredients applied to the stained area, along with a little bit of patience, to remove rust from your carpeting.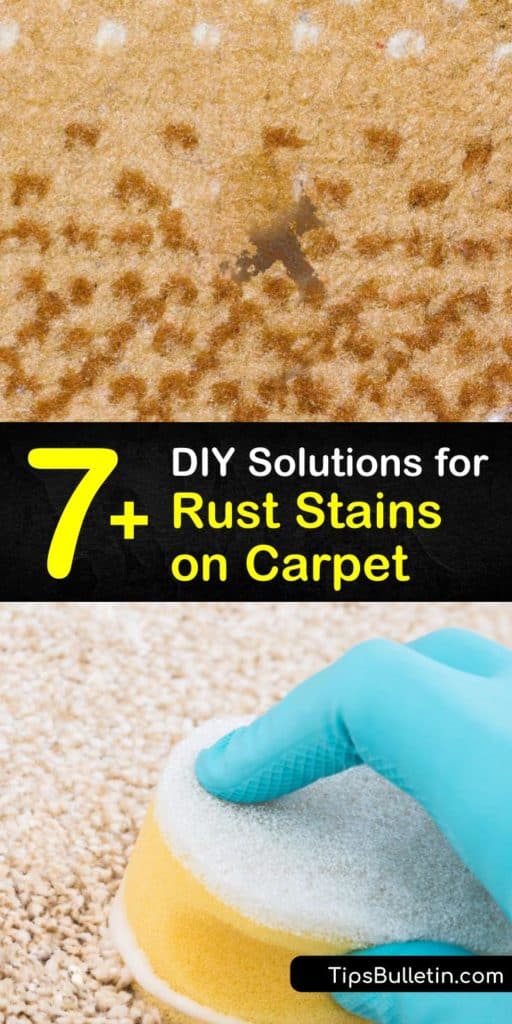 We're glad that we could show you how to remove rust stains from carpet to save you money and restore your carpeting, and we'd love it if you'd share our carpet cleaning tips and recipes with your friends and family on Facebook and Pinterest.