Discover how to remove scratches from a glass table and get your dining table looking brand new. Glass furniture adds a chic, modern touch to a living space. Due to its transparency, which doesn't obstruct views behind it, it gives the impression of a more expansive room. However, glass has one drawback despite having a beautiful aesthetic—it is readily scratched.
Unattractive scratches are caused by simple actions such as placing a mug of tea on top. It is a relief to learn scratches in glass can be fixed with a little effort and know-how, whether you have marks left by your dogs or your kids won't stop sliding their toys around the tabletop.
Explore helpful ideas for how to get scratches out of a glass table. Don't let scratches bring down the tone of your home. Use easy remedies for removing scratches from a glass table to keep your glass items looking flawless.
How to Get Scratches Out of a Glass Table
Glass products are stunning in every room, and a glass table is a perfect centerpiece for the dining room. It's devastating to find scratches on your glass tabletop, but fortunately, removing scratches from a glass table is straightforward.
Choose one of our simple techniques for how to remove scratches from a glass table. Begin by clearing everything off the table. Clean glass naturally by wiping it with a damp cloth, and inspect the damage. Decide if the scratches are minor or deep; note regions requiring work. Repair the blemishes to restore your table.
Can You Fix a Scratched Glass Table?
Glass furniture adds interest and dimension to a room, but unfortunately, glass tabletops often get scratched. Tables see a lot of wear, from holding drinks and plates to acting as a drawing board and even a crafting station.
Though tempered glass, the safety glass used to manufacture most furniture, is reinforced against shattering, it's more likely to scratch compared to regular glass. Scuffs and scratches on a glass table top or glass door look unappealing, but they are removable.
When you notice marks on your glass, skip the stress and use an easy-to-follow home hack to clean a tempered glass table. Remove scratches and imperfections from your tempered glass table at home.
How to Remove Scratches From a Glass Table
If you're dealing with a light scratch, head to the bathroom to pick up your toothpaste to erase it. Toothpaste is good for more than just cleaning teeth; its mild abrasive properties buff out light scratches to leave your table looking flawless.
A non-gel toothpaste works well for superficial blemishes on a glass table top or other pieces. It's even better if you have some that contain baking soda. Dab a small amount of toothpaste onto one of the corners of a lint-free soft cloth, and rub it into the damaged area.
After a few minutes of working in circular motions, remove the residue with a clean damp cloth. Dry and repeat if necessary.
Removing Scratches From a Glass Table
Nail polish is a convenient and affordable tool to repair a deep scratch so it's no longer visible. Choose clear nail polish so it blends seamlessly with the glass and is invisible once dry. If you wipe down your table first, be sure it's completely dry before beginning.
Use the provided brush to dab clear nail polish into the deep scratch. Focus on filling the valley in the glass and not getting it around the mark, and leave the polish to dry for an hour or so. Inspect the new surface, sand down imperfections, and wipe the tabletop with some nail polish remover on a microfiber cloth to ensure it's smooth.
Paste Wax for Getting Scratches Out of a Glass Table
Paste wax has long been used to remove scratches and natural imperfections from wood furniture and fix scratches on leather. It also works to repair glass. Wearing gloves, apply a tiny amount of paste wax to a microfiber cloth. It's critical to use microfiber instead of another material, as microfiber doesn't shed and won't leave little fibers in the repair site.
Rub the paste wax into the scratch to cover it and clean the excess with a damp cloth. The paste wax reduces the visibility of the scratch, though it may need to be reapplied occasionally.
Buff Deep Scratches Out of a Glass Table
Metal polish or another product containing cerium oxide is an excellent DIY method to eliminate scratches from glass furniture. Metal polish is often sold as a powder. Mix it with water by following the package directions to prepare it for use.
Apply a small amount of the prepared metal polish to the glass, heeding the manufacturer's instructions. Don't be tempted to use more metal polish than advised, as this potentially leads to a messy finish.
Wipe the glass surface clean with a damp cloth. Never use metal polish as a scratch repair for the same spot repeatedly, as a secondary coat can cause more scratches.
Polish Scratches off a Glass Table Top With Steel Wool
It may seem scary to use steel wool to polish your precious glass table, but it is an appropriate way to eliminate a minor scratch. When used correctly, it won't further degrade the glass surface. Head to your local hardware store to pick up some steel wool. Select super fine #0000 grit to ensure a flawless result.
Always use a brand new piece of steel wool on glass. Old pieces may cause new scratches. Gently rub the scratch with the steel wool. Start by using light pressure and building up as required; work in circular motions until the scratch is no longer visible.
Clean off the table with a soft, damp cloth, let it dry, and check out the result. Continue with the steel wool if needed. Finish up with an ammonia-free glass cleaner to remove fingerprints and dirt and leave your glass spotless.
Cleaning Scratches Out of a Glass Coffee Table
Baking soda is in everyone's pantry or available in the baking aisle at your local grocery store. Though often used for cakes and pastries, baking soda is a mild abrasive, making it perfect for lifting a small scratch off your glass table or removing adhesive from a glass surface. Craft a simple scratch-removal paste using baking soda and water from the faucet.
Combine the baking soda powder and warm water in a little bowl or upcycle a clean plastic drink cap to hold the paste. Dip the edge of the clean cloth into the paste and rub it over the mark in circles until the scratch fades. Wipe the table with a damp cloth and leave it to air dry.
Scratch Removal With a Repair Kit
Consider picking up a glass repair kit if your table has a deeper scratch. These glass scratch kits come with a small tube of glass window repair compound and everything you need to prepare the glass for treatment.
Use the equipment to fix the glass scratch by following the instructions. Typically, you clean the area, squeeze resin into the blemish, let it cure, and wipe away the excess. Find glass repair kits at your neighborhood auto store or order one online.
Polishing Scratches off a Glass Dining Room Table
Once a repair is complete, cleaning your glass table is essential. No matter how hard you try, we're bound to leave fingerprints and smears on the glass while removing scratches. Rather than using a chemical cleaner, make your own natural cleaner. Distilled white vinegar cuts through grease, and lemon juice carries a pleasant scent.
Be sure the glass is thoroughly dry after fixing the scratches before cleaning. Pour the lemon juice, water, and vinegar into a spray bottle, shake vigorously, and spray over the tabletop. Use a clean cloth to wipe the glass and buff it.
Use Professional Glass Services
If you don't feel confident working on your own glass table or have little time, consider using a professional glass service. Like those who repair windshields, glass professionals have experience with everything from tiny scuffs to devastating cracks. Look for a glass restoration company in your area and ensure they are familiar with fine glass furniture.
If you understand how to get scratches out of a glass table, minor scuffs and imperfections on your furniture are no big deal. Glass repair isn't complicated. However, it requires the proper knowledge and supplies. Choose a glass repair method based on the materials you have and the severity of the scratching.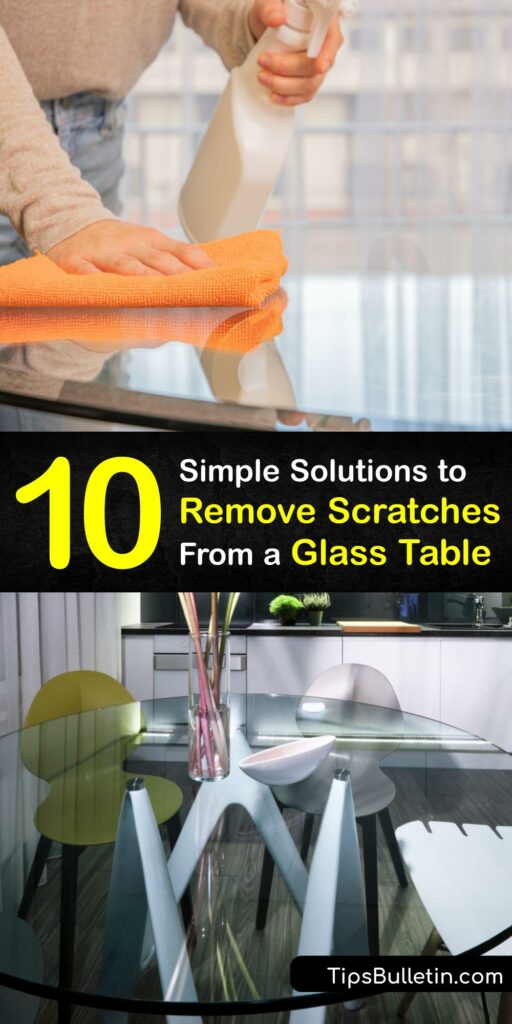 If you loved this informative article on how to remove scratches from a glass table, please share these tricks with your friends and family who are removing scratches from a glass table on Pinterest and Facebook.