In modern usage, patent leather is leather covered in a plastic coating; before this, shoes had a lacquer coating. Patent leather items are known for their glass-like finish and for being waterproof. Through daily wear, scuffs and marks can tarnish the appearance of patent leather footwear, so knowing how to remove scuff marks from patent leather shoes is essential to keep up the appearance of your shoes.
If you bump the sidewalk or scrape your shoe, it's not the end of the world, nor do you need to seek out expensive shoe treatments. Using a cloth and a shoe polish, you can remove most scuffs on your shoes.
For accidental scuffs that cannot be removed by buffing them out, we've provided a selection of handy methods for getting rid of scuff marks on your patent leather heels or shoes. Removing scuff marks from black patent leather shoes is simple using everyday household items.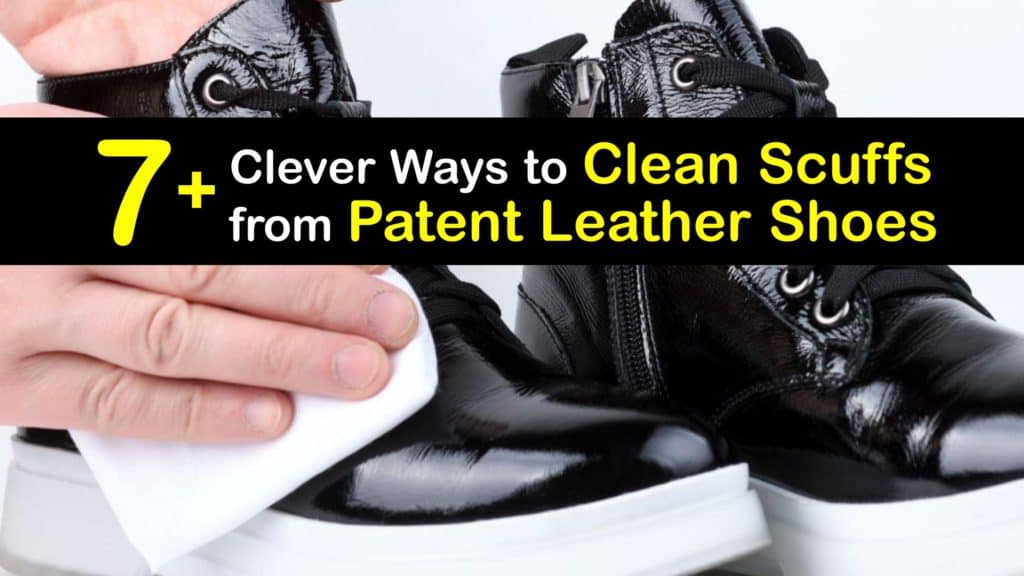 How to Get Scuffs Off Patent Leather Shoes
Nothing ruins the appearance of a black leather shoe more than a light gray scuff across the toe box. While some people may not mind a scuff on their patent leather shoes, removing scuff marks is a straightforward process for those looking to restore the appearance of their shoes.
What Causes Scuff Marks?
If you ever kicked at the floor and left a dark mark, you just created a scuff. This same idea applies when you find strange marks and scratches on your patent leather shoes.
A scuff mark appears on your shoes when something makes quick or harsh contact with the material of your shoe. Because patent leather comes with a plastic coating, it is more susceptible to scuffs than a fabric shoe.
The other type of scuff mark on your shoe is from coming in contact with something that doesn't transfer color to your shoe but instead causes a superficial scratch to the surface of your shoe.
Learn How to Clean Patent Leather Shoes with Scuff Marks
Nail polish remover, made with acetone, is a staple for many households to remove nail polish and thin paint. Acetone is a solvent, possessing the chemical properties to dissolve other substances.
The ability to dissolve substances makes nail polish remover an essential item to pick up when researching how to clean patent leather shoes with scuff marks.
Pour a small amount of the polish remover onto the cotton ball and begin rubbing it onto the scuff mark in a circular motion. Any marks on the shoe lift from the shoe's coating. Use a clean cotton ball to continue cleaning until all faults are gone.
Wipe the surface using a soft cloth of your shoes to remove any remaining nail polish remover. Rub out any minor remaining marks using a dry portion of the fabric. Apply mineral oil to a clean cloth to rub onto the shoe. Mineral oil cleans patent leather and keeps it looking shiny.
Using Toothpaste to Get Scuffs Off White Patent Leather
Regular toothpaste, not gel, contains a tiny bit of grit that aids in removing build-up and stains from our teeth. This same grit works when trying to remove marker from leather and getting black scuff marks off your shoes.
To avoid affecting the color of your shoes, only use white toothpaste with white patent leather shoes. For the way to remove scuff marks from white leather shoes, apply a small amount on a clean cloth and work it into the scuffs on your shoes in circles.
Once the scuff is gone, wipe the area with a clean towel and apply an oil or shoe cream to keep the glass-like finish on your shoe.
Removing Scuffs Marks on Shoes with Baking Soda
Baking soda is a brilliant multi-tool that is likely sitting in your fridge, passively keeping the fridge fresh. This powder is helpful in various cleaning projects, including taking care of scuffs on your shoes. A paste made from baking soda and water is the answer to how to get scuffs off patent leather shoes.
For this DIY shoe cleaning solution, stir baking soda and water together to create a smooth paste. Apply this paste directly to the scuff on your shoe and polish the shoe using a clean cloth. After polishing the scratches away, wipe any remaining paste with a new damp cloth.
Clean Scuffs from Shoes with a Rubber Eraser
The power of a pencil eraser can also help remove scuffs from shoes. The pink eraser that comes to mind works perfectly fine; however, the pink version is likely to leave more residue behind on your shoe, so choose a white rubber eraser for less mess.
Using small circular motions, rub the eraser over the scuffs on your shoes to polish them away.
An eraser is a safe way to remove stubborn scuff marks from normal leather, suede, and vinyl shoes. A rubber eraser or a gum eraser works well to accomplish the same goal for suede shoes.
How to Remove Scuff Marks from Patent Leather Shoes with Petroleum Jelly
Petroleum jelly, also known as Vaseline, is excellent at removing scuffs from patent leather shoes. Among its uses in skincare, petroleum jelly is popular in product care and protection.
When applied to wood and leather, petroleum jelly works similarly to mineral oil to coat and condition them. When getting scuff marks off shoes, apply the jelly to a dry cloth and work it into the affected areas of the shoe. Leave the jelly on the shoe for five minutes before wiping it away with a clean cloth.
If you don't have any petroleum jelly, cleaning leather with vinegar and olive oil is also good in a pinch. Combine a small amount and apply to your shoes to wipe away scuffs and restore the shine to your shoes.
Cleaning Scuff Marks with Rubbing Alcohol
The harsh nature of rubbing alcohol makes it ideal for sanitizing and cleaning, including removing scratches and scuff marks from your shoes. The chemical properties that break down build-up and stains allow rubbing alcohol to remove stains efficiently, as well as to remove dried paint from leather.
Use a clean cloth with rubbing alcohol to work it onto the scuffed area to clean stained leather or remove the scuff. Wipe away any remaining rubbing alcohol with a clean cloth so it does not affect the condition of your shoes.
To restore the shine to your shoes after removing scuff marks, another household staple is helpful for making your patent leather shoes shiny again. Using Windex is one of the easiest ways to shine shoes after you get rid of unsightly scuff marks.
Note: If you don't have any rubbing alcohol on hand, hand sanitizer is a great alternative.
Remove Black Scuff Marks with a Magic Eraser
The Magic Eraser is a handy cleaning tool that quickly removes black marks from walls and counters with just a little water. The foam-like texture allows you to rub away blemishes without damaging most surfaces, including patent leather shoes' plastic coating.
Dampen your Magic Eraser with water and gently rub out any scuffs or scratches. The soft foam texture wears away the more you use it but does not leave any residue. If you find leather drying out after cleaning, apply a leather conditioner or a gentle oil like olive oil to keep the leather moist.
Removing Scuff Marks from Patent Leather with Detergent
Figuring out how to get scuffs off patent leather shoes is easy with a mild soap like liquid laundry detergent. Unless you're trying to clean dry-clean only shoes, a bit of laundry detergent is an ideal option to clean scuffs.
Fill a small bowl with warm water, add a few drops of laundry detergent, and mix until combined. Use a cotton swab or cloth to work the soapy water into the scuff marks depending on the scuff size.
Continue to rub the scuff marks in small circles until they are gone from your shoe. Wipe away any remaining soapy water using a new clean cloth.
How to Prevent Scuffing on Shoes
The more you wear your favorite pair of patent leather shoes, the more often they collect marks and scuffs. Not everyone has the option to swap out multiple pairs of shoes to keep the daily wear down, so knowing how to prevent scuffs is just as important as knowing how to remove scuffs.
Choosing the Right Shoes
There are various levels of gloss applied to patent leather shoes. The higher the gloss, the shinier the finish on your shoe, but with this comes the downside of marks showing up more clearly.
While the high gloss appearance of some dress shoes may appeal to you, a high gloss shoe is more prone to collecting scratches than shoes with a lower gloss. If you wear patent leather shoes with low-gloss, scuffs are less likely to appear or be noticeable.
Many patent leather shoes have a bumper. This bumper protects the front of the shoe from scratches. While the bumper does not protect you from all scratches, it will take the brunt of the impact.
Keep your shoes in the best shape possible so they're always ready to wear. You can even learn the way to get creases out of sneakers and patent leather shoes so they constantly look brand new. Removing creases from shoes helps ensure your shoes are ready to wear whenever you need them.
Don't let minor scuffs deter you from wearing your favorite patent leather shoes, and don't let scuffs build up. Use any of our methods to restore the condition of your shoe to look brand-new again.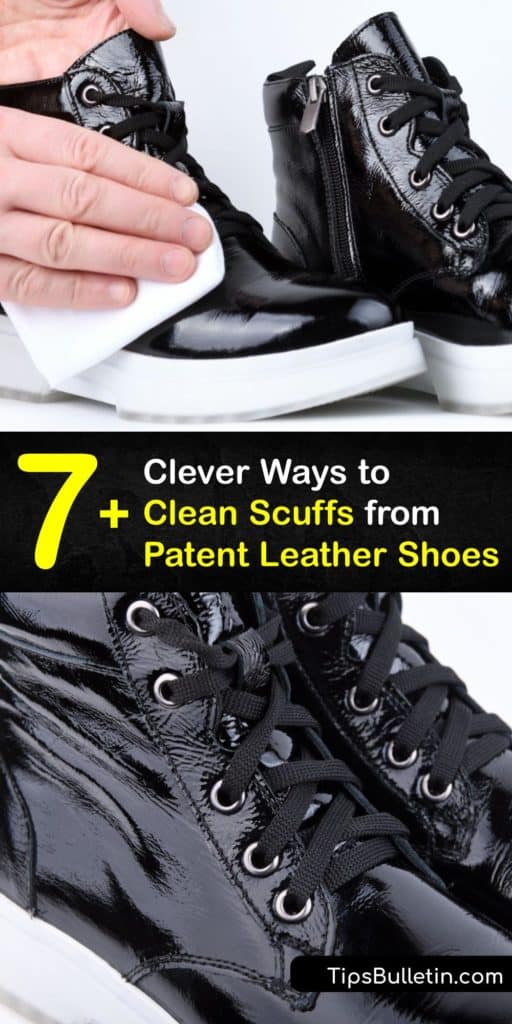 If our article helped you figure out how to clean patent leather shoes with scuff marks, please share our tips on Facebook and Pinterest with your friends who may need to know how to remove scuff marks from patent leather shoes.