Have you ever accidentally written on a white board, thinking it was a dry erase marker or washable magic marker, only to discover it was a Sharpie? Has your little one gotten their hands on a crayon or black permanent marker and scribbled art onto the wall? We'll show you how to remove Sharpie from a wall using one of our cleaning recipes and tips.
There is nothing more dreadful then trying to remove permanent marker stains or Sharpie stains from a wall. Discovering that the marks on the wall are not from a washable marker but from a Sharpie marker can leave you feeling like your only alternative is to paint the walls.
You could try to remove these stains with Windex or Goo Gone, but you'll probably realize that you need to use something a little on the different side. We have a few ideas for ways to get pen off walls without ruining the paint or damaging the wall.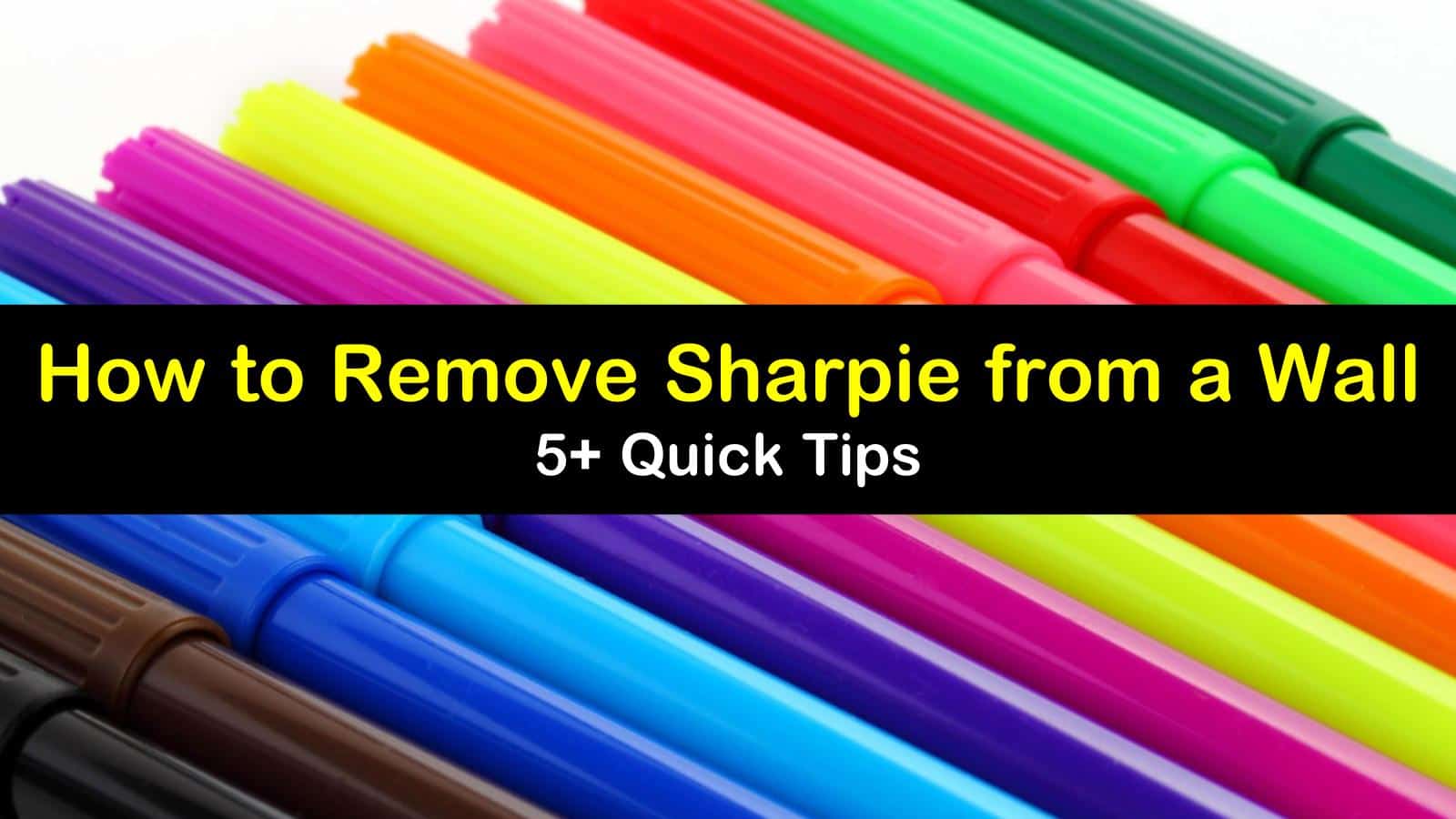 How to Clean Sharpie Marks from a Wall
Before you go into panic mode, let us assure you that there is a way to remove those marker stains. By the time you reach the end of this article, you will release a sigh of relief knowing that you can get permanent marker off a wall and black Sharpie marks from hard surfaces such as a wall or a laminate countertop. It's easier than you may have thought.
The Easiest Way for Removing Sharpie from Walls
While Expo works well to remove Sharpie from glass, it may not be useful for removing permanent marker from different surfaces. Try using a Mr. Clean Magic Eraser to remove the marker stain. This is probably the easiest method to use when removing Sharpie from walls and works in one easy step.
Magic Eraser Sharpie Remover
Read the instructions for the Magic Eraser. Generally, all you have to do is swipe the marker area of the wall using firm pressure. The Magic Eraser contains micro-scrubbers that work at removing the stain. Swipe the marker stain with gentle force a few times until the stain is gone.
Removing Permanent Marker from a Wall
While white vinegar and baking soda are the multi-purpose tools of the household, WD-40 has quickly become the versatile tool of the garage. WD-40 is a chemical lubricant that has many uses, including removing permanent marker off walls.
While wearing gloves, spray the stained area with WD-40 to remove Sharpie or as a DIY drywall stain cleaner for stubborn marks. Ensure you hold a cloth beneath the area being sprayed to prevent the spray from dripping. Use a dry rag to scrub the stain using a circular motion.
Get a sponge wet with water and add a dab of soap. Clean the area with the soapy sponge to remove any residue. Dry the wall with a paper towel.
You can also try this solution for getting Sharpie off wood surfaces. It works best on sealed wood rather than unsealed. Try WD-40 for removing Sharpie from a wood table and then cleaning with a bit of soapy water to remove residue.
Removing a Sharpie Stain using a Dry Erase Marker
No, you didn't read the title wrong. You really can remove a permanent marker stain with a dry erase marker! This is a cleaning solution where one marker saves the day that another marker ruined.
Fortunately, if any dry erase marker ends up on your wall, it's easy to wash away with just a dry cloth. Find out more ways to remove dry erase marker from a wall if any stains persist on paint or wallpaper.
Sharpie Stain Removal
Use a dry erase marker as close to the same color as the Sharpie mark. Write over the permanent mark with the dry erase marker, whether you are looking for ways to get Sharpie off a mirror or your walls. Use a dry cloth to rub at both marker stains using some pressure. You may need to repeat this step several times until the stain is gone.
Removing Sharpie Stains from a Wall Using Toothpaste
You can quickly get Sharpie off a wall using toothpaste, of all things. For this method, use white toothpaste rather than a gel toothpaste to remove the stain.
Permanent Marker Remover
Use toothpaste to make your own wall cleaner. Apply a dab of the white toothpaste onto a clean cloth and rub at the marker stain. Allow the toothpaste to sit for approximately ten minutes. Rub at the stain with the dry cloth using a circular motion. Use a damp cloth to remove the paste and marker residue.
Removing Sharpie from a Wall Using Chemical-Based Toiletries
Many people have tried things like baby wipes to get a Sharpie stain from the wall, but you probably have a more effective cleaning agent in your bathroom. Choose from these chemical-based toiletries to remove a Sharpie mark off the wall or stainless steel. The best whiteboard cleaner is even included in the following ingredients.
Because these agents contain alcohol, wear gloves when performing this cleaning method. Begin by testing an inconspicuous area of the wall to check how your particular wall paint reacts.
Put one of the cleaners like rubbing alcohol onto a cotton ball and apply it to the stain using a dabbing, circular motion. Once the Sharpie stain is gone, wipe the area clean with a little soap and water.
To get permanent marker out of sofa cushions, try one of the methods listed here. Usually, hairspray or rubbing alcohol works best. Be sure to work from the outside of the stain inward to keep from spreading it to a larger area.
Try alcohol when you have to start removing graffiti from painted walls, so you don't damage the paint. It will be a slow process but is safer than other strategies. Rub gently.
How to Remove Sharpie from a Wall with Baking Soda
If you're looking for natural ways to remove marker stains from walls or to remove black soot from walls, all you have to do is reach for a box of baking soda. This miracle powder is both an alkaline substance and a mild scouring agent. When mixed with water, you have an excellent cleaner and deodorizer, as well.
Get the sponge wet with clean water and sprinkle some baking soda onto the scrubbing side of the sponge. Gently rub the marker stain with the scrub sponge using a circular motion.
You can also use an old toothbrush for scrubbing small stains on clothes. Rinse the sponge with clean water and use the sponge side to wipe away the residue from the surface. You can even remove Sharpie from leather with a small dab of baking soda. Repeat these steps until the marker stain is gone.
You can use a baking soda and warm water mixture as a way to clean walls without removing paint even if you don't have marker stains. The mild abrasive is ideal for eliminating grease and fingerprints.
We know what you're thinking at this point. "Whew, that was a close call!" We are sure you're quite relieved at knowing that Sharpie marks on white walls can be removed using the right cleaning products and a bit of elbow grease. If you've got similar stains on your window, you may want to check out a glass cleaning solution or try one of these recipes.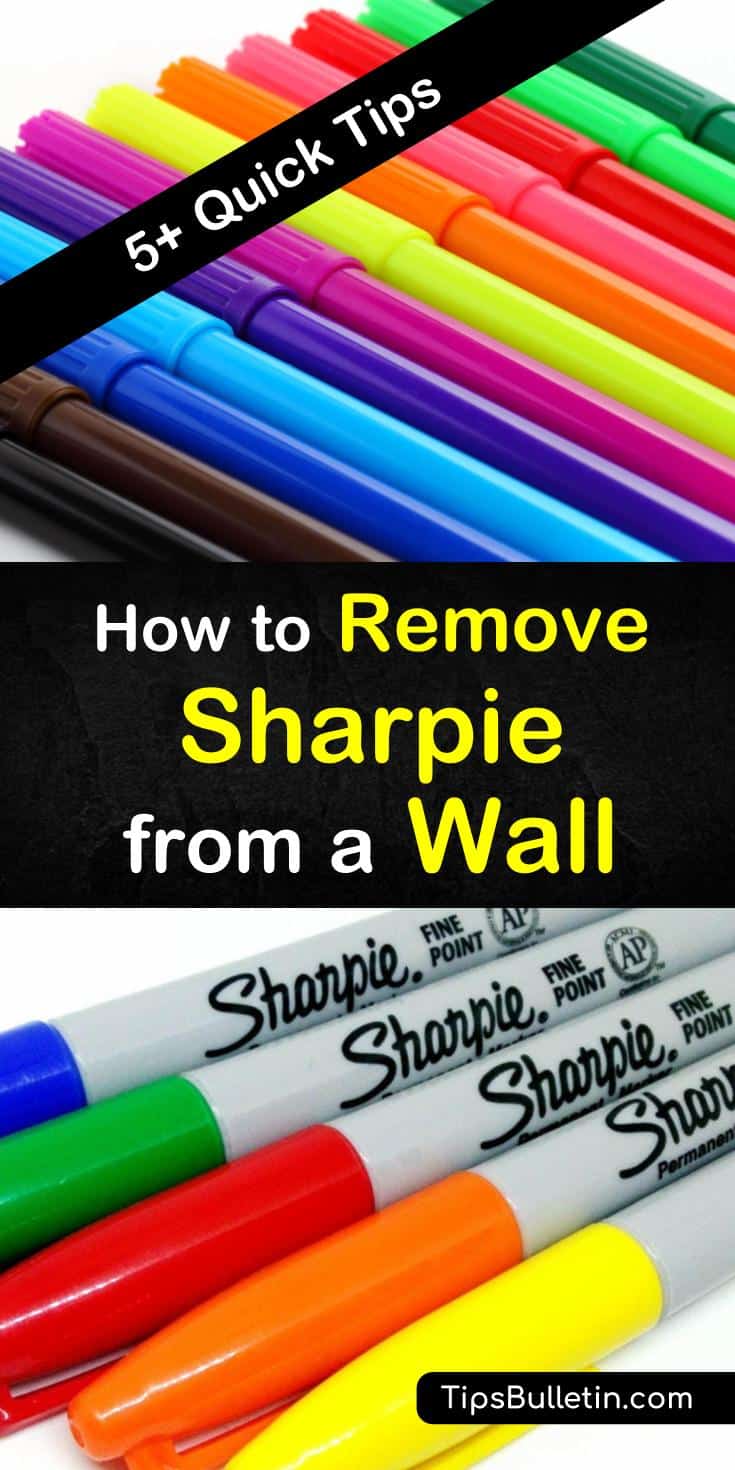 You now know how to remove Sharpie from a wall, so why not share these tips for cleaning permanent marker off walls with your friends and family on Pinterest and Facebook?