In your efforts to keep your bathroom clean, the shower might seem like a low-priority area because it's constantly blasted with water and soap. However, daily showers contribute to turning your shower wall from white to yellowish-brown. Once you know how to remove shower grime, our easy grime removal methods are sure to become staples in your cleaning routine.
There are numerous types of grime you might find in your shower stall, ranging from hard water stains to soap scum buildup on your glass shower door. You may not notice stains in your shower until the buildup becomes visible, but regular cleaning and preventative methods help eliminate the need for detailed cleaning of your shower.
Cleaning your shower and tub to remove buildup is essential as grime in your shower is not only unsightly but allowing it to remain poses health risks for you.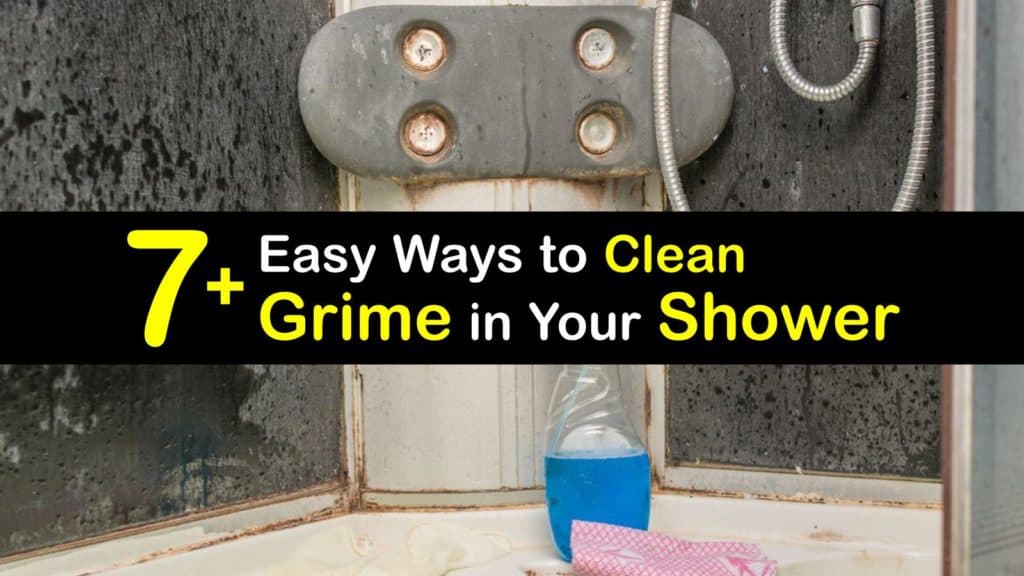 How to Get Rid of Shower Grime
Before you begin scouring the walls of your shower with harsh chemicals, you may be surprised to know you can clean shower grime with everyday items in your home.
While the buildup in your shower forms from water mixing with other deposits in the shower, not all shower grime is the same, and your cleaning methods may vary.
Removing a Hard Water Stain
Hard water contains high levels of magnesium and calcium, and the water spots that it leaves come from the moisture evaporating, leaving residue behind.
Removing Water Stains from Your Glass Shower
Hard water residue on your shower walls or door turns your clean glass into a clouded streaky mess, but removing it isn't difficult. Lemon juice is an excellent cleaner due to the citric acid that breaks down residue on non-porous surfaces.
There are a couple of options for using lemon juice in your shower, and they all come down to preference. The first is to cut a lemon in half and apply the cut side to the glass shower to work the juice into the water stains.
Another option is to juice your lemon or pour liquid from a juice bottle into the spray bottle to apply to your shower glass. Allow the lemon juice to sit on the glass for up to five minutes before wiping the glass with a microfiber cloth and rinsing.
How to Remove Shower Grime with Baking Soda
To tackle a more stubborn stain or residue in a hard-to-clean place like the edge of your shower door, create a paste of baking soda and distilled white vinegar. The acidity of white vinegar makes it an excellent shower cleaner, and baking soda adds abrasion to the cleaning process. It works great to remove water spots from plastic, as well.
Combine the ingredients in a plastic bowl to form a fizzing paste. Once the fizz stops, dip a cloth or sponge into the paste to apply to your shower glass. Allow the baking soda paste to sit for 15 minutes before wiping with a clean cloth. Rinse your shower to remove any residue paste and dry thoroughly.
To get rid of smelly drains in shower, pour some baking soda into the drain and follow with some vinegar. It effortlessly dissolves soap scum in drain to eliminate unpleasant odor and get your pipes flowing smoothly again.
Removing Limescale from Your Shower Head
Limescale is a common hard water stain and perhaps the most irritating stain because it forms from running the water. We recognize limescale as a chalky deposit made chiefly of calcium carbonate around faucet heads from hard water.
If you notice buildup on your shower head or a change in water flow due to blockage, dissolving this limescale is relatively simple by using the acidic properties in vinegar. While spraying and scrubbing the shower head works, allowing your shower head to soak in vinegar is the best option.
Fill a bag with vinegar and place your shower head inside, using a rubber band to secure the bag to the shower head. Allow the shower head to soak in the vinegar bag overnight.
Remove the bag from the shower head and wipe with a sponge or cloth to remove any remaining limescale. Rinse the shower head well and run the shower water to clear any remaining buildup in the nozzle.
Removing Grime with a Pumice Stone
If you have heavily accumulated grime in your shower, try a wet pumice stone to cut through the buildup. Pumice stones are typically used on the body to remove dead skin.
When wet, pumice stones effectively wear down accumulated buildup on your bathroom surfaces; however, don't use pumice stones on a fiberglass shower or tub.
Wet your pumice stone and gently rub it over the hardened grime or soap scum in your shower. Work on small areas and watch as the scum transfers from your shower to the stone. Rinse the stone and scrub with a brush to remove the buildup.
Repeat this process as needed until the soap scum is gone from your walls. Using a microfiber cloth and distilled white vinegar, wipe down the walls to remove any remaining grime. Rinse your shower with water and dry completely with a clean cloth.
Get Rid of Shower Grime on Shower Tile
If the walls or tiles of your showers look dingy, buildup may be responsible. Clean years of soap scum since that may be the culprit. If left unchecked, mold or mildew may start to form, so it's best to clean the shower tile as soon as you notice its appearance getting dull.
Clean Shower Grime with Dish Soap
By combining the cleaning power of several household ingredients like vinegar and liquid soap, ridding your shower of unwanted grime is simple.
To make the best DIY shower cleaner, pour ingredients in a spray bottle and spray onto your shower walls, leaving it to sit for 15 minutes. Use a sponge to scrub the grime from the walls, rinse with water, and dry them.
Note: Vinegar should not be used on travertine or stone showers. If your shower floor is stone, we advise laying towels down to absorb any run-off from your spray to keep it off the shower floor.
Cleaning Your Shower with Bleach
Use bleach to help clean your shower for cleaning jobs that involve mold or discoloration. As bleach is an aggressive product, wear gloves before handling bleach to avoid skin irritation.
To make application easier, use a spray bottle. Combine bleach and water in a container or large bowl first, then funnel it into a spray bottle. Wash and wipe your walls with water to remove excess dirt or any cleaners you used previously.
Spray your shower with the bleach solution and allow it to sit for at least ten minutes. Rinse shower walls with fresh water and dry them thoroughly.
Note: Bleach can ruin the resin on fiberglass showers, so avoid this method on a fiberglass tub or shower.
Cleaning Grout with White Vinegar
Cursory cleaning of your shower may not reach those hard-to-reach spots between the tiles, so use a focused cleaner to help get rid of shower grime in your grout.
To clean white grout in a shower or that of another color, combine vinegar and water in a bowl and soak a cloth in the mixture to apply to your grout. Use a scrub brush to clean soap scum and remove shower grime from grout. Rinse with clean water and dry the grout, repeating the process if needed.
We suggest cleaning grout in small sections at a time; this keeps the dirty water from your cleaning from settling back into grout lower on the wall. Using vinegar for mold in shower is also quite helpful.
How to Remove Shower Grime from Stone Showers Safely
Cleaning with vinegar is not recommended for a shower made of stone like travertine, marble, or limestone. The acidic nature of vinegar, and even lemon juice, burns or etches the surface of your stone, damaging your shower in the process.
Using Hydrogen Peroxide as a Cleaner
Hydrogen peroxide is an essential compound for cleaning, and you may find it in commercial cleaners. Purchase a 3% hydrogen peroxide bottle from the store and create your homemade soap scum remover for a fraction of the cost.
Mix ingredients and apply to your shower or grout using a sponge or cloth. Clean using a grout brush, then rinse with water. Repeat the process before drying your shower thoroughly.
If you recently re-tiled your shower, try using this mixture to remove rests of thinset from shower tiles if you accidentally see some places you missed wiping it away.
Preventing Mildew from Forming
Because bacteria thrive in damp places, it is best to keep your bathroom and shower ventilated. Ventilating your bathroom is as simple as leaving the bathroom door open or cracked during showers to allow steam to escape.
Leave the shower curtain or shower screen open to create better air circulation following your shower. If your bathroom has a vent, turning it on after your shower also improves circulation and allows moisture in the shower to evaporate.
Regular Cleaning to Prevent Buildup
Although shower grime may not be completely avoidable, after a deep clean, the last thing you'll want to do is go through the process again. Daily cleaning is another effective way to maintain the condition of your shower and actively work against soap scum, mildew, or mold.
Combine the ingredients in a 16-ounce glass spray bottle and gently shake to incorporate. Following your shower, squeegee your shower walls to remove excess water, then spritz your daily spray onto the walls. Do not wipe this spray off; allow it to dry and create a protective barrier for your walls against future grime.
Note: While we recommend tea tree oil for its benefit of keeping again fungus and bacteria, other oils like lemon are acceptable substitutes.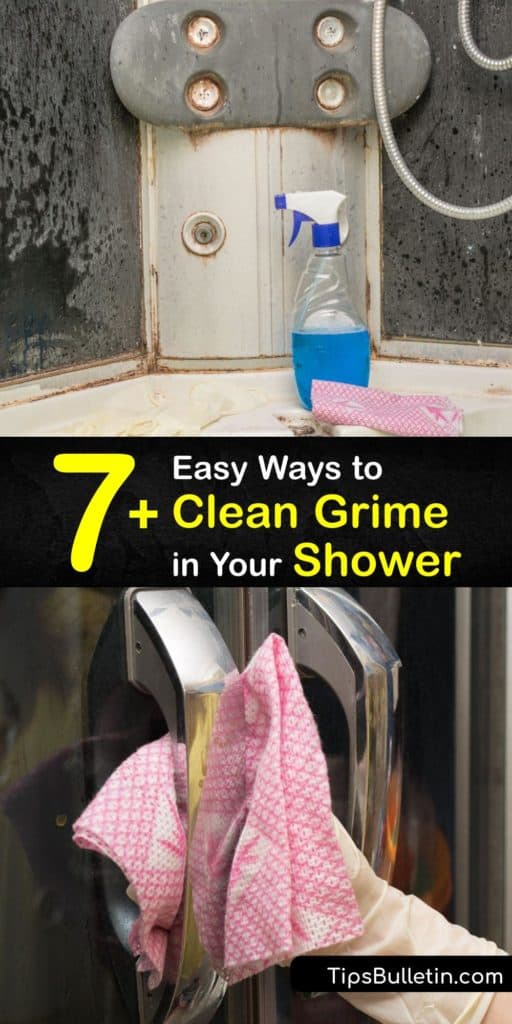 If our article on how to remove shower grime has helped your shower to look like new again, please share our tips on how to clean shower grime with your loved ones on Facebook and Pinterest.