Kids have so much fun with ooey-gooey, homemade slime. It's too bad this fun science project often turns into a nightmare when you find it stuck to your furniture, carpet, clothes, and walls. Once you discover how to remove slime from a couch, you'll no longer be scared of making this homemade goo with your children and embrace watching them play and experiment with it.
There are tons of slime recipes, but there are some products that parents buy in the store as well. As much fun as it is, slime is sticky and oily and often seeps into fabrics and leaves stains behind.
Before you know it, traces of slime are everywhere, and a moment of panic sets in for the parents who don't know how to get slime out of a couch, or have struggled time and again with removing slime from a microfiber sofa. Don't fret about this playful putty any longer. Here are some of the best techniques for learning how to get slime out of carpet, clothing, and couches.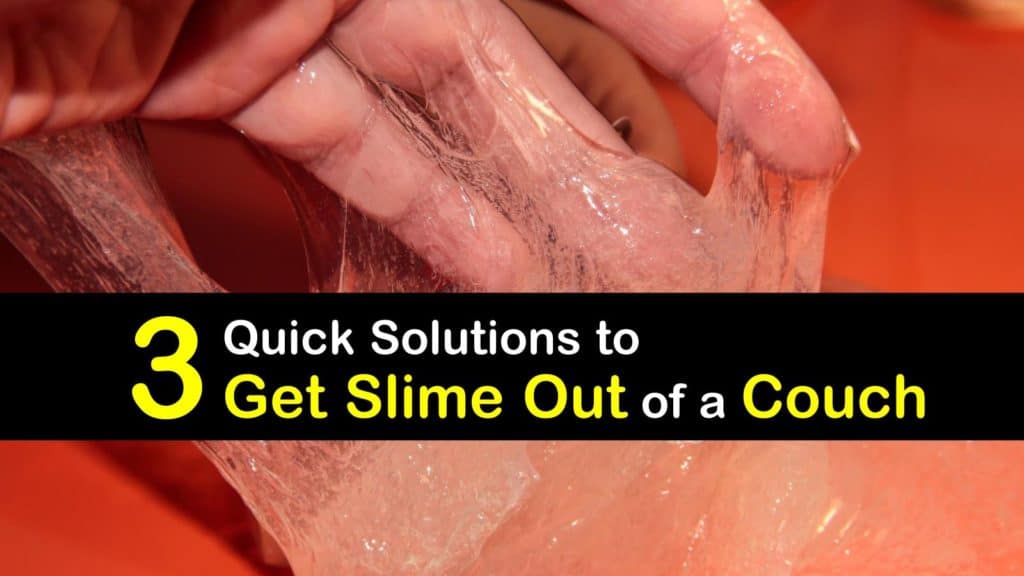 How to Get Slime out of a Couch
Admit it; no matter how hard you try, it's stressful to think of all the slime stains you might find around your house when you allow your kids to play with it. Cleaning slime stuck in hair and clothes can be a nightmare when it gets stuck.
It's not like you can throw your couch in the dishwasher and call it clean. Don't agonize about how you're going to get slime off fabric and upholstery. This article provides you with the smartest cleaning hacks for how to get slime out of a couch.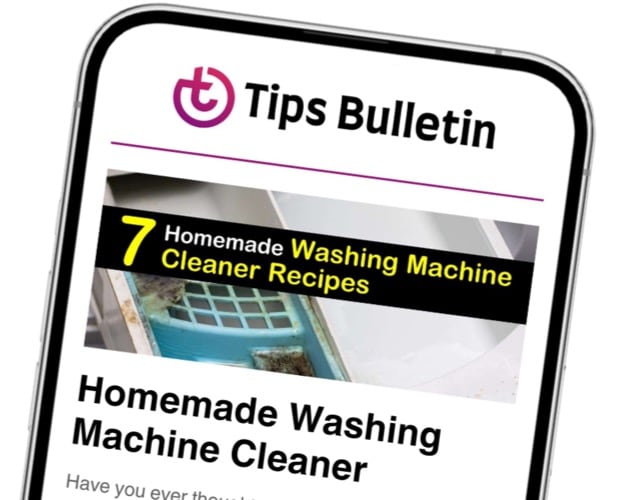 Finally, an email that Transforms Your Home.
Get the latest home and garden tips from our experts, delivered straight to your inbox.
Non-Damaging Slime Remover
One of the best strategies for removing slime from a microfiber sofa is to use safe ingredients and tools. Nobody wants slime in their furniture.
However, the chances are high that you'll encounter it. The key to avoiding slime stains is to dab instead of scrubbing. Use a spoon to lift as much excess slime from the couch's surface as possible.
If there is remaining slime, dampen a dry towel with distilled water and use the damp cloth to blot the mark until the spot is gone. Tap water isn't ideal because it leaves behind mineral deposits on furniture.
How to Remove Slime from a Couch or Carpet
Couches aren't the only place you find slime remnants. Getting slime out of carpet is very similar to getting slime out of a sofa.
Instead of doing your usual carpet cleaning routine, use a spoon or butter knife to remove dried slime from the surface. Once the excess is gone, it's time to make your slime remover.
Mix one part warm water and two parts vinegar in the spray bottle of your choosing. Spray the area with the slime until damp and let the vinegar soak into the carpet fibers for a couple of minutes.
Rubbing alcohol is also safe to use if you don't have vinegar at home. Grab a soft bristle brush to scrub the affected area gently. Dampen a clean cloth with fresh distilled water and blot the site to help remove the vinegar smell.
Dry the spot with a sheet of paper towel and vacuum up leftover remnants.
Removing Slime from a Microfiber Sofa
Getting slime out of microfiber is only a little different than other couch materials. Because the fibers are so much more absorbent, microfiber sofa cleaning requires closer care and attention.
Use an ice cube to freeze the slime and a butter knife to lift away the excess slime. Test a small amount of vinegar in an inconspicuous spot to make sure it dries clear.
Once safe, use vinegar to dampen a clean cloth and dab at the stained place. Fill a clean bucket with distilled, hot water. Soak a clean rag in the water and dab the spot repeatedly to remove the vinegar smell.
Most microfiber materials are not safe to put in the washing machine, but double-check if your sofa requires a more in-depth cleaning.
Getting Slime off the Wall
The wall is another common place that slime attaches to, and the oils leave behind unappealing stains. To get slime off the wall, mix a tablespoon of baking soda with a quarter tablespoon of water and a couple of drops of dish soap.
Pour vinegar into the solution for extra strength. The consistency should closely resemble a paste. Spread the baking soda paste on the wall and allow it to dry. Wipe the paste off with a wet paper towel or rag.
After getting rid of slime and any other stains in your living room, use a homemade disinfectant spray for furniture to leave them free of germs and with a nice fresh scent.
Slime doesn't have to be banned from the house. Although many parents dread this at-home activity, getting slime off the furniture, walls, and clothes isn't the scary chore it's often made out to be.
These cleaning hacks are efficient and easy, and your kids will appreciate all the fun that awaits them.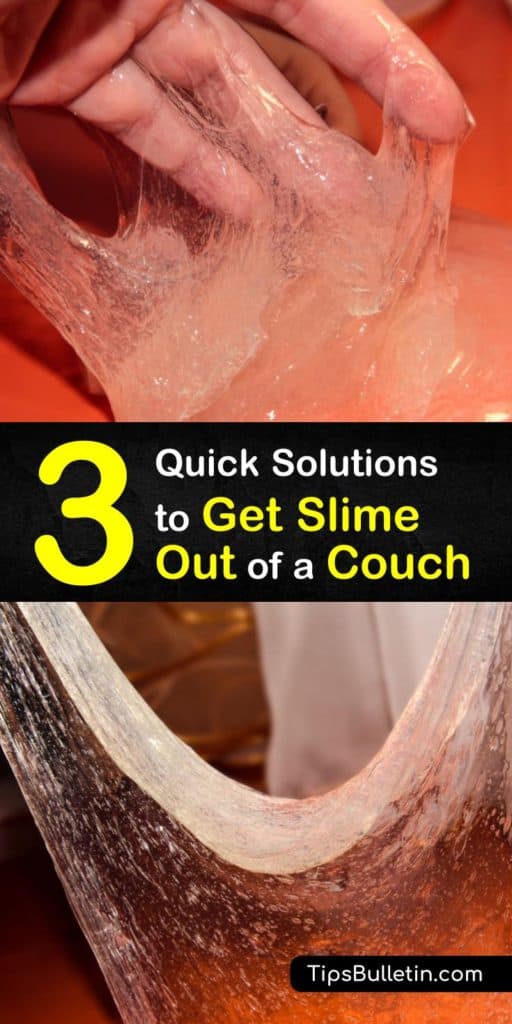 If learning how to remove slime from a couch helped you deal with messy projects with your children, please share these slime removal tips on Facebook and Pinterest.