If your shower has sliding glass doors, you undoubtedly deal with an unsightly white film that results from soap scum, water deposits, and grime. While a glass shower door is a beautiful addition to the bathroom, it is also a pain to maintain, especially if you use the wrong cleaning products and methods. Find out how to remove soap scum from a shower door using simple and effective techniques.
As much as we'd love to avoid cleaning the shower, this task is necessary to ensure the bathroom is free of germs and bacteria. The longer you put it off, the worse the bathroom surfaces get until eventually, it's an all-day job.
Water often contains calcium and magnesium that build up on the surface of the bathtub, shower walls, shower door, and shower glass, and these minerals are magnets for soap scum.
Soap scum buildup and hard water spots are some of the most challenging stains to clean. However, it's easy to clean glass shower doors if you use the proper cleaners for the task at hand.
In addition, there are many common and inexpensive items around your home that break up these stubborn stains for quick cleaning and a brilliant shine.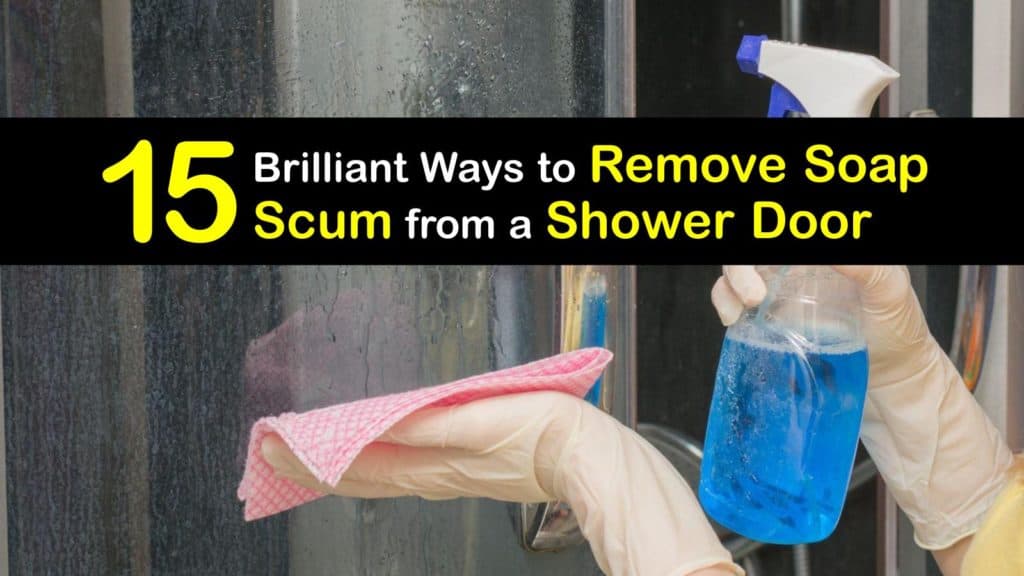 Cleaning Soap Scum Off Shower Doors
Cleaning shower doors is probably last on the list of things we look forward to since soap residue is slimy and disgusting, and water spots seem impossible to remove. Fortunately, we discovered many simple methods to clean soap scum from a glass shower enclosure to keep the bathroom in tip-top shape.
Although you can take care of cleaning glass shower doors with rubbing alcohol, here are some other excellent recipes that only require basic ingredients.
Clean Soap Scum Off Glass Shower Doors with White Vinegar
White vinegar is a natural liquid you probably have in your kitchen. While we often use vinegar for cooking and pickling, it's one of the simplest solutions to clean soap scum off glass shower doors since its acidity helps break down the filmy surface. It's also great for removing a hard water stain leftover from mineral deposits.
For a simple way to remove hard water stains from glass, pour distilled white vinegar into a bottle sprayer and work in sections by spraying the liquid on the shower door. A good cleaning tip is to add a few drops of tea tree oil to the vinegar.
This oil has antibacterial qualities that help kill germs on the surface as you clean. Let this DIY shower glass cleaner sit for a minute or so as the vinegar loosens the scum, and wipe the section clean with a sponge. Continue cleaning each area until the whole shower door is complete, rinse it with clean water, and dry it with a towel.
Get Soap Scum Off Shower Doors using Baking Soda
Baking soda is an ingredient you use for baking and removing foul odors, but it also has many other purposes due to its alkalinity and abrasive action. Here is how to get soap scum off shower doors with the scrubbing effect of baking soda.
Add warm water and baking soda to a container to make enough paste to clean your shower door. Rub the mixture over the soapy areas with a soft cloth and let it sit for about 15 minutes.
Rinse the surface with fresh water and dry it with a towel to prevent mildew growth. If this doesn't get the surface clean, reapply the paste and scrub it gently with a cloth before rinsing it away.
Here is How to Remove Soap Scum from a Shower Door with Dish Soap
While dish soap alone doesn't always remove stubborn soap scum, combining it with distilled white vinegar creates a strong cleaner. Learn how to make a homemade cleaning spray with these two ingredients to remove soap scum from glass shower doors.
Combine the warm water, white vinegar, and liquid dish soap in a large spray bottle and shake it gently to mix without creating too many suds. Spray the cleaner on the door and let it sit for 20-minutes as it softens the grime.
Use a soft brush or old toothbrush to scrub the surface and rinse the glass with hot water. Once all the residue is gone, dry the door with a soft towel.
Cleaning a Shower Door with Baking Soda and Vinegar
Baking soda and white vinegar alone are great for many purposes. Combining them creates a foaming action that removes many tough stains, including soap scum and water deposits. Here is how to clean soap scum off glass shower doors by mixing vinegar and baking soda into a cleansing paste.
Mix the vinegar and baking soda in a container to form a paste, and apply the mixture to the scummy areas on the door with a sponge. Let it sit for fifteen minutes or more, and then rinse the surface with hot water. If the stain persists, repeat the steps. Otherwise, dry the door with a soft towel to remove all moisture.
Removing Soap Scum Off Shower Doors with Borax
A good way to get soap scum off shower doors if you prefer to use a commercial product is Borax. This powdery white mineral salt gently scours away grime, including soap residue. It's also a natural soap scum remover, and there is no worry about filling your home with chemicals.
Pour Borax into a container and add warm water and detergent. Mix the ingredients and use a soft brush to apply the cleaner over the surface of the shower door. Scrub the stains with circular motions until the door is clean, rinse it with warm water, and dry the surface with a towel.
Combining Baking Soda and Borax to Clean a Shower Door
Baking soda and Borax are naturally occurring powders that are alkaline with mild scouring abilities. Combining them creates an excellent cleanser for removing soap scum from a shower door.
Combine equal portions of Borax and baking soda into a container and add just enough warm water to create a paste. Use a sponge to apply the cleanser to the filthy areas of the shower door, working in circles.
Let it rest for about fifteen minutes to soften the grime and wipe the surface clean with a wet sponge. Rinse the door thoroughly with water after the surface is clean, and dry it with a towel to prevent mold growth.
Using Citric Acid to Clean Soap Scum Off a Shower Door
Citric acid helps break down soap scum for easy cleaning, and it is naturally available in citrus fruits. It is most concentrated in lemons, and using lemon juice to wash your shower doors dissolves away the soap scum and leaves the glass with a clean finish.
Pour a cup of warm water into a spray bottle and add the juice of three lemons. Shake the container to combine the two liquids and spray it over the glass shower door.
Let it rest for five minutes, use a microfiber cloth to wipe away the residue, and repeat the steps if any of the scum remains. Rinse the shower door with warm water and dry it well with a soft towel.
How to Use Baking Soda and Lemon Juice to Clean Shower Doors
If lemon juice alone doesn't get your shower doors clean, try combining the juice with baking soda. The citric acid loosens the scum from the surface, and the baking soda scrubs it away.
Shake a decent amount of baking soda on the cut side of a lemon and use it like a sponge to gently scrub the dirty areas of the shower door. Reapply baking soda as needed and rinse the surface clean with water once the stains are gone. Make sure to dry the door completely to give it a clean shine.
Using Salty Lemons to Remove Soap Scum from Shower Doors
Another way to use the power of lemons to clean shower doors is to combine their juice with table salt. This method is extra effective due to the abrasive quality of the salt, and the two components work together to remove a tough soap scum stain.
Squeeze or pour some lemon juice into a container and add just enough salt to form a paste. Use an old toothbrush to spread the cleaner over the stained surface of your shower door and let it sit for about five minutes before gently scrubbing away the grime. Once the stains are gone, rinse the surface with warm water and dry it with a towel.
How to Clean Your Shower Door with Ammonia
While we avoid using ammonia to clean because it has a powerful odor, there are times when it is necessary. Here is how to clean a shower door track and door using ammonia safely.
Before cleaning your shower with ammonia, open nearby windows and turn on the bathroom fan to ventilate the space, and put on rubber gloves to protect your hands from irritation. If you do not have a fan or window, consider using a different cleaning method for safety purposes.
Pour warm water and ammonia into a large spray bottle and shake it to mix. Spray the cleaning solution over the affected area and let it sit for ten minutes while it does its job.
Scrub the door surface in circles with a soft brush to remove the stain. Finish by rinsing the door with water and drying the door thoroughly with a towel.
Using a Dryer Sheet to Remove Soap Scum from Shower Doors
It's unnecessary to scrub the entire shower door if you only have a small soap scum stain. All you need to clean a small area of the door is a sheet of fabric softener and a little bit of warm water.
Get the dryer sheet slightly wet with warm water and rub it over the affected area in a circular motion to remove the soap scum. After the scum is gone, rinse the spot with clean water and dry it with a towel.
Clean Soap Scum Off a Shower Door with Glass Cleaner
The best way to clean a glass shower door is to use a commercial glass cleaner. Many cleaners contain acetic acid, which breaks up the scum layer on the glass for quick cleaning, leaving a streak-free shine.
Start at the top of the glass shower door and spray the glass cleaner over the surface from one side to the other. Use an absorbent cloth or towel to wipe away the solution and repeat the steps as you make your way down to the lower section of the door.
Stand back and inspect the glass and respray the cleaner on areas with streaks or leftover stains.
Get Soap Scum Off a Shower Door with Soft Scrub
If you prefer to use a commercial cleaner rather than make your own, Soft Scrub is an all-purpose cleanser that cleans everything from the sink and faucets to the bathtub and shower door. Use this product to get a scum or hard water spot off the door surface.
Apply some Soft Scrub to a damp sponge and wipe the stained area of the shower door with circular motions. Rinse the sponge and apply more cleaner as needed until all the stains are gone. Rinse the door thoroughly with warm water and dry it with a soft towel.
Using a Magic Eraser to Get Soap Scum Off a Shower Door
A Magic Eraser is melamine foam with cleaning agents inside, and this product works wonders for washing many surfaces. It is mildly abrasive with its tiny pores and is an excellent tool for cleaning away small or large areas of soap scum on the shower door.
Start by wetting the Magic Eraser to activate the micro-scrubbers. Squeeze out the excess water and wipe the eraser firmly across the dirty surface. If the entire door is filthy, begin at the top and work your way down to the bottom.
This tool is also great for cleaning hard-to-reach areas, like the shower door track. Once all the soap scum is gone, rinse the door with warm water and dry it from top to bottom with an absorbent towel.
Ways to Prevent Soap Scum on Shower Doors
Cleaning a bathtub and shower is a tedious task that we all wish to avoid. While this job is necessary, it doesn't have to be done as often as you think if you take steps to prevent soap scum and grime from building up on the shower door surface.
Here are some handy tips to help keep your shower clean in-between bathroom cleaning.
The ideal way to prevent soap scum is to ensure that you don't have hard water since the scum thrives on this water type. Consider installing a water softener to remove minerals that react with soap.
Bar soap contains talc and fatty acids, resulting in soap scum. Try using a liquid body soap instead of bars to lessen the degree of scum on your shower door. Keep a squeegee or spare towel handy in the bathroom and use them to dry the shower after each use.
Finally, install an automatic cleaner or use a daily shower cleaning product on the inside of the door after you shower to prevent the accumulation of grime and soap scum.
Cleaning a scummy shower curtain, shower screen, or shower door is not something we get excited about. However, nobody looks forward to showering in a filthy bathroom either. Fortunately, applying a little bit of elbow grease and using the proper cleaner gets the job done in little to no time at all.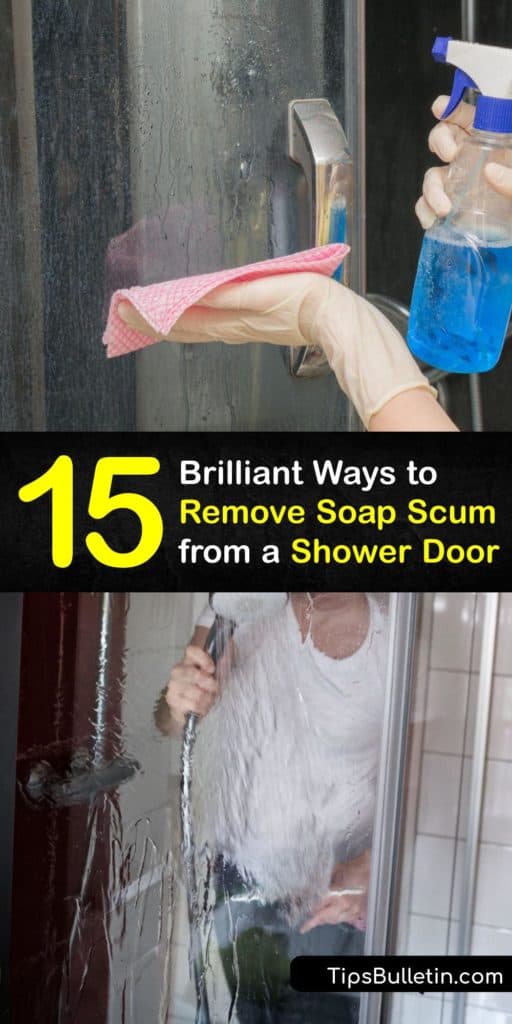 We hope that learning how to remove soap scum from a shower door means that you get to spend less time cleaning the bathroom, and we'd love it if you'd share our shower door soap scum cleaning methods with your family and friends on Pinterest and Facebook.