A shower door is more practical than a shower curtain, adding structure and elegance to the bathroom. However, you probably notice over time that your glass shower door no longer sparkles; instead, it has a thin coating of soap residue, grime, and water stains. Learn how to remove soap scum from glass with everyday cleaners and a little elbow grease.
Bathroom surfaces are hard to keep clean, accumulating water spots from hard water and other stains, and a soap scum stain is the worst. It seems like no matter how long you scrub it, you can't seem to remove all the slimy residue, and you end up with a larger mess than when you started.
While the last thing you want to do on your day off is clean glass shower doors to remove soap scum buildup, it's essential since the longer you wait, the more challenging it is to clean. Fortunately, the right cleaning product keeps the shower glass looking new.
Ways I Get Soap Scum off Glass
Learn ways to clean shower doors and other glass surfaces to remove stubborn soapy residue. In addition, find tips for using commercial products effectively, learn how to make your own soap scum cleaners with simple ingredients, and ways to prevent scum residue from building on the shower door.
Commercial Products I Use to Clean Soap Scum
Various commercial glass cleaners and all-purpose cleaners are on the market if you don't have the patience to make a homemade scum remover. Explore how to clean soap scum off glass with a traditional cleaner.
Spray the cleaner liberally over the scummy surface and let it sit for about a minute. Use paper towels to scrub the soap film away, discard used papers as needed, and spray the area once more. Finish by using a soft, clean cloth to wipe the glass from top to bottom to remove streaks.
How I Remove Soapy Scum from Glass Quickly
If you need to clean a small area of soap scum and don't have time to clean the entire shower door, consider using a Magic Eraser or dryer sheet. Use either of these items to scrub away soapy residue.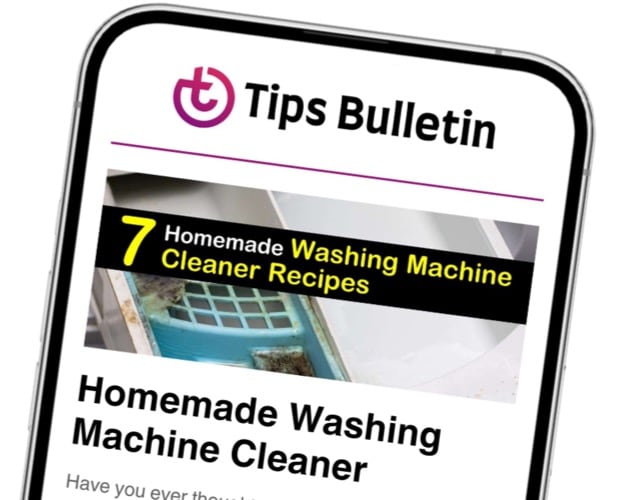 Finally, an email that Transforms Your Home.
Get the latest home and garden tips from our experts, delivered straight to your inbox.
Dampen the corner of a Magic Eraser or moisten a dryer sheet and scrub the soapy area with a small, circular motion. Rinse with water and repeat if needed until the soap is gone.
Vinegar and Dish Soap Get Soap Scum off My Glass
One of the best ways to get soap scum off glass is to combine vinegar and dish soap. As far a home remedies for soap scum go, these ingredients work together to remove a hard water spot and loosen scummy surfaces, leaving a streak-free shine.
Pour a cup of distilled vinegar into a pot and bring it to a boil. Combine the hot vinegar and liquid soap in a spray bottle and shake it gently without creating too many suds.
Spray the cleaner over the soap scum and let it sit for half an hour before scrubbing the filth away with a microfiber cloth. If your shower door is extra dirty, let the vinegar solution sit overnight, use a scrubbing brush to clean it, and rinse it thoroughly with water.
Removing My Soap Scum with Baking Soda
To remove a tough soap scum stain or a hard water stain, try using the power of sodium bicarbonate and vinegar. The two create a bubbling action for easy cleaning. Find out how to clean soap scum off glass with baking soda and white vinegar.
Shake baking soda into a container and add the white vinegar. When using a glass cleaner recipe with vinegar and baking soda, stir to form a paste, dip a sponge into the mixture, and apply it to the dirty glass to eliminate shower grime. Let it sit for about 15 minutes and scrub it off with the sponge.
Let the paste sit longer to loosen hard water buildup if you're trying to remove hard water stains. Use to get stubborn stains off of a shower glass door. Once the glass is clean, rinse it thoroughly with warm water.
Toilet Bowl Cleaner Will Remove Soap Scum from My Glass

Surfaces

Our favorite cleaning tip for removing soap from glass is toilet bowl cleaner. While you may think it strange to use a cleaner meant for the toilet on glass surfaces, it's an effective cleaner and a great substitute when you run out of glass cleaner.

Turn on the ceiling fan or open a window to ventilate the room, and wear rubber gloves. To get soap scum off glass, wet a sponge with hot water and add a small amount of toilet bowl cleaner.

Wipe the glass door with a sweeping back and forth motion over the scummy area. Use a bit of elbow grease to remove the dirt and rinse away the residue with water.
Salt and Lemons Clean Up My Soap Scum
Combining lemon juice and salt is an ideal way to remove soap scum if your shower door has a metal frame or if you are removing sticky residue from glass. Use this mildly abrasive, acidic cleanser to remove water spots, scum, and rust stains from all the hard-to-reach areas of the shower.
Form a cleaning paste by mixing the lemon juice and salt in a small bowl. Dip an old toothbrush into the mixture and scrub it on the shower door frame. Let the paste rest for five minutes and rinse with warm water. Don't forget to get in all the corners and edges of the door where soap scum accumulates.
Cleaning Soap Scum from My Glass With a Squeegee
Your car's windshield is not the only place to use a squeegee. These tools are excellent for cleaning the windows, glass, and shower doors in your home, quickly removing scum and dirt from the surface.
Spray the soap scum with your cleaner of choice and let it sit for a couple of minutes as it loosens the grime. Use a scrub brush to scrub tough stains, work the cleaner over the entire surface, and rinse the glass with water.
Position your squeegee at the top right corner of the wall or glass and slide it across to the opposite side. Then, drag it down to the next section and back across to the other side. Repeat until you reach the bottom.
Ways I Prevent Soap Scum on Glass Surfaces
Soap residue builds up over time, whether from bar soap or shampoo. It's not only unsightly, but it takes time and effort to remove. We put together some tips for keeping glass surfaces scum-free.
Soap residue results from organic animal fat in bar soap, and switching to a body wash decreases the amount of scum that accumulates on the glass. If you don't like the idea of using a synthetic wash, consider using fat-free shampoo and soap instead.
Keep a squeegee in the bathroom cleaning cabinet and use it to remove soap from the walls and shower door glass after each shower. While this adds another chore to your daily routine, the result is worth the trouble.
Keep a secondary towel handy to wipe glass surfaces, and leave the fan on or open your bathroom window for half an hour after showering to stop the growth of mildew and mold. Soap scum loves hard water – installing a water softener removes the water minerals that react with soap to create scum.
Apply baby oil or white vinegar to a scrubbing brush and use it to clean the glass and walls once a week. Follow up by rinsing the entire surface, or consider installing an automatic cleaner to do the work.
It's nearly impossible to prevent soap residue from building up on the shower screen and glass. Luckily, there are easy ways to clean soap scum off a glass shower door, shower wall, and other hard surfaces using household items like vinegar, lemons, and baking soda.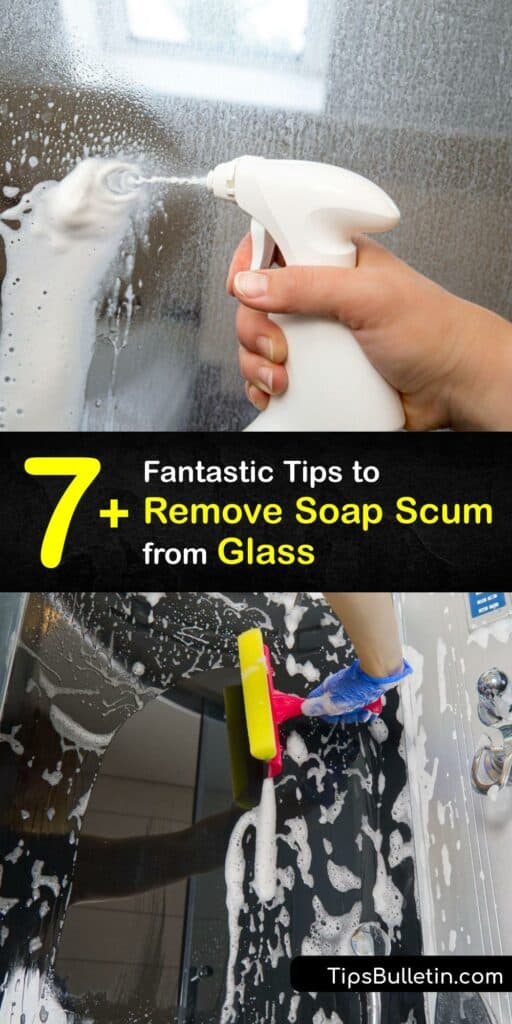 We hope learning how to remove soap scum from glass keeps the glass surfaces in your home sparkling and streak-free, and we'd love it if you'd share our soap scum glass cleaners with family members and friends on Pinterest and Facebook.