Removing soap scum from tiles may seem daunting, but it's actually quite straightforward and cost-efficient.
To effectively and economically remove soap scum from your bathroom tiles, follow these steps:
Start by mixing equal parts of distilled white vinegar and water in a spray bottle.
Spray the solution directly onto the soap scum-stained tiles.
Wait for a few minutes to allow the vinegar mixture to penetrate the scum.
Scrub the area gently with a soft brush or a microfiber cloth.
Rinse the tiles with clean water and dry them with a soft cloth to prevent water spots.
Now, let's break down the process:
Firstly, I grab a spray bottle and create my own cleaning solution by mixing distilled white vinegar with water. This mixture is super effective at cutting through soap scum, and it's incredibly cheap to make. Plus, I always have vinegar around the house, so it's convenient.
Next, I spray the affected area with the vinegar solution. I make sure to cover all the soap scum spots. I leave it on for a few minutes because this gives the vinegar time to work its magic. It softens the scum, making it easier for me to wipe away.
After waiting, I take a soft brush or a microfiber cloth and gently scrub the tiles. I prefer using a microfiber cloth because it's gentle on the tiles and does an amazing job of lifting away dirt and residue.
Once I've scrubbed the surface, I rinse the tiles with clean water. If I skip this step, the vinegar might leave an unpleasant smell or even minor streaks, so I ensure that every last bit of the solution is washed away.
Finally, I take a soft cloth and dry the tiles. This step prevents new water spots from forming and gives the tiles a nice, polished look. Plus, it's satisfying to see how clean and shiny the tiles are when they're dry!
Using these steps, I can easily keep my bathroom tiles free of soap scum without spending too much time, effort, or money.
Soap residue loves to collect on the ceramic tile on the shower wall, a glass shower door, a marble shower, or even a shower curtain. Soap scum makes bathroom surfaces look filmy or unclean and poses a health hazard. Learning how to remove soap scum from tiles and other bathroom surfaces ensures you always have clean shower tiles and walls.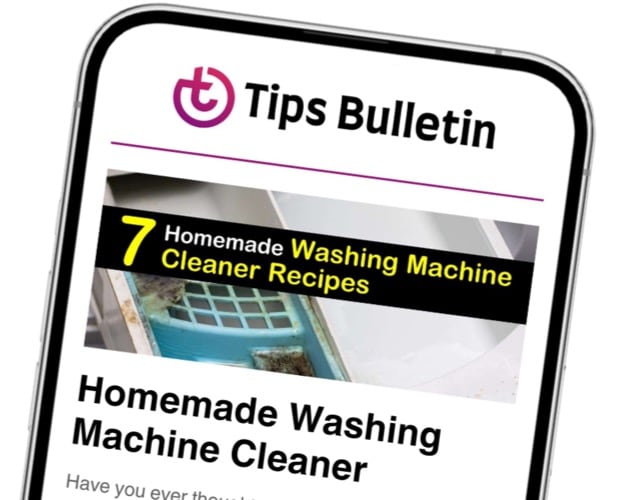 Finally, an email that Transforms Your Home.
Get the latest home and garden tips from our experts, delivered straight to your inbox.
Learn the best methods to clean soap scum from tile and grout quickly and efficiently to keep your bathroom tile looking its best. From soap residue to hard water spots, unwanted stains are ugly and irritating. Thankfully, it's simple to get soap scum off shower tiles.
When cleaning your shower, always test any products in a small area to ensure no damage to the grout, tiles, or glass. A soft cloth dampened with a suitable cleaner like liquid soap or a natural cleaning solution with baking soda or lemon juice protects your tiles and glass from scratches while providing excellent results.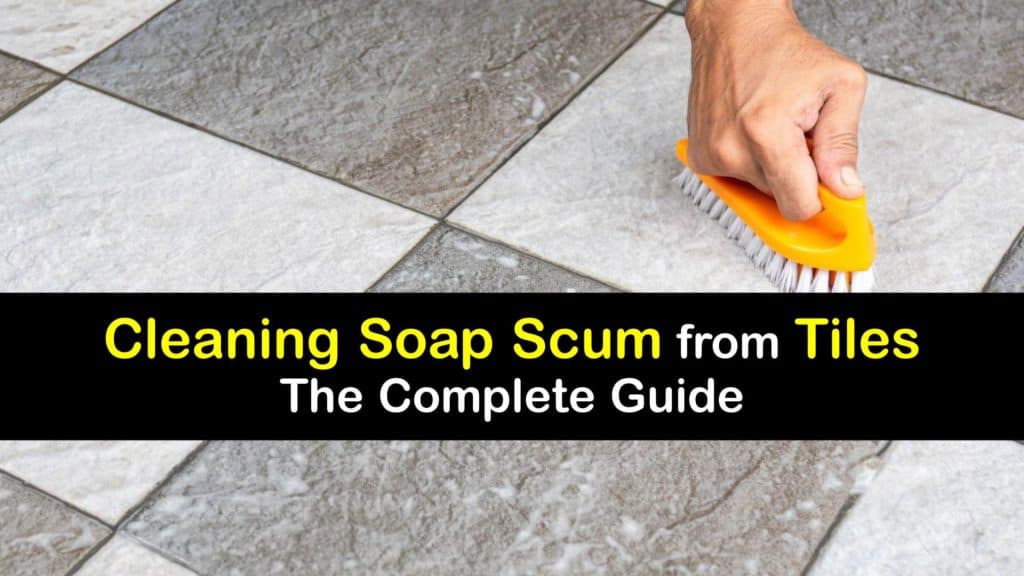 Easy Ideas to Clean Soap Scum from Tile and Grout
Soap scum and filmy deposits are unappealing and unsanitary. Thankfully, once you know how to remove soap scum from tiles, it's straightforward to clean soap scum from tile and grout and keep your shower clean and hygienic.
Whether you prefer a natural method, home remedies, or would like to purchase a commercial cleaner, we cover everything you need to know when you must get soap scum off shower tiles. Remove soap scum, mildew stains, or any stubborn stain from tiles using home remedies prepared from ingredients you probably already have.
Distilled White Vinegar is a Great Soap Scum Remover
Almost everyone keeps distilled white vinegar in the pantry because it is inexpensive, easy to find, and has many uses. Clean stains from bar soap or hard water from your bathroom tiles with a soft microfiber cloth dipped in vinegar.
If the buildup is persistent, try boiling the vinegar first, but use caution while working with hot liquid. Scrub the vinegar into the tiles and grout using a scrub brush or grout brush, and rinse with clean water. The vinegar cuts through tough soap scum for a clean, gleaming finish.
Despite its many cleaning uses, distilled white vinegar should not be used on a marble shower wall or shower glass when there is a marble or stone floor. White vinegar's acidic qualities may harm the stone. Furthermore, never combine white vinegar with chlorine bleach since this mixture produces poisonous vapors harmful to your health.
Try Baking Soda to Clean Soap Scum from Shower Tile
Baking soda is famous for its ability to clean various surfaces and use in baking and cooking. To clean shower tile by making a DIY soap scum cleaner, use about half a cup of baking soda and mix it with just enough water to make a paste. A thick paste is an excellent consistency to keep it from dripping.
Apply and allow the mixture to sit for 15-20 minutes while baking soda works as a soap scum remover. Wipe your shower wall with a microfiber cloth after rinsing thoroughly with water.
Mix the baking soda with hydrogen peroxide instead of water for highly stubborn stains. The peroxide reacts with the baking soda so the paste foams on the wall and lifts tough debris.
How to Remove Soap Scum from Tiles with a Magic Eraser
When you don't have a cleaning fluid on hand, a Magic Eraser and a little elbow grease remove soap scum from tile and grout showers. Immerse your Magic Eraser in warm water for a few minutes. Start at a corner of your shower wall to release the buildup and scrub the tiles and grout in a circular motion.
Rinse your bathroom surface clean after using the Magic Eraser to loosen the debris, then dry with a soft cloth. This method is perfect for small stains or minor areas of hard water residue and eliminates the need for harsh chemicals. When you don't have a Magic Eraser, a pumice stone works similarly when used with extra care to ensure no scuffing or scratching to the tiles or grout.
Get Soap Scum Off Shower Tiles using Chlorine Bleach
Chlorine bleach, a sodium hypochlorite water solution, is a powerful oxidizing chemical that is dangerous if not used correctly. When you know how to use it properly and safely, it is a terrific household cleaner for sanitizing many surfaces and will clean mildew from grout and tiles with ease.
Ensure you follow the label's instructions, wear rubber gloves to avoid skin contact and eye protection, and keep children and animals out of the room while using chlorine bleach.
Tile grout is infamous for becoming dirty, and soap scum, limescale, and mold often make a bathroom appear more soiled. In a spray bottle, combine equal parts chlorine bleach and water and spray the grout or mix the solution in a bowl or the sink and apply it to the grout using a sponge.
Allow 15 minutes for the diluted chlorine bleach to work, then scrub with a stiff brush or an old toothbrush. Only use chlorine bleach if your tiles and grout are white, as the bleach whitens them, which is undesirable if your tile grout and tiles are dark.
With a bit of chlorine bleach, get rid of mold and mildew on your shower curtains. Toss your curtains in the washing machine with your regular detergent and 1/2 cup of chlorine bleach and wash on a warm cycle. Allow your shower curtains to air dry before rehanging.
Commercial Cleaners Eliminate Soap Scum Buildup
Once you've decided to remove soap scum from your shower wall and other bathroom surfaces, selecting the best cleaner is important. Commercial cleaning solutions come in various forms, from liquid to gel or foam.
Each cleanser has unique features ideal for specific problems like hard water stains, a filthy shower screen, or tenacious soap scum. Choose a cleaner based on the ingredients and the nature of your issues, and always use commercial products according to the manufacturer's guidelines to ensure optimal results.
DIY Cleaner for Stubborn Soap Scum
Cleaners created from everyday household items are more popular than ever. Try this homemade tile floor cleaner to attack your toughest bathroom stain and harness the power of all the cleaning components listed above.
To make your own bathroom grout cleaner, gently swirl the ingredients in a spray bottle. To get grime out of shower areas, spray filthy bathroom surfaces or floor tiles and allow the solution to stay on the shower tile for ten minutes for a more thorough clean, then rinse with clean water and dry with a microfiber cloth or a dry newspaper to avoid streaks on the glass. Add a teaspoon of Borax to the mixture for even better results on the toughest soap scum and hard water stains.
Try Lemon Juice for Cleaning Tougher Soap Scum
Lemon juice, like white vinegar, has acidic characteristics that make it a perfect solution for removing soap scum and hard water stains. One of the significant advantages of washing your shower walls with lemon juice is the delightful lemon aroma. Lemon juice is a natural option – it's safe and nontoxic while being practical and it's the best way to remove soap scum from a fiberglass tub and shower.
Juice three lemons in a spray canister, add one cup of water and mix thoroughly. Spray your shower wall, shower curtain, and any surfaces with water stains or soap scum with the lemon juice combination. Allow five minutes for the lemon juice to operate as a soap scum remover on the tiles.
Wipe away the gunk and dry the glass with a microfiber towel. If you want a more aggressive clean, add salt to your lemon juice solution to help gently break down stubborn deposits.
A dirty bathroom makes a poor impression on guests and is unclean and unsafe for your family's health. Whether it's stubborn soap scum, hard water deposits, or mildew buildup, keeping your bathroom clean is imperative. Understanding how to remove soap scum from tiles makes a challenging chore easy.
When selecting a method to clean soap scum from tile and grout, consider how much time you have available, what supplies and products you have at your disposal, and personal preferences for natural or nontoxic cleaners.
It's difficult to get soap scum off shower tiles when the residue has been sitting for a long time. If your first attempts don't completely clear the stains, rinse your shower wall and repeat the process, or try another approach.
Work carefully and check periodically for any discoloration, fading or wear on your ceramic tile or marble shower walls. With some knowledge and some elbow grease, your shower wall will be clean in no time using items you already have on hand.
If you loved this article on how to remove soap scum from tiles, please share these fantastic tips on how to clean soap scum from tile and grout with your family and friends on Pinterest and Facebook.