Some things are unavoidable in our homes, and soap scum is one of the worst. Soap scum leaves behind a gray, filmy layer on bathroom and kitchen surfaces that feels almost impossible to remove. Learning how to remove soap scum efficiently is the first step in the cleaning process.
Getting rid of soap scum on your shower curtain, bathtub, glass shower door, sink, faucet, tiling, and other kitchen and bathroom surfaces is essential. Soap scum buildup is often accompanied by other hard-to-remove substances like hard water stains and limescale.
When you use the right tools, these rigid, nasty films become a breeze to remove. Some are even powerful enough to clean years of soap scum off in a matter of minutes. Scroll through our extensive list of some of the best homemade soap scum removers that work even better than your favorite cleaning product.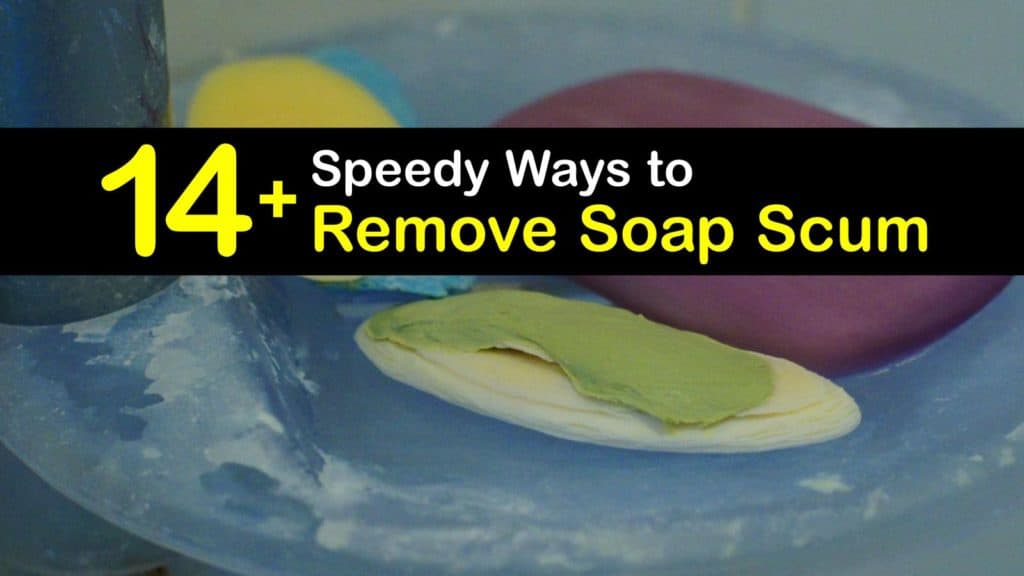 Clean Soap Scum Off Your Shower Wall
If you have ever tried to clean soap scum off glass, you know that it takes a lot of elbow grease to remove it all. What is soap scum, and how did it get there in the first place?
Soap scum forms into a solid substance when soap mixes with hard water because there are many calcium and magnesium particles inside the water. When they combine with the soap, it forms a hardened material that sticks to every surface it touches.
Over time, the scum builds up to the point that it becomes challenging to remove. Stubborn soap scum may even combine with different mildews and molds if they sit too long. Sometimes, it ends up as hard as concrete. That is why it is so important to get rid of soap scum sooner rather than later.
There are both long-term and short-term cleaning solutions for you to discover on your journey to find the best way to remove soap scum from glass shower doors and other areas of the bathroom.
Cleaning sooner and more frequently means you won't have to clean years of soap scum off every bathroom surface in the house. However, there are situations where the build-up gets out of control, and you have to use more potent ingredients. Keep reading to learn precisely how to remove soap scum and prevent it from forming in the future.
How to Remove Soap Scum
Trying to clean soap scum can be a painstaking process. It often takes quite a bit of hard scrubbing to make your shower glass look new again. The trick to getting rid of soap scum and water spots is using powerful ingredients that won't break the bank.
Using Distilled White Vinegar to Get Rid of Soap Scum
Vinegar is your best friend to get soap scum off shower tiles because the acid breaks down tough substances in a matter of minutes. It works for a shower screen because it leaves your glass shiny and streak-free and it will remove soap scum and hard water stains from a plastic bathtub as well.
Dip a clean sponge in a small bowl of distilled white vinegar. Rub the damp sponge all over your glass or other bathroom surfaces and allow it to sit for five minutes. For especially hard stains, use boiling vinegar instead to clean soap scum off shower walls and the door.
After the vinegar sits for five minutes, rinse it away with warm water and dry the surface with a microfiber cloth. Be aware that the vinegar may smell for a day or two but will disappear in a short time.
Using Tea Tree Oil to Remove Soap Scum
Tea tree oil is a natural antibacterial solution and excellent to mix into your white vinegar. Add some regular white vinegar to a spray bottle and pour in a few drops of the oil.
Spray your bathroom surfaces and let them sit for five minutes before rinsing and wiping them dry. The tea tree oil does a decent job at covering the vinegar smell as well.
Dish Soap as a Cleaning Agent
Don't underestimate what good, grease-fighting dish soap is capable of, especially when you combine it with other powerful components. Putting liquid soap and vinegar together is a match made in heaven for cleaning routines. Do not use bar soap, as it may contribute to more soap scum and leave behind residue.
To make this DIY shower soap scum remover, pour equal parts grease-fighting liquid dish soap and white vinegar in a spray bottle and mix them well. Spray your bathroom or kitchen surfaces with the soapy vinegar, and then allow it to sit for 20 to 30 minutes. Rinse the solution with clean water before drying it with a soft cloth.
Another Miraculous Product for Cleaning Soap Scum
Baking soda is another fantastic tool that cleaners use in all rooms of the house. When you combine two powerhouse elements, you're left with an amazing soap scum remover.
For this natural tub cleaner recipe, stir the vinegar and baking soda powder in an old bowl or bucket. Once it resembles a paste, use a damp sponge to apply it to your shower door, floor, or tub. After it sits for 15 minutes, rinse the door and wipe it dry with paper towels.
Vinegar and baking soda will also eliminate odor from shower drain and bathtub if you pour them inside.
A Simple Baking Soda Solution
It's alright if you don't have vinegar on hand. You can also make a quick cleaning paste out of just baking soda and water. If the soap scum doesn't come off, apply more of the paste and scrub the area with a soft bristle brush.
Using Borax to Clean a Bathroom
Borax is also called sodium tetraborate and is a powdery mineral that has been used for cleaning for decades. Mix an equal amount of Borax and baking soda. Slowly add water to the powders until it turns into a paste.
Grab an old rag and dip it in the paste before scrubbing it over the dirty areas of your home. You may need to use a soft bristle brush if there is a tough stain you're trying to remove. Remember to rinse and dry all surfaces once the scum disintegrates.
A Secret Weapon for Removing Soap Scum
Trying to clean years of soap scum off of an acrylic tub or tiled shower can be brutal. Our favorite cleaning tip is to turn a leftover lemon into a type of scrub brush. The acid in the lemon juice works similarly to white vinegar, and it becomes even more potent with something abrasive.
Cut a fresh, large lemon in half and dip the cut end into a pile of baking soda. Rub the cut end over your shower, using it the same way you would a scrub brush or pumice stone until all soap scum is gone. If you don't have baking soda, use table salt in its place.
Other Ways to Clean with Lemon Juice
It is possible to use lemon juice on its own as long as you dilute it a little. For example, add the juice of three lemons to a bottle with one cup of water and use it as you would any other cleaning product you have in the house.
Magic Erasers
Those who haven't used a Magic Eraser before haven't experienced just how magical they truly can be on some harder-to-clean spots on the house. Magic Erasers are the perfect product for light soap scum stains. However, they might not be the best if the grime has been piling up for an extended period.
Using Ammonia in the Bathroom
Be careful when working with ammonia, as it is a potent chemical that could be toxic if you mix it with the wrong thing. Never mix ammonia and bleach because it creates a gas that could be deadly.
Whenever you use ammonia to get rid of soap scum or other cleaning projects, ensure that you are working in a well-ventilated room and wearing long sleeves, rubber gloves, and a mask to protect yourself.
Pour one part ammonia and three parts water into a bucket or spray bottle. Apply the solution to the affected area and let it sit for five to ten minutes. Scrub the wet surface with an old toothbrush or soft bristle brush to loosen the soap scum. Rinse the ammonia down the drain and dry everything with a clean microfiber cloth.
Cleaning Small Areas of Soap Scum
While you may not have an entire tub to clean, there could be a few minor spots with soap scum. For smaller areas, clean bathtub grime by soaking a dryer sheet in some warm water and use it to clean your glass shower screen or faucets. Rub the dryer sheet in circular motions for the best results.
Toilet Bowl Cleaner
Did you know that toilet bowl cleaner is ideal for removing soap scum and hard water stains? While it isn't designed for the shower, it's great for people who don't have many other cleaning products on hand.
Apply a small amount of your preferred toilet bowl cleaner to a wet sponge and scrub at the soap scum. You may need to let the toilet cleaner sit for five minutes before scrubbing once more and then rinsing it. Don't forget to dry the area well to ensure no excess cleaner is left behind.
Commercial Glass Cleaners
It may seem a little obvious, but glass cleaner does a pretty good job on newer soap scum spots. Try to choose a product containing alcohol because it helps stop any ugly stripes from showing up on your glass surfaces once they dry.
If possible, research some non-toxic options to avoid allergies or damaging your skin. Always use protective gear and work in a well-ventilated space when cleaning with chemicals.
Pumice Stones
If you have a porcelain tub, you sometimes have to use a bit more elbow grease. A wet pumice stone can be your best option to fight some of the more challenging areas in the tub. Be careful not to scrub too hard so you don't scratch the porcelain. Instead, start gently and adjust your pressure as you work.
Once the soap scum gets transferred to the pumice stone, go behind it with a soft bristle brush to remove any excess. You might have to complete this process several times until all traces of the soap scum are gone.
If this doesn't work, try to carefully scrape it off with a razor. Avoid using these hardier cleaning methods on a fiberglass or acrylic tub or shower.
Tips for Preventing Soap Scum
As with most chores around the house, prevention is worth every ounce of effort. A little bit of work now can save you hours of work in the future. What are a few of the best ways to prevent soap scum from forming?
To start, try to switch to liquid soap instead of bar soap. Bar soap contains fatty acids and talc that contribute to the formation of soap scum.
Another way to prevent soap scum is by keeping your tub, shower, and sinks dry when not in use. Whenever you finish with that area, squeegee or towel dry them after each use. Drying these spots keeps most particles off your bathroom surfaces.
If you haven't already, look into softening your water. Soap scum forms primarily because of the particles in hard water. You may need to install a water softener. If you don't have the funds, try adding Epsom salts to your bath water to soften it. As a bonus, these salts also soothe your muscles.
Have you ever been in a guest bathroom and noticed that people keep cleaning products inside the shower? That is because a daily shower cleaner is your best form of prevention. Only hard-to-reach areas are likely to get dirty if you continue to clean the main area regularly.
While we can't keep every surface of our home clean on a daily basis, there are ways to tackle our messes head-on and get them looking like new again. Even if your bathroom has years of soap scum build-up, there are plenty of cleaning methods to make your bathroom sparkle as if it were brand new.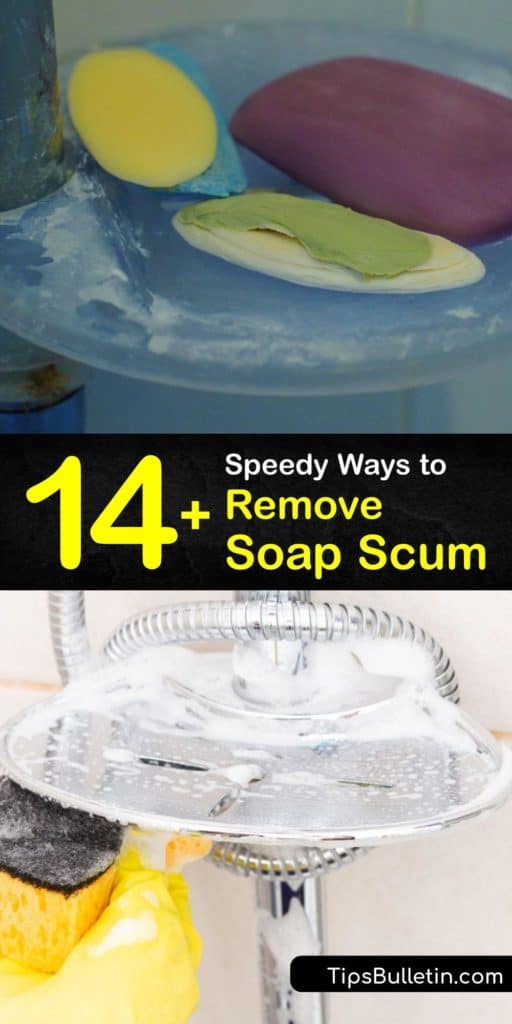 If this article has helped you figure out how to remove soap scum with natural ingredients, share these top tips to get rid of soap scum on Facebook and Pinterest.