Using spray paint to refinish an old chair or cover-up paint chips is an excellent quick-fix solution. Sometimes, as you use spray paint, it gets on unwanted plastic surfaces. Learning how to remove spray paint from plastic is easy with the proper tools.
Fortunately, you can repurpose several everyday household cleaning products in your home into a paint remover. That's right, items like nail polish remover, dish soap, and even vegetable oil serve as an effective paint thinner.
If you want to get spray paint off plastic, consider this article your complete guide for doing so the right way. It is crucial to understand what removes spray paint from plastic, as many paint removal products at the store work great on wood and metal surfaces but cause damage to a plastic surface.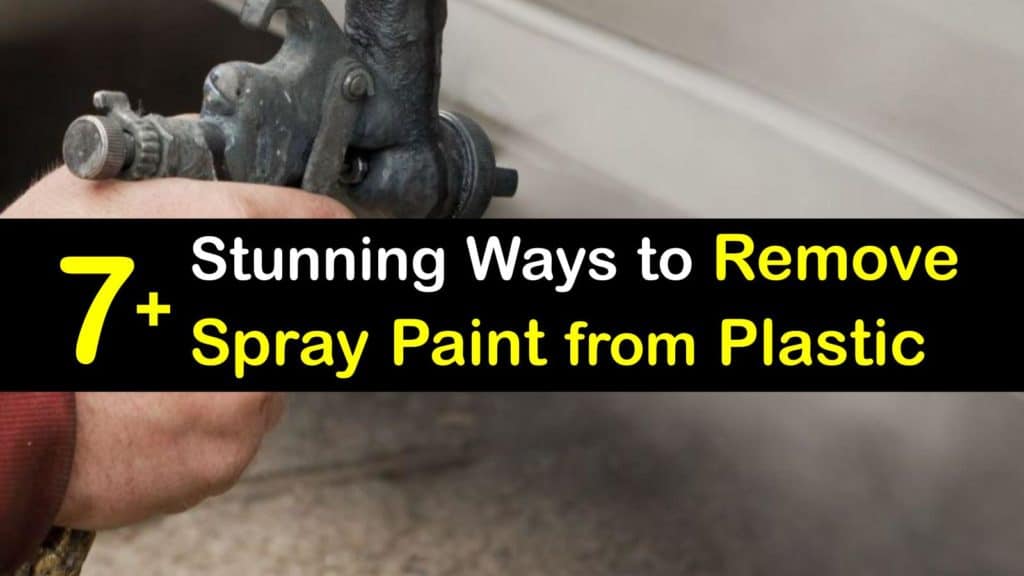 Why are Household Products Good Spray Paint Removers?
To maintain the state of your plastic products, you must utilize the proper tools to clean paint stains. Additionally, make sure to stay away from products that damage plastic surfaces.
There are two main paint varieties that spray paint is available in, including acrylic and latex paint. Acrylic paints have chemical-based ingredients, while latex paints have water-based ingredients.
Typically, latex paint is quicker to remove. No matter what kind of paint your spray paint is, the DIY paint stripper methods we offer work efficiently.
Household products like rubbing alcohol are better on plastic surfaces than store-bought products because of the lack of chemicals.
Excess chemicals cause damage and alterations to plastic surfaces. With the straightforward tips we show you, removing spray paint on plastic is a breeze.
Proper Tools to Scrape off Excess Spray Paint
Compared to metal and wood surfaces, plastic is more sensitive and demands certain tools to protect the surface. Instead of using a paint scraper, use a plastic putty knife or a razor blade to scrape excess paint off the affected area.
Before learning what removes spray paint from plastic, chip away at as much of the dried paint with the scraper of choice. Scrapers are fantastic to clean up a spray paint stain.
After using a paint remover, sometimes paint marks remain on the area. A razor blade or a plastic putty knife is the perfect tool to get the area completely clean. They also work quite well to remove spray paint from windows.
By utilizing a scraper, you do not have to repeat spray paint removal methods a second time. Instead, take a razor blade and get rid of the paint chips.
How to Remove Spray Paint from Plastic with Nail Polish Remover
One of the best ways to clean up a spray painting mishap is with nail polish remover. This cleaning method is inexpensive, easy to find, and does not take very long to implement. Use nail polish remover to clean paint splatters off a ceramic bathtub and shower walls if you have a renovation mishap.
Ensure the nail polish remover you use contains acetone, as it is the main ingredient that thins paint. Acetone liquifies dry paint and makes removal virtually effortless.
Soak a cotton ball, cotton swab, or a piece of paper towel in nail polish remover and rub it on the affected area. As you use nail polish remover, do not be afraid to use a little elbow grease to work the solvent onto the plastic.
When you rub the cotton ball on the stain, the paint begins to loosen. Clean the loosened paint with warm water and a clean rag.
Try this method to get Gorilla Glue off plastic, too. It usually offers excellent results.
Get Spray Paint off Plastic with Vegetable Oil
If you find yourself short on cleaning supplies, consider using a type of oil to loosen up a spray paint stain or to get sticker off plastic. Oils are incredibly effective at loosening up dried paint and sticker adhesive.
Combining oil with a razor blade or plastic putty knife is a quick and easy way of getting paint off concrete or plastic without causing any damage to the surface. There are a few different kinds of oils that remove a spray paint stain on plastic.
Wear rubber gloves to protect your skin to avoid getting any oil on your hands. Pour a little vegetable or olive oil on a small rag and rub it on the affected area.
After completely covering the area with oil, let it sit for five minutes so the paint loosens. To help lift the paint, take an old toothbrush and work the bristles onto the paint stain to break up the paint's bonds.
To finish, wash the area with warm water. With adequate tools, understanding what removes spray paint from plastic is simple.
Learning What Removes Spray Paint from Plastic
For large spray paint stains on plastic surfaces or as a paint remover for vinyl siding, the best way to clean them is with dish soap and warm water.
Dish soap is designed to cut through dirt, grease, and adhesive bonds like paint. Creating a dish soap mixture is also a perfect way to clean off dried paint on a paintbrush.
Pour your dish soap in the bucket first, then add the hot water and essential oils. Essential oils are not necessary for this recipe, although they do add a disinfecting agent and a pleasant scent to the solvent.
Using a sponge, spread the mixture heavily on the affected area. To rinse large spray paint stains, use a pressure washer or a hose to clean up the loosened paint.
Clean Spray Paint Stains with Rubbing Alcohol
Rubbing alcohol is another popular household product that will clean dried spray paint stains, as well as clean a bowling ball. Rubbing alcohol liquefies even the most aged paint stains when used correctly.
For the best results, purchase 91 percent or 99 percent rubbing alcohol. What removes spray paint from plastic quickly? Rubbing alcohol is a terrific solution.
Either dab a cloth with rubbing alcohol, or pour the solvent directly on the area and use an old toothbrush to ensure every part of the paint stain is covered. Then, place a piece of plastic wrap over the area to avoid evaporation.
Let the rubbing alcohol sit on the paint for five minutes before rinsing with warm water. If small pieces of paint remain on the plastic, use a razor blade to scrape them off.
How to Remove Spray Paint using Denatured Alcohol
The cleaning agents in denatured alcohol and rubbing alcohol are very similar. The main difference between the two paint removers is that rubbing alcohol contains all-natural ingredients and usually does not affect the skin.
Denatured alcohol, on the other hand, may irritate your skin, so wear rubber gloves when using the product. Learning how to remove spray paint from plastic with denatured alcohol is straightforward.
Dab the denatured alcohol onto a clean rag and rub it into the paint. To ensure denatured alcohol does not damage your plastic, test it on a small area first. After the denatured alcohol loosens the paint, wipe it away with a damp paper towel.
Clean up Graffiti with WD-40
Spray paint is the most popular type of paint used for graffiti. Many people believe that once graffiti is on a surface, there is no way to get rid of the markings.
However, products like WD-40 and acetone work efficiently at thinning the paint and making it simple to wipe away. Before using WD-40 as a graffiti remover, wear a respirator so you do not unintentionally inhale the chemicals in WD-40.
WD-40 can damage some types of plastic. To make sure your home improvement project goes well, test a small area with WD-40 to check. If WD-40 harms your plastic surfaces, use acetone instead.
Products to Avoid using on Plastic Surfaces
A vital part of knowing what removes spray paint from plastic is also understanding which products will damage the area. Paint thinners warp, deform, and weaken the plastic when used to remove spray paint.
One common paint thinner to avoid on plastic is turpentine. The chemicals in turpentine negatively affect most kinds of plastic.
Other familiar paint thinners to stay away from when you need to get spray paint off plastic include linseed oil, ethyl alcohol, and lacquer thinner.
These products often cause plastic surfaces to melt because of how flammable they are. To remove spray paint from plastic, you must make sure you have tools that thin the paint while also preserving the material.
During any home improvement project, accidents happen. When spray painting, you may experience an accidental paint stain on a plastic surface. When this happens, it is not impossible to restore the area to its original condition.
Many household cleaning agents like rubbing alcohol, liquid dish soap, and even nail polish remover are terrific tools to loosen paint that is later scraped off with a plastic putty knife or a razor blade.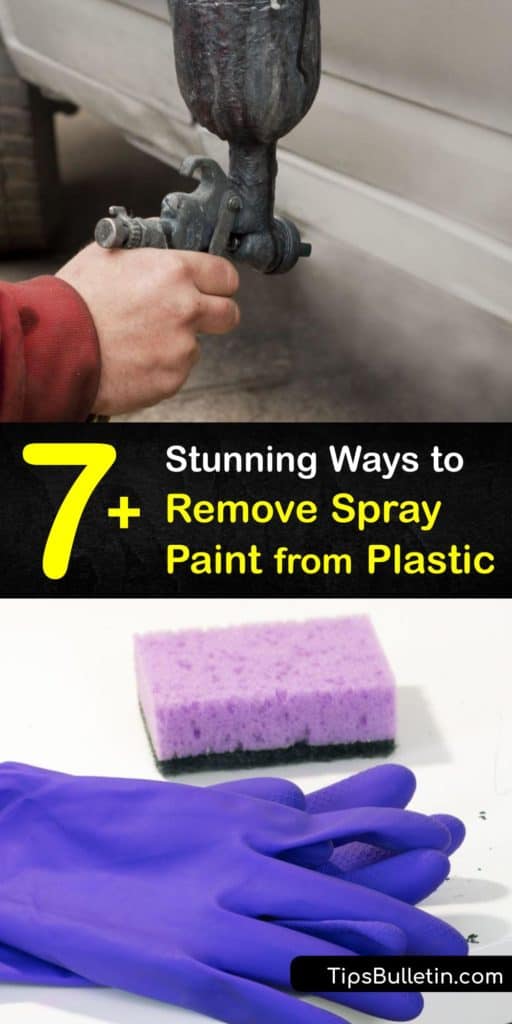 If you learned how to remove spray paint from plastic, share these tips for cleaning spray paint with your friends and roommates on Facebook or Pinterest.