Don't be quick to panic if something spills onto your couch! It is virtually impossible to avoid spills and discoloration of furniture over time. Luckily for you, learning how to remove stains from a couch is quite simple.
Furniture stains are inevitable, especially if you have small children and pets. The best way to handle them is to act quickly. Tackle stains as soon as possible to avoid permanent damage.
Many household ingredients are ideal for eliminating stains and odor from your couch. Bookmark this page to save yourself time when you accidentally spill a drink on your sofa. Keep your couch looking new for years and years to come!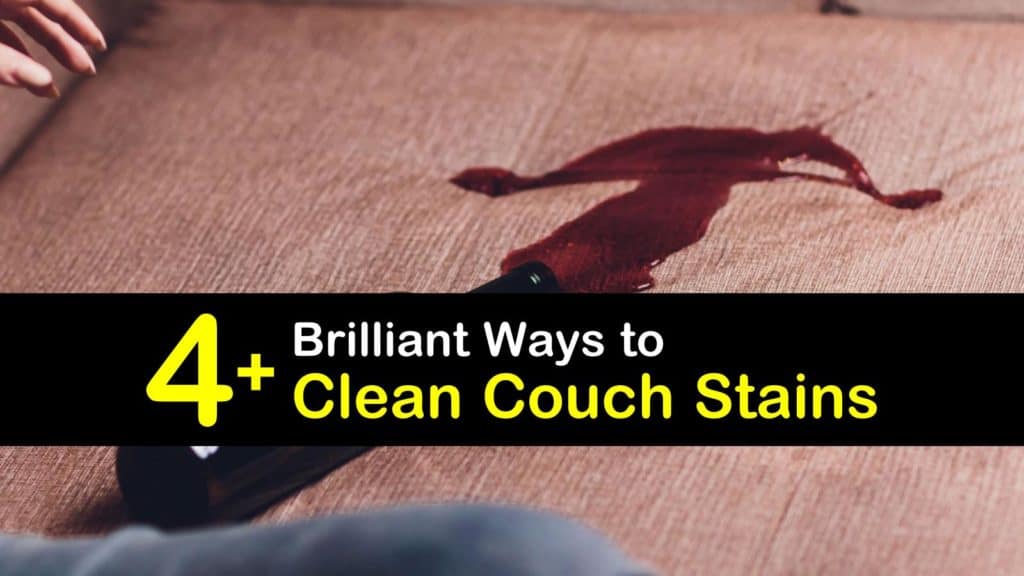 How to Remove Couch Stains
Once you learn how to clean couch stains, your favorite piece of furniture will look brand new. Gather some simple information about your couch materials to use these easy DIY cleaning recipes.
Understanding Couch Labels
Your couch probably has an in-depth care label that gives you specific instructions for cleaning your furniture. Instead of going out to buy a special couch treatment, most of the solutions for cleaning fabric sofa stains are possible without leaving the house.
Check your sofa for a tag with a cleaning code. These indicate what type of treatment you use to clean your furniture. A "W" means that you only use water-based solutions while an "S" means to avoid water-based solutions at all costs.
"WS" means that you can use either or both while "X" means you can only use a vacuum or seek professional help. Sometimes professional work is a hassle, and you can find ways around this tricky "X" label, but if the stain is too daunting, don't be afraid to call up your local upholstery cleaning business.
Removing Blood Stains from a Couch
Bloodstains seem impossible to remove. However, the best way to get blood out of a couch is one of the simplest methods of stain removal.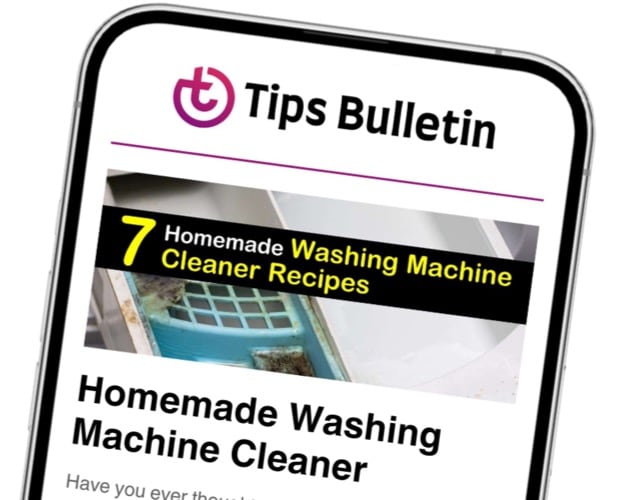 Finally, an email that Transforms Your Home.
Get the latest home and garden tips from our experts, delivered straight to your inbox.
Mix the dish soap with the water. Use a microfiber cloth to apply the suds to the affected area and dab at the stain. Do not rub in the mixture since this can make the stain spread or push it further into the fabric, depending on the stain.
Observe the color come off the couch and soak into the cloth. Repeat this blotting process until all color is gone, switching out clean cloths or sponges. Like all stain removal recipes, spot test this in an inconspicuous area of the sofa first.
Watch the area until fully dry. If the mixture leaves a stain, do not apply it to any visible parts of the furniture. This mixture is a water-based solution, so do not apply this to a couch labeled "S" or "X."
Removing Wine Stains
Red wine and tea are typical stains on furniture. The smallest stain can ruin the appearance of your sofa.
Mix the peroxide and dish soap. Use your sponges or cloths to apply the mixture and press on the stain to remove some color. Again, do not scrub the stain. This motion only works the stain deeper into the fabric.
Use a clean white cloth for best results. After the washcloth starts looking a bit too red, repeat the process with a new clean cloth. Using the same washcloth or sponge spreads the stain around.
You can also use this mixture to remove tea stains and get set in stains out of carpet. For a couch marked "S," you can sprinkle dry laundry detergent, baking soda, cornstarch, or salt over the stain to lift out the color. Let it sit for up to 20 minutes.
This solution will work for many types of stains on your sofa. Next time you find a nasty stain, try cleaning upholstery with baking soda first for a natural solution.
Removing Tea Stains
Tea creates stubborn stains, but the best tea stain remover is very simple to make. Be sure to only apply this to "W" or "SW" couches since it is water-based.
Combine the dish soap and water in the spray bottle and shake to mix. Spray the cleaning solution onto the stain and use a paper towel or damp cloth to blot the area. Allow the area to air dry.
How to Remove Stains from a Couch with Vodka
Vodka is an effective stain remover on "W" marked couches. It is effective at getting stains out of a suede couch as well as getting stains out of a microfiber couch.
This cleaner works best as a soak, so if you have a stain on a removable cushion cover, you can soak it overnight in a 1:1 vodka and warm water solution. If not, make the same 1:1 solution and use a white cloth to blot away your stains.
Vodka is excellent for removing oil and grease stains, much like vinegar solutions. Learning how to remove oily stains with either vodka or vinegar is a perfect start for learning how to clean couch stains of all types.
Using Vinegar Solutions
Safely get stains out of microfiber couch by making this vinegar mixture. Many food stains will leave oily discoloration on your sofa.
Cleaning fabric sofa stains with apple cider vinegar results in a more prominent stain, so only use white vinegar. Combine the water and vinegar and use a sponge or cloth to dab at the stain.
Once the stain is gone, soak up some leftover vinegar odor with a damp cloth. Allow the spot to air dry.
Mix up this recipe in a sprayer and use it as a couch disinfectant spray and to eliminate unpleasant odors. If you don't like the smell of vinegar, add a few drops of your favorite essential oil to the liquid.
If you have pets, use this recipe to make a cat urine cleaner and deodorizer. Vinegar is a great solution for removing this type of stain.
Cleaning Fabric Sofa Stains with an "X" Label
Sofas with an "X" cleaning code are made of more delicate and sensitive fabrics and require special care. Using water-based cleaners, solvents, or steam cleaners on these types of sofas may result in discoloration or distortion of the material.
Vacuuming a fabric sofa stain using a brush attachment is the best way to treat a stain on one of these couches without damaging the furniture. If you want to try to remove tough stains from one of these couches, do so at your own risk.
Test whatever process you want to try on a hidden part of the couch. Make a note of the results. Decide from there if you wish to use it on the stain or not.
How to Clean Couch Stains with an "S" or "WS" Label
If you need to know how to remove stains from a couch with an "S" label, do not worry. It can be challenging to find an easy DIY to clean a sofa with this cleaning code.
Water-based cleaning products stain furniture with an "S" label, so the best option for these couches is using a dry-cleaning solvent. The best upholstery stain remover for this type of sofa is Blue Coral Dri-Clean Upholstery Cleaner.
Spray the cleaner directly on the stain and then scrub using the attachment on the bottle. Brush away the debris with a towel.
Cleaning methods like this one are safe for "S" marked couches. For "WS" couches, you can use solvents and water-based treatments. Always try a dry-cleaning solution first.
Cleaning Leather Sofas
Knowing how to clean leather is a home improvement necessity. If you have a leather sofa, you might notice that you are missing a cleaning code. Whether you have a Nubuck, suede, or any other leather finish, always avoid bleach solutions when you use a leather couch cleaner as this will do more harm than good.
Bleach and similar products permanently discolor your leather sofa. Spot clean your leather couch instead with diluted rubbing alcohol for tough stains like ink or use Dove soap to remove any discoloration gently. Follow up with a leather treatment.
Your days of flipping over stained couch cushions are officially over! Apply these tips to all your upholstery and leather furniture stains.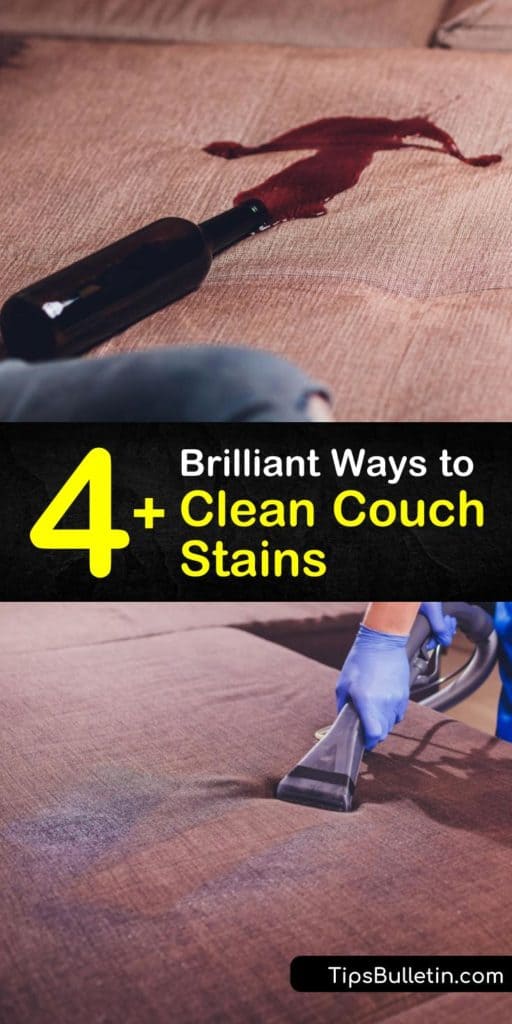 If you enjoyed learning how to remove stains from a couch, please share these DIY tips for cleaning fabric sofa stains on Facebook and Pinterest.