Dentures provide a replacement for missing teeth, making it easier to eat and feel confident about your smile. Throughout the lifetime of wearing your dentures, you experience stains that alter the look of your replacement, so you must know how to remove stains from dentures.
You may think that to remove tobacco stains from dentures or coffee stains from dentures is difficult and requires several steps.
However, we provide practical and straightforward DIY ways to successfully clean, disinfect, and restore your dentures to their original look.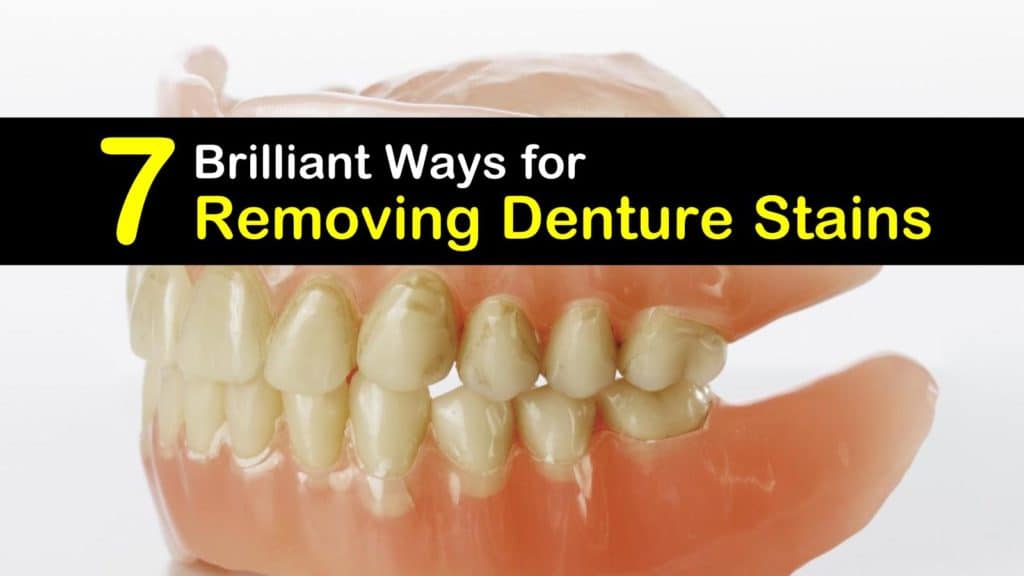 Different Processes to Whiten Your Dentures
Learning how to clean dentures stains is easy and requires minimal ingredients, no matter your chosen process. Denture wearers often experience stains from a build-up of food particles or certain colorful liquids like red wine.
We show you outstanding whitening solutions that teach you how to remove stains from dentures in a short amount of time.
If you want to make a natural denture stain remover, standard household products utilized properly provide an effective cleaning solution.
Everyday items like baking soda and vinegar contain active ingredients that act as a denture cleanser that provides teeth whitening and disinfect bacteria build up in your dentures.
Knowing How to Remove Stains from Dentures with Hydrogen Peroxide
Hydrogen peroxide is an antiseptic that kills the bacteria found on any surface it comes into contact with, including your dentures.
Regular toothpaste does not destroy the same amount of bacteria and germs accumulated on your dentures as hydrogen peroxide does. Learning how to clean dentures stains with hydrogen peroxide is relatively easy and only requires one ingredient.
To use hydrogen peroxide as a denture cleaner, start by pouring the liquid into a small dish. Ensure the container is deep enough, so your dentures are fully covered.
If any part of your dentures is not covered, the cleaning process won't work. To properly care for dentures using peroxide, soak the dentures in the hydrogen peroxide overnight.
In the morning, gently brush your dentures with a toothbrush to get rid of all the discoloration. Soaking your dentures in hydrogen peroxide requires minimal effort.
How to Clean Dentures Stains with Dental Bleach
One denture cleaning solution that comes highly recommended from the American Dental Association is dental bleach. It is vital not to use regular bleach to whiten dentures, as the solution damages your prosthetic.
Regular bleach contains chemicals that break down the strength of your dentures. Dental bleach is excellent for denture cleaning because the ingredients are specially designed for dentures and nothing else.
Place your dentures in the dish and pour in the dental bleach and water. Make sure the liquid completely covers your dentures to ensure every inch is cleaned.
Let the soaking solution sit for 20 minutes before gently brushing your dentures and rinsing them with cold water. Learning how to clean dentures stains with this technique is very simple and quick.
How to Clean Stained Dentures using Baking Soda
Dental care is easy with baking soda, whether you need to clean a mouth guard or dentures. The ingredient is a commonly found item in your pantry and great for denture cleaning. Baking soda is a mild alkali that dissolves dirt and bacteria easily when mixed with water.
Additionally, it absorbs all the odor molecules found on the surface. Learning how to clean stained dentures by replacing your regularly used toothpaste with baking soda toothpaste requires a few simple steps.
For a homemade denture cleanser, pour the baking soda into a small dish and add a couple of drops of water. Mix the solution, adding the necessary drops of water until it becomes a paste, and brush your dentures with the baking soda paste.
Move your toothbrush bristles in a gentle circular motion for the best denture care. Finish up the process by rinsing your dentures with hot water to successfully remove all remaining baking soda.
Whitening Dentures with White Vinegar
Understanding how to clean dentures stains with vinegar is an integral part of denture care. The active ingredient in vinegar is acetic acid.
The solution's acidic nature dissolves bacteria and mineral deposits effortlessly, which makes it a terrific whitening solution for your dentures, as well as for removing coffee stains on stainless steel surfaces.
Soak your dentures in white vinegar overnight. Make sure your dentures are covered in the vinegar to get the best cleaning. Next, brush your dentures under running water with a denture brush.
The denture brush helps get rid of any tartar build-up or denture adhesive stuck to your dentures. This method comes in handy if you cannot find any other cleaning ingredients.
Cleaning Dentures Quickly with Mouthwash
If you wonder how to remove stains from dentures quickly using a standard product used for dental care, mouthwash is the answer.
Mouthwash includes active ingredients designed for whitening teeth and are also useful in denture whitening. Disinfecting the bacteria that accumulates on your dentures is fast and easy with mouthwash as well.
Pour the mouthwash and water into a small dish and set your dentures in it to soak for 30 minutes. You can also use this method to get plaque off retainers. Use a toothbrush on stubborn spots.
Soaking your dentures in the mouthwash helps break away any denture adhesive that may still be stuck on your dentures. After your dentures have soaked, rinse them off with running water.
Soaking Your Dentures in Saltwater
Learning how to remove stains from dentures using saltwater is very simple. Sodium chloride, the active cleaning ingredient in saltwater, forces bacteria to leave whatever area the liquid comes in contact with.
Whitening dentures with this clever method saves you time and a trip to the store if you do not have any other cleaning solutions.
Mix the ingredients in a bowl and place your dentures in the liquid. Let your dentures soak overnight before gently brushing them the next morning. The saltwater disinfects while also deodorizing your dentures as they soak.
Professionally Cleaning Your Dentures
Knowing how to clean stained dentures yourself is practical and keeps your dentures in excellent condition. However, it is also essential to have a dental professional whiten and disinfect your dentures every so often.
We recommend expert cleaning up to two times a year, and it usually only takes a few minutes of your time. A dentist has the most advanced tools and knows exactly how to remove all dentures' stains.
During a licensed denture cleaning, a dentist polishes and sanitizes your dentures to get them back to looking brand new.
Combining your homemade cleaning method alongside an occasional professional cleaning is the best way to maintain your dentures for the most extended period.
Learning how to clean dentures stains is easy and requires items that are most likely already in your pantry. The natural disinfectants found in baking soda, hydrogen peroxide, and vinegar remove stains while also killing bacteria on your dentures.
To ensure your dentures are as clean as they can be, visiting a dentist a couple of times a year to have your dentures professionally cleaned is also a smart move.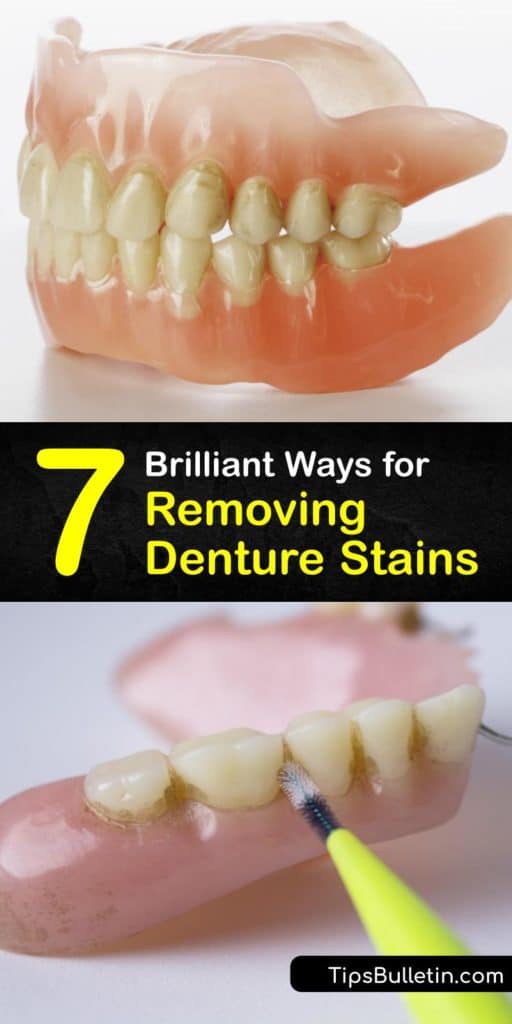 If you learned how to remove stains from dentures using these techniques, please share this article with the best ways to clean stained dentures with your friends on Facebook or Pinterest.