We've all been there – a forgotten name tag sticker from a meeting, a size sticker left on your new pants, or a sticker from an accomplishment at school on your child's shirt that accidentally went through the washer and dryer. Now you're stuck with a mess of sticky residue on your favorite shirt. Read on to discover how to remove sticker residue from clothing.
No matter what type of fabric you're dealing with, there's an easy DIY solution to get sticker residue off clothing using simple products you already have at home. The job is more challenging if the article of clothing has already been machine washed and dried. However, with a little effort, you'll be able to get adhesive off clothing and have it looking like new again.
When a piece of clothing goes through a wash cycle with a sticker on it, the paper part usually washes away, and the adhesive residue is left behind. The glue spots then attract dirt and lint, appearing as a black stain on the garment. If it goes through the dryer, the adhesive solidifies and is significantly harder to remove.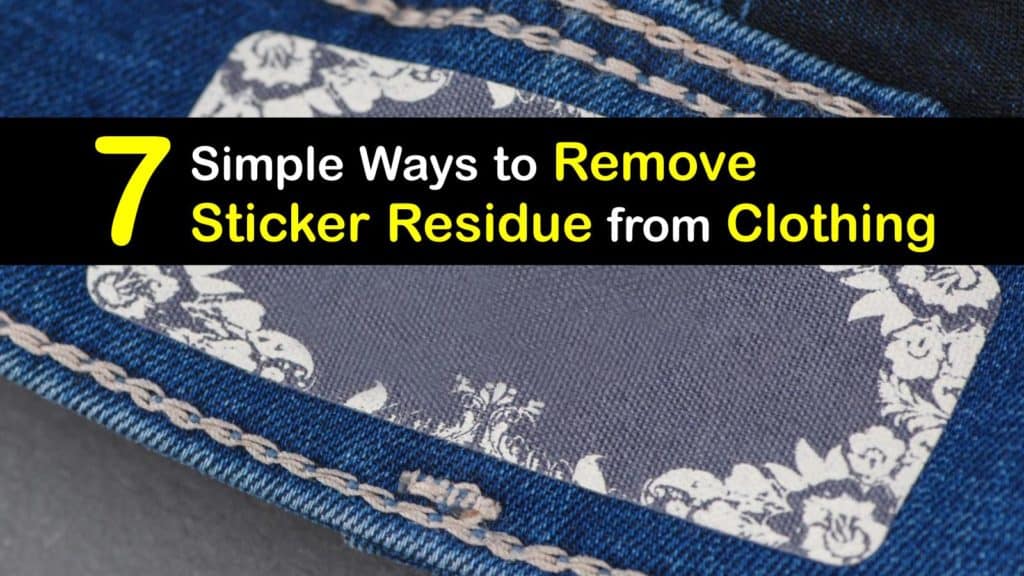 Best Ways to Get Sticker Residue off Clothing
Before applying any of the following treatment methods, try to scrape as much of the sticker glue away as possible using a butter knife or the edge of a credit card. To harden the glue for easier removal, put the garment in the freezer for an hour. This also works to get hot glue off fabric after it dries and to get gum out of fabric.
Alternatively, try using masking tape to get adhesive off clothing. Press the masking tape onto the affected area, then pull it away. Repeat the process until all of the loose sticker residue is gone.
Always check the care label on the article of clothing to ensure that you select the appropriate cleaning solution. Wool, silk, lace, and other delicate fabrics require mild detergents and extra precautions.
Most cotton and synthetic clothes are safe to wash with regular laundry detergent and a normal wash cycle. For dry-clean-only garments, spot treat the affected area with a dry cleaning solvent or bring it to a professional dry cleaner.
Removing Sticker Residue with Dish Soap
As a first approach, wet the garment and place a few drops of Dawn dish soap on the sticky residue and rub in a circular motion with a microfiber towel.
Next, soak it in warm water for at least 20 minutes before letting it air dry. Check the garment for any more adhesive residue before running it through your washing machine again.
How to Remove Sticker Residue from Clothing with Vinegar
The acidity of vinegar works to loosen the adhesive residue. This miracle household staple also removes super glue from clothes and other surfaces. Heat distilled white vinegar in a medium-sized bowl in the microwave. Saturate a clean sponge with the hot vinegar and apply it to the sticker glue.
Or, pour the vinegar into a clean spray bottle and soak the fabric. Allow the vinegar to thoroughly soak into the fabric for a few minutes, then scrape the glue away with a dull, flat edge like a butter knife or credit card.
For particularly stubborn adhesive, try scrubbing the area with an old toothbrush. Rinse the garment with cold water, and allow it to air dry. Thoroughly inspect for any residual sticker glue before you launder it again.
Remove Sticky Tape Residue from Clothing with Nail Polish Remover
Acetone is an ideal item to remove Gorilla Glue from clothes made with cotton and polyester. However, it may discolor or otherwise damage delicate fabrics like acetate, wool, silk, or rayon. Test an inconspicuous area first to prevent damage.
To get duct tape residue off, lay the dry article of clothing flat on one of the hard surfaces available, like an ironing board or the top of the washing machine. Soak a cotton ball or paper towel with nail polish remover, and rub it into the fabric for several minutes.
Repeat as necessary until all of the sticker residue is gone. Nail polish remover is also useful to get gum out of clothing.
Get Sticker Glue off Clothing with Rubbing Alcohol
Rubbing alcohol is an effective stain remover that's safe to use on more sensitive fabrics like wool, silk, and linen in addition to cotton and polyester.
Avoid using rubbing alcohol on rayon and acetate, and test an inconspicuous area first to make sure that it won't fade the fabric dye. Lay the garment flat on a hard surface with a towel underneath.
Saturate a microfiber cloth, paper towel, or cotton ball with rubbing alcohol and gently scrub the affected area to remove the sticky residue.
Repeat the process as needed. For stubborn sticker glue, try leaving a cloth soaked in alcohol on top of the area for ten minutes. Once you remove all of the adhesive residue, launder the garment as usual.
If you have young children, you may also wonder what gets slime out of clothes. Try this alcohol solution and follow up with soap and water.
Eliminate Adhesive Residue with WD-40
WD-40 is a petroleum-based lubricant that works to loosen adhesive bonds and remove sticker residue. WD-40 also works well for getting wax out of clothes. Spray the affected area with WD-40 and let it sit for a few minutes.
Scrape off the sticker glue with a butter knife or credit card. Wash the article of clothing with Dawn dish soap and warm water and allow it to air dry.
Check carefully to ensure that all of the adhesive residue came off before putting the garment through the washing machine and dryer.
Get Adhesive off Clothing with Peanut Butter
One of the more surprising techniques to get sticky residue off clothing is using peanut butter.
Spread a generous layer of peanut butter over the adhesive residue and let it sit for a few minutes. Gently scrub the affected area with an old toothbrush to loosen the sticker glue.
Rinse the garment in hot water and wash it with Dawn dish soap to prevent grease stains from developing. Let it air dry, then inspect the fabric for any leftover sticker residue before machine washing and drying.
Getting Duct Tape Residue off Clothing with DIY Goo Gone
Duct tape is incredibly handy for home improvement projects. Still, the sticky residue is sometimes challenging to remove from clothing and other surfaces.
Goo Gone is an effective adhesive remover, but it contains harsh chemicals that you may not want to rub into your clothing. Instead, try this recipe for homemade DIY Goo Gone.
To make this DIY sticker residue remover, whisk the ingredients in a small lidded container until a thick paste forms. Apply a half-teaspoon of the mixture to the sticker residue and allow it to sit for a few minutes. Scrape the loosened adhesive away with a butter knife or credit card.
Or, gently scrub with an old toothbrush to remove sticky tape residue from clothing. Wash the garment with Dawn dish soap and warm water to prevent grease stains. Allow it to air dry, then check for any remaining sticker glue before you launder it again.
Although it may seem difficult to remove at first, there are numerous practical ways to get sticker residue off clothing without damaging it.
Be sure to check the garment's care label to avoid damage, and test an inconspicuous area first before using stain removers on visible areas of your clothing. Take expensive dry-clean-only items to a professional dry cleaner.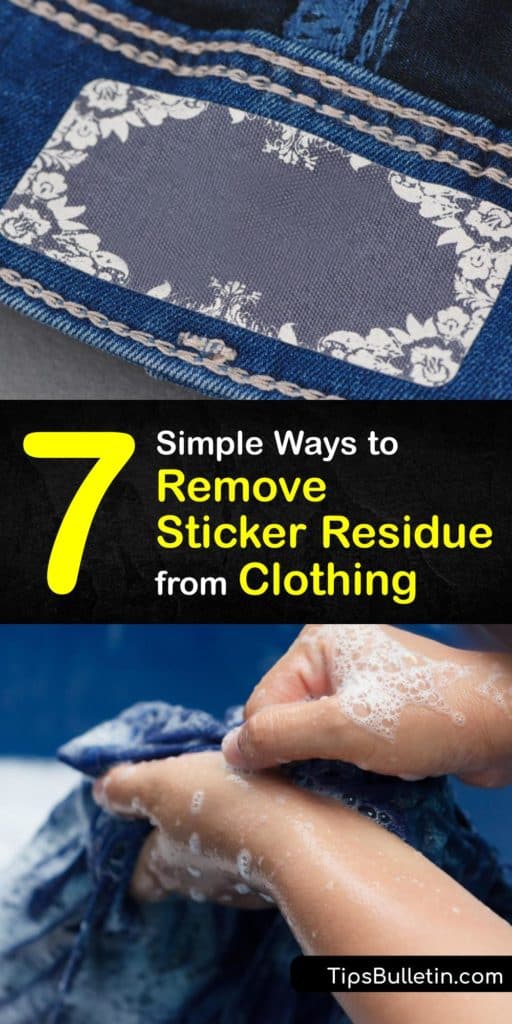 If you found these adhesive removal tips useful, please consider sharing this article about how to remove sticker residue from clothing with your friends and family on Facebook and Pinterest.