Masking tape, duct tape, double sided tape, Scotch Tape, painters tape, and foam tape are excellent adhesives that make our life easier. However, heavy-duty adhesives and sticker residue are challenging to remove from materials, often leading to hours of scraping and scrubbing. We take the frustration out of adhesive removal by showing you how to remove sticky tape from a wall.
Adhesive tape is handy for holding things in place and making repairs. Yet, the thing that makes it a wonder also makes it a hindrance when it's no longer needed. While removing a strip of tape seems simple, you're often left with a sticky residue that refuses to budge.
At first, glue residue seems harmless. But, over time, the stickiness attracts dust and dirt, leaving an unsightly blemish on the painted wall. Fortunately, there are effective ways to remove tape and sticky tape residue to keep the wall clean.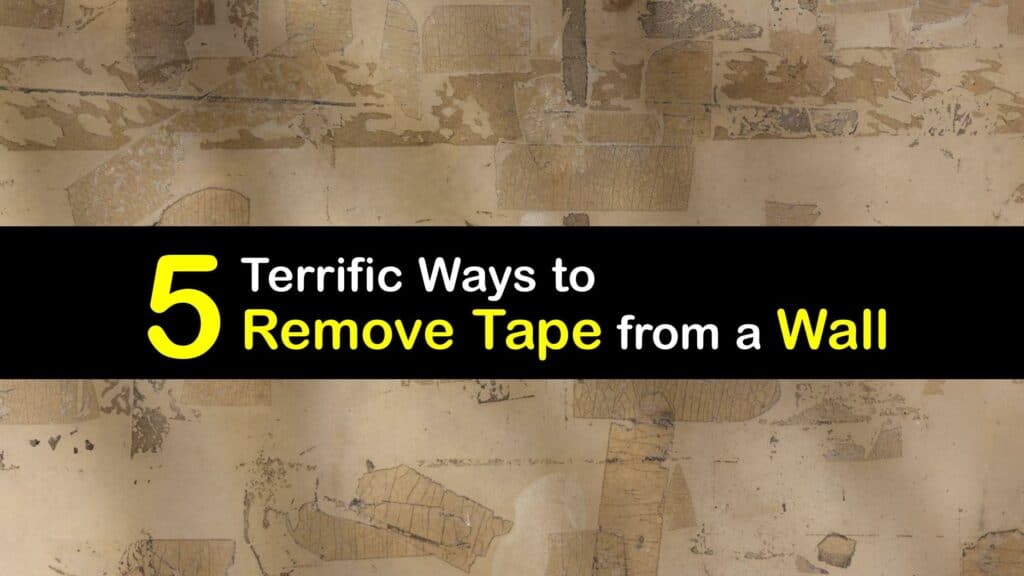 Ways to Remove Sticky Tape From a Wall
We all have better things to do with our time than spend it removing stubborn adhesive. Discover several adhesive removal techniques for getting blue sticky tack off walls and getting sticky tape and glue residue off hard surfaces.
How to Get Tape off Walls With Soapy Water
Tape has an adhesive that sticks stubbornly to whatever surface you apply it to, and sometimes all you need is a little soap and water to loosen its grip. Soapy water will also be gentle enough for cleaning sticker residue from painted walls. Learn how to get tape off walls with soapy water.
Fill a container with warm water, add a small amount of liquid soap, and agitate the liquid to create suds. Apply the soapy water to the tape with a sponge. Hold the damp sponge over the tape for about a minute and use the razor blade's edge to scrape it away gently from the finished wood or wall.
Clean the tape residue with more soapy water, rinse with clean water, and dry with paper towels. Run your fingers over the affected area to check if there is any stickiness remaining. To get rid of sticker residue that is left over, you can repeat the steps until everything is removed.
Removing Adhesive Tape From Walls With Heat
Heat is excellent for removing adhesive tape from walls if soapy water doesn't do the trick. It softens the glue without damaging the wood or wall, making it easier to peel.
Heat the sticky tape with a blow dryer or heat gun for one minute by moving it back and forth over the area. Set down the dryer and immediately peel the sticker from the wall with a butter knife.
Do not wait too long since the adhesive quickly hardens as it cools. After you remove the tape, clean the wall with warm water to remove any remaining tape residue and dry it with a cloth.
How to Remove Sticky Tape From a Wall
Rubbing alcohol is a solvent that is perfect for getting adhesive off walls. It dissolves adhesive and is safe for most materials, including walls. Use alcohol to get the sticky tape off the wall.
Pour rubbing alcohol onto a cottonball or pad and rub it over the tape. Try to dampen it as much as possible to ensure the liquid seeps beneath the tape's edge, and carefully use a putty knife to scrape the adhesive away from the wall or wood.
If there is still duct tape residue left after removing the tape, rub the area with another soaked cotton ball and clean it with warm water. Rubbing alcohol is sure to get duct tape residue off the wall. But be sure to try this method carefully to protect the paint on your walls.
Using Nail Polish Remover to Get Sticky Tape off a Wall
If you don't have any rubbing alcohol, try fingernail polish remover that's acetone-based. Find out how to get tape off walls with nail polish remover.
Pour acetone fingernail polish remover on a cotton pad and rub the damp pad over the taped area. Continue pressing the cotton on the tape until you feel it loosen, and use a plastic scraper to peel it from the wall surface.
Clean the area with soap and water to remove any remaining residue, rinse it with clean water, and dry with a paper towel.
Removing Sticky Tape From a Wall With Oil
Oily substances like cooking oil or WD-40 work well for removing adhesive tape from walls. They loosen the adhesive's bond, allowing the sticky tape to slide off the wall paint easily. Remove the tape and adhesive residue with oil.
Rub cooking oil on the tape with your finger or a cloth to thoroughly coat it. WD-40 or peanut butter is a good substitute if you do not have any oil. Allow it to rest for a minute or two, and gently scrape the tape from the wall with a razor blade.
Make a cleaning solution with warm water and dish soap and use it to clean away the adhesive residue with a sponge. Once the glue is gone, rinse the area with clean water and pat it dry with a soft towel.
Sticky tape has pros and cons, and there are different types for different jobs. While it sticks to many surfaces, holding things in place, it's sometimes challenging to remove, leaving behind sticky adhesive. Luckily, there are ways to get tape and residue off a wall with the proper adhesive remover.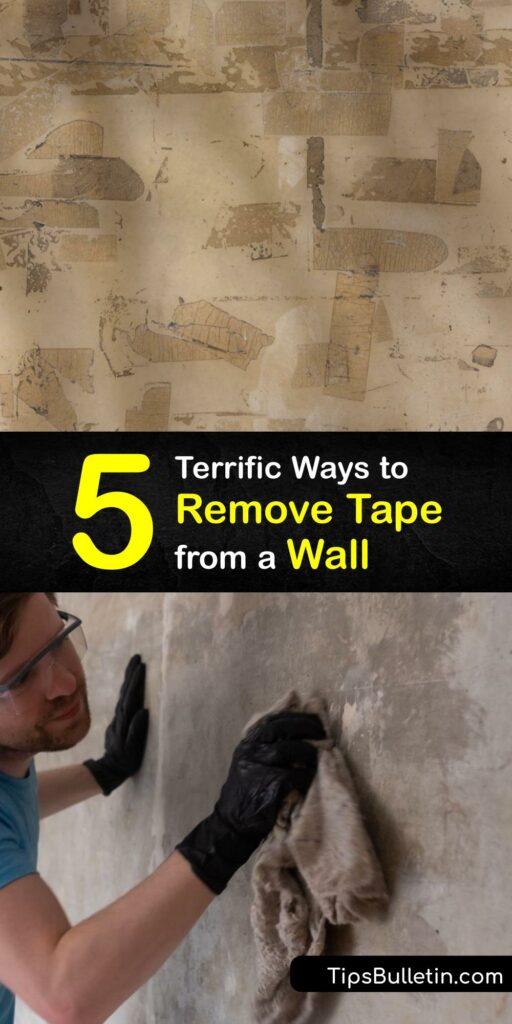 Now that you understand how to remove sticky tape from a wall correctly, why not share our methods for removing tape from the wall with your friend and family circle on Pinterest and Facebook?