They say, don't cry over spilled milk, but what about spilled glue on your favorite shirt or tablecloth? Craft projects are enjoyable, but you often don't notice the dried glue on your clothing or other unintended places until the project is complete and the damage is done. We show you how to remove super glue from fabric using common household items.
Super glue is a wonderful invention that makes all of our lives easier. It mends your broken mug handle, fixes your child's beloved toy, and makes crafting easier. However, this miracle glue dries lightning-fast, and an accidental spill seems like a disaster to clean.
This fast-acting, strong adhesive is made of cyanoacrylate, which helps the material create a strong bond instantly. It dries as soon as you squeeze it from the tube and sticks to just about anything, from wood, metal, and ceramic to skin and fabric.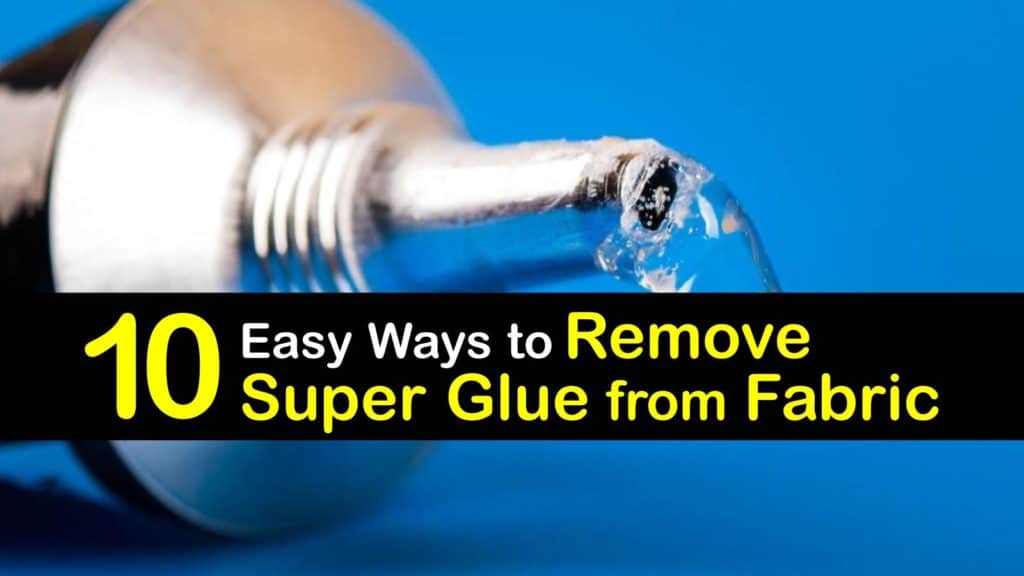 Easy Ways to Remove Super Glue from Fabric
Discovering dried globs of adhesive on unintended materials is disappointing, to say the least. Before you take your clothing to a professional dry cleaner or throw away that glue-stained fabric, here is how to clean super glue from fabric using simple methods.
How to Remove Super Glue from Clothes by Scraping
One of the best ways to get sticker residue off polyester clothes is to scrape it off, as long as they are not delicate fabrics. This makes it easier to clean the cloth and get it stain-free. Here is how to remove super glue from fabric using a kitchen spoon.
Ensure the glue is totally dry before scraping, whether you need to remove nail glue from clothes or have a super glue stain. Let it sit for about 15 minutes until it is no longer wet or shiny.
Press the rounded edge of a metal spoon into the outside of the glue and gently scrape the adhesive from the fabric using a pulling motion, and place the glue bits onto a piece of paper towel.
Hold the material in place with your other hand and use just enough force to remove the bond without scratching the cloth.
You may also find that this strategy will remove cat hair from clothes, too, although there are easier ways to go about it. Sticky tape and a lint brush work better.
Get Super Glue off Clothing with Acetone
Acetone is a colorless liquid and solvent that dissolves many sticky substances. It is common in fingernail polish remover and a useful tool to get super glue off clothing or for getting super glue off your fingers and hands.
Always inspect the care label on your item before applying any stain removers to prevent discoloration or damage.
Place a small amount of acetone nail polish onto a cotton ball and test it on an inconspicuous area of the garment beforehand to ensure it doesn't discolor the fabric.
Rub the acetone-soaked cotton over the glue spot until it is gone, and clean the material with soap and water or in the washing machine.
Here is How to Remove Super Glue from Fabric with Water and Soap
After you get super glue off fabric by scraping or using acetone, it's essential to clean the material by soaking it and cleaning it in the washing machine to remove glue residue. A soapy water solution is also an excellent way to get gum out of clothing.
Pour cold water into a container or bucket that is large enough to accommodate the fabric and soak the material overnight. Wring as much water out of the item as possible and pour a small amount of laundry detergent directly on the stain.
Work the soap into the area for about a minute to help the glue release its bond. Place the item into the washing machine by itself and use the warm setting.
Hang the item to air dry rather than in the clothing dryer to stop leftover stains from setting. Repeat the process if necessary.
Removing Super Glue from Fabric with Rubbing Alcohol
Rubbing alcohol, or isopropyl alcohol, is a liquid solvent made of different compounds. It dissolves a wide range of sticky residues, including glue, and evaporates quickly, leaving no oily traces. It's ideal for getting super glue off plastic and many other materials. Here is how to remove super glue from clothes using this liquid.
Do not attempt to use rubbing alcohol to clean stains off dry cleaning only materials. For all other fabrics, make sure to test an inconspicuous area to check for colorfastness.
Place a cotton ball on the opened bottle of rubbing alcohol and flip it over to soak the cotton. Gently rub the liquid over the glue stain to loosen the adhesive and use fresh cotton as needed. Rinse the material with warm water and wash it with detergent.
Using Baking Soda to Remove Super Glue from Fabric
Baking soda is a natural powder that you probably have in your kitchen cupboard. While we associate this powder with cooking, it is often an excellent tool to get super glue off clothing if the stain is small.
Place the cloth on a flat surface to expose the glue stain and sprinkle a small bit of baking soda over the spot. Pour white vinegar into a small container and dunk the end of a toothbrush into the liquid.
Press the soaked brush bristles onto the stain and use a gentle scrubbing action to remove the glue. If the stain remains, repeat steps until the adhesive is gone, and then wash the fabric in the washing machine with detergent to clean away any remaining stain.
How to Remove Super Glue from Clothes with Loctite Glue Remover
If you prefer to use a store-bought adhesive remover, consider trying Loctite glue remover to remove super glue from clothing. Most stores carry this product, and it's an easy solution for cleaning glue stains on fabric.
Apply a small dab of Loctite glue remover to the stain and let it sit for a couple of minutes to loosen the bond.
Use the edge of a metal spoon to scrape the glue gently away from the cloth. After the adhesive is gone, clean the fabric in the washing machine with detergent as normal.
Removing Large Super Glue Gobs off Fabric with Abrasives
To clean super glue from clothing, it's helpful to sand the stain down as close to the fabric as possible before using another cleaning solution. This technique is also beneficial for removing gum from a car seat.
Lay the cloth on a flat surface with the stain in the center. Use a piece of sandpaper or an emery board to scrape the glue away from the cloth gently.
Hold the item in place with one hand while using a back and forth motion with the tool of choice to remove the dried glue from the cloth.
Pour a small amount of laundry detergent onto the stain and rub it into the area for a couple of minutes to loosen glue residue. Use the warm setting on your washing machine to clean the fabric and hang it to air dry.
Avoid using any harsh chemicals or abrasives on your skin if you wind up with glue stuck to your fingers. Most of the time, Gorilla Glue comes off skin naturally and will peel off your fingers with soap and water.
Cleaning Super Glue off Fabric with Lighter Fluid
If using other methods doesn't do the trick to remove super glue from fabric, try using lighter fluid.
While this is not a conventional form of cleaning, it is quite effective at cleaning off the adhesive. However, do not use this on delicate fabrics to prevent damage.
Pour a very small amount of lighter fluid onto a cotton ball and scrub the affected area with it gently. Try to keep the cotton on the stain while avoiding the rest of the fabric. Continue until the adhesive is gone, and rinse it under warm water.
Will Goo Gone remove super glue from fabric or other materials? Goo Gone can be quite effective for super glue removal. Be sure to clean the solvent off the material after glue removal to keep from leaving a stain.
Pour about a tablespoon of liquid laundry detergent onto the spot and rub it into the cloth with your fingertips. Place the item alone in the washing machine and clean it with a warm setting.
Using Your Freezer to Get Super Glue off Fabric
A freezer is a handy tool for getting hard glue off materials and getting candle wax out of fabric. The adhesive hardens during the freezing process making the job of scraping it away easier.
Fold the fabric into a small shape so that it fits into a plastic bag, making sure to keep the glue stain on the outside, and set it in the freezer for several hours.
Pull the material out of the bag and lay it on a flat surface. Press the sharp edge of a metal spoon on the outer edge of the adhesive or for the way to remove melted wax from fabric and press it away from you while you pull up the glue with your other hand. Follow the same procedure for getting dried slime out of clothes. Freezing is for more than just food!
Tips for Removing Super Glue off Clothing and Fabric
Understanding which cleaning solution works to remove glue off clothing is only the first step. Here are some helpful tips and things to avoid during the glue-removal process to ensure the fabric looks clean without destroying it.
Super Glue Stain Removal Tips
Adhesives are easier to remove once they harden, so let the glue dry completely before cleaning it from the surface. Touch it with your fingertip and make sure it is hard and not sticky.
For cotton or synthetic fabrics, try to scrape as much glue away from the surface or peel it away with your fingertips before using a soapy solution.
Always check the care tag on your item for cleaning instructions, and do not attempt with fabrics like silk or wool.
After removing the glue and cleaning the fabric in your washing machine, avoid tossing it into the clothes dryer, just as you would when treating grease stains on clothes after washing.
The dryer sets any remaining stains, making them more challenging to remove. Always hang the clean cloth to air dry and check them for leftover residue.
Removing super glue stains, stickers, and other adhesives from surfaces is a time-consuming chore, but it doesn't have to be if you use the right methods.
There are many items in your home right now that get the job done and, with a little patience, cleaning the stained area is a breeze.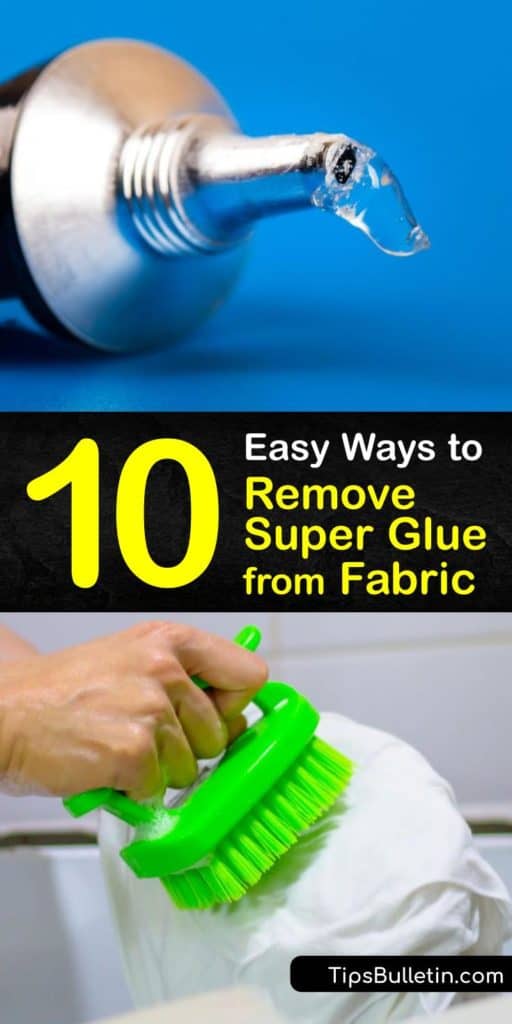 Knowing how to remove super glue from fabric means that you don't have to throw away your favorite article of clothing or tablecloth, so why not share our super glue removal tips and solutions with your friends and family on Facebook and Pinterest?