Maybe you were too generous with the glue when trying to repair an old glass bowl or cup, or maybe your hand slipped, and you got some Super Glue on a window. Whether it's a recent spill or an old patch of dried glue, you should know how to remove Super Glue from glass surfaces to enjoy their shine once again.
Unfortunately, Super Glue's best qualities—its rapid bonding speed, its incredible strength, its ability to bond with most surfaces—make it a pain to remove. When this cyanoacrylate glue reacts with the moisture in the air and the bonding materials, it forms tight chains between the two surfaces. The nearly unbreakable bond resists water, heat, and cold.
Super Glue sets in only 5 to 90 seconds, although it takes 24 hours to finish curing or strengthening its bond. However, don't fret if it's been a while since the accident happened—it's still possible to remove dried glue from glass.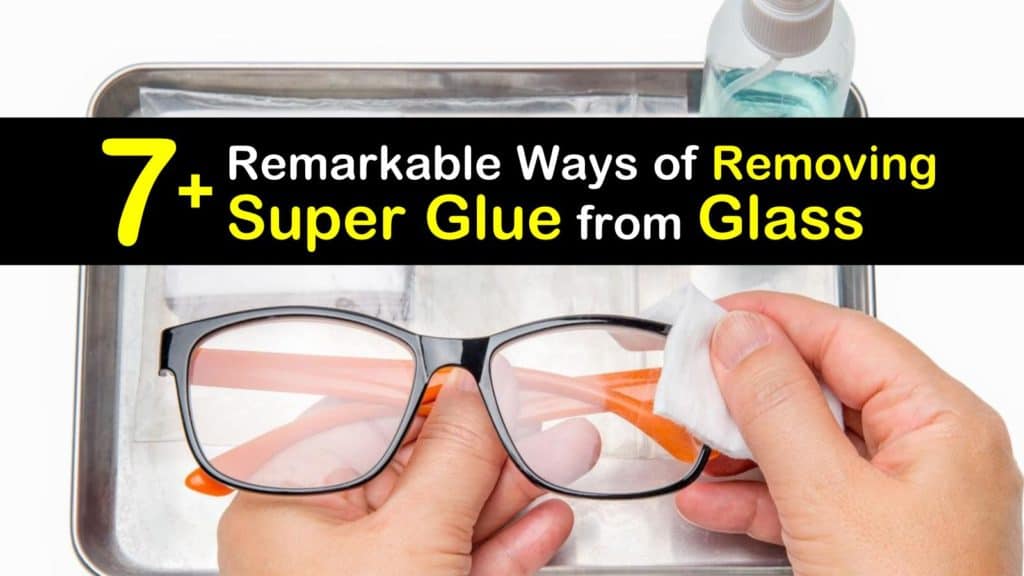 How to Get Super Glue off Glass
Removing Super Glue from glass generally involves using a combination of a solvent or cleaner and scraping. However, the best approach varies depending on the situation and the supplies that you have available.
How to Remove Super Glue from Glass Surfaces While It's Still Wet
Super Glue is easiest to remove immediately after application. Wet a soft cloth with hot water, then press it against the affected area.
Once the damp cloth has had a chance to do its work, scrub until you remove all the adhesive. Finish by rinsing and drying the object or surface. If the glue does not all come off, try another method for how to remove Super Glue from glass surfaces.
How to Clean Super Glue off Glass with Soapy Water
If the glue has started to harden, try adding soap to the warm water to increase its ability to loosen the adhesive. Soak a glass object in soapy water for several hours, then scrub it with a damp cloth to get sticky residue off glass.
This approach is an excellent way to clean Super Glue from a water bottle or glass jar or to clean paint off glass. You'll be glad you found such an easy method for how to get Super Glue off glass, not to mention other adhesives like the label residue.
Alternatively, soak a cloth in warm, soapy water, then press it onto the glue stain. Try rubbing the glue away. You may need to get the cloth wet again, then do more scrubbing.
How to Remove Super Glue from Glass Surfaces with White Vinegar
Likely the best DIY glue remover is vinegar. This popular cleaner removes wet or dried Super Glue from a variety of surfaces. For both fresh and dried glue, rub vinegar into the adhesive with a cloth. Dried glue does require more elbow grease.
You may also use vinegar to give the glass a final cleaning after employing a different glue removal strategy. Combine equal parts white vinegar and water, then spray it onto the glass. Give the surface a good wipe, removing all glue residue.
This mixture is also an ideal way to make eyeglass cleaner for regular use. Keep a spray bottle of this solution handy to remove smudges and dust from your glasses.
Vinegar can be useful for getting super glue off leather without damaging the material. Careful application removes the adhesive while maintaining the integrity of the leather.
Dabbing vinegar on a glue spot is a great way to remove super glue from car paintwork before it dries or even if it has dried. Don't damage the paint by working gently and carefully.
Using Rubbing Alcohol to Remove Super Glue from Glass
Rubbing alcohol works well to remove Super Glue from a countertop or other hard surface, besides making an excellent natural whiteboard cleaner. One option is to pour enough alcohol to cover the patch of adhesive.
Let the solvent sit for five to ten minutes, then scrape at the softened glue with a scrubber or blunt knife.
If you're curious how to remove Super Glue from a window or other nonhorizontal surface or to remove automotive adhesive, moisten a soft cloth with rubbing alcohol. Press it onto the adhesive, letting it sit for 15 minutes. Afterward, rub with the cloth and scrape as required.
This solution is also ideal for getting sticker glue off glass, whether it is a mirror, glass in a picture frame, or window.
How to Get Super Glue off Glass with Acetone
If no other strategy is working, use acetone to clean super glue residue. You'll find it in many brands of nail polish remover and some household cleaners. Apply a little acetone with a rag or cotton swab.
Let the chemical soak for a few minutes, then scrub at the adhesive. Insert a safety razor under the glue and gently peel it off. You may need to repeat the soaking.
To remove Super Glue from a phone screen, rub with an acetone-soaked soft cloth. Do not use any abrasives.
Note that acetone may cause nose and throat, eye, or skin irritation. Pure acetone also eats away at materials like plastic and can stain fabric.
If you spilled Super Glue on your clothes, test acetone on a small area. If there are no issues, apply acetone to the fabric with a cotton swab. After it soaks for 10 to 15 minutes, scrub at the glue with a toothbrush.
Remove Super Glue from a Window or Other Glass Surface by Scraping
On its own or after applying soap or solvent, scraping is an effective way to remove Super Glue from glass and other hard surfaces. Scraping can also be used toget painted labels off glass bottlesand many other sticky messes.
With old, dried-up glue, you may be able to get by with only, or at least mostly, scraping. Be gentle, of course, so as not to scratch the glass.
You may use, among other things, a razor blade, blunt knife, plastic scraper, old credit card, or utility knife. Hold the blade at an angle and move it smoothly in one direction.
How to Get Super Glue off Glass with Baking Soda
If you have some coconut oil and don't need to clean up a spill immediately, it's easy and cheap to mix a paste to get Super Glue off of glasses lenses. Baking soda is gentle enough to remove adhesive while not scratching the glasses lenses.
To remove adhesive residue from glass, combine the ingredients in a bowl, mashing them together to form a thick paste. Apply it to the glue stain with your fingers or a cloth. Rub until the adhesive is gone, then wash the glass with warm water and soap.
Use Commercial Products to Remove Super Glue from a Window
Although it makes sense to start with ingredients that you have around the home, you sometimes require heavy-duty commercial products. Most are available at home improvement stores or car stores.
Read safety instructions carefully before use, and make sure to work in a well-ventilated area. It's possible to buy remover specifically for cyanoacrylate glue. Goo Gone is also specifically designed for removing sticky substances.
You could also use a spray lubricant, lighter fluid, WD-40, denatured alcohol, or paint thinner. A product containing a degreasing agent, such as Fast Orange, also works.
Whichever product you choose, apply the liquid to the glue stain and let it sit for a while. Afterward, scrub off the glue, potentially employing a scraping tool as well. Finish by cleaning the glass with hot soapy water or glass cleaner.
How to Remove Super Glue from Eyeglasses
Did you accidentally get a blob of glue on your glasses while repairing them? Thankfully, it's easy to remove adhesive from plastic and glass lenses.
The simplest method to remove super glue from glasses involves dish soap and warm water. Avoid hot water since it can crack lenses.
Soak a microfiber cloth in a dish soap and water solution. Press the cloth against the glue, covering it in plastic wrap to retain moisture. After three or more hours, peel off the plastic wrap.
Wipe off the glue with the cloth, then dry with a clean rag. Do not use a paper towel since it may scratch the lenses. Scrub off the adhesive with white toothpaste, too, but test an unobtrusive area first.
If there are no issues, wet the glue with water, then rub toothpaste over it with a cloth. Finish by wiping off any residue.
How to Work Carefully with Super Glue
The easiest way to remove Super Glue from a window or other glass surface is to not get any glue on the glass in the first place. Careful application starts with choosing an appropriate kind of Super Glue.
Liquid glue works well for cracks, but a gel version gives you more control and takes slightly longer to dry.
Spread newspaper under your work surface, and wear gloves that are not be made of cotton or wool. Super Glue may produce extreme heat, or even smoke and fire, when it reacts with natural fibers.
Gloves should prevent any of the sticky stuff from getting on your hands. If your fingers do become bonded together, do not try to force them apart.
Instead, apply acetone with a cotton ball. You may also soak your hands in warm, soapy water then scrape with a dull metal tool.
You now know the answer to questions like how to get Super Glue off glass, how to remove Super Glue from a window, and how to clean Super Glue off eyeglasses.
You even learned some safety tips and best practices for avoiding getting the powerful adhesive in places that you don't want it.
If you move quickly enough, it's possible to remove Super Glue from glass with a cloth soaked in hot water. However, if the glue has a chance to dry, don't panic.
Choose your favorite option out of soapy water, vinegar, rubbing alcohol, acetone, baking soda-coconut oil paste, and commercial products. You will probably use careful scraping as one of your tools for how to remove Super Glue from glass surfaces, too.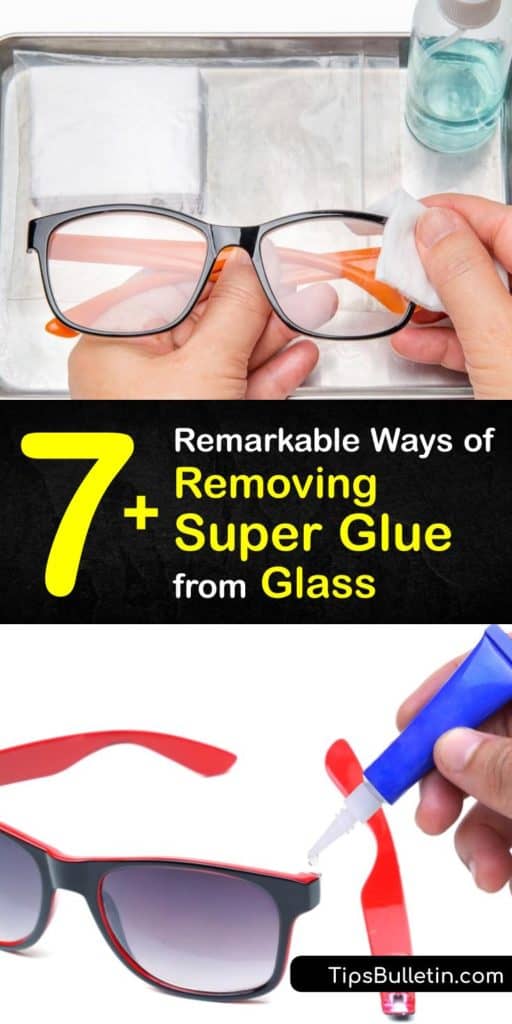 If you found these glue removal tips useful, please share these Super Glue strategies with your friends on Pinterest and Facebook.