Driving your car is a joy, and it provides excitement and freedom to travel where you please. However, during your travels, you might pick up some road tar or other sticky substance from potholes, roadwork, or trees that can mar your car's paint or windows. Knowing how to remove tar from a car is a valuable skill and saves you the money you might have to spend on professional detailers.
Having a few DIY recipes to remove road tar from a car with the right products prepares you for any cleaning task. This guide helps you master removing dried tar from your car and ensures that you'll never be helpless when your car gets tagged with tree sap or tar spots.
In this article, you'll find top-notch home remedies that will pull off tar safely and quickly, and we also point you toward the best commercial cleaners that you can use on your vehicle. Don't despair the next time you spot tar stains on your car.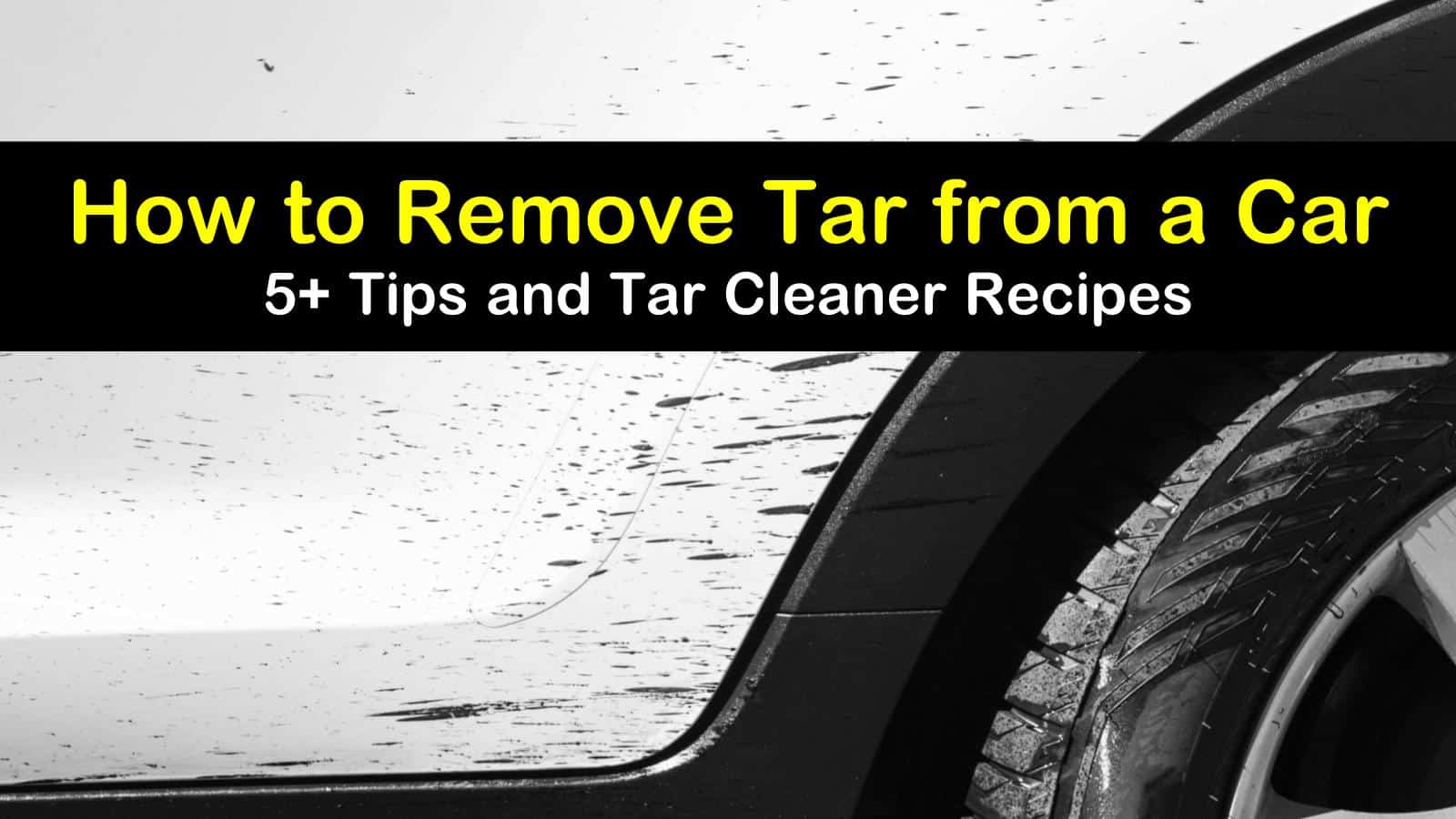 Get Rid of Dried Tar from Your Car
Although sticky stuff such as tar and sap can seem impossible to remove without damaging your paint or windows, there are DIY methods you can use when you need to know how to remove tar from a car. Your home is full of cleaning agents that can take care of removing pine sap from cars without blinking.
What you need is the right recipe, some elbow grease, and a little time. If you try one solution and don't get the results you want, try another. We have several options from which to choose.
Remove Road Tar from a Car – DIY Cleaners
This section looks at methods of removing dried tar from your car using simple items you have around your home.
We give you recipes that use food products and rust cleaners, and you'll also get a step-by-step rundown to help you remove road tar from a car the next time you wash your car. With our assistance, you'll be ready to tackle those sap and tar stains.
Use WD-40 to Get Rid of Tar
WD-40 probably isn't the first cleaner that crosses your mind when you think about removing tar, but it works like gangbusters on all kinds of sticky stains.
WD-40 contains degreasers and lubricants, and it eats away at the asphalt spots and leaves the paint undamaged. Give WD-40 a try the next time you have a road tar emergency.
Don the gloves, and spray WD-40 onto a soft cloth. Apply the cleaner to the tar spots, and wait for ten minutes. Rub the area with a clean cloth in a circular motion to lift off the tar.
Change the fabric when it gets dirty and repeat until the asphalt is gone. You might need to reapply sealant to your paint after cleaning with WD-40.
This miracle product is also ideal to get bugs off front of your car as well as bird poop. However, don't use WD-40 on your windows, as you will leave a coat of oil on them that can be challenging to remove.
Use Mineral Spirits on the Stains
Like WD-40, mineral spirits works by breaking tar and sap down and making it easier to lift off your paint. If WD-40 doesn't get your car looking like new, give mineral spirits a go.
It won't damage your paint job, although it will eat away any wax or sealant on the paint.
Soak a cloth in mineral spirits, and place the fabric over the tar spot. Wait for ten minutes, and then use a clean cloth to wipe the tar away, making sure to change the rag when it gets soiled.
After you've cleaned off the tar, take a little time for some spot waxing to replace the wax removed by the mineral spirits. You can also use mineral spirits to remove a sticker from car paint or any other sticky mess.
Hit the Sticky Stains with Peanut Butter
Peanut butter is another unlikely cleaner that can take care of all sorts of stuck-on debris. It's murder on tar and tree sap, and it eats right through bird droppings and dried insects, too.
Use peanut butter on tar spots to safely take care of them without damaging the underlying surface.
Use a microfiber cloth to spread the peanut butter on tar stains. Wait for ten minutes, and then use a clean cloth to rub in small circles and clean up the peanut butter and tar.
Repeat until you remove all traces of tar. You can use this method to clean glass windows as well; it's one of the better DIY glass cleaner ingredients for sap and tar removal that you'll find.
Give Your Car a Complete Wash
One of the best ways to get your car free of sticky stuff and back to showroom condition is to give it a nice bath. A car wash allows you to clean the vehicle from top to bottom and goes a long way toward removing sap, tar, and other debris from the paint and windows.
It's the easiest way to clean bird poop off your car, as well as sticky bug guts. A good washing takes care of most messes.
As a bonus, your car will come out the other side clean and ready for action. Make an outstanding natural car wash soap from household ingredients, so you won't have to fork over lots of cash to get your automobile clean, either.
Move the car out of the direct sunlight. Use your applicator mitt to apply the soap and scrub the car with long, back-and-forth motions to avoid creating swirl marks on the wax or paint. Don't neglect the bottom of the side doors, which are prime spots for tar and sap to hide.
Rinse the car, and repeat until the sap and tar cleans away. Dry the automobile with a chamois or microfiber towel. Use commercial or DIY tire shine and a paper towel to clean and shine up your tires and wheel wells.
Then, break the detailing clay bar into a few large chunks. Rub a piece of clay over the car's surface until it moves smoothly and without bumps.
Spray your glass cleaner on a paper towel and wipe down all windows. This is the best way to clean your windshield. Treat bird poop and bug spatter with Windex or a mixture of vinegar and water and a damp cloth.
Removing Tar from a Car
Not all stuck-on tar or other substances will give up so easily, unfortunately. You're likely to find yourself having to deal with a stubborn tar spot at some point, and only the most potent cleaners will take care of them. You're in luck, though; there are plenty of commercial products you can use to get your car looking like new again.
Commercial Tar Removers
This section gives you info on cleaning tar using store-bought cleaning products. These hardcore tar removal products cut right through all kinds of sticky grime and won't harm cured paint. Use these cleaners to show the toughest stains that you mean business.
Use Goo Gone on Persistent Spots
Goo Gone eats through bird droppings, stuck-on insects, and all manner of other sticky substances. The cleaner is perfect for taking care of tar and sap that your DIY cleaners can't touch.
Goo Gone will also eat through your wax and sealant as it cleans, so be ready to do some touch-up work on your clear coat finish after you use it.
Spray Goo Gone onto a cloth and rub it onto the area you wish to clean. The tar should lift right off. If needed, let the cleaner work on the asphalt for a few minutes to break it down.
Replace the cloth when it gets soiled. Apply sealant or car wax touchups to the cleaned area.
Goo Gone is also appropriate for removing spray paint from metal surfaces like your car or patio furniture. Never worry about overspray again with this miracle product.
Knock Out the Tar Spots with Citrol
Citrol is biodegradable and goes through tar and sap like a hot knife through butter. It's less toxic to use than Goo Gone and many other cleaners, too.
If you've tried different cleansers and have had no luck removing a piece of tar from your vehicle, reach for the Citrol for quick and effective cleaning action.
Soak a cloth in Citrol, and place it on the tar. Wait for ten minutes, and wipe away the asphalt spots with a clean cloth using light pressure. Repeat until the stain lifts away. After you've cleaned the area, apply a fresh coat of sealant or wax.
We hope you enjoyed reviewing our tar removal methods. We want to keep our cars looking their best, and that means keeping them free of tar, sap, and other sticky substances.
Our guide gives you some crackerjack recipes and helps you find the right car cleaner for your needs.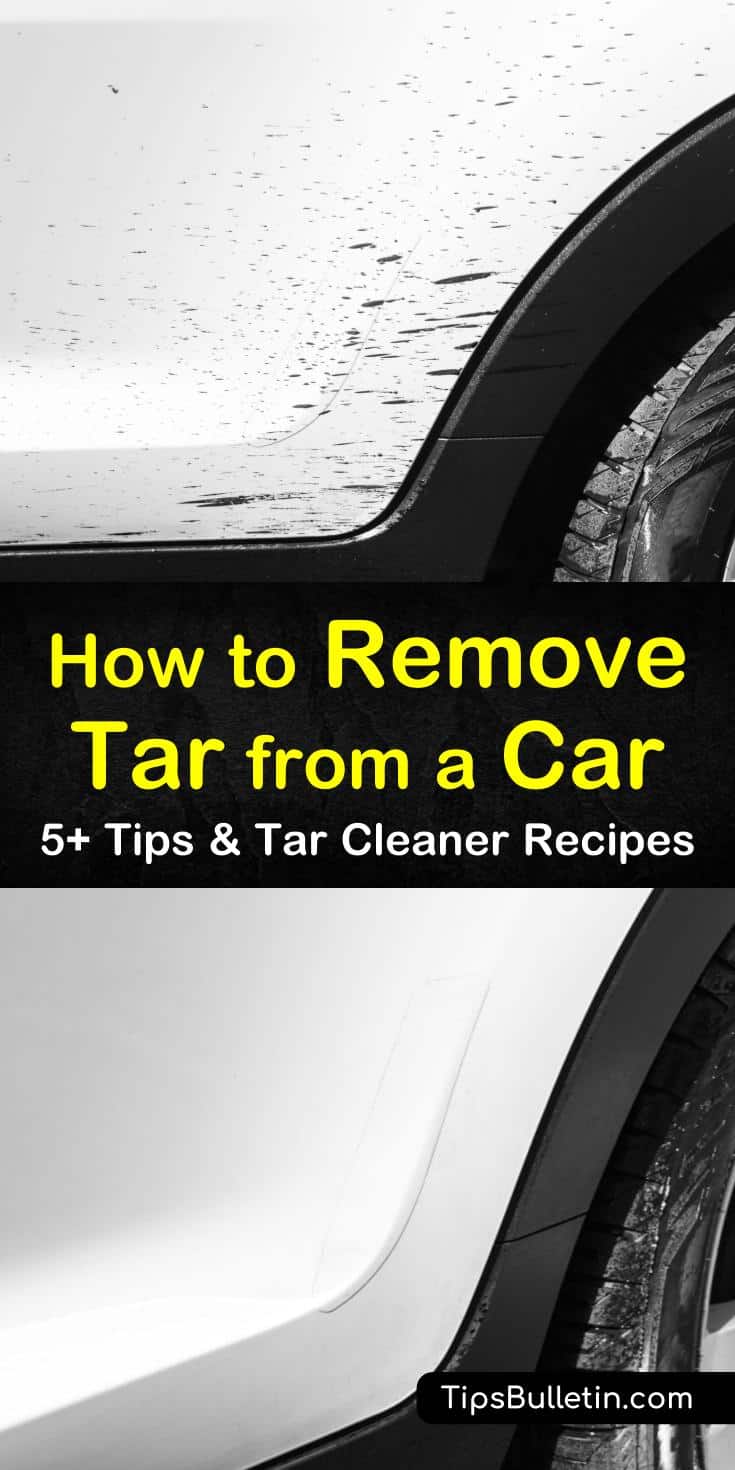 Thanks for reading our tar cleaning guide. If you found these recommendations for how to remove tar from a car useful, please help us out by sharing our sap and tar cleaning methods with your friends and family through Facebook and Pinterest.