While we like to believe that beautiful tint we've added to our cars will last forever, it doesn't. Over time, the old tint on your car windows needs replacing, which also means suffering a costly trip to the auto shop. Learning how to remove tint from car windows not only saves you time in the window tint replacement process, it also saves you money.
In addition to being more straightforward than you may think, there is more than one way to remove car window tint. This availability of ingredients and strategies makes the process even more accessible for you to tackle on your own based on the supplies you have at home.
If you've got a little bit of soapy water and some scrapers handy, then removing that old car tint from the interior surfaces of your car is no problem. Learn more about ways to clean tinted windows and take care of car windows after removing the tint.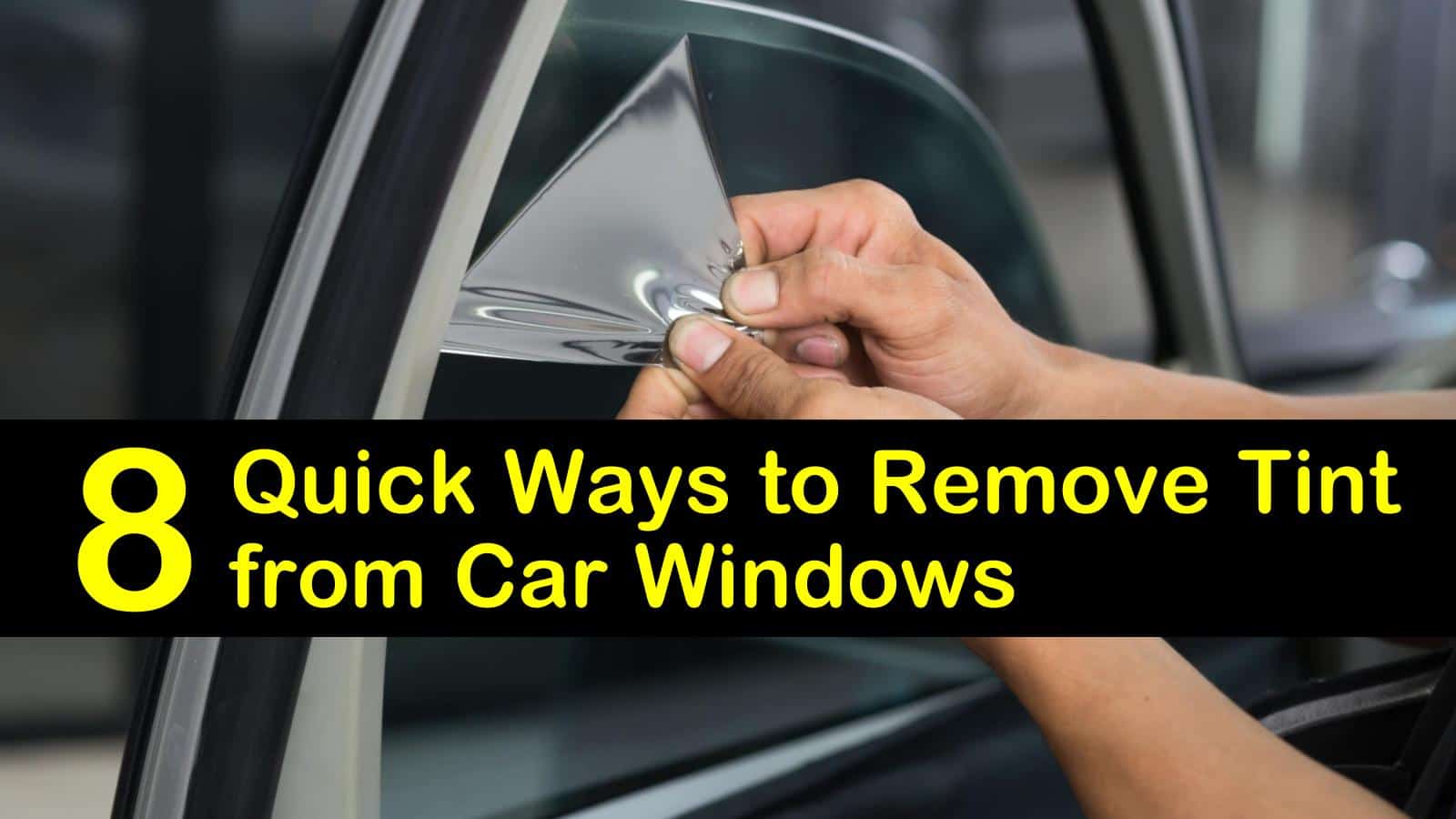 Easy to Follow Car Window Tint Removal Tips and Recipes
If that stubborn tint still won't budge, experiment with alternative methods using a hairdryer or a steamer. Whichever way you choose, these car window tint removal tips show you how it's done.
Your first step in the window tint removal process is to gather your supplies. Depending on which method you choose to get adhesive off glass, these supplies range to a variety of equipment and ingredients. However, you need a few products across all avenues, no matter what.
Making sure your windows are clean is also helpful. Use your favorite homemade windshield cleaner or a commercial product before attempting to take off the tint as you will have a smoother surface for gripping.
If you're using ammonia, take precautionary measures to ensure none of it gets onto your skin or in your eyes. When cleaning with the chemical in enclosed spaces, wear a face mask, eye goggles, and long sleeves. Lay down a tarp, as well, to prevent any accidental spills from ruining your car's upholstery.
Clean and Prep the Windows First
Before you begin removing the car window tint, you want to start with a fresh, clean surface. That means spraying the window down with an excellent glass cleaner or homemade car washing cleaner recipe. One option is to use a vinegar solution for cleaning windows, which is easy to make on your own.
Combine the ingredients in a large spray bottle, then spray the inside of the window. Wipe the surface down with a microfiber cleaning cloth or by using a scrap piece of newspaper.
It sounds crazy, but it works! Remove any stickers, as well, and scrape away all the sticky residue left behind. It will also work on getting a bumper sticker off your car without ruining the paint or scratching the bumper.
How to Remove Tint from Car Windows with Soap
After washing car windows thoroughly and using a bug cleaner for car windows if necessary, your next step is applying a window tint remover. Start with a gentler approach first, before progressing into more forceful measures. Your best option for this is to add a little bit of dish soap to some water and use a razor blade to scrape away the edges.
While this method doesn't require a lot of materials to be effective, it does require some patience. First, apply soapy water to the surface of the tinted window using your spray bottle and soak the window thoroughly.
Doing this makes it easier to lift the corner of the tint film and gently peel it away. Using the tip of your razor blade, peel back the corner of the window tint and slowly start to pull it free from the window. Trying to rip it off too quickly makes the job harder and you will end up with lots of tearing.
If you notice the tint gripping the window too tightly, spray the area with more soapy water and use your razor blade to work in between the tint and the glass. If you pull it too hard, or too fast, you need to start over again by scraping up a new corner of the tint.
If you have a decal that needs removing, you can also try this solution as the best way to get a sticker off a car window. Since a sticker is smaller than the potential tinted area, this removal option takes much less time and usually works quite well.
Add Some Newspaper for Easier Removal
If using soap on its own doesn't work, then adding a little bit of newspaper to the equation makes the job even easier. You already know how to use the soap method, so your first couple of steps are already handled. After spraying the area with a soap solution, cover it with newspaper then leave it to soak for about an hour.
Periodically examine the newspaper covering the window to ensure it hasn't dried; every 15 minutes is more than sufficient. If the paper starts to dry, spray it with a little more of the soapy water. After the hour has passed, the paper and the tinting fuse together, which gives you a sturdier grip on the tint to peel it away.
Car Window Tint Removal Using Ammonia
Another homemade window tint solution involves using ammonia to remove the tinting. While ammonia is also a great way to clean untinted windows and remove stickers from cars, it's just as effective at eliminating tint when applied directly. Your first step is to cover the windows on both the inside and outside using black trash bags.
Cut the bags so that they fit right along the edges of the car window and hold them in place using tape. Peel back the garbage bags on the outside of the window, then spray with the soapy solution from previous steps. Recover the window with the bags.
Repeat this same method for the inside of the car window, only this time, spray ammonia instead of soapy water. Leave this to sit for approximately one hour before you remove the trash bag. Similar to the newspaper method, the tint fuses to the top layer of the trash bag, making it that much easier for you to peel it off.
If any tinting is left behind, use some steel wool and a small spritz of ammonia to remove the residue. Doing this on a sunny day increases its effectiveness by also applying a little heat to the mixture.
Use a Hairdryer to Peel Away Tint
Heat is another incredible way to remove tinting. While using a heat gun undoubtedly aids you in this process, a hairdryer is much easier to find in your home and works just as well. It's also a great way to avoid scraping the lines on your rear window that acts as a defroster.
Roll down your other windows in the car when using this technique, or any other process that requires heat, to reduce the build-up of warm air in the car. This creates a more comfortable environment for you to work in and protects the interior of your vehicle, as well.
Start by heating the corner of the window tint using the hairdryer until it curls up at the end. Keep the hairdryer a couple of inches away from the surface.
Move along the tinting, spreading heat across the tint as you pull up on the corner of the film. Continue until you've successfully peeled off all of the tint film.
The Best Way to Remove Car Window Tint When Steaming
As an alternative to the hairdryer approach, a quicker way to add heat to your window tinting is by using a fabric steamer. Similar to using a hairdryer, hover the fabric steamer over the window by about two inches. Apply the heat to both the inside and outside of the window for the best results.
Move from top to bottom, ensuring you cover every spot of the window with the steam.Next, use a razor or scraper to peel back a corner of the window film. For any particularly tricky spots that don't want to lift away easily, add another round of the steamer over the top.
Repeat this process until all the tint peels away from the window. To prevent any damage to the defroster lines at the back window, save the rear window for last. At this point, you're a master at peeling away the tint, especially after doing so for all the other windows in the car.
So, saving this step for last is the most logical. Never use a technique that requires a razor blade on the defrosting lines, however, as this ruins them and how they function.
Remove the Sticky Residue
After you've removed the majority of the tint from your window, there may still be little pieces of tint stuck to the window along with sticky goo. The remaining bits of tint film easily lift away using either a scraper or razor blade and some soapy water.
However, the glue residue may require an adhesive remover to restore the glossy glass surface to your window, like you would require if you need to remove super glue from a window.
The good news is, you've already got some of the finest adhesive removal supplies at your disposal. Using a cleaning agent like ammonia, a glass cleaner, or vinegar loosens up the goo from the window. Scrubbing with a scraper like fine steel wool also lifts away any stubborn particles.
You could also try WD40 to remove adhesive from a car window if these other products don't seem to do the job. WD40 successfully eliminates all kinds of debris stuck to your car, like bugs and old decals, too.
Treat Your Windows to Some TLC
Now that you've successfully removed your tint and applied a glue remover for the remaining pieces, give your car windows a little extra love and attention by restoring that glossy finish. They've been through a lot in the past hour or so of tint removal, and you want to make sure they are cleaned and well protected afterward.
This procedure is simple and requires quick and easy cleaning, like the first step in this process. Using a gentle glass cleaner, or DIY cleaning solution, wipe down the surface of the windows. Dry them using a microfiber cleaning cloth to prevent streaks, and enjoy the lovely new shine in your windows.
Since you've given so much attention to your windows, you may as well treat the whole vehicle. Give the car a good washing so that the entire surface gleams. Don't forget to take care of DIY headlight cleaning and get rid of grime on the tires, too.
With these quick and easy steps for car window tint removal, you are now ready to tackle even the most difficult tinted window out there. Whether you choose one method you like or opt for a combination of two or more, maintaining the look and integrity of your car is crucial. Not only do these methods keep your vehicle looking great, but they also prepare it for the brand new tint you've been eyeing.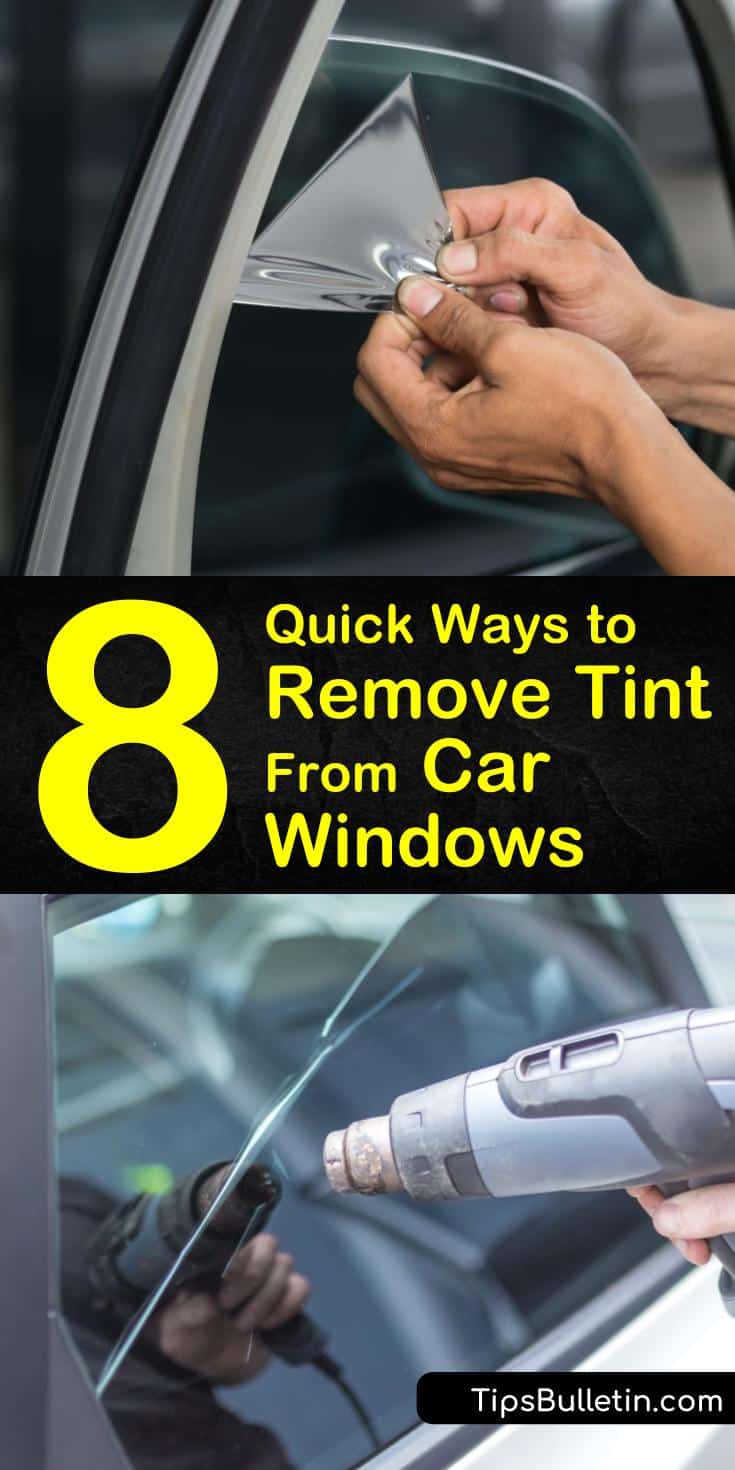 We hope you enjoyed these window tint removal tips. If you now have your new favorite way to remove car window tint on your own, then please share how to remove tint from car windows with the other car fanatics in your life on Facebook and Pinterest.