Whether you're a smoker or inhabit a residence where someone has smoked, knowing how to remove tobacco stains from a ceiling is a lifesaver. Yellow stains, smoke damage, and cigarette odor are unappealing and make your home seem dingy. Even if you don't smoke, cigarette smoke smell and smoke residue on ceilings and walls persist long after the tobacco is put out.
Third-hand smoke, or the presence of nicotine stains and smoke odor, indicates toxins are still there and presents a danger to those in contact with them. Cleaning nicotine off the ceiling is essential in making your home look inviting and a safe space to spend time.
Don't puzzle over how to clean cigarette smoke off the ceiling. There's an array of uncomplicated home remedies to eliminate nicotine odor and remedy a stained wall or ceiling using affordable and accessible products. Cigarette smell or a tobacco stain doesn't have to bring down the ambiance of your home. Clean your household with DIY techniques.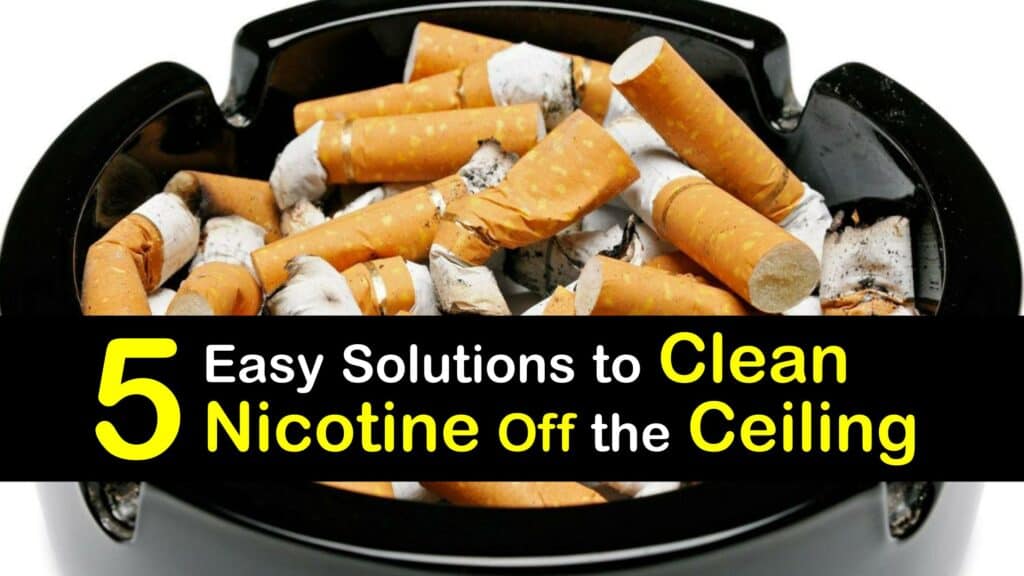 How I Clean Cigarette Smoke off My Ceiling
Learn how to remove tobacco stains from a ceiling to present your residence at its best. The lingering smell of tobacco and patchy, yellowing smoke damage is off-putting. A clean, fresh home is a more attractive and healthier place to hang out and entertain friends and family.
Removing the lingering tobacco and nicotine residue from your walls and ceilings prevents it from leaching into the air and making your home stink. Cleaning nicotine off the ceiling doesn't have to be a nightmare. Fix nicotine stained walls and eliminate smoke residue with easy tips and tricks.
How I Remove Tobacco Stains from a Ceiling
Steam cleaning is a revelation in home maintenance, and your steam cleaner is perfect for everything from keeping your couch fresh to removing those troublesome smoke stains from your ceiling. Steam cleaning lifts even heavy staining and neutralizes odor by denaturing odor-causing bacteria using heat.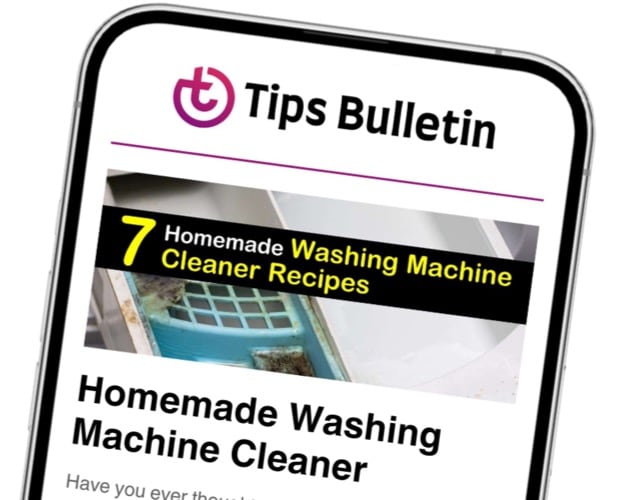 Finally, an email that Transforms Your Home.
Get the latest home and garden tips from our experts, delivered straight to your inbox.
Use your steam cleaner per the product manual, focusing on one small area of staining at a time, and working methodically until no more yellowed patches remain.
To start, perform a test run by using your steam cleaner on a small area of your ceiling. Certain delicate paints may respond poorly to steam cleaning and fare better with a different cleaning idea.
Trusting Baking Soda for Cleaning Nicotine off My Ceiling
Baking soda is often called upon for erasing stubborn stains, so it's no surprise it's an ideal trick to clean cigarette smoke stains off your walls and ceiling.
Since a powder is challenging to apply, mixing the baking powder into a thick paste with a bit of water is wise; this ensures it clings to your ceiling and stays in contact with the stain throughout the removal process.
Blend until thick paste forms. If the mixture seems too powdery, add more water. The goal is to create a stiff paste with the ability to cling to the ceiling without dripping. Spread the paste over the smoke stain, let it dry for at least one hour, and wipe it away with a damp cloth. Repeat until no discoloration remains. Use this way of getting nicotine off walls and ceilings periodically if there is a regular smoker in the house.
To use baking soda to get cigarette smoke smell out of mattress or couch, sprinkle the powder liberally over the surface and let it sit for a few hours. For strong odors, gently rub it in with a clean cloth. Vacuum the residue.
Cleaning Nicotine off My Textured Ceiling
Distilled white vinegar is an excellent remedy for cigarette smoke odor, water stains, or stubborn nicotine stain marks. It's one of the best ways to clean smoke off the ceiling. White vinegar contains a mild acid that breaks down the cigarette stain and quickly neutralizes the smoke smell.
It's prudent to blend distilled white vinegar with water to dilute it into a solution before using it as a cleaner to avoid inadvertently damaging your ceiling.
Whether using vinegar for your ceiling, as a way to clean candle smoke off walls, spray the cigarette stain with the vinegar solution after adding the water and white vinegar to the spray bottle and shaking to blend the ingredients.
After ten minutes of letting the vinegar sit on the nicotine stain, wipe the cigarette stain with a clean, wet cloth, soaking up as much stain and vinegar as possible before allowing it to dry. Repeat until the cigarette stain is no longer visible.
Vinegar has so many beneficial cleaning uses, including a simple DIY cleaning solution for walls and ceilings that you can use any time.
Cleaning Brown Spots on My Bathroom Ceilings and the Wall
A Magic Eraser is an intelligent stain remover for many surfaces. Magic Erasers are blocks of melamine foam with thousands of microscopic air bubbles. When you rub the eraser back and forth over the stain, the foam works gently through abrasive cleaning to lift the discoloration.
Test your Magic Eraser on a small ceiling patch first, as it's not appropriate for every paint type. If you don't have a Magic Eraser, sugar soap works similarly by gently abrading the stain until it's gone.
Getting Rid of Brown Spots on My Ceiling by Repainting
When you have a large brown patch from water damage or a significant yellow smoke stain, sometimes it's better to apply primer and paint or a cover stain product. Before covering any stain, be sure the structural integrity of the ceiling and plasterboard or drywall is sound.
Choose a paint to match the existing color on your ceiling for a seamless finish. Sand build-up or imperfections, prime the surface, and apply the paint in thin, even coats. Work until the color blends with the rest of the wall or ceiling and no evidence of cigarette damage is visible.
Learning how to clean cigarette smoke off the ceiling ensures your home is bright and smells good. Nicotine walls or a smoke-damaged ceiling are unattractive and look dirty. Patchy yellow marks and the cloying scent of cigarette smoke ruin your decor and detract from the overall aesthetic of your space.
Trying to clean up the evidence of smoking from your home can seem overwhelming, but trust time-tested tips to help you erase the smoke stains from your ceiling for good.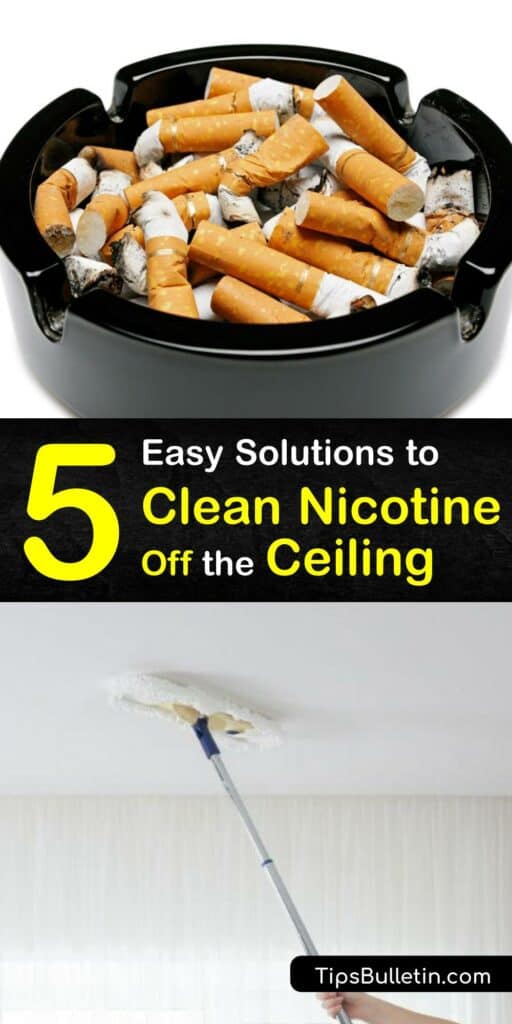 If you liked this article on how to remove tobacco stains from a ceiling, please share these brilliant tricks for cleaning nicotine off the ceiling with your cherished friends and family on Pinterest and Facebook.