Bed wetting is a common occurrence in households with small children who are still learning to use the potty. Even older dogs or new puppies may cause a pee stain or two on the mattress, leaving you with a slew of questions for how to clean them. Learning how to remove urine stains from a mattress is easier than you think and takes a short amount of time to resolve.
With just a few everyday cleaning products, you will have a squeaky clean mattress once again. Mistakes happen, but that doesn't always mean you have to live with the consequences forever – at least not when it comes to a stained mattress.
Many of the supplies needed to clean your stained mattress are easy to find in your pantry. There are also several DIY solutions available that are safe to use around your furry friends and won't hurt your roaming toddlers. If you are ready to discover how to get pee stains out mattresses for good, then these seven tips will help you get there.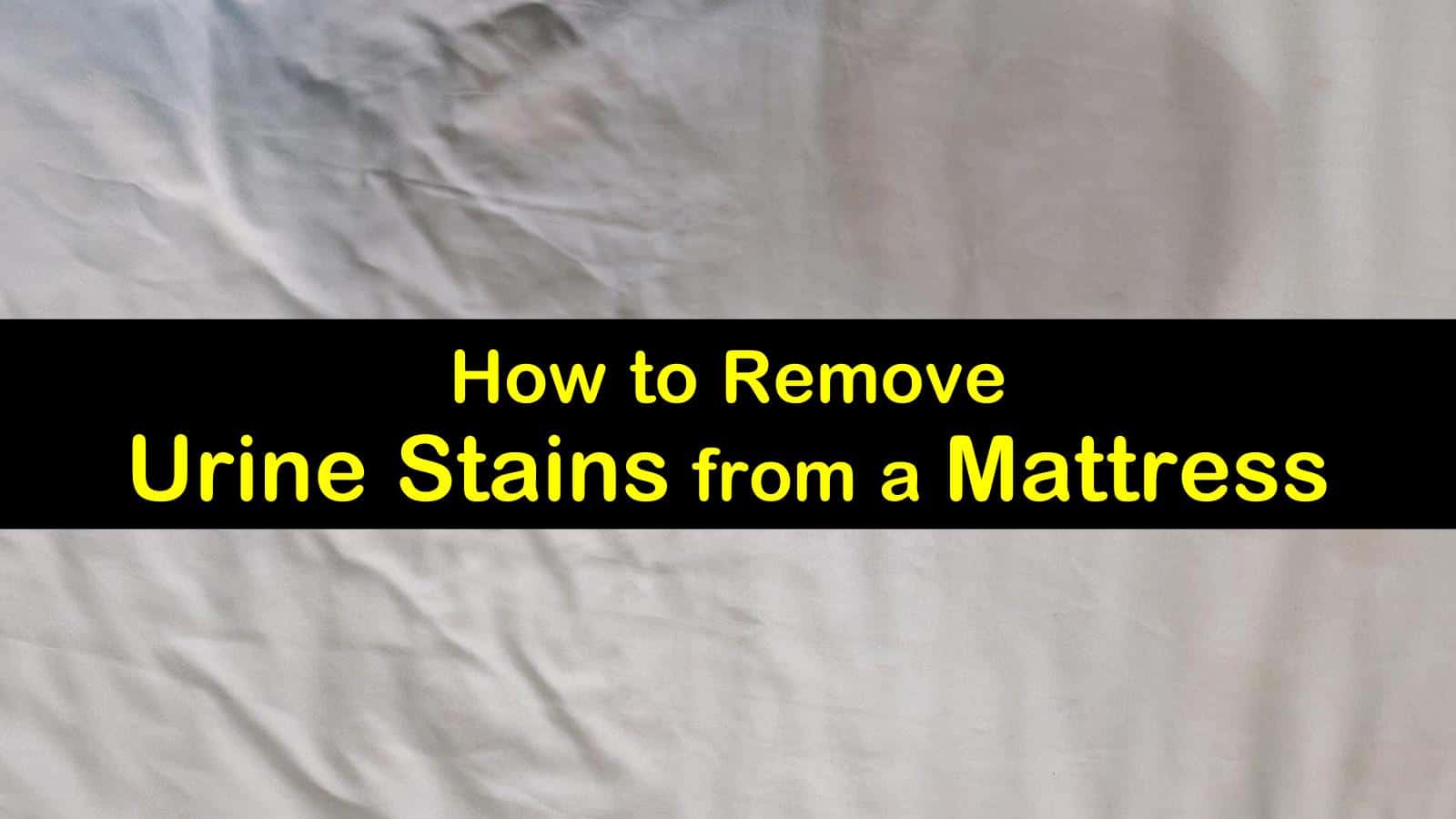 Getting Pee Stains Out of Mattresses
Mattresses are susceptible to stains just like clothing and carpets. We have several excellent ideas for treatment options for stain removal for a mattress that are easy to make and just as simple to use.
Prepare Your Mattress for Cleaning by Removing all Dirt and Debris
The first step in the mattress cleaning process is to remove any excess moisture or debris still on the surface of the mattress. Regular cleaning with a vacuum cleaner does the trick and eliminates any dirt stuck deep in the crevices in the bed. Using the upholstery attachments on the vacuum cleaner, clean the entire mattress before treating it for stains.
Regular cleaning with a vacuum should occur every couple of weeks, or whenever you change the sheets. Doing this will ultimately increase the lifespan of your new mattress and prevent sweat stains on a mattress caused by a buildup of body oils.
Use Dish Soap for Regular Mattress Cleanings
In some cases, the stains are moderate and easily fixable using no more than a mild dish soap like Dawn. The first step in any urine stain removal process or getting vomit off a mattress is soaking up all the mess from the mattress. Using paper towels or a dry cloth, start by gently blotting the area to absorb the excess liquid.
Once all fluids are gone, add a few drops of dish soap to a bowl of cold water. Use a cloth to apply this simple mattress cleaning solution to the stain, allowing the area to become thoroughly saturated without sinking too deep into the mattress.
Rinse soapy residue off the bed with a damp cloth and let the stain air dry. Dish soap is also an excellent way to keep your mattress cleaned regularly.
Use an Enzymatic Cleaner to Clean Yellow Stains on Mattress
When it comes time to remove smells and stains caused by urine or body oils, an enzymatic cleaner is your best friend. These cleaning solutions use enzymes to break down proteins found in uric acid and are the only way to eliminate pet urine and stains for good.
Other yellow stains on mattress surfaces may result from sweat or blood stains but are also easily cleaned using an enzymatic cleaner. This cleaner is also an effective solution to get cat pee out of carpet and upholstery.
Soak up as much excess urine from the bed as possible using paper towels. Spray the area with a store-bought or DIY enzymatic cleaner spray, and let it sit for at least 30 minutes.
When washing memory foam mattresses, be careful not to soak the material with the cleaning solution to avoid a buildup of moisture in the cushions. Dampness that seeps into the interior of memory foam can lead to mold and mildew which will be very challenging to remove.
After letting the enzyme cleaner sit, rinse the area with a damp cloth and air dry with the help of a small fan.
How to Get Pee Stains Out Mattress Using White Vinegar
Vinegar is another impressive solution to remove stains from a mattress, whether caused by dog urine or cat urine. Clean urine from a mattress with a pillow top or another type with this solution. A natural deodorizer, vinegar works well on its own, diluted with water, or when combined with other cleaning products.
The amount of vinegar you use depends on the severity of the stain. If you are unsure whether the stain needs additional treatment, start with this simple solution first.
To clean with white vinegar and water, combine the two ingredients in a spray bottle. Lightly apply the mixture to the stain and blot the mattress using a dry cloth, whether you use this way to get cat pee smell out of a mattress or a human urine stain. Continue until the stain stops transferring from the mattress onto the cloth.
Reapply as needed, or use pure white vinegar for stubborn stains. The natural deodorizer in vinegar also makes it a fantastic solution to remove smell from carpet.
Sprinkle Baking Soda to Remove Tough Smells and Odors
Like vinegar, baking soda is an excellent odor neutralizer and is highly effective for removing stains and urine odor. When treating a memory foam mattress and for how to get smell out of a mattress, baking soda is the best solution. To remove sweat stains from a mattress and other excess body oils, as well as odor from urine, vomit, and more, try this recipe.
Using powder cleaners leaves minimal risk for mildew building up the way it does with liquid cleaners. For mattress stains, however, baking soda is most beneficial when combined with other products.
One option to use when cleaning stains and removing smells with baking soda is to use an enzymatic cleaner to remove the initial stain. Afterward, sprinkle baking soda over the area to absorb moisture and any remaining odors from the mattress. It may be helpful to brush or rub the baking soda into the stain for better absorption.
Then, after letting it sit for 30-60 minutes, vacuum away the excess powder.To use as a solution spray, combine the above ingredients in a spray bottle and wait until the mixture stops bubbling. Spray the area in the same way you did with the vinegar cleaner and rinse with a damp cloth.
Repeat as necessary. Either option is an efficient method for how to get rid of urine smell from your mattress.
How to Remove Urine Stains from a Mattress with Hydrogen Peroxide
If you don't have vinegar lying around the house, you may have another common disinfectant. Hydrogen peroxide is equally as effective for removing urine stains from a mattress and will also reduce the smell.
Like vinegar, the solution can be used on its own or with other products to complete most cleaning tasks around the house, such as clearing a clog or removing stains.
Mix the ingredients in an empty spray bottle or small bowl. Because hydrogen peroxide can cause discoloration, test a small area of the mattress before you start cleaning with it.
Wet the area with the solution and blot with a dry towel to remove the stain. Continue until the stain stops transferring from the bed to the clean towel and repeat as necessary. Rinse with cool water and air dry.
Remove Foul Odors and Sweat Stains on a Mattress by Adding Essentials Oils
Cleaning products like hydrogen peroxide and vinegar are perfect for removing stains and smells caused by urine. However, cleaning with them can produce a smell that is sometimes worse than the urine itself. While this odor fades quickly and does not linger like the pee smell itself, there are ways to counteract these smells while cleaning.
Using essential oils is the best way to neutralize odors and ensure your home smells precisely the way you like. The following DIY cleaning solution will remove stains and leave your home smelling heavenly.
Combine the following ingredients in a medium spray bottle. Shake well and treat the area to clean urine stains. Some homeowners like to use alternative essential oil scents, which is perfectly fine.
Many suggest using lavender essential oils due to its effectiveness as a sleep aid. However, you can use whatever scent is your favorite. This method can also act as a carpet cleaning solution for pet urine.
What are some ways I can prevent urine stains from happening in the first place?
While any of the above solutions will clean a stained mattress, using a waterproof mattress protector or mattress pad prevents stains from happening altogether. A mattress cover makes cleaning your mattress as easy as tossing it into the washer and dryer. It provides a layer of protection that absorbs most of the liquid and keeps it from seeping into your mattress.
A waterproof mattress cover, such as a plastic protector, is also a great way to prevent stains. The stain-causing liquid is unable to penetrate the plastic barrier, keeping your mattress free from stains caused by drinks, sweat, and urine.
Accidents happen, especially with young children and puppies who are still learning the ropes. Cleaning these tiny spills and stains can get frustrating from time to time. Though with the proper methods and recipes to clean up even the most heavily stained mattress, there is no mess you can't tackle.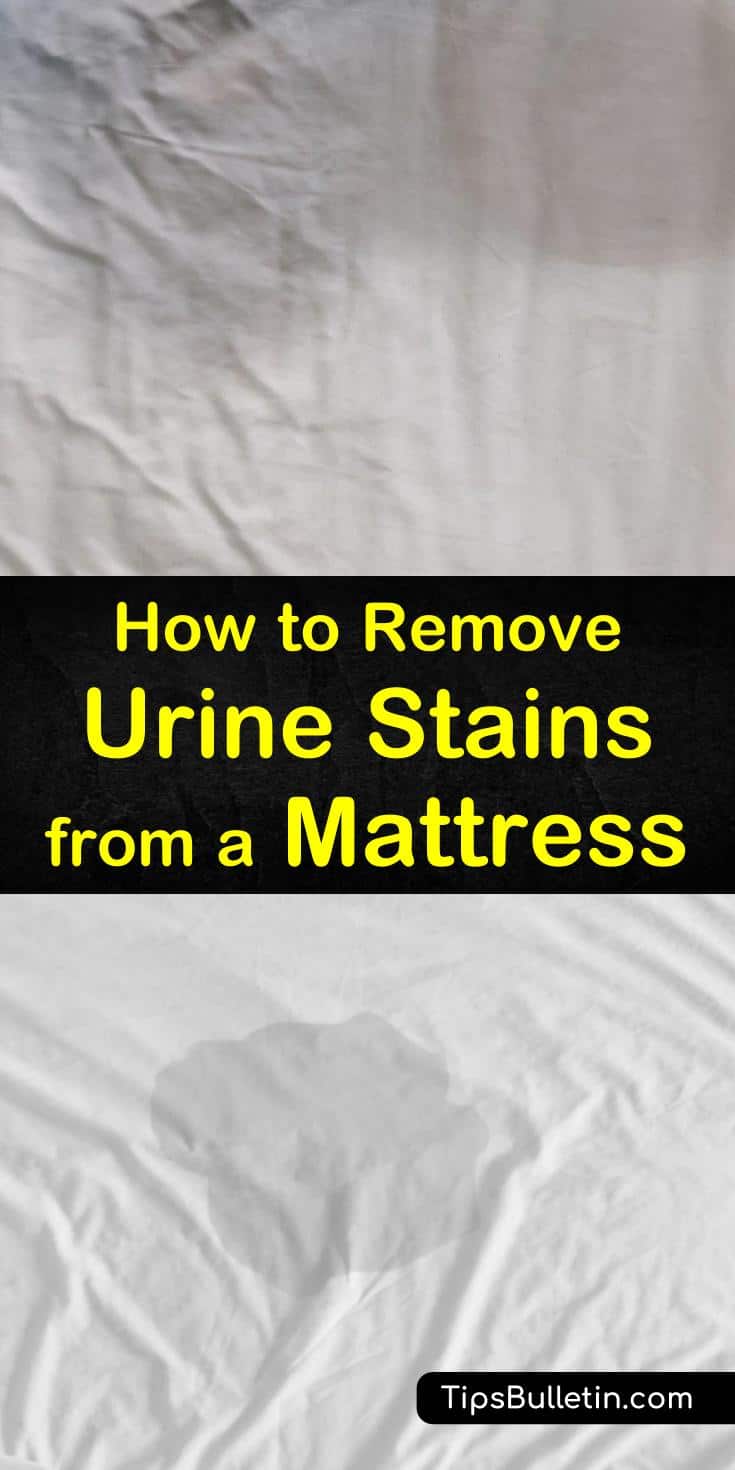 If you found our cleaning tips on urine stain removal helpful, don't forget to share how to remove urine stains from a mattress with friends and family on Facebook and Pinterest.