Whether for decorating a room or organizing your office with a dry erase wall decal calendar, we use wall decals throughout the home and more often than we think. While these decals are easy to put up, the fact that they are removable doesn't mean they come down easy.
Knowing the best methods for how to remove wall decals saves you a ton of time and effort and allows you to put up fabulous wall graphics without feeling guilty.For anyone who has ever tried to pry stickers off of a wall, you know it can feel like an effort in futility.
Using the tools and ingredients for the right kind of decal is all you need to know to get started. So whether you are tackling dry erase wall decals, or any other vinyl stickers, these quick and easy tips tell you everything you need to know.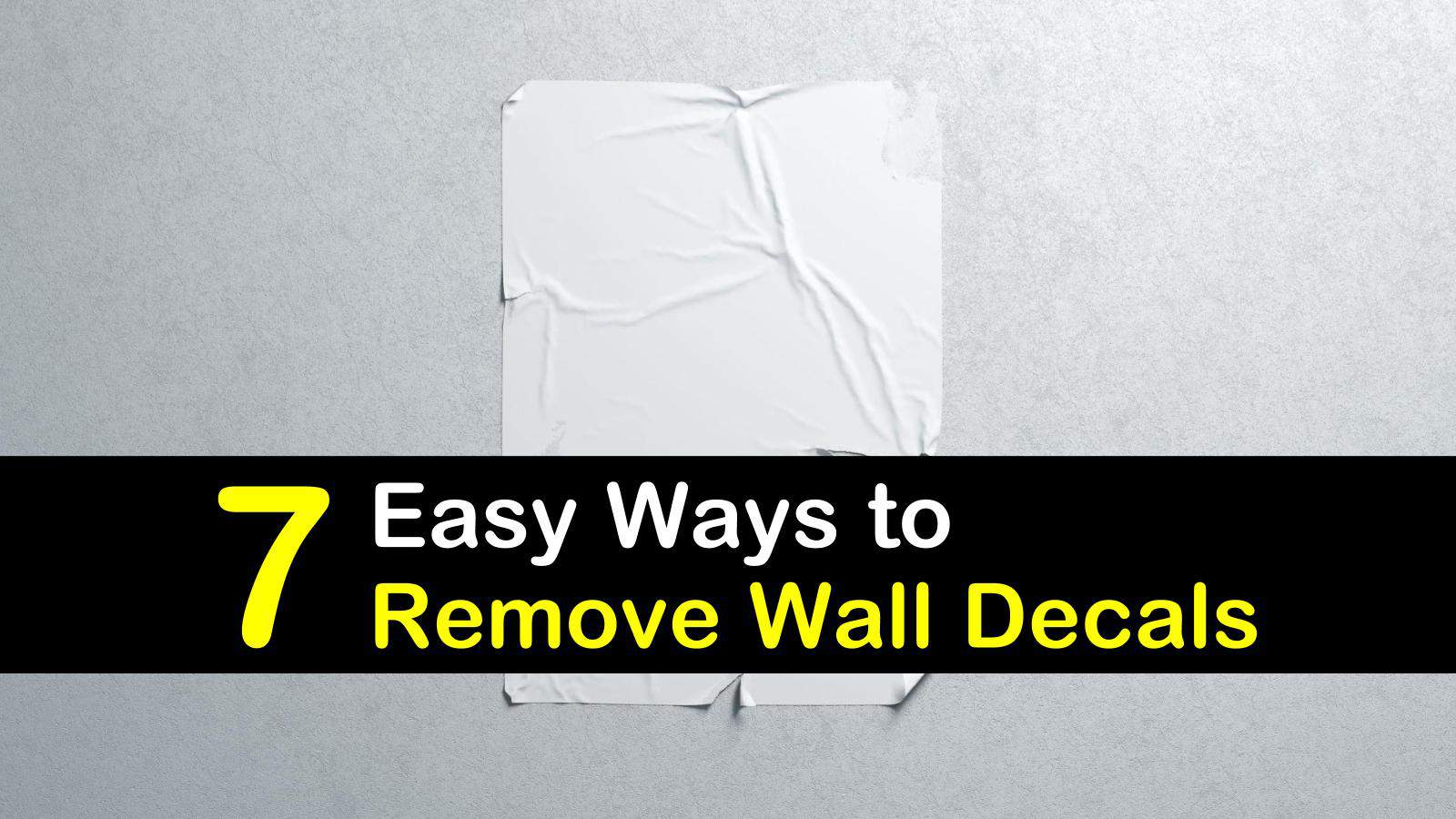 Methods for Removing Vinyl and Dry Erase Wall Decals
Wall decals are a colorful and convenient way to add style to your home decor. When swapping out your vinyl decals for a fresh new look or coat of paint, ensure you don't damage the wall surface in the process.
Whether you are removing wall stickers from a small area of your wall or a full-sized wall mural, this step by step guide helps you choose the right wall cleaning products that will do the job right the first time. Redecorating has never been easier.
Turn Up the Heat to Remove Vinyl Decals
Any home and cleaning freelance writer will tell you that the best way to remove your vinyl wall stickers is to add a little heat to the decal first. As a homemade sticker remover, heat is ideal. Hot air slowly melts the adhesive that's linking the decal to the wall and loosens its hold.
One simple way to add heat to decals is by using a hair dryer. Using a blow dryer, start with one corner of the decal, and gently peel it away. If another area of the sticker gets stuck during the removal process, apply additional heat to that area.
This method works best for preserving your paintwork and leaving the surface free of any leftover residue. A similar approach works on dirty concrete or as a flooring glue remover, especially if you have just finished removing the carpet.
In this case, a heat gun also does the trick at removing adhesive, whether it's on the walls or the floor. It's also one of the popular ways to take down wallpaper. There is little mess and it just takes a bit of effort and time.
Clean Dry Erase Wall Decal Calendar Residue
If you have leftover adhesive residue on your wall after removing your decals, one method you can try is using dish soap. Plain dish soap, one free from additives like bleach and fragrances, is a perfect way to remove sticky residue from your wall. Already a fantastic degreaser, adding a few drops of the dish soap to warm water loosens up the adhesive in no time.
Add the soapy water to a cleaning cloth and rub over the area where the vinyl wall decals once were. You may need to use some additional scrapping to remove the challenging pieces. Dry the area with a clean cloth when finished.
Remove Soft Adhesive with WD-40
If the soapy water doesn't work, another adhesive remover to try is WD-40. While this product often finds its purpose in car maintenance, it is also highly effective at removing stickers from the drywall and other surfaces. It's also one of the safer methods to use on latex paint and drywall since stronger chemical cleaners can ruin the paint.
To use this method, either apply directly to the sticker or the residue left behind. Allow the area to soak for a couple of minutes before wiping it away. Clean the area with soapy water and dry when finished.
Use WD-40 for how to remove decals from car windows and bumpers, too. You probably already have a can in your car already!
Peel Away Wall Stickers with Olive Oil
Another way to safely remove wall stickers without causing damage to your paint job is by using olive oil. Similar to WD-40, olive oil uses its oily make-up to loosen sticky substances from the wall.
When using this method, apply a small portion to a cleaning cloth, approximately one quarter in size. Wipe the fabric over the sticker, especially along the edges.
Let the olive oil soak through the dry erase wall decals, and leave it to sit for several minutes. Gently remove the stickers and rinse with clean water.
How to Remove Wall Decals with Rubbing Alcohol
If you still haven't found that perfect solution to remove wall decals, rubbing alcohol is your next best option. One method you can use is by applying rubbing alcohol to a cotton ball and wetting the area with the sticker.
If you are using rubbing alcohol to remove wall adhesives from glass surfaces, use the following window cleaning solution. Alcohol also works quite well for removing Sharpie from walls. Use this mixture to rub away stray permanent marker stains and get rid of stickers.
If you have added a wall decal to mirrors, or even your car window, using this solution removes the sticker and cleans with a streak-free shine, leaving the surface with no trace of the sticker or decal. No matter what method you use, dilute the rubbing alcohol before using it.
When using rubbing alcohol, always test a small area of the wall first to avoid damaging the paint. Avoid using it on a fresh coat of paint. Try this solution as a wallpaper removal spray, too. You may be surprised at what a great job it does loosening old wallpaper.
Tools for Removing Dry Erase Wall Decals
Some wall decals feel impossible to peel off, even when applying heat or oily adhesive removers. When this happens, using the right tools for the job can make the difference between saving your paint job or not. Use this list of things to keep handy.
If you need to use a scraper, try one of the plastic ones you use when adding putty to a wall. Do not dig the scraper into the wall, or apply too much pressure. If you have added vinyl decals to a car window, use a glass scraper instead to ensure the glass is kept safe and unscratched.
Another helpful tool to keep handy is a pair of tweezers. These tiny pinchers are especially useful for those of us with short nails, who have difficulty pinching the tiny corners of our wall decals. Tweezers will make gripping the edges and peeling the stickers away even more accessible.
How to Remove Vinyl Wall Decals with Acetone
If you are still at a loss of what to use, or maybe nothing you've tried so far has worked, try nail polish remover. We already know how spectacular acetone is at removing sticky substances like nail polish, so imagine the uses when it comes to removing wall decals.
When using acetone, however, use it sparingly and on non-painted surfaces or white walls. Because this method is a great way to remove adhesive and polish, it also is an excellent method for eliminating unwanted wall paint.
Apply nail polish remover to the appropriate surface using a washcloth, then scrub the area until the sticker comes off. Wipe away with soapy water and dry.
These fantastic ideas should put you on the fast-track for removing your dry erase wall decal calendar and decor with ease. You can always start with the first step, then work your way down, until the stubbornness of stickers has finally surrendered. Either way, you have everything you need in these quick steps to make it work.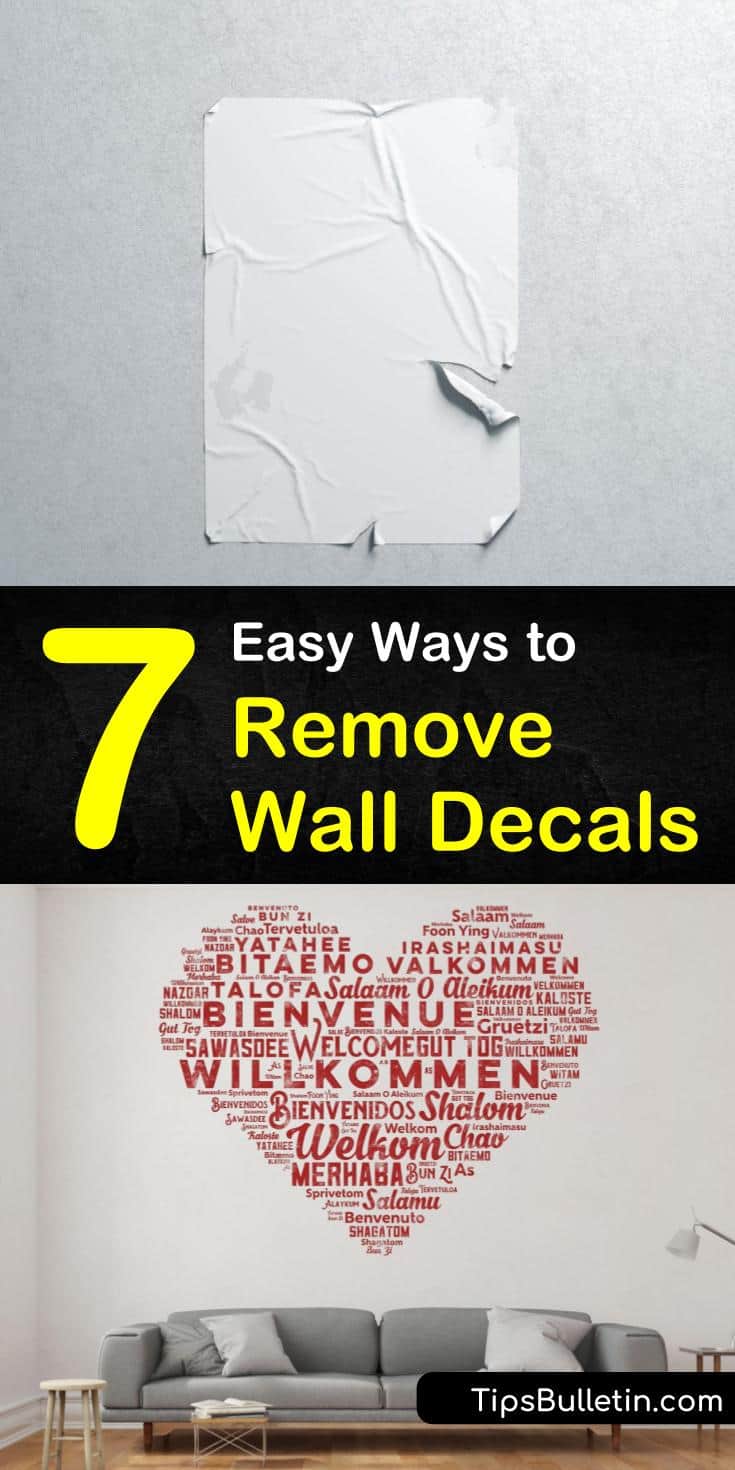 If these tips for tackling vinyl wall decals helped you out of a sticky mess, please remember to share how to remove wall decals with everyone you know on Facebook and Pinterest.