We always try hard to keep our canvas shoes from getting stained the first few days after buying them. Nevertheless, it isn't long before they get scuffs and sweat stains, and their white sole turns yellow. Learn what causes a yellowing sole and how to remove yellowing from shoe soles using a few simple steps.
There is something about slipping on a brand new pair of shoes that makes you feel on top of the world. You walk around in style, taking care not to scuff them or get them dirty. However, those shoes quickly lose their awesome appearance when they have a yellow sole, especially if they are white shoes.
Dirty shoes are inevitable, especially the sole section. After all, you walk in them on the grass, sidewalk, and road, and these areas are dirt magnets. Even if you're careful not to stain them, over time, yellow discoloration begins to appear on the rubber bottoms and sides of your shoes. Luckily, there are easy ways to clean your best shoes instead of tossing them in the back of the closet.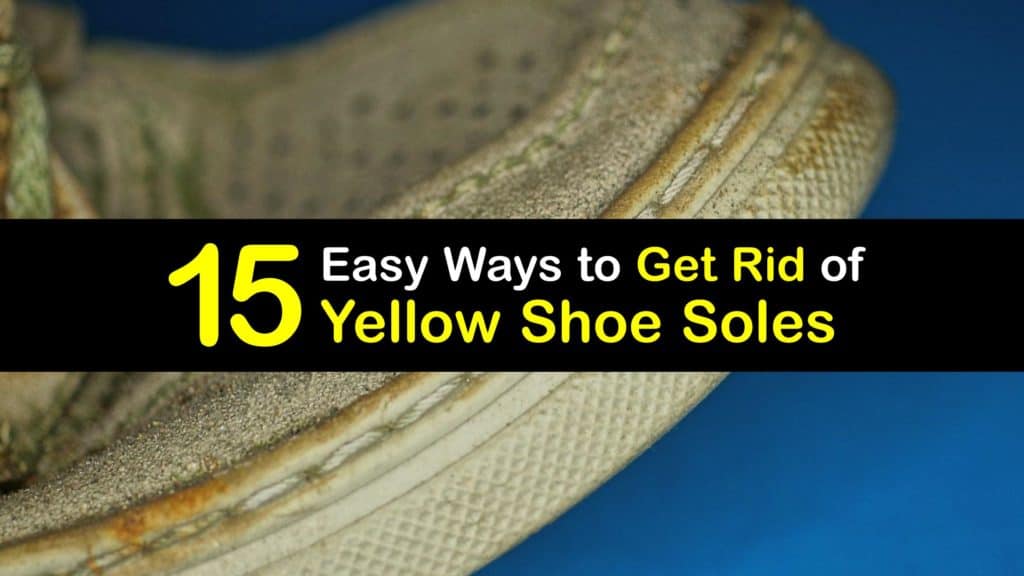 Ways to Clean Yellow Shoe Soles
There is nothing more unsightly than yellow marks on your white sneaker, and the longer you wait to clean them, the worse the yellow stain gets. Find several ways to clean the yellowed sole of your shoes – some are basic while others are a bit more time-consuming.
What Causes Shoe Soles to Turn Yellow?
You're careful to avoid mud puddles and filthy areas while wearing your sneakers, but somehow the soles still turn yellow. What causes shoe sole yellowing? Discover the main culprits for yellow shoe soles.
One of the main reasons sneaker soles get yellow is oxidation. After walking on salt and ice, the soles are exposed to oxygen, eventually turning them yellow. Other common causes of yellowing are the accumulation of dirt, walking on wet areas often, grass stains, and certain chemicals you may come in contact with while wearing them.
How to Clean Yellowing Sneaker Soles with Baking Soda
We like to keep a box of baking soda in the kitchen, pantry, bathroom, and laundry room. It has many uses, from cooking to deodorizing, and its mildly abrasive cleaning action makes it perfect as a shoe cleaner. Learn how to clean yellowing sneaker soles with this miracle powder.
Shake a decent amount of baking soda into a container and add just enough warm water to form a cleaning paste. Spread a towel on a surface and flip your shoes over.
Dip the bristles of a toothbrush into the paste and use it to scrub all areas of the sole of each shoe. Rinse the brush and apply more cleaner as needed until the shoes are stain-free, and wipe them down with clean water.
How to Get Rid of Yellow Shoe Soles with Bleach
While we usually avoid using bleach to clean many surfaces, it's ideal for turning your shoe soles from yellow to white. Explore how to get rid of yellow shoe soles with bleach and water.
Fill a container with warm water and add a small amount of bleach. Apply the cleaner to the sole of each shoe with a soft brush and use a circular motion to remove the yellow stains. Rinse the bottom of your shoes with clean water and dry them with a towel.
How to Remove Yellowing from Shoe Soles with Toothpaste
The most straightforward way to clean shoe soles with a few yellowed areas is to use toothpaste and an old toothbrush. However, it's essential to use the right toothpaste type to clean white shoes.
Apply some white, non-gel toothpaste to an old toothbrush and gently scrub the soles of each shoe to remove yellowing. Rinse the brush, apply more paste as needed, and continue cleaning the soles until white. Finish by rinsing away the residue with water and drying your shoes with a towel.
Try Hydrogen Peroxide for Cleaning Yellow Shoe Soles
Hydrogen peroxide is another product to have in the home. It has antiseptic, antifungal, and mild bleaching qualities, and it naturally cleans many surfaces. Here is how to clean yellowing sneaker soles with hydrogen peroxide.
Pour some hydrogen peroxide into a bottle and spray the solution on the yellow areas of your shoe sole. Scrub the area with a brush and repeat if necessary. Once the shoes are clean, rinse them with water and dry them thoroughly with a towel.
White Vinegar to Clean Yellow Shoe Soles
White vinegar has degreasing action, and combining it with baking soda creates the ultimate stain remover. Learn how to get rid of yellow shoe soles with some vinegar, baking soda, and a bit of elbow grease.
Pour equal portions of hot water and white vinegar into a container and add enough baking soda to form a paste. Flip your shoes over on newspaper and use a brush to apply the paste to the entire sole of each shoe. You may find that this will also get gum off shoe soles, too, but it may require a little extra scrubbing.
Let it sit and dry for about 45-minutes and rub the mixture off with the brush. Rinse each shoe under running water and dry with a towel.
How to Use a Shoe Whitener to Clean Yellow Shoe Soles
There are many cleaners available if you prefer to use a store product to clean the soles of your shoes. They reverse oxidation in the sole material and restore the original whiteness.
Shoe Sole Whiteners
Since there are various shoe whiteners on the market, it's essential to read the manufacturer's instructions before using them on your shoes.
Start by wiping excess dirt off each shoe and then use the product as directed by applying a light to medium coat of the whitener. Some products recommend wrapping the shoes in plastic and leaving them in the sun to dry.
Removing Yellowing from Shoe Soles with Salt
While we think of salt as a food flavoring, it is also a natural stain remover and works well to gently scrub away discoloration from the soles of your shoes. Use table salt and an old toothbrush to clean your shoe soles.
Pour warm water into a container or bowl and add a tablespoon of salt. Dip the brush into the cleaning solution and use it to scrub the sole of each shoe. Repeat as necessary and use a circular motion to remove the yellow stains. After cleaning both shoes, rinse them with water and dry them with a soft towel.
Getting Rid of Yellow Shoe Soles with Cream of Tartar
You probably have a small canister of cream of tartar in your spice cabinet. This dry, acidic powder is necessary for baking, and it doubles as a stain remover—clean yellow shoe soles with cream of tartar.
Pour enough hot water into a large bin to cover the bottoms of your shoes and add the cream of tartar. Set the shoes in the cleaning solution and let them soak for about an hour. Use a soft brush to clean away the loosened stains and rinse each shoe with cold water or a damp cloth.
Combining Detergent and Vinegar to Clean Yellow Shoe Soles
If your shoe soles are extra yellow, plain white vinegar may not be enough to get the job done. You may need to combine vinegar with laundry detergent to get the yellow out of your shoe sole.
Fill a sink with tepid water and add laundry detergent. Remove the laces from your shoes and soak the soles in the soapy water. Scrub the shoe bottoms and yellow midsole with a brush to remove as much discoloration as possible.
Fill the washing machine with water and add a half cup of vinegar. Place your shoes in the washer and use the low agitation cycle. When the machine stops, remove your shoes and let them air dry.
It is not usually recommended to clean Vans this way. The manufacturer says do not put your Vans in the washer as it may damage the material.
How to Clean Yellow Shoe Soles with a Magic Eraser
Not everyone has time or patience to make a homemade cleaner. If you prefer an easy cleaning solution, the Magic Eraser is the perfect tool to get yellow stains off your shoe soles quickly and effectively.
Get the corner of a Magic Eraser wet and wring out the excess liquid. Place your shoes upside down on a towel and use the eraser to gently scrub the soles until the yellow stains are gone. Finish by rinsing the shoe with clean water to remove residue and drying them with a soft towel.
This easy technique is also good to get grass stains out of shoes and soles if the problem isn't too bad. Heavy grass stains may require more intensive cleaning.
Cleaning Yellow Shoe Soles with Peroxide and Baking Soda
If the soles of your shoes are extra filthy and yellow, you may have to use a cleanser with a little more power. Combining hydrogen peroxide with baking soda creates a strong cleaning action that turns yellow soles white and is ideal to clean mesh shoes at home.
Pour hydrogen peroxide into a container and sprinkle in just enough baking soda to form a paste. Apply the cleaning paste to the soles of your shoes and wrap them in plastic.
Set the shoes in the sun for half an hour and then remove the plastic. Use a damp brush to scrub away the cleaning solution and yellow stains, and rinse your shoes with clean water.
How to Dry Sneakers after Cleaning the Soles
After cleaning your shoes to remove dirt, stains, and yellowing, it's vital to dry them properly to ensure they keep their shape and prevent mildew growth. Follow these shoe drying tips to keep your footwear in tip-top shape.
Some shoes are safe to dry in the clothes dryer. However, leather, suede, and other shoe types are unsuitable for this drying method.
Always check the care tag of your footwear before washing and drying them in a machine. If they are safe for the dryer, hang the laces outside the door when you close it and use the low heat setting.
If you prefer not to use the clothes dryer, wipe your wet shoes with a clean towel, stuff them with newspaper to absorb dampness, wrap them with toilet paper or paper towels, and set them on a shoe rack to air dry. This is also a great way to stretch out sneakers if they have become a little too tight.
What Not to Use to Clean Shoes with Yellow Soles
Cleaning the soles of your shoes seems pretty straightforward. However, there are some things to avoid when cleaning your shoes to prevent damaging the shoe materials.
Cleaners to Avoid
While using a little bit of bleach with a lot of water is safe for cleaning white shoes, too much bleach actually causes more yellowing. Caution is necessary when using this product for shoe washing.
Some shoes have certain materials that require special cleaners, and it's vital to understand the shoe type you have before using harsh cleaners. For example, some products damage leather and suede footwear, and too much water and soap cause the material to dry and crack.
The Dishwasher
Some people have pretty good luck washing their shoes in the dishwasher but it really isn't a great idea. Typically, do not wash sneakers in dishwasher because the washing and drying cycles get too hot and can damage your shoes. There are other better options for cleaning.
Ways to Prevent Shoe Soles from Yellowing
While cleaning your shoes is reasonably easy, it's not something you want to do more than you have to. Care for your footwear and prevent them from getting yellow soles.
Do not store your shoes in direct light for long periods. Instead, keep them in a cool, dark place during long-term storage. Avoid walking through puddles or standing in water, and dry your shoes as soon as possible.
If you desire a shoe that doesn't yellow as quickly, consider purchasing Icy Soles. These shoes have a blue-tinted sole that is more resistant to yellowing than other sole types.
There are many causes for yellow shoe soles, and the best way to ensure they maintain their appearance is to clean them regularly and store them in a safe place. However, sometimes yellow staining is inevitable, and extra cleaning steps are necessary to bring back their original whiteness.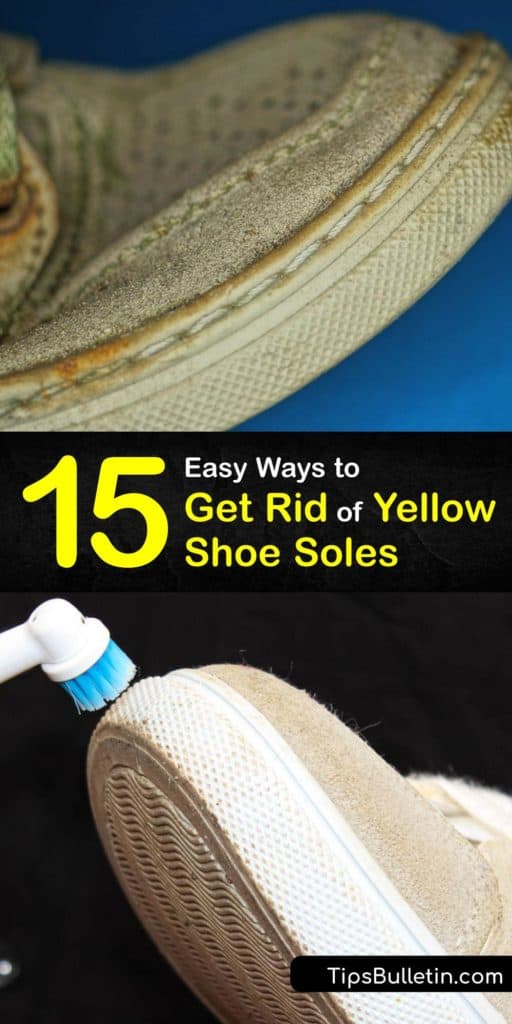 Knowing how to remove yellowing from shoe soles keeps your favorite footwear looking its best, so why not share our yellow shoe sole cleaning guide with your circle of family and friends on Facebook and Pinterest?